WoodenDecorative signs are so easy to create! I love that I can make and customize my own home decor (and porch decor of course) with a board, little bit of paint, and my Cricut. I had already made a vertical Wooden Christmas signthat I loved but I really wanted to create a horizontal one for the home too!I madethis one super simple, but feel free tocreate your own painted effect on the boardwhen you are painting! PLUS once again I have teamed up with those amazing bloggers from the Deck the Home Blog Hop! Be sure tocheck out all their amazing projects at the end!
(You can see all my favorite DIY Signs here)
Wooden paint your own nativity setsimple nativity paintingmodern nativity paintingsnativity scene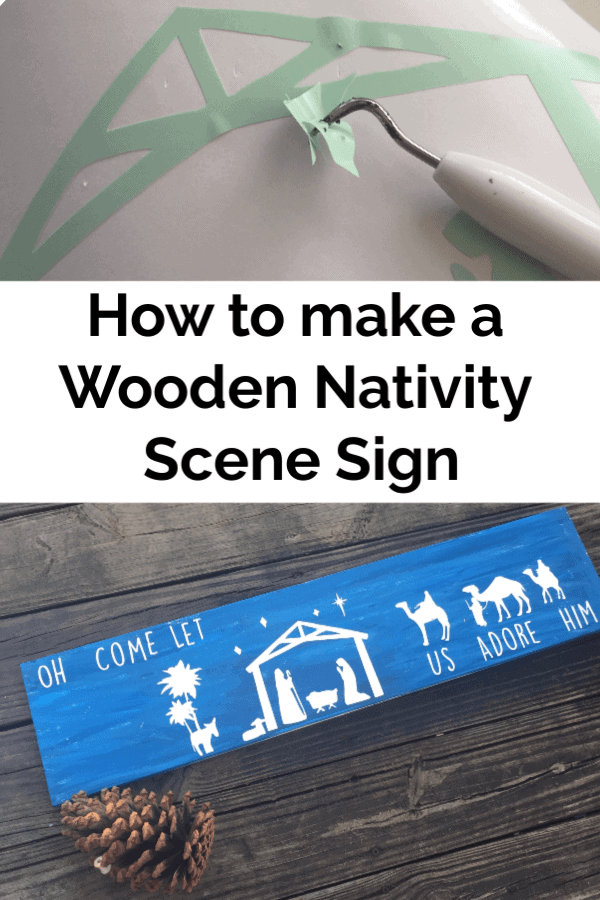 Horizontal Wooden Nativity Sign
Here iseverything you will need with clickable links so you can find it!
7″ Board (or whatever you have on hand)
Let`s get started!
Prep Board and Begin Painting DIY Wooden Sign
My board was left over from another project and was already pretty smooth but I gave it a quick once over with my sanding block. Paint your board with 1-2 coats of base paint, I chose a clean warm white because I wanted a lot of contrast with this sign.
How to Create the Nativity Scene for your Sign
Next the fun part, designing on Cricut Design Space. I couldn`t find a longer Nativity scene like I had in mind on there so I just did a Google search for free nativity scene silhouette and found one I liked. Be sure to measure your board before making the design, for my 7″ board I knew I didn`t want to go over 6 ½" with my image.
I opened it in Design space and chose "moderate", now all you need to do is tap in all the white spaces to turn your image into a transparent cuttable design. Be sure you hit each of the white spaces so you don`t miss any of the parts you need to cut, you can enlarge it up top with the magnifying glass if you need to to make them bigger.
I sized my image to about 6″ x 15″ . Now, I only had 12″ x 12″ mats on hand and wanted my image to be longer than the mat allowed so I just taped two mats together and cut longer designs with no problem.
Place your temporary vinyl on the mat and feed it into your machine.
Next it will ask if you want to print or cut image, you want to choose cut.
I found a font that I lovedand cut out the words Oh Come Let Us Adore Him.
Weed all your excess vinyl away and use transfer tape to place your vinyl where you would like it on the board. After playing around I decided to split up the words rather than just have them run straight across the board.
I rubbed all the vinyl on firmly with my tool so that the lines would be sharp, you can use a credit card too if you don't have a scraper tool.
Paint a solid coat of your contrasting color over the entire sign, be sure your vinyl is not coming up anywhere.
Then I let it dry while I cleaned up my tools, vinyl scraps,etc..
I get excited everytime i peel away the vinyl and the edges are crisp and clean!
And just that easy, we have a wooden nativity sign that we love!
I usually like to have them propped on a table or something but you could easily add hangers or cording to make it hangable! …maybe even a pretty bow!
Now once again I've teamed up with lots of other amazing bloggers to bring you some TERRIFIC Decorative Wooden pieces, in the Deck the Home Blog Hop! Take a little peak below at them! I don't think I can even pick a favorite!