DIY Farmhouse Decor
Have you ever looked around and thought,.. we have a problem. We need better organization and flow around here,… I have! And it makes me cringe! The best thing to do though is to see it as an opportunity! For me, it has become my chance to DIY Farmhouse decor I love! The KEY is to create things that don't just look pretty, but also solve a problem! Ill list everything you need for this DIY at the end for you!
Want more of my crafty signs? Check out The Best DIY Signs for Your Home
The problem I am trying to solve is TOWELS. I know TOTALLY first word problems! But, our towels end up all over the place! …over the tops of doors, which means they wont close! …on beds, getting the bed wet. …on dressers cluttering the space. They end up everywhere except where they should be! On the Towel Rack! But here is the thing,.. I don't want to put my towels on the towel rack. For whatever reason, bathroom fixture manufacturers have not realized or cared about the fact that their items are exposed to WATER. This means if they can rust, they will! I'm not throwing my towel over that bar!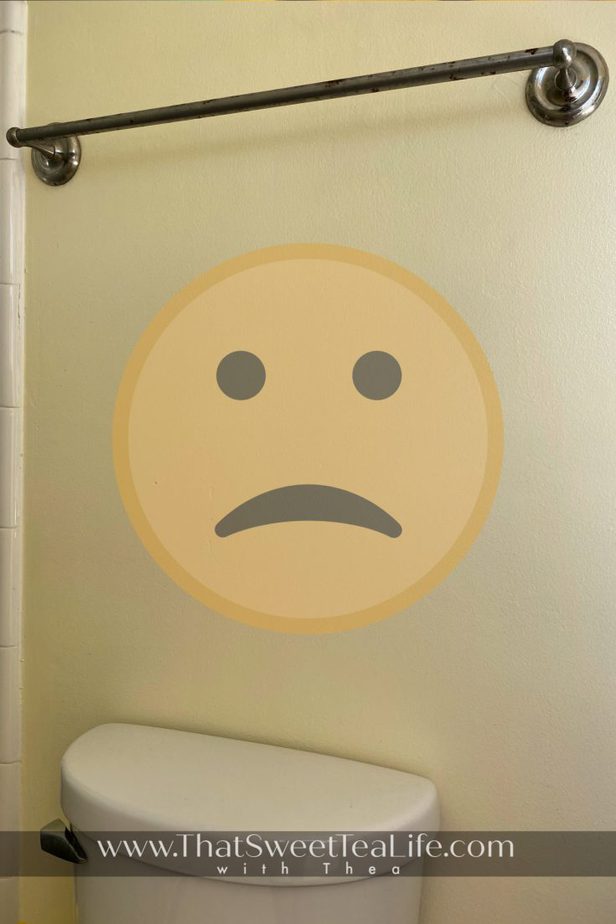 Planning out My DIY Project
I decided this would be the perfect place to add a little DIY Farmhouse decor touch! What if I got some really cute hanging brackets and affixed them to some wood? I began looking around at what I had on hand and came up with a gameplay! Recently I was sent some No Pain Gel Stain (aff-link) in "Picklin White"! I have been dying to use it! I new I had some spare wood laying around I could use, so I ordered some of the most perfect farmhouse hooks (aff-link). While I waited for them to be shipped to my door I decided to check out my Maisie and Willow Image Transfers (aff-link) to see if anything I had would do the trick and add that perfect "chic" to the farmhouse vibe,.. and I had the prettiest set called "Majestic Garden"! They would look lovely against the pickled grain on the wood I used!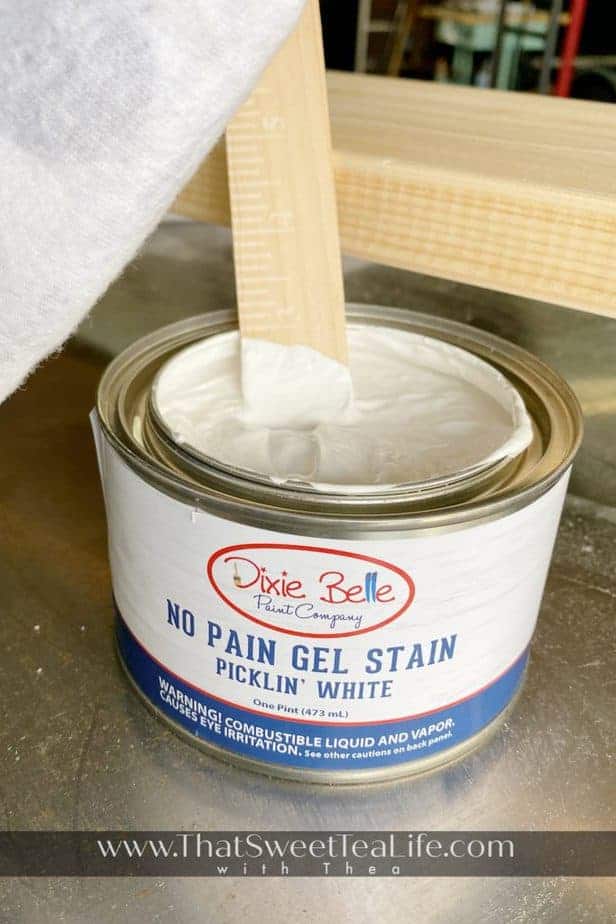 Prepping my Board
After measuring the space I went and chose a board from my collection of scrap wood to create our towel hanger from! I found one that was all but perfect for this little DIY Project! The first thing I would do is grab my favorite sander (aff-link), my dust mask is a MUST, and begin to smooth over my very imperfect slab of wood. My Surfprep Sander comes with a few choices of grit and I begin with Medium, then move to my Super Fine sanding pad. What I LOVE about it is the thickness of the pad allows a lovely gradual sanding pattern over the hard edges. This gives me almost a time worn feel,…
"Painting" my Board
Once the sanding was done, I used a cloth and wiped away all the dust. (No dampness or cheesecloth necessary) Then I opened up my can of "Picklin White" No Pain Gel Stain. This is an oil based product so make sure you have ample air flow, and either be prepared to clean up your oil based product or toss your applicator. I opted to just use a piece of old t-shirt to apply my gel stain. Of course although we are painting the gel stain you can see it is no opaque and it will allow the wood grain to come through.
---
If you want a more opaque look or to deepen the color of the stain you can add more coats. 3 Coats of stain will usually take you to the maximum opacity. Expect your gel stain to be thick and gloppy! Give it a good stir to be sure there is nothing settled then you can proceed to wipe it over the surface. Now is the hard part. You have to wait. 8 hours in ideal conditions before you can apply another coat, OR 72 hours I ideal conditions if you intend to top coat with a water based product. (This is CRUCIAL) So, I walked away…
Affixing the Hooks to my DIY Towel Rack
While I waited, the hooks came in and I was able to begin preparing the board to be attached to the wall, and for the hooks to be attached to the wood. Pilot holes are ALWAYS a good idea! I used a variety of drill bits for various holes. I would end up placing the hooks over the screws that affixed the board to the wall, so for that I would use a tiny drill bit to create the holes, then come back with the larger bit to give room for the screw head to counter sink into the wood. This give you a flush appearance later on. On thing I purchased quite some time ago is this large drill bit set (aff-link) so I always have whatever size I need! Creating pilot holes may seem over zealous, but it really stinks to be mid project and have your wood split as you screw into it. I definitely didn't want that to happen!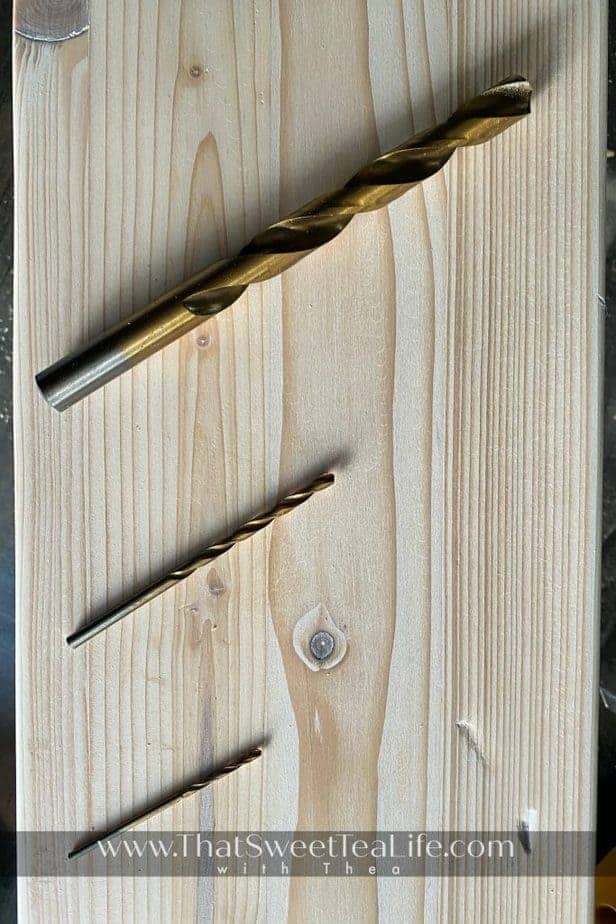 Decorating my DIY Farmhouse Towel Rack
Now that my stained wood had sat for over 72 hours, it was time to move on! I decided to be safe and slightly sand over the surface with one of my Surf Prep Rad Pads so I could be sure my image transfer would not have any issue adhering to the surface.
I placed the farmhouse hooks in their spots and began cutting out all the individual designs from the Maisie & Willow Transfer. Remember they have a protective backing that we want to keep intact the entire time!! We only remove this when its time for application. With everything cut out I could begin piecing together where I wanted to place each element. Image transfers are easy to apply and simply require you rubbing them on through the protective film. You pull back the film and if you have rubbed properly, it stays! If it doesn't, you lay it back dont and continue to rub.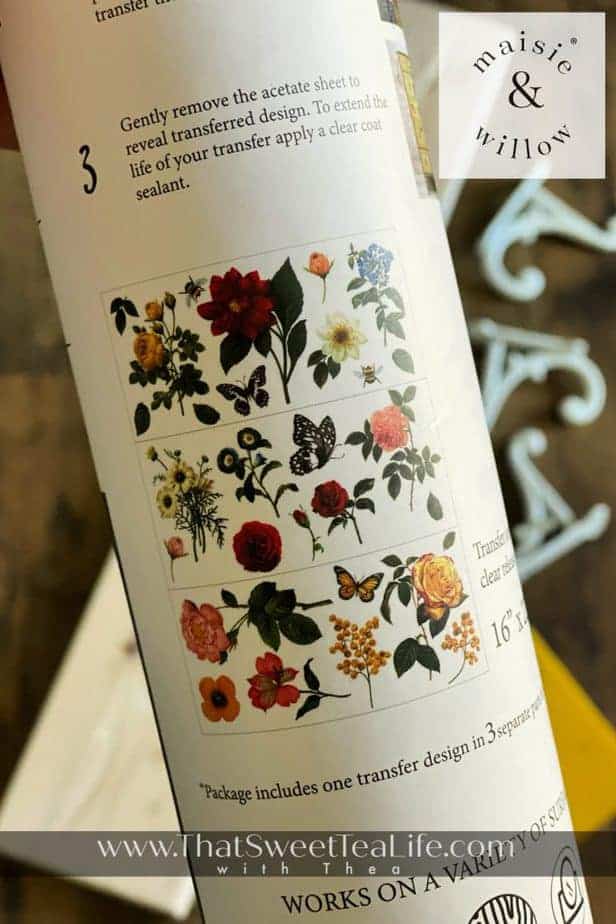 Once everything was applied I allowed to sit for a day then I top coated with Minwax Oil Modified Polyurethane. This is a water based product with some of the protective properties of oil based. I was careful to apply thin coats so I did not discolor my work and even applied it over the entire piece of wood to create a water tight situation since it would be in a bathroom.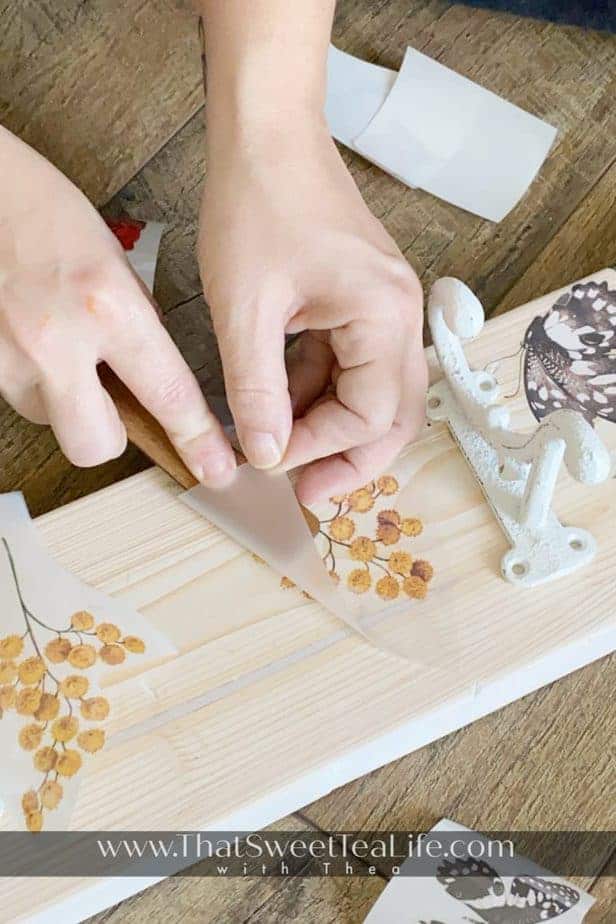 Hanging my DIY Farmhouse Towel Rack
Now I wanted to get it centered AND level! Getting it centered wasn't an issue, but I wanted it to be lever for sure or that would always bug me! So, I held up the piece of wood and screwed it slightly into the wall, going through the pilot hole I have created a countersink space in. At this point we dont really want to screw all the way into the wall, just slightly. Our objective is only to get the hanger level and to create marks where we will install wall anchors. (Unless you happened to magically hit studs!) Once the first screw was mostly in, I sat my level on top of the wood to make sure it was just right. Then I proceeded to add another screw into the prepared holes. Any are fine, but I recommend the next being on the opposite wide of the board for the biggest advantage. I continued this for each hole created (I made 4 total). Then I removed the board by unscrewing the screws.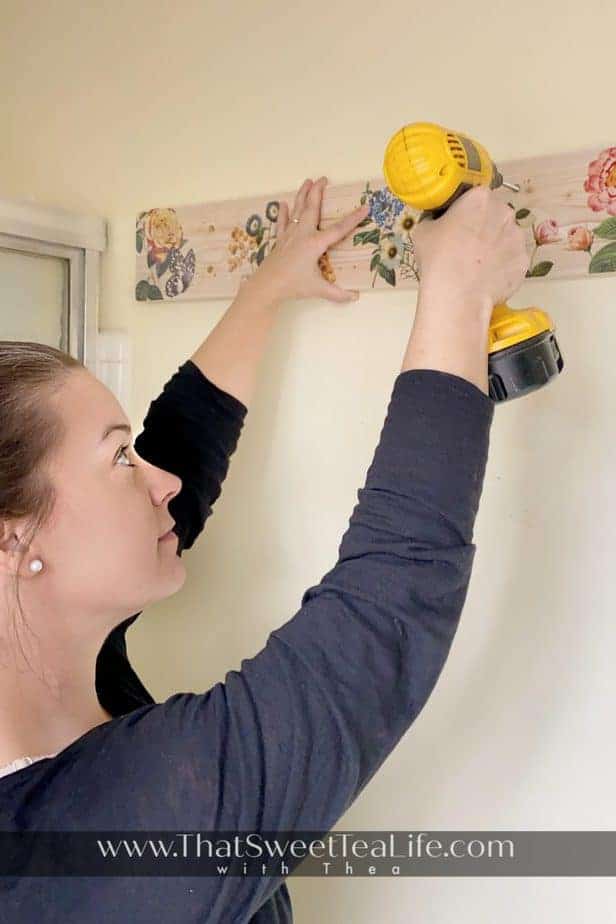 Preparing the Wall to Hang the Towel Rack
Thankfully I already had a variety pack of wall anchors (aff-link) which is another thing I recommend to always have on hand! I used a drill bit no larger than the shaft area of the anchor, and I drilled out the holes I had created already by partially screwing the screws into the wall. Using a small hammer I gently tapped the anchors into those holes. If they don't want to go in, the hole is likely too small. They should go in rather easily with just a little force. Once all the anchors were in I could hang the wood, and it was time to cover those screws and hang the hooks! I simply held the hooks up and screwed in the screws that came with my hooks. And Im done!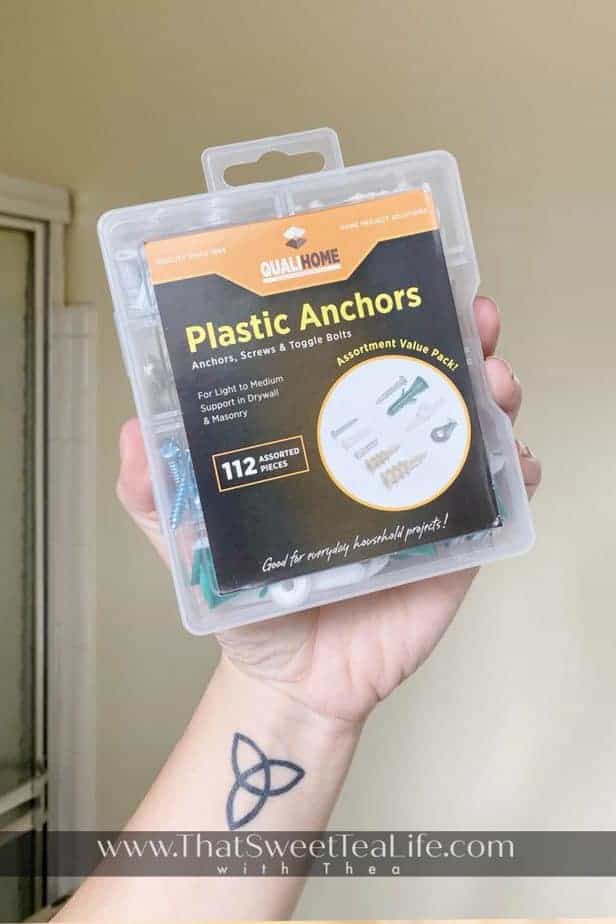 Now we have a simple place with no rust that we could toss our towels and floor mat! I feel like we will use this so much more,.. and if not, well the pretty towels can just stay and at least it looks better! Haha! Now that you know how I used the Picklin Stain on this as well as those NIFTY Image transfers, perhaps you can use them to make your own decor!! I hope you found this helpful. Scroll down to the end for a complete list of products used!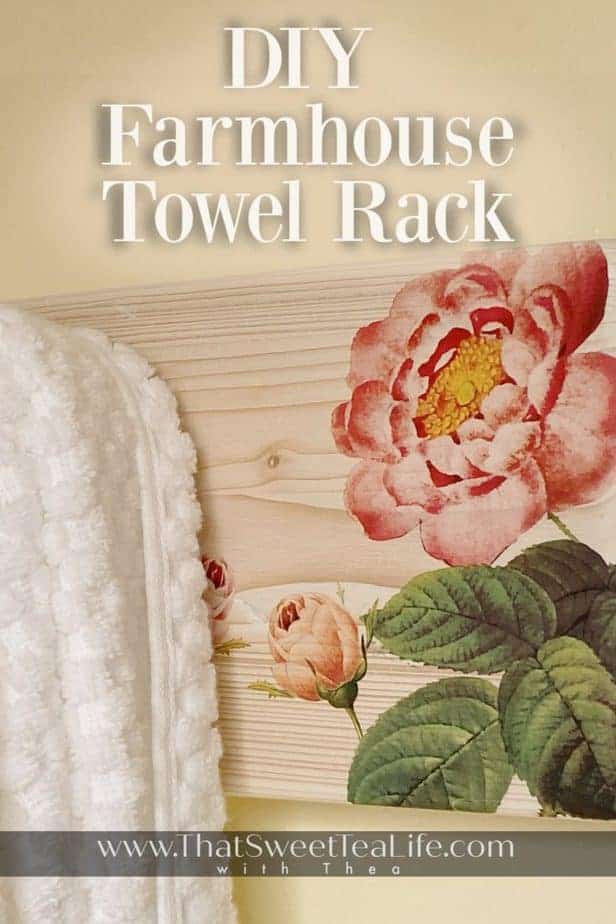 DIY Farmhouse Decor Products and Tools
As an Amazon Associate and member of other affiliate programs, I may earn from qualifying purchases.
Photo Credit: Amazon.com
Set of 3 Farmhouse Styled hooks with screws
Photo Credit: dixiebellepaint.com
Image Transfers to make your crafting a breeze!
Photo Credit: surfprepsanding.com
Wall Anchors in variour types and sizes