DIY Easter Decorations: My Farmhouse Carrots Basket
Let's talk about DIY Easter Decorations. We love them right!? Yes, Especially while we peruse Pinterest for the perfect ones… Or while we consume each glorious image in Good Housekeeping with their perfect rooms and decorations… They are so inspiring…
But wait a moment,.. DIY??? hahaha ok but yes WE CAN DO IT! And it's not going to take a whole weekend, not even a whole day. Whats even better is you just might be able to scoop up all the supplies in your very own dollar store! In todays how-to we will be walking right on through how to make this adorable Easter carrots centerpiece!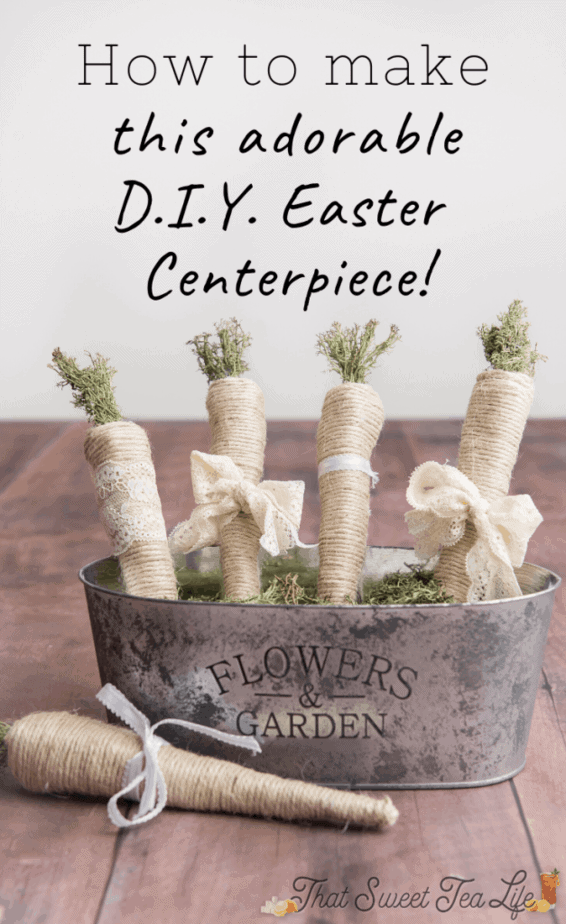 DIY Easter Decoration Supply List
Aluminum foil
Masking tape
Twine
Grey chalk paint
Reindeer Moss
Lace and or ribbon
Hot glue gun and glue sticks
Plastic shopping bag
Flowers and garden tin
---
*Everything can be found at a dollar tree depending on location. If you can not find anything, you can be sure to find them on amazon or at your local craft store.
How to make this Farmhouse Easter Decoration
Step 1:
Start with around a 15" wide section of aluminum foil. Begin forming a carrot-ish shape by rolling or bunching the aluminum foil. At first the aluminum foil will create a long stick like shape and you will want to bend the top down. At this point it will start to look like a candy cane, as we want the top thicker and taper off to the bottom.
Step 2:

Repeat step #1 bunching the second layer slightly more lose than the first and folding the top of the second layer down as you roll to help the carrot keep the desired length (folding as you go helps it not be super long like the first step, as we won't be bending the top like a candy cane hook like the first).
---
*Note: the more bends, curves and flaws the better and more perfectly imperfect the carrot shape will be.
*If you think the carrot is still too skinny, keep repeating till the carrot is just as chunky as you want him!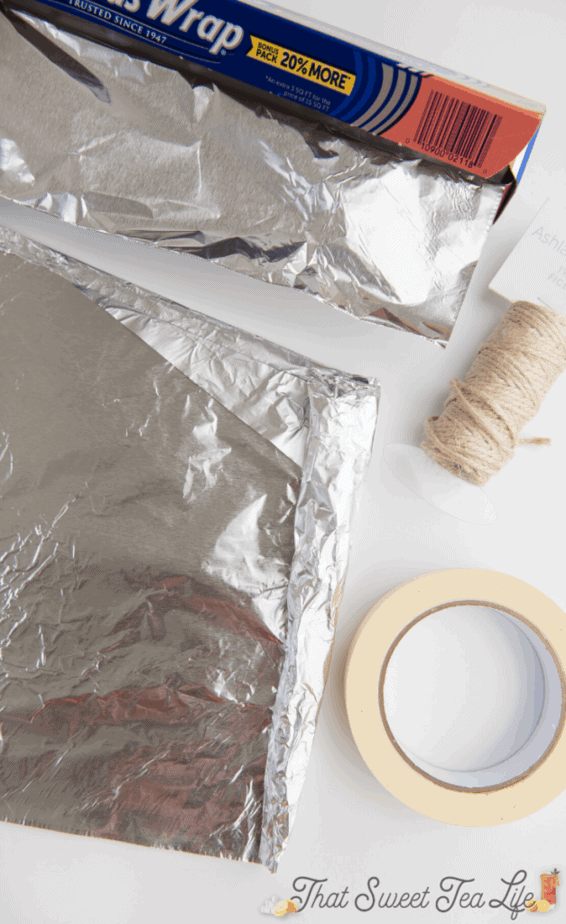 Step 3:
Now you can begin wrapping a layer of masking or painters tape around the carrot. (I like the color of masking tape since its similar-ish to the twine,.. or at least closer than blue painters tape!)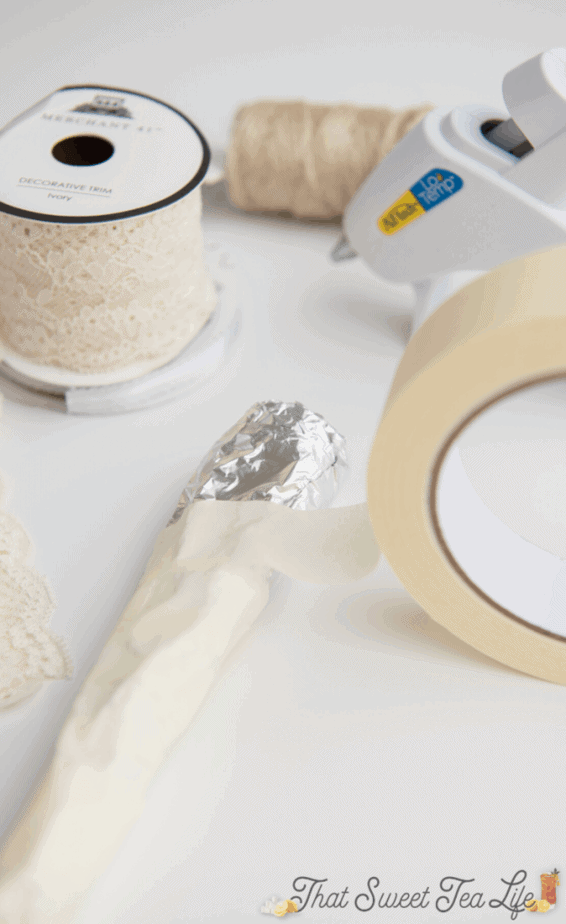 Step 4:
Next, start from the bottom point of the carrot hot gluing the twine to the very tip. Tightly begin to wrap the twine up the carrot adding a small amount of glue every inch or so to help it stay in place.
*Each run of twine should lay nicely next to the previous, no overlapping. Wrapping it tightly will be key!
Step 5:
As you work to the top of the carrot, create a small hole within the aluminum foil/ masking tape and hot glue a pinch of reindeer moss to create a "leafy" stem. Continue wrapping the twine around the top hot gluing layer by layer to keep the twine flat and adhered.
Step 6:
Add some lace or ribbon creating a bow or whatever style you desire.
Step 7:
If your tin bucket is a bit too shiny and perfect looking. To give it a rustic, weathered look take a scrunched up plastic shopping bag and VERY lighting dab it in gray paint.
---
A little bit goes a very long way. Be sure not to pick up too much on the bag. Start randomly stamping the tin with the plastic bag to create the faux galvanized look.
Step 8:
Once dry, add carrots to the bucket and more reindeer moss to replicate the carrots growing in grass and you are finished!
Our finished farmhouse easter decorations!