Make every day a vacation to Sedona, Palm Springs, or Zion National Park with desert modern décor. This signature decorating style highlights the feel of a modern desert paradise – light, airy, and earthy.
No matter where you reside, desert modern décor is a great way to create a calming space with minimalist vibes. Keep reading to learn more about this up-and-coming trend!
---
Start with a White Canvas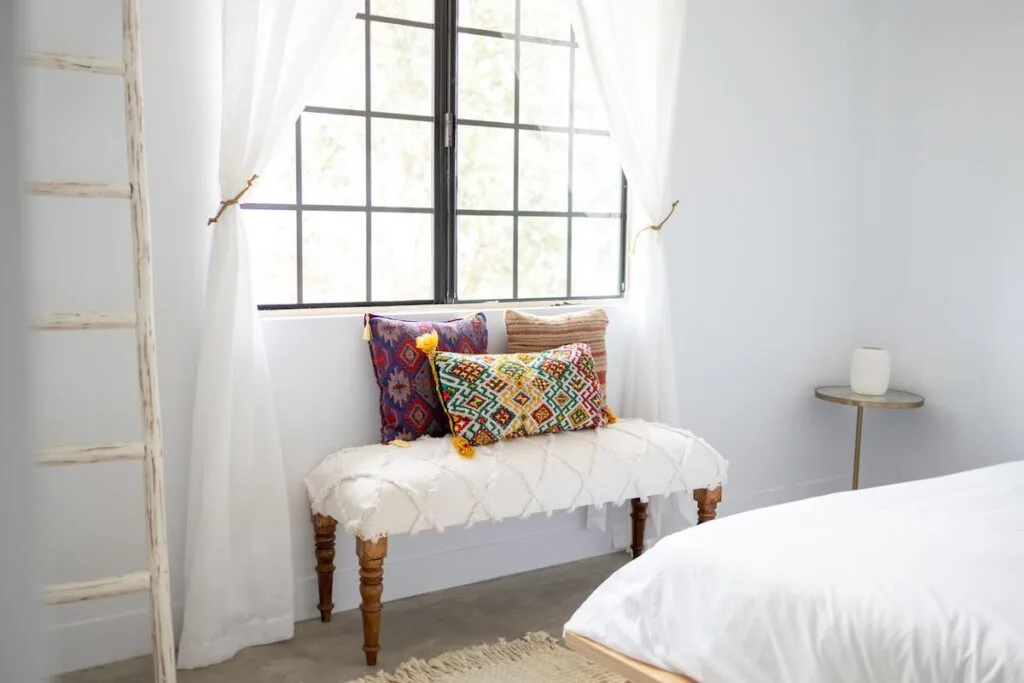 White walls are a signature of desert modern décor. They create a light, neutral canvas with a calming ambiance.
Even though a desert is barren, it is still beautiful. The same can be said for white walls.
White prevents your home from becoming too busy. It also allows the focus to be directed to furnishings and decorative accents.
A dark, cluttered room can be hard to thrive in. A neutral palette will allow you to clear your head and inspire creativity.
---
Cool Leather Seating
You can't have desert modern décor without a gorgeous leather couch. The smooth texture and earthy color are perfect representatives of desert life.
Instead of a bulky, tufted leather couch, look for a mid-century couch with clean lines.
A light cognac color is the best shade of leather for this decorating style. But, you can also opt for dark brown or olive green leather. Both colors will still make your space beautiful.
---
Let in the Light
Here's where you can save a little money. Forget expensive curtains and allow your windows to be bare. It's the best way to let in the most natural light.
If your windows require some cover, look for stylish bamboo pull-down shades.
Another thing to note is the simplicity of a window in desert modern décor. You won't see heavy trim. Often, the window is just surrounded by Sheetrock to keep it clean and modern.
---
Camel Colored Accents
Camel is the official accent color of desert modern décor. The shade looks like it was hand-picked from the Sedona landscape. Not to mention, it looks stunning when used in coordination with white.
When shopping for your home, look for decorative accents that feature the camel color. An easy way to incorporate it is by using terracotta. Re-pot your houseplants in a terracotta planter, or invest in some terracotta vases.
You can also find lots of bohemian abstract art in this color in most home décor stores.
---
Tribal Patterned Rug
The color and geometric motif of tribal patterns make them perfect for a desert modern rug. Since your walls and flooring are more neutral, have fun with a bold rug.
Tribal patterned rugs come in all colors and sizes. To match your home the best, choose a rug that features reds, oranges, and greens.
Rugs with white fringe on the ends also add more fun. This feature automatically makes a rug look more expensive, no matter how much you pay!
You can also create depth by layering the patterned rug over a natural jute rug.
---
Succulents and Cacti
Nothing says desert greenery better than succulents and cacti. Not only are they gorgeous and colorful, but they're also super low maintenance.
Succulents and cacti only need watering about once a month, so there's no need to have a green thumb here.
The best cactus varieties for indoors include the angel wing cactus, rat tail cactus, barrel cactus, and bishop's cap. Each one has specific growing requirements, but they all do great in a sunny area.
If you choose to display succulents, try your hand at growing burro's tail, hens and chicks, or aloe vera.
---
Minimalist Shelving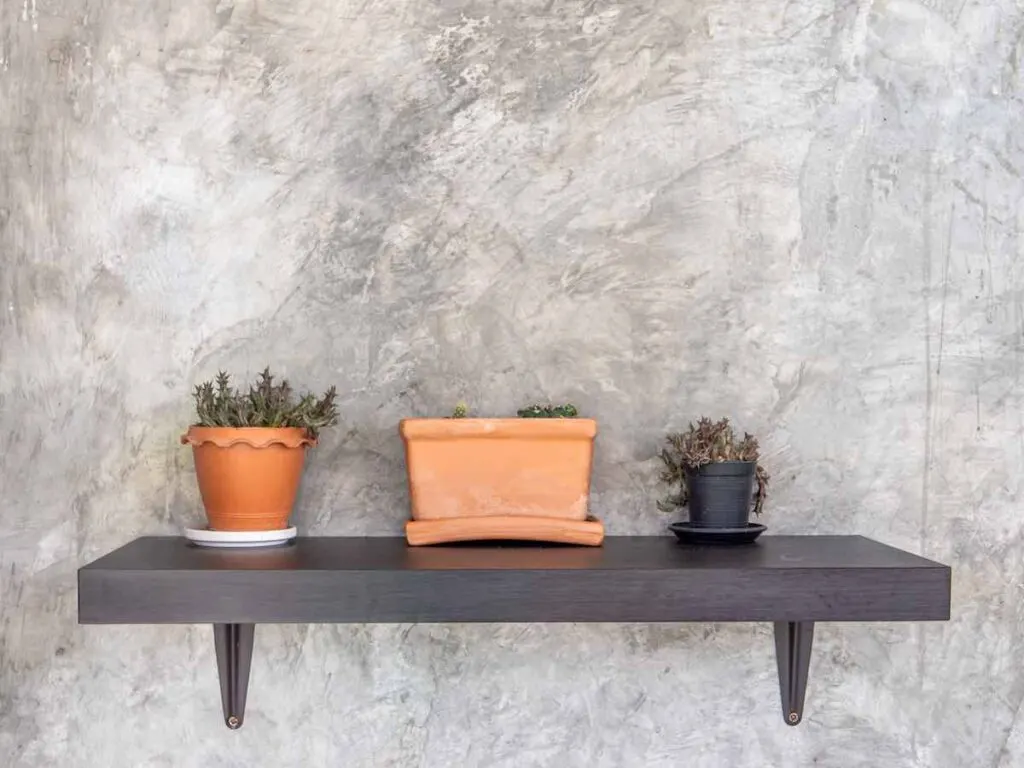 Keep the attention on your desert modern décor with minimalist shelving.
Instead of bulky shelves, use floating shelves that match your wall color. This will create the illusion of built-ins, and they will flow seamlessly with the rest of the space.
You can also use stained floating shelves to get a modern look. Stagger the positioning of the shelves on your wall to create easy art. It's the perfect place to prop your succulent!
---
Woven Textiles
Woven textiles are a great way to add softness to desert modern décor. You can implement these in a number of ways.
First, throw pillows are easy and affordable. Look for neutral pillow covers with thick knitted or woven designs.
You can also find beautiful macrame wall tapestries that come in all shapes and colors. It's a quick way to dress up your wall and add texture to the space.
---
Gorgeous Natural Ceiling
Having a natural wood ceiling really sets apart a space. The appearance of stained wood elegantly contrasts white walls and camel accents.
Even just the presence of wood beams across a white ceiling makes a big impact on a room.
Tongue and groove wood planks are a showstopper on a vaulted ceiling. But, they are also lovely on a flat area.
Just be careful if you have low ceilings. A dark ceiling can sometimes make a room appear smaller.
---
Get Artsy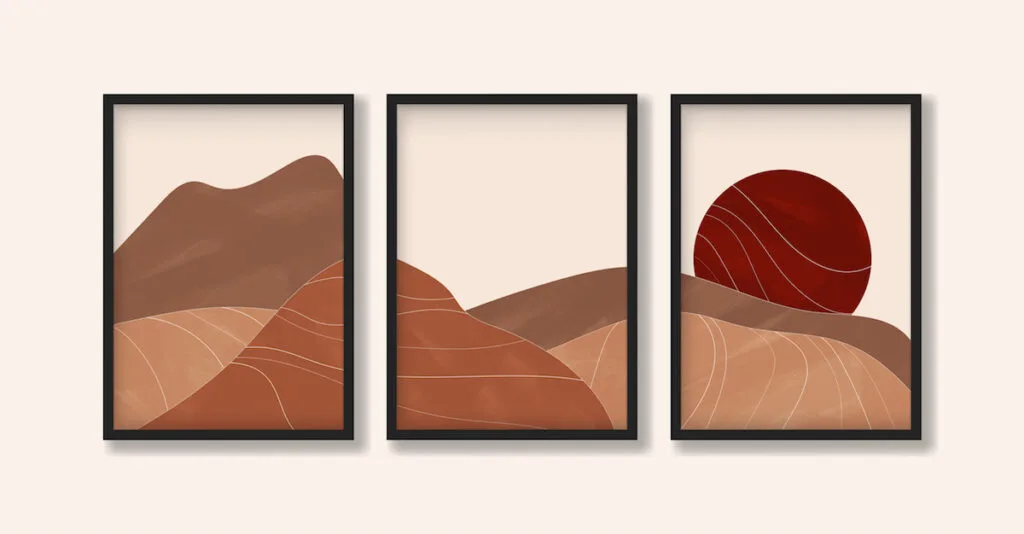 Choose several pieces of modern art to display throughout your home. The more minimalist, the better. You want to reflect the simplicity of the desert.
Choose what inspires you, whether it be a minimalist print of a desert-scape or a conceptual sculpture.
Art can also be functional. Check out this modern lamp with abstract lines. You'll simultaneously be providing light and interest to the room.
---
Mid-Century Accent Furniture
Mid-century furniture works great for desert modern decor. Both styles incorporate clean lines and simplistic details.
If you're not familiar with mid-century decor, keep an eye out for furniture with tapered legs and barely-there hardware.
To start out, focus on implementing pieces in the room that get the most attention. This could include the coffee table or dining room table.
---
Wrapping Up Desert Modern Décor
Desert modern decor is a fun mix of mid-century and minimalist styling. Following some of these ideas, you'll be creating your own desert paradise.
Do you love learning about how to decorate your home? At That Sweet Tea Life, we have several posts on keeping your home modern and beautiful. Check out our post on modern table decor!