We've all been there, haven't we? Standing there staring at a room and thinking, "What can I do with this space? How can I make it functional yet trendy and comfortable?" When deciding how to decorate a long living room, you may have asked yourself these exact questions before.
But not to worry, I am here to give you the best design tips and tricks on utilizing that narrow space and making it yours. It is easier than you think, and you might try something you'll fall in love with. The best part is it could be as easy as rearranging to transform your living room completely. Keep reading to see how easy it is to style a long living room.
10 Simple Design Tricks for Decorating a Long Living Room
Dividing the Space
One of the first tips is to divide up your space. When trying to decorate and furnish a long living room, a great way to break up the space is by dividing it into two separate living areas. For instance, you may want to create two separate seating areas, one with your typical couches and love seats and another space with accent chairs and a coffee table. Creating two spaces instead of one narrow space adds more functionality to the room and is more visually appealing.
You could create any space you need in your long living room. You can make an office area with a desk and chair, so you don't have to be stuck in your room or just one specific area of your home when trying to work.
Adding a dining area is perfect for homes that need to utilize all available floor space. This creates a stunning open floor plan that has become increasingly popular over the past years.
Uniting Two Rooms
When looking at a long living room, you may want to combine it with another purpose. An easy way to do this is by breaking up the space as a dining room and living room combo. Making use of all of the areas in your home makes it more functional and adds more beauty and personality.
Using area rugs is a great way to make the two-room areas look separate but still united. You could even try turning your couch to go against the room's length, creating a more separate feel.
Pulling the Furniture Away From the Walls
When pushing furniture up against the walls of a narrow room, it emphasizes an already elongated space. Just rearranging the furniture towards the center of the room and creating different walkways make a narrow room look cozier and more inviting.
When creating an open floor plan in a narrow room, be mindful of walking areas. As long as you have adequate space, you can create a beautiful airy flow within your long living room.
Creating Shape with Your Seating Area
Who doesn't love a big comfy sectional? Sectionals are perfect when trying to decorate a long living room. They add tons of seating and make the space more inviting. This also distracts from the room's length when placing an L-shaped sectional on the far end of the room, softening the room's appearance.
You can also create this shape without the use of sectionals by using your couch and accent chairs or a love seat. Placing your sofa on one wall and then adding a love seat and accent chairs draw your eyes away from the room's length. Creating a U-shape forms the same effect.
Using Circular Furniture and Accent Pieces
Break up harsh elongating lines by using rounded accent pieces and furniture to soften the space. Try placing a round coffee table in the middle of your seating area. This can also be an excellent focal point in the room. Or add circular accent tables next to your chairs and place some greenery and a candle to soften the space.
Suppose you are looking for cheaper alternatives rather than purchasing more furniture. In that case, you can always look for different accent pieces such as lamps, throw pillows, and vases with a more bulbous appearance.
Space Saving with Floating Shelves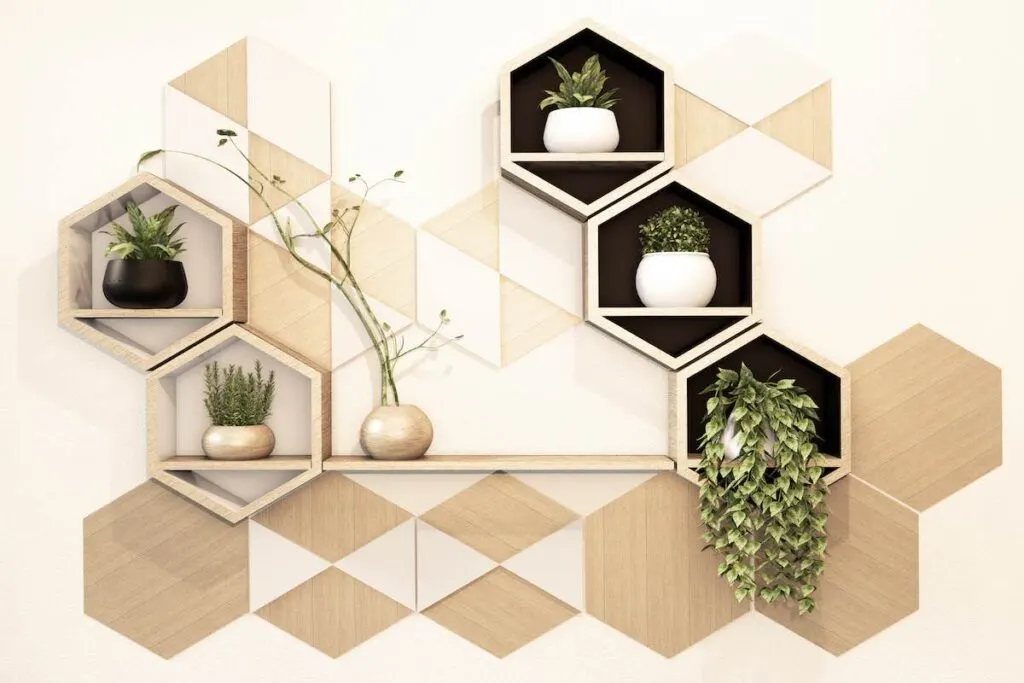 When decorating a long living room, I know one of the most important aspects is creating a functional living space. Floating shelves look incredibly sleek and trendy, but they are also great for space-saving. You can store valuable items and add another design aspect by adding floating shelves. This is an excellent tool to avoid too many things taking up valuable floor space.
You do not have to use floating shelves, any shelving would be helpful, and you can find them almost everywhere. Places like your local hardware stores, Amazon, Ikea, or local shops have an array of different types and styles of shelving you can use to dress up your space and add great storage opportunities.
Maximize Vertical Wall Space
Just like adding different shelving to maximize storage space, you can also add taller furniture pieces like cabinets and bookcases to distract from the room's length. You don't just have to pick large furniture items to achieve this look. Use large wall art pieces, an array of photographs, or even a trendy blanket ladder to store your blankets while adding some vertical interest.
Painting an Accent Wall
Painting an accent wall is another way to decorate a long living room. It's a tremendous visual break-up and brings more dimension to the room. Whether you decide to paint a wall, add board and batten, or wainscoting, it makes for a distraction for just one long wall.
Adding Mirrors
Adding mirrors to bring reflection is great when decorating a long living room. Mirrors make a narrow room appear larger. Try placing a mirror on the opposite side of a window to reflect the outdoors. This tip brings in extra natural light and makes the room appear more expansive than it is.
Make the TV a Focal Point and Decorate Around It
It can be challenging to place your TV when decorating a long living room. But how to make it work would be by anchoring the TV to the wall to stand as a focal point and then decorate around it. You can use a console table underneath the mounted TV and furnish the top or add bings to create more storage space. You could hang some artwork, photographs, or mirrors on the sides of the TV, or for more height, a bookcase or blanket ladder. Step it up a notch with some throw poufs for the floor, making the perfect comfortable look.
More Tips and Tricks when Decorating a Long Living Room
Adding Softness
When decorating, remember to add a bit of softness to a room. Adding throw pillows and blankets to your couches and chairs can break up any harsh lines created by a long living space, and an added plus? They're super cozy!
Adding Texture
Adding different textures can make a world of difference. Even if it is just a small accent piece, it brings a sense of dimension, and that is precisely what you are looking for when decorating a long living room. Floor-to-wall curtains are great for adding interesting texture to a space while also making the room appear taller.
Adding Greenery
Placing natural or faux greenery adds life and color. Greenery is pleasing to the eye and can go with any decorating style. Modern, farmhouse, or industrial, to only name a few, all benefit from adding a bit of greenery. You can get creative with different vases, and pots add more texture and interest to your space. House plants are all the rage these days, so they'll add some modern flair, too!
Adding Interesting Lighting
Try adding some unique lighting pieces. When decorating a long living room, the number one tip is to distract from the narrowness of the space. By adding interesting lighting pieces, you can bring the eye to other parts of the room while also adding dimension when using hanging lights or floor lights.
Wrapping up Decorating a Long Living Room
With these simple tips and tricks, decorating your long living room no longer needs to be something you dread doing. It can be fun and a way to express your inner artist and let your creative side flow.
Not all of these tips and tricks can cost you a lot of money to do either. A lot can be DIY'd, such as new curtains, throw blankets, pillows, and accent decor pieces. The options are endless! Even a small can of paint and an accent wall would take one weekend to finish and completely change the feel of your space.
Need more living room decorating ideas? Don't worry—we have plenty more to check out! Head on over to our living room decor section to discover more ways to spruce up your living room!