The world of DIY is never-ending, with infinite new things to create.
If you love DIY projects, you're always looking for new techniques to try and expand your repertoire of skills.
Salt wash paint is a great way to create a beautiful coastal look on wood items. It transforms any regular paint into something completely unique.
The best part is it's so easy and can be used with any color you want. Unlike other painting methods, it also weathers beautifully and holds up well over time.
Follow along to learn what salt wash paint is, how to make it two ways, and different methods to use it, plus some fun ideas and inspiration to help get you started.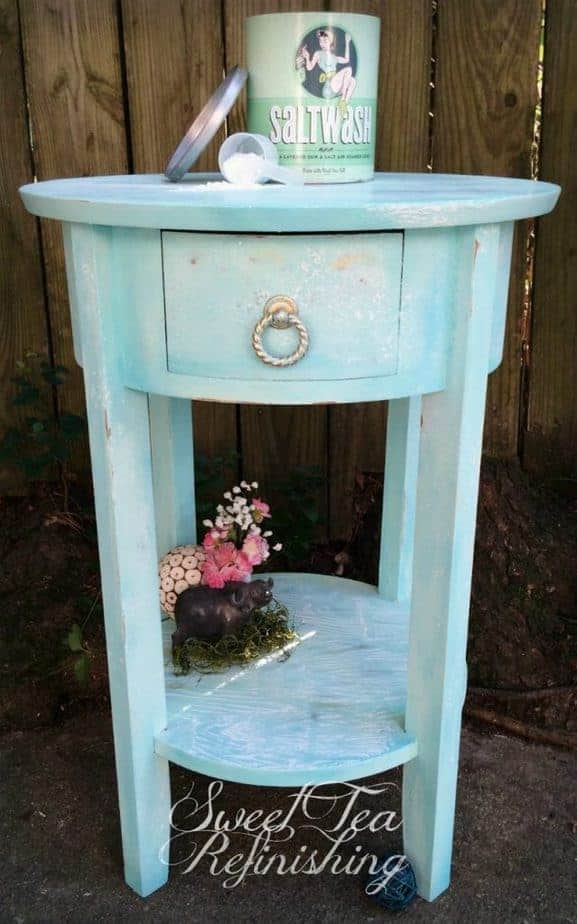 ---
What is Salt Wash Paint?
Salt wash paint is a painting technique that creates a crackled, gritty, antique, or salt-air-aged effect.
It's a simple process that just involves adding a couple of extra ingredients to paint that will interrupt the normally smooth look in the most beautiful way.
It gives your piece lots of great texture and an imperfect look that's easy to achieve. You can use your favorite paint, whether you already have it on hand or have been waiting for a project to use a certain color on.
It's super easy to make and use but it looks amazing, and like you spend a lot of time on it.
Use this method to revamp old pieces of furniture and add some color to your space. You can really use salt wash paint on just about anything!
---
Making Salt Wash Paint
You can mix your own salt wash paint at home. There's nothing to it!
Make your own from scratch or buy a mix and just add paint. Both ways will look amazing and are about equal in simplicity.
Make Your Own Salt Wash Paint
Start with the following materials:
8 ounces of flat paint of your choice, and two colors are even better for a dynamic look
1 tablespoon of kosher salt (if you have a different kind of salt on hand, that will work just fine)
3 tablespoons of plaster of Paris
Mix the dry ingredients, then add to the paint and combine well. Thin your paint with water as needed until it's the right thickness.
Use a Mix
This method is even easier. All you need is the paint you plan to use and this premade Saltwash mix.
Measure the mix out according to the instructions on the packaging and stir it into the paint you want to use. Your paint is finished!
Two Application Techniques to Try
Once your paint is ready to go, there are two different ways you can use your salt wash paint to revamp anything you want.
Each method creates a different effect, but you'll still achieve that weathered, coastal appearance.
Materials List:
Premixed or homemade salt wash paint
Select the piece you want to work on and do your prep work by cleaning and sanding it. Wipe it down to remove any dust on the surface. This will help the paint apply evenly and stay put.
Both of the following methods can be done with either one color or two. If you decide to go with two colors, go for a little bit of contrast.
For a thicker and more textured effect:
Paint on your first color by dabbing your brush rather than swiping. Don't worry about being careful, it should look a bit rough and imperfect. Let the first coat dry completely.
If you're using a second color, paint it on just like the first color and let it dry.
Another optional step is to quickly brush on a layer of white latex paint, let it dry, and then wipe it with a rag for a driftwood effect.
To let the wood grain show through:
Start with a white or light-colored salt wash paint and quickly brush across the surface. The grain of the wood should show through. allow it to dry fully.
Repeat the first step with your second color. Blues and greens will give you a classic coastal aesthetic, but you can use whatever combination you want. Let this coat dry as well.
Sand down the paint down a bit to reveal some of the wood grain as though the paint was worn off by sea winds.
If you like, you can go back in and add color here and there if you feel like the sanding removed too much in some places.
Sand the second layer of salt wash paint again with a finer grit so the different layers of color show through.
---
Different Projects for Salt Wash Paint
There are no limits to the ways you can use salt wash paint. Just about anything you can imagine will look gorgeous transformed with this technique, and it's fun to mix up the colors.
Take old, basic, or overlooked pieces and bring them from boring to beautiful
Furniture
Find a piece of furniture, like a side table, at a thrift store and give it a new life. You might even spot an old item someone left on the curb to go to the dump, and you can make it beautiful again.
Use something you already have around the house that could use a refresher: a dresser, bedside table, coat rack, your fireplace mantel, anything you want. This is a great way to start transforming the aesthetic of your home if you're looking to change it up.
Outdoor furniture restored with salt wash paint is sure to turn neighbors' heads and start conversations with your guests. It's also great because you don't have to worry too much about what the weather will do to the paint. It's all part of the look!
Decor
Use this technique to make a sign for your front door. Paint your address, family name, or a welcoming message on it. It will pair perfectly with any seasonal wreath you hang on your front door, too.
If you're really adventurous and you love the look, paint your entire front door!
Window boxes and garden boxes will take on a whole new life with salt wash paint, and you can have fun matching the veggies or flowers that you grow in them.
Window shutters are a quick and easy project that will create a huge impact on the look of your home. Add contrasting color and texture for undeniable curbside appeal.
Transform decor pieces throughout your home. Cheap plastic or ceramic pots and vases will look so elevated and interesting that no one will know they aren't expensive pieces of art.
Upcycle items to give as homemade gifts. Everyone loves getting gifts you crafted yourself, and you can completely personalize the salt wash paint in their favorite colors. It's a great way to give amazing gifts on a budget (but shh, no one will ever guess!).
---
Get Creative with Salt Wash Paint
This is an awesome and easy DIY technique you can use on so many different things, and it's super budget-friendly.
Pick any colors you want and experiment with different combinations and methods to get the perfect look. There are no rules here, so you can go in any direction you want.
You'll love how it changes the mood of your furniture and matches your style, or gives you a completely new way to decorate. It works both indoors and outdoors, and it even improves with age.
Now that you have the DIY bug from making salt wash paint, get more ideas for painting furniture!