A southern delight and true comfort food with a crunchy exterior giving way to a delicious meaty center – nothing compares to the decadence of chicken fried steak. What makes this celebration of down-home cooking even more exorbitant is the addition of bourbon gravy, my new favorite self-indulgence.
This meaty wonder makes for a perfect feast on a cold night, when food should be excessively delicious and warming. Chicken-fried steak delivers extravagance in taste with a simple recipe and without an expensive price tag, so you can satisfy your stomach without going broke.
Ingredients
For The Chicken Fried Steak…
Peanut oil (or other oil for frying)
Cube steaks
Salt (before adding the flour)
Flour – I used half wheat and half white
Pepper
Garlic powder
Cayenne Pepper
White Pepper
1 Egg
For The Bourbon Gravy…
Leftover Oil and Meat Drippings
Bourbon
Flour
Butter
Milk
Thyme
Salt
Pepper
Chives (optional topping)
Peanut Oil
For frying, I love the taste of peanut oil. The nutty notes bring richness to flour and other breading. Be sure to fill your frying pan about 1/4 inch full of peanut oil, so the oil comes up to the halfway mark on the side of your chicken fried steak. This will ensure that all of the batter cooks evenly.
Other oils for frying
Canola, corn, and grape seed oil are all great options for frying foods. Canola and corn oil tend towards a sweeter taste, while grape seed oil is perhaps the most neutral in flavor. Feel free to use any frying oils that you have available. You really cannot go wrong.
Cube Steaks
Cube steaks are tenderized by your butcher and perfect for chicken fried steaks. If you feel your steaks are too thick, you can pound them out with a meat mallet, making them thinner and more tender. (No one likes tough-to-cut-through beef. This step ensures the delicate texture you desire when eating chicken-fried steak and cooks your steaks more evenly and quickly.)
Other Options?
In the south, we bread and fry pretty much anything, but if you are trying to keep close to the flavor and texture profiles in chicken fried steaks, round steak or even ground beef patties can be used as a replacement. Fried steaks may take more tenderizing (meat-mallet work), while frying ground beef almost seems over-indulgent. I truly feel that round steaks are the best option, and they are super cheap.
Salt
Before adding your flour coating, add salt only to your meat. Many chefs agree that salting your flour can interfere with the frying process. Allow your binder and breading to fry completely and salt after for the best results.
Flour
Many makers of this dish would insist on using white, all-purpose flour for breading chicken fried steak, but I find the nutty, earthy taste of wheat flour balanced with an equal amount of white flour to be the perfect blend for this dish.
Wheat flour causes this version of chicken fried steak to be slightly darker in color, so you might not get that golden-hued crust you expect. However, the wheat flour embellishes the deliciousness of the breading, and to me, a delicious breading reigns in importance.
Substitutions
All kinds of flour and other ingredients can be used to bread chicken fried steak. Almond flour, chickpea flour, and ground nuts are great substitutes for gluten intolerant eaters. Ground crackers and pretty much any other flours (or any food that can be ground into a flour-like texture) can also be used as a coating for your meat.
Pepper, Garlic powder, Cayenne Pepper, White Pepper
To me, a good breading needs great seasoning. That means, more than just salt and pepper. Coming up with spice mixtures is a creative and fun way to add personality to your dish. Keep your flavors interesting by researching what spices pair well with steak and trying new seasoning that you have never tried before, or you can try my go-to's: pepper, garlic powder, cayenne pepper, and white pepper. This blend of spices tastes great in pretty much anything from tacos to roasted vegetables (especially potatoes).
Substitutions or additions
To avoid the heat of cayenne pepper, try using paprika. Paprika comes in many different varieties, some sweet, some smokey, and others more natural and earthy. Pick which one suits you best.
Onion powder would work especially well with this mix of seasonings.
Fresh herbs like rosemary, thyme, and sage could really bring brightness to the dish as well. If you decide to add herbs, you can preserve their freshness by adding them on top of the gravy at the end rather than cooking them into the breading. I added fresh chives on top of the bourbon gravy, and they added a perfect zesty freshness to the dish.
Egg
Egg works as the perfect binder for chicken fried steak. Have you ever eaten a fried food with the batter falling off of it? When the coating slides off of your meat, that's usually due to an improper adherence process. Follow the steps below to make sure your breading turns into a crispy coating rather than a sloppy mess.
Adherence process
Divide your flour and seasoning mixture into two separate bowls. Crack an egg into a third bowl and whisk until yolk and white combine into a light yellow color. Dip your salted meat into the 1st bowl of flour, then the egg bowl, then the 2nd bowl of flour. Flour sticks to the wet surface of the meat, creating a dryer surface for the egg to hold to, and then the two combine to create a paste for the second layer of your flour mixture, giving you a thick, fixed blanket of crispy goodness.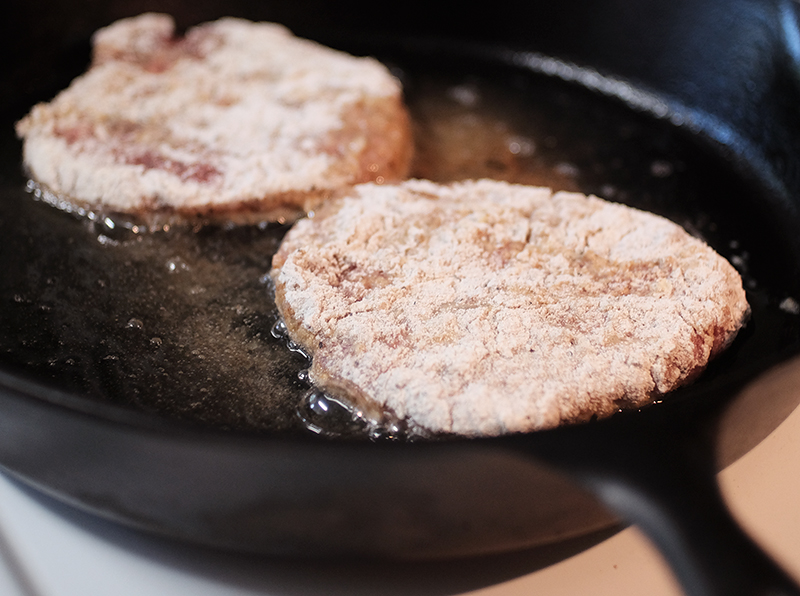 No Eggs?
Tapioca starch or mayonnaise can be used in place of eggs for your binder.
Leftover Oil and Meat Drippings
In a southern home, meat drippings are ascribed great value. Throwing them away could be compared to throwing away expensive ingredients like saffron or truffles. Save your drippings and grease for added flavor, especially in gravy. Discarding a little grease into a jar and leaving about 2 tablespoons in the pan will add a savory quality to your gravy. Keep the jar of drippings for future cooking.
Replacements
Extra butter or other fats can be used in places the drippings.
Bourbon
Use bourbon to deglaze your pan and loosen the drippings from sticking to the bottom of the pan. The bourbon will add a malty depth of flavor to your gravy and give it a beautiful golden color.
Substitutions
Wine or any other acid can be used in place of bourbon.
Flour
Flour thickens the gravy. Be careful to avoid clumps of bourbon by whisking the gravy rapidly. Add extra drippings or milk if the gravy starts to look lumpy.
Milk
Adding milk slowly to your gravy while stirring will loosen any balls of flour and give your gravy a creaminess and sheen.
Milk substitutes
Heavy cream, almond milk, or any other dairy or non-dairy milk can be used in place of regular milk.
Thyme, Salt, and Pepper
Thyme adds a little earthy brightness and zest to your dish.
Use salt and pepper to season your gravy and bring out its savory flavors.
Perfect pairings for your Chicken Fried Steak
Make your meal complete by adding a nice glass of pinot noir, green beans, and flavorful garlic and herb mashed potatoes.
If you are more of a beer drinker, a nice malty imperial red ale will complement the flavors in this dish.
For dessert, an easy cherry almond cheesecake will top everything off beautifully.
Delicious and Decadent
Country fried steak is a classic southern meal, prized for its decadence. The undeniable goodness of gravy, with breaded and fried meat makes it a family favorite, and it's a super affordable way to enjoy red meat, proving that preparation and care are what really make delicious food.
If you try out this recipe today, you won't be disappointed, because you can taste the love and soulfulness in every bite of chicken fried steak.
Yield:

2
Chicken Fried Steak and Bourbon Gravy
A southern delight and true comfort food with a crunchy exterior giving way to a delicious meaty center - nothing compares to the decadence of chicken fried steak.
Ingredients
Peanut oil (or other oil for frying) (enough to come halfway up the chicken fried steak)
2 Cube steaks
Salt (before adding the flour) (to taste)
Flour (1/2 cup white flour and 1/2 cup wheat flour - You will have some leftover.)
Pepper (to taste)
Garlic powder (1/2 TBSP)
Cayenne Pepper (1/2 TBSP)
White Pepper (1/2 TBSP)
1 Egg
Leftover Oil and Meat Drippings (About 2 TBSPS)
Bourbon (1/8 cup)
Butter (2 TBSP)
Flour (2 TBSP)
Milk (1 cup)
Thyme (1/2 tsp)
Salt (to taste)
Pepper (to taste)
Chives (optional topping)
Instructions
Add peanut oil to a frying pan or cast iron pan. Heat on medium-high heat. (The oil should sizzle if a little flour is dropped in.)
Mix flour, pepper, garlic powder, cayenne pepper, and white pepper and divide into two bowls.
Break an egg into a third bowl and whisk until whites and yolks are blended creating a yellowish color.
Dip cube steaks in the first bowl of flour, then the egg bowl, and then the 3rd bowl of flour. and add the steaks to your frying pan.
Cook steaks for about 2 minutes on each side or until the batter appears slightly darker in color.
Remove steaks to a papertowel-lined plate to rest.
Turn your heat down slightly and allow the pan to cool.
Once the pan has cooled, pour some of your meat drippings into a jar and save for later. Leave about 2 TBSP of the drippings in the pan.
Add bourbon to the pan, scraping any leftover bits off the bottom and allowing the pan to deglaze.
Add butter. Allow to melt and then add flour. Whisk vigorously.
Slowly pour in milk, continuing to whisk as you pour.
Add salt, pepper, and thyme.
Place steaks on a serving plate, pour gravy on top, and add chives.
Serve and enjoy!