For home crafters and DIYers, vinyl-cutting machines are nothing new. At least they aren't newer than about 15 years. These handy tools combine technology with the more tangible arts.
As the technology has improved, so has the precision and performance of vinyl cutting machines.
So, which is the best vinyl cutting machine? Read on for our top five picks!
---
Our Top Picks
Best Overall
Silhouette Cameo 4
Budget Option
Cricut Joy
Best for Beginners
Cricut Explore 3
---
Best Overall
The Silhouette Cameo 4 is designed for everyone from crafters to small business owners. As you could assume, this is the fourth generation of the Silhouette Cameo series, which is known for its precision cutting, versatility, and user-friendly design.
The Cameo 4 offers a range of features that make it a versatile tool for various DIY projects, from vinyl decals and heat transfers to paper crafts and fabric cutting.
The Cameo 4's dual carriage system allows users to cut and sketch simultaneously with high-precision cutting. It has a maximum cutting width of up to 12 inches and a length of up to 10 feet, using its AutoBlade feature that automatically adjusts the blade depth based on the material you're cutting.
This is great because it eliminates the need for manual adjustments and ensures accurate cuts on different materials.
The Cameo 4 is compatible with a variety of tools, including the AutoBlade, sketch pens, and various specialty blades for cutting different materials like fabric, cardstock, vinyl, and more.
It features increased cutting force compared to previous models, and can handle thicker and tougher materials, such as leather, craft foam, and chipboard.
Even cooler? No cutting mat needed! The Cameo 4 has a built-in roll feeder and crosscutter, so you can cut materials directly from a roll without a cutting mat.
This feature is especially useful for longer cuts or when working with adhesive vinyl.
The Cameo 4 also features a built-in touchscreen display with an intuitive interface for selecting and adjusting settings, choosing cutting materials, and controlling the cutting process.
It is compatible with Silhouette Studio software, which allows you to create and customize your designs, import various file formats, and control the cutting process (there's a free basic edition and a more advanced, paid edition).
Pros
Precision cutting
Compatible with many tool
AutoBlade technology
Some versions have wireless capability
Cons
Learning curve can be steep
Can be noisy
Some users report Bluetooth connectivity issues
Fairly large machine takes up a bit of space
---
Budget Option
The Cricut Joy is one of the best vinyl cutting machines for small-scale crafting projects. It's compact and portable, making it easy to move around (like to take to crafting events or meet-ups) or use in a smaller workspace.
Another thing that makes the Cricut Joy one of our favorite vinyl cutting machines is that it is designed with simplicity in mind. It's user-friendly and suitable for beginners who want to dip their toes into crafting without the complexity of larger cutting machines.
It's easy and quick to set up, and the Cricut Design Space software–accessible via both desktop and mobile devices–is user-friendly and intuitive.
Despite its compact size, the Cricut Joy can cut a variety of materials, including vinyl, iron-on, cardstock, paper, and more.
It has an adhesive mat with a "card mat" option that makes removing intricate cuts from the mat easier, reducing the risk of tearing delicate designs.
Some accessories and materials that are compatible with larger Cricut machines might not work with the Cricut Joy. Cricut offers a range of specialty tools and accessories designed specifically for the Joy.
Pros
Compact and portable
Easy to use
Quick setup
Works with Smart Materials, which have built-in adhesive and don't require a cutting mat
Can cut a variety of materials
Software is user-friendly and intuitive
Cons
Limited cutting size (width is limited to 5.5 inches)
Limited cutting force
Good for basic projects only
Bluetooth connectivity issues between the Cricut Joy and their devices.
Users may encounter alignment and placement challenges, especially on longer cuts
Smart Materials and replacement blades can get expensive
---
Best for Beginners
The Cricut Explore 3 is one of the best vinyl cutting machines that offers a wide range of creative possibilities for crafters and DIY enthusiasts.
The Cricut Explore 3 can cut a vast array of materials, including paper, vinyl, iron-on, cardstock, fabric, and leather, among others. This versatility makes it suitable for a wide range of crafting projects.
The Explore 3 offers built-in Bluetooth, allowing you to connect wirelessly to your computer or mobile device and eliminating the need for cords, giving you greater flexibility in workspace setup.
It also has increased cutting speed compared to previous models. Its dual carriage system allows you to cut and write or cut and score in one step, saving time and streamlining project completion.
This vinyl cutter automatically adjusts cut settings for different materials using its "Adaptive Tool System," which ensures accurate cutting without manual adjustments.
The "Print then Cut" feature allows you to print designs on your home printer and then have the Explore 3 cut precisely around them, enabling more intricate and colorful projects.
Pros
Works on a variety of materials
Fast, accurate cutting
Compatible with Bluetooth and wireless technology
Works well with Cricut software
Dual-carriage system
Cons
Steep learning curve
Not great with thick materials
Can be noisy
Potentially limited cutting size (12 inches)
---
Best for Professional Projects
The Roland GS-24 is a professional-grade vinyl cutter designed for precision cutting of various materials, particularly vinyl, for applications such as signage, decals, apparel decoration, and more.
This vinyl cutting machine is maybe more than the weekend-warrior DIYer needs, but it's wonderful for those looking to transition from DIYer to professional.
The Roland GS-24, known for its exceptional cutting precision and accuracy, is great for intricate and detailed designs. Advanced features like perforated cutting allow you to easily separate decals and stickers after cutting.
Roland is renowned for producing high-quality and durable equipment; the GS-24 is no exception.
It's built to withstand heavy usage and provide reliable performance over time. And, although it's designed for vinyl cutting, the GS-24 can also handle other materials, such as heat-transfer material (iron-ons) and cardstock.
The intuitive control panel and user-friendly software interface make the GS-24 accessible to both beginners and experienced users.
Pros
Reliable tracking–this vinyl cutter's precise optical registration system ensures accurate tracking, even for longer or continuous cutting jobs.
Compatible with various design software programs
Front-loading design simplifies media loading and unloading, saving time and effort
Cons
High price point
May be overkill for hobbyists
Can be noisy
Requires maintenance
---
Best Entry-Level Standing Unit
The USCutter MH 871 is one of the best vinyl cutting machines designed. It is relatively budget-friendly, making it a good option for those on a tight budget or looking to start vinyl cutting as a hobby.
It can also cut other thin materials, like paper and cardstock.
With a 34-inch cutting width, the MH 871 offers a reasonable size for cutting larger designs and projects.
The kit comes with basic design and cutting software, making it accessible to beginners who are new to vinyl cutting.
You can also adjust cutting pressure and speed to optimize cutting performance for different types of vinyl and materials.
Pros
Beginner-friendly
Affordable
Large cutting width
Cons
Software limitations
Limited thickness cutting capabilities
Not the best with intricate cutting
---
Vinyl Cutting Machine Buyer's Guide
When choosing the best vinyl cutting machine for your needs, there are several factors to consider.
Cutting quality and precision
Read reviews and user experiences to understand how well a particular machine performs in terms of cutting intricate designs and fine details.
Cutting force and pressure
Machines with higher cutting force and adjustable pressure settings are better suited for precision cutting intricate designs and thicker materials. Make sure the machine's cutting force can handle the materials you plan to work with.
Cutting speed
Cutting speed can also affect the quality of your result. Look for machines that offer a good balance between cutting speed and accuracy. Some machines allow you to adjust the speed for different materials.
Software compatibility and design tools
Software should offer precise control over design placement, alignment, and scaling. Compatibility with third-party design software can also be an advantage.
Check to see if you'll be locked into a single-brand software, or if your machine will work well with innovative, third-party applications.
Cutting width and size
The best vinyl cutting machine for you is one that accommodates your typical project sizes. This prevents the need for multiple cuts and piecing together designs.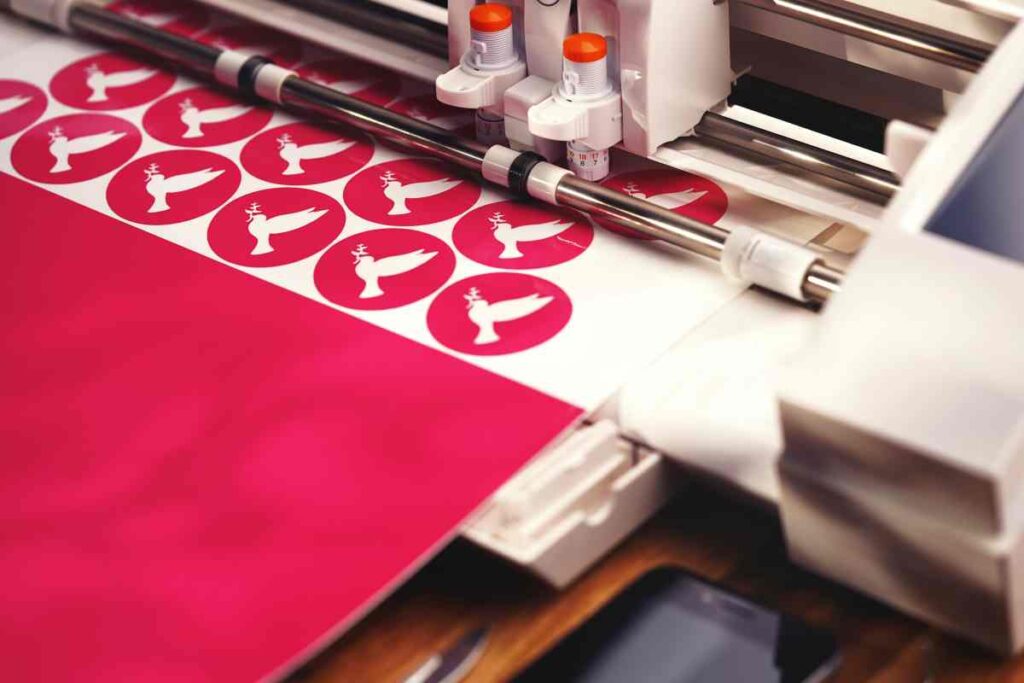 Material compatibility
Make sure the machine you choose is compatible with the types of vinyl and other materials you plan to work with. Some machines handle specialized materials like heat-transfer vinyl and adhesive vinyl.
Stability
A sturdy and stable machine enhances cutting precision. Machines with minimal vibration during operation are more likely to deliver accurate cuts.
Price
Precision often comes at a cost. Be aware that more budget-friendly vinyl cutting machines may not give you the best precision. But, for most hobbyists, they work just fine!
---
Design and Do
The best vinyl cutting machines are the ones that suit your particular needs for the amazing projects you have planned! We hope this list will help you decide which machine will best facilitate your creativity.
For more great advice on crafting tools and tricks, check out our crafting page!