Refinishing furniture is a cost-effective, eco-conscious way to refresh your space, and it all begins with sanding! That's why it's so important to choose a good sander for refinishing furniture.
Read on to learn more about our top five best sanders for furniture refinishing!
---
Our Top Picks
Best Overall
Black and Decker Mouse Detail Sander
Budget Option
WEN 6301 Electric Detailing Palm Sander
Best for Large Projects
Makita 9903 Belt Sander
---
Best Overall
The Black and Decker Mouse is one of the more popular sanders for refinishing furniture, and with good reason! It is compact but packs a relatively powerful 1.2-amp motor.
The Mouse excels at detail work, as well, thanks to the included finger attachment that lets you get into grooves and other tight spots.
The Black and Decker Mouse Detail Sander is compact and lightweight, allowing for comfortable one-handed operation and making it less intimidating for users who are new to power tools. Its distinctive triangular shape and pointed tip make it ideal for accessing corners, edges, and other hard-to-reach areas.
We think this is one of the best sanders for refinishing furniture because its precision makes it particularly suitable for intricate woodwork and craft projects. It's perfect for DIY enthusiasts, hobbyists, and homeowners who want a tool that can handle detailed sanding tasks without the need for larger and more powerful sanders.
Some versions of the Mouse also offer variable speed control, so you can adjust the sanding speed to suit the task at hand.
Pros
Lightweight
Easy to handle
Budget-friendly
Good for small and intricate projects
Cons
Not good for bigger projects
Dust collector needs improvement
---
Budget Option
If you're watching your budget but still want a great sander for refinishing furniture, check out the WEN 6301 Detailing Palm Sander. It's compact and easy to use, with a 1-amp motor and dust collector. The WEN sander is lightweight and affordable–two great features for the casual furniture refinisher!
The WEN 6301 is designed to be held in the palm of your hand while you operate it, which allows for better control and maneuverability when working on detailed surfaces. The sander's variable speed control also lets users have more control by easily adjusting the sanding speed.
Its controls are straightforward, so you won't need to read the entire manual in depth just to get started.
We think this sander is one of the best sanders for refinishing furniture because it's so easy to use on general DIY projects and comes at a good price. Its built-in dust-collection system also keeps your workspace dust-free!
Pros
Compact and lightweight
Affordable
Good performance on small and medium-sized projects for the price
Built-in dust collection system
Can use many different brands and grits of sandpaper
Quiet compared to some other power sanders
Cons
Less powerful compared to higher-end models, which may affect its ability to handle heavy-duty sanding tasks
Limited durability–some users have reported issues with the hook-and-loop pad wearing out or the motor experiencing problems after prolonged use
Produces considerable vibration
No variable speed control
---
Best for Large Projects
If you plan on tackling some bigger refinishing projects, the Makita 9903 Belt Sander is one of the best sanders on the market. It's powerful–boasting an 8.8-amp motor and 3-inch by 21-inch belt size–and offers variable speed control.
The Makita 9903 is commonly used by professionals and woodworking enthusiasts for tasks that require efficient and aggressive sanding.
The Makita 9903 is one of the best sanders for heavy-duty material removal and surface leveling. Its sturdy construction and high-quality components are designed to withstand heavy use in professional settings, making it very durable.
This sander is also user-friendly, with ergonomic handles, variable speed control, and auto-tracking belt system (which automatically adjusts the belt position to provide accurate tracking and consistent sanding performance) that all contribute to ensuring precision and comfort during extended periods of use.
Pros
Durable build
Excellent performance
Low noise and vibration
Efficient dust collection
Reliable for heavy-duty tasks
Cons
Short power cord
Relatively heavy
Not as precise as some other models
Not great for curved surfaces
Ample power can result in oversanding
---
Best Cordless
Sometimes you just need the convenience and portability of a cordless sander. For those projects, we like the Dewalt 20V Max Orbital Sander. Its 5-inch random orbit has variable speed control and excellent dust collection capabilities.
A one-handed locking dust bag attaches securely to this sander, or users can attach the sander directly to a DWV010 or DWV012 dust collector, ensuring you keep your workspace clean. You can even attach it to another vacuum collection system, but you have to buy a special adapter.
As with most portable sanders, users would like to see a longer runtime between battery charges. However, the lithium-ion battery in the 20V Max charges very fast, so at least you won't have to wait too long to get back to work!
Pros
Reliable performance
Compact and lightweight
Comfortable to use for extended periods
Cons
Battery and charger sold separately
Battery capacity could be increased for longer runtime
---
Best Multifunction Sander
If you're looking for the best multifunction sander for refinishing furniture, check out the Bosch GOP40-30C. With its 4-amp motor, variable speed control, tool-free blade change system, and LED lighting, this sander gives you all the options you'll need to do a professional-looking refinishing job.
This is one of the best sanders for refinishing furniture for so many reasons! The GOP40-30C is a high-performance oscillating multitool designed for a wide range of cutting, sanding, grinding, and scraping tasks.
This sander, known for its powerful motor, precision, and user-friendly features, is often used by professionals and DIY enthusiasts for various applications that require precision and versatility.
The GOP40-30C works by oscillating back and forth at high speeds. This action and the tool's power make it ideal for various applications, including cutting through wood, metal, plastic, and drywall; sanding and polishing surfaces; and removing grout.
Pros
Powerful and efficient
Versatile
Wide range of attachments
Easy-to-use interface
Comfortable grip
Cons
Higher price point compared to some other models
May not excel at every type of sanding
---
Best Sanders for Furniture Refinishing Buyer's Guide
Types of sanders for refinishing furniture
There are four different types of sanders for furniture refinishing. Read on to find out more about each.
Orbital sanders
Also known as random orbital sanders, orbital sanders are versatile, capable of effectively sanding various surfaces. They combine rotary and orbital movements to efficiently remove existing stain and paint, resulting in a smooth finish.
Orbital sanders use disposable (and easily replaceable) velcro sanding pads that come in various grits. Grits determine the coarseness of the sandpaper, with lower grits (ranging from 40 to 80) for heavy material removal, and higher grits (sizes 120 to 220) for finer, detailed finishing.
Detail sanders
Detail sanders, also called corner sanders or mouse sanders, are designed for precision sanding in tight or intricate spaces. They are particularly useful for sanding corners, edges, and hard-to-reach areas.
Detail sanders are some of the best sanders for refinishing furniture. They're compact and lightweight, with a triangular sanding pad that allows them to access tight corners and other areas that larger sanders can't reach.
Detail sanders use a vibrating or oscillating motion to achieve a smooth result and prevent over-sanding or uneven material removal.
These sanders are some of the best for refinishing furniture because they save you time and effort by providing accurate sanding in areas that would be challenging with larger sanders, preventing the need for manual sanding in tight spaces.
On the other hand, detail sanders are not ideal for large flat surfaces; their small pad size makes sanding larger areas inefficient and time-consuming.
Belt sanders
Belt sanders are powerful tools typically used to remove material and level surfaces rapidly. They use a continuous loop of sandpaper (belt) that rotates around two drums, making them great for larger projects.
We like belt sanders for refinishing furniture with large, flat surfaces that need sanding and for exceptionally rough surfaces.
However, they pack a big power punch, and aren't good for detailed or intricate refinishing projects. Also, they may leave visible sanding marks if not used properly.
Multifunction sanders
Often referred to as combination sanders or oscillating spindle sanders, multifunction sanders combine various sanding functions into one unit.
They are designed to perform a range of sanding tasks, like oscillating spindle sanding, belt sanding, disc sanding, and sometimes even drum sanding, with precision and efficiency. Some multifunction sanders also have a belt sander feature.
The downside to multifunction sanders is that they aren't really perfect at any one task. Also, they're bulkier than single-function sanders.
---
Furniture Sanders Frequently Asked Questions
What factors should I consider when looking for a sander?
When looking for the best sander for refinishing furniture, consider the project (and any potential projects on the horizon) and think about the size and weight of the sander. A lighter sander may be best if you plan to do smaller projects.
Also consider where you'll be using the sander. If you won't be close to a power source or don't want to deal with a power cord, opt for a cordless option.
Ergonomics are important for many users, as well. If you have any limitations in terms of movement, make sure to learn about each sanders' design and ease of use.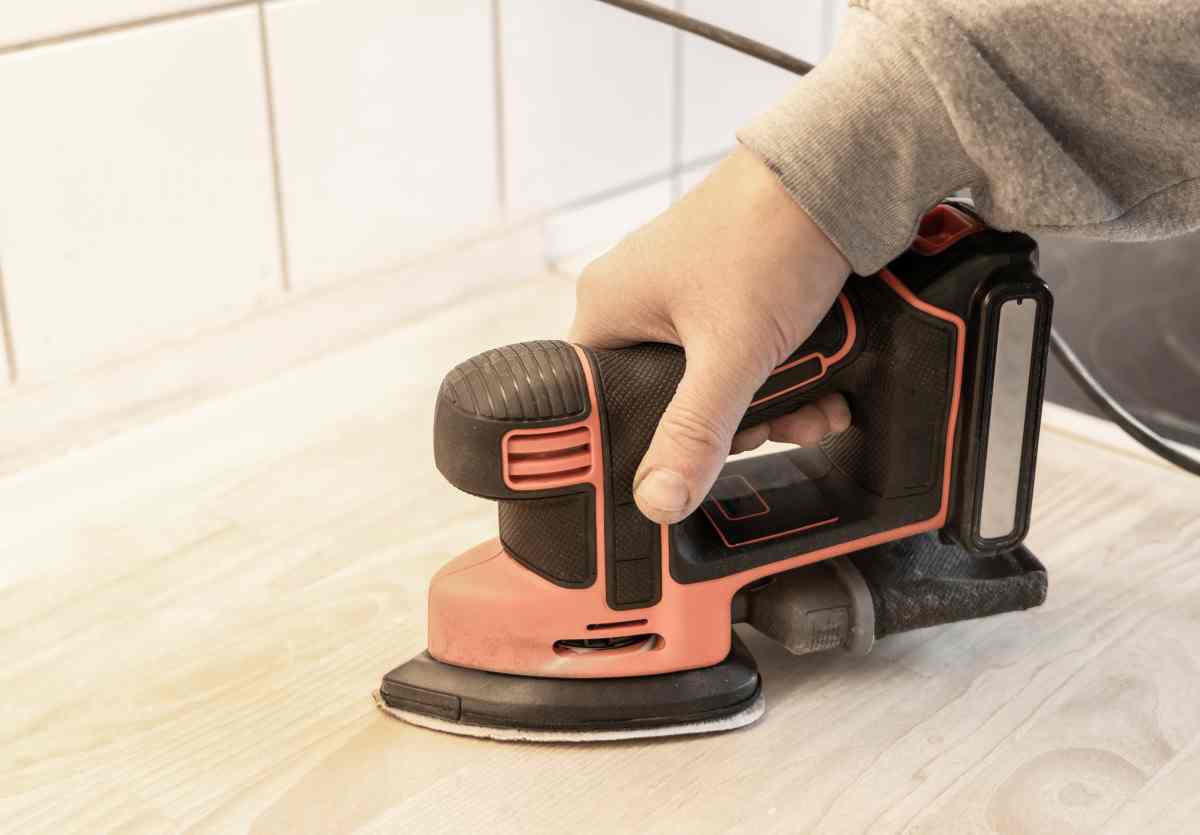 How do I maintain and care for my sander?
Regular maintenance is imperative for keeping your sander in prime condition to refinish furniture.
After each use, clean the sanding pad or attachment to remove dust and debris, and wipe down the sander to remove accumulated dust or residue.
Empty or replace the dust collection bag or container as needed. Clear any dust buildup in the dust port or hose.
Replace sanding pads when they become worn, damaged, or are no longer effective. Make sure you're using the appropriate grits to achieve the best results.
Regularly check sanding belt tension for belt sanders, adjusting as needed. Ensure all sanding belts and other attachments are properly aligned to prevent uneven sanding.
Some sanders may require lubrication. Check out your sander's manual for specifics on lubrication.
Store your sander in a clean, dry location to prevent damage and dust buildup. If possible, store it in its original case.
If you notice any components (switches, handles, or guards) becoming loose or damaged, replace them as soon as possible.
Regularly inspect your sander to check for any wear and tear, loose parts, or potential safety hazards.
---
Sand for Success
No matter which sander you decide is best for refinishing your furniture, this essential tool is sure to give your next project that professional touch!
For more tips on how to get started with refinishing, check out this basic guide to refinishing furniture!