Paint sprayers have revolutionized the world of home improvement, especially when it comes to cabinetry. Achieving a smooth, professional finish on cabinets can be a challenging task with traditional brushes and rollers.
However, paint sprayers have made it possible to attain that flawless finish with minimal effort and time. In this article, we will explore the best paint sprayers for cabinets, the benefits of using them, and what to look for when making a purchase.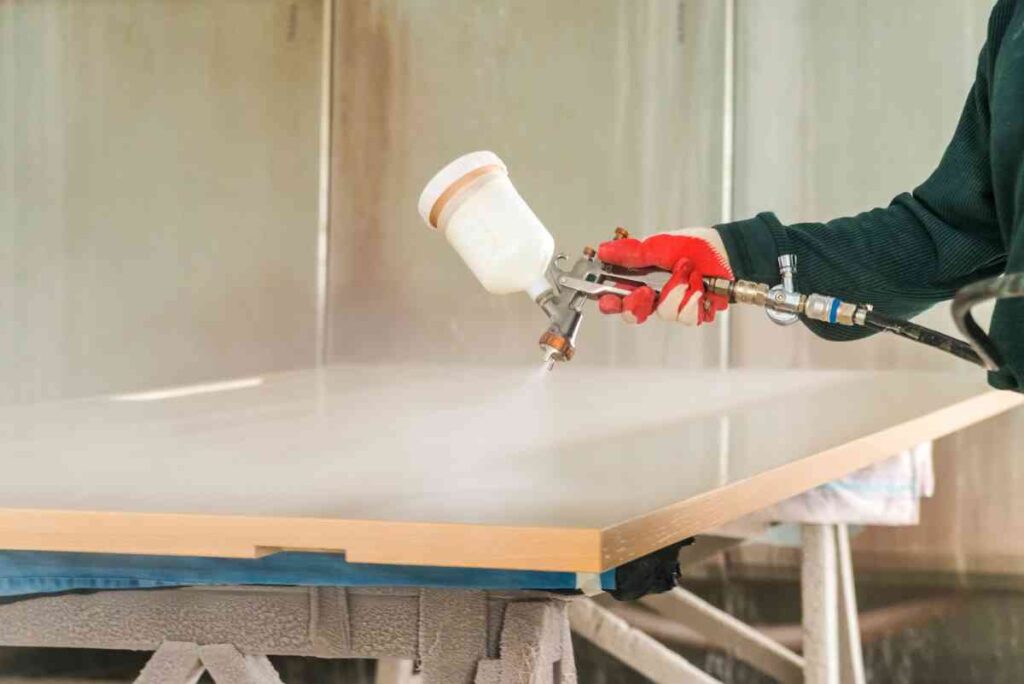 ---
Our Top Picks
Best Overall
Wagner Spraytech FLEXiO 5000
Best Professional
Fuji Spray 2202 Semi-Pro2 HVLP Spray System
Budget Option
HomeRight C800971 Super Finish Max HVLP Paint Sprayer
---
Best Overall
The Wagner Spraytech FLEXiO 5000 is a versatile and portable paint sprayer that delivers impressive results on various projects like furniture, cabinets, walls, and more.
The Wagner FLEXiO 5000 paint sprayer is designed to tackle a wide range of painting tasks both indoors and outdoors.
Its innovative iSpray nozzle ensures broad surface coverage, making it perfect for spraying walls, decks, and other large areas. The Detail Finish nozzle, on the other hand, caters to finer finishing projects such as trim, cabinets, and furniture.
This sprayer is known for its user-friendly setup and operation. The X-Boost Turbine sits on the ground, reducing user fatigue by keeping the weight off your hands, while the adjustable controls allow you to fine-tune the air pressure and paint flow to suit your needs.
The FLEXiO 5000 also includes a convenient clean-up process, utilizing its new spray nozzle design for a quick, 5-minute clean-up and storage.
Pros
Ideal for a variety of projects
Portable and comfortable to use
Adjustable settings for optimal control
Cons
Potential for atomization not as fine as advertised
Some users report durability issues
Possible defective components in a few units
---
Best Professional
Fuji Spray's powerful and user-friendly Semi-PRO 2 HVLP Spray System is an excellent choice for serious DIYers looking to achieve professional results.
The Fuji Spray Semi-PRO 2 HVLP Spray System stands out in the market, making it an ideal option for those looking to purchase a paint sprayer for cabinets.
The powerful 1400-watt two-stage motor sets it apart from competitors that often feature lower wattage motors. This power allows the Semi-PRO 2 to handle any coating type, offering a versatile solution for various projects.
One of the key features of the Fuji M-Model Spray Gun included in this system is its adjustable fan control. This allows users to fine-tune the spray pattern from a small circular shape to a wide fan and everything in between.
This level of control ensures that the sprayer is suitable for any size project, from large surfaces to intricate details.
In summary, the Fuji Spray 2202 Semi-PRO 2 HVLP Spray System is a top choice for those looking to tackle cabinet painting projects with professional results.
Pros
Powerful two-stage motor for versatile use
Adjustable fan control to customize spray patterns
Durable metal turbine case with gun holder
Cons
Slightly heavier compared to some competitors
May require paint thinning for optimal performance
25-feet hose may limit mobility
---
Best Budget
This versatile paint sprayer offers efficient painting on various projects with its adjustable settings and powerful performance, all at a friendlier price.
The HomeRight C800971 Super Finish Max HVLP Paint Sprayer is designed for convenience and versatility, making it a valuable addition to any DIY enthusiast's toolkit. Capable of handling various projects with ease, it works well on furniture, cabinets, fences, and walls.
This sprayer eliminates the hassle of thinning most paints and stains as it accommodates oil or water-based materials, such as latex paints, enamels, primers, sealers, stains, and varnishes.
Its adjustable settings allow users to customize the material flow, ensuring a smooth finish for various painting projects. The six available spray tip sizes and two air caps further enhance the sprayer's versatility.
The high-volume, low-pressure (HVLP) design makes this sprayer manageable even for beginners, as it does not require an air compressor for operation.
However, before diving into the world of paint spraying with this HomeRight model, users should be prepared to spend some time learning its ins and outs. Some materials might still need to be thinned for optimal performance, and the cleaning process can be time-consuming, especially for first-timers.
The powerful 450 watts motor and its large 39-ounce container capacity reduce the need for refills during a project, but a certain level of practice is essential to achieve professional-looking results.
Overall, the HomeRight C800971 Super Finish Max HVLP Paint Sprayer is a reliable and efficient choice for DIY enthusiasts who seek a versatile, powerful, and easy-to-use paint sprayer for various projects. With adjustable settings, a wide range of applications, and no need for an air compressor, this paint sprayer provides convenience and quality while minimizing any potential drawbacks.
Pros
Wide range of applications, from furniture to cabinets and fences
Adjustable settings for spray pattern and material flow
No need for an air compressor
Cons
May require practice for optimal use
Some materials might still need thinning
Cleaning process could be time-consuming
---
The Wagner Spraytech Control Pro 130 Power Tank Paint Sprayer is designed to make painting tasks easier with its High Efficiency Airless (HEA) technology. This feature is known for reducing overspray up to 55%, which means less paint is wasted, and preparation and cleanup are more manageable.
This paint sprayer is suitable for use with a wide range of unthinned paints and stains, making it versatile for many cabinet painting projects.
Gravity-fed design ensures fast and mess-free priming and cleaning, making it an ideal choice for those who want a hassle-free experience.
The Control Pro 130 has a 1.5-gallon hopper, which allows users to cover larger projects without frequent breaks for refilling. A 25-foot hose is included for easy portability and enhanced reach.
In conclusion, the Wagner Spraytech Control Pro 130 Paint Sprayer offers a helpful solution for those looking to paint their cabinets efficiently and with minimal overspray. With its versatile compatibility, high efficiency, and user-friendly design, this paint sprayer is worth considering.
Pros
High-Efficiency Airless technology reduces overspray
Gravity-fed for quick priming and easy cleaning
Compatible with a wide range of unthinned paints and stains
Cons
Requires careful priming to avoid issues during operation
May get clogged occasionally
Cleanup can be time-consuming
---
The Graco Magnum 257025 Project Painter Plus is a reliable paint sprayer for DIY enthusiasts seeking an efficient and user-friendly alternative to brushes and rollers.
Its lightweight design and adjustable pressure control make it an ideal tool for hobbyists and DIY enthusiasts. Moreover, the flexible suction tube allows users to spray directly from a one or five-gallon paint bucket for added convenience.
Featuring a fully adjustable pressure control, the Graco Magnum 257025 offers the flexibility to spray various types of paints and stains at different pressures. This feature allows users to achieve the desired finish and coverage for their projects. Additionally, the paint sprayer supports up to 50 ft of paint hose, enabling users to reach higher areas and work on second-story projects without losing performance.
Graco Magnum 257025 Project Painter Plus Paint Sprayer is a valuable tool for DIY enthusiasts looking to tackle home projects with ease. Its adjustable pressure control, extended hose support, and user-friendly design make it a worthwhile investment for those seeking an efficient and versatile paint sprayer.
Pros
Ideal for various home projects up to 50 gallons per year
Fully adjustable pressure control for versatile use
Supports up to 50 ft of paint hose, enhancing reach
Cons
Cleaning and maintenance can be time-consuming
Not suitable for heavy-duty or professional use
May experience overspray if not adjusted properly
---
The Graco Ultra Cordless Airless Handheld Paint Sprayer is designed to provide a smooth, airless finish on cabinets without the need for thinning. Powered by DEWALT XR Lithium Ion System for extended battery life, this sprayer is perfect for taking on small to medium-sized projects with ease.
One of the key features of the Graco Ultra is its Triax Triple Piston Pump with ProConnect, which delivers reliable performance and ensures easy maintenance.
Furthermore, the FlexLiner bag system allows the user to spray at any angle, even upside down, offering more versatility during the painting process.
However, the Graco Ultra is limited in scope and might not be the best choice for those with larger projects or plans to use the sprayer beyond cabinet painting.
Users have also reported potential air leakage issues after multiple uses, which could impact overall performance. Nevertheless, if a portable, high-quality paint sprayer is what you're after, Graco Ultra is definitely worth considering for your cabinet painting needs.
Pros
Powered by DEWALT XR Lithium Ion System
Perfect Airless Finish at Any Speed – Without Thinning
Triax Triple Piston Pump with ProConnect
Cons
Limited to small and medium-sized projects
Requires frequent refills when working on larger surfaces
Potential air leakage after multiple uses
---
Buying Guide
When looking for the best paint sprayer for cabinets, several factors should be considered to ensure you choose the right product. This buying guide will help you understand the essential features to look for when selecting a paint sprayer.
Motor Power
The motor power of a paint sprayer determines the spraying speed and efficiency. A powerful motor allows for smoother and faster paint applications, ensuring you complete your projects in a timely manner. Check whether the motor has sufficient power for your intended usage, without being too overwhelming for cabinet projects.
Adjustable Pressure
Adjustable pressure settings are essential in a paint sprayer for cabinets. This feature allows you to control the paint flow and spray patterns, ensuring a consistent and even application. Different projects require various pressure levels, so choose a paint sprayer with a wide range of pressure settings for versatility.
Nozzle Options
Different nozzle sizes and styles can offer different spray patterns. This allows you to customize the spray pattern according to the specific requirements of your cabinet projects, ensuring the best results.
Ease of Cleaning
A paint sprayer that is easy to clean is crucial for maintaining its functionality and prolonging its lifespan. Opt for a model with a simple disassembly process, ensuring you can quickly clean and reassemble the components after each usage. This will also prevent paint clogging, which can negatively impact the overall performance.
Portability
Depending on the size and layout of your cabinet projects, portability might be a critical factor in your decision-making process. Look for a paint sprayer with a compact design, lightweight construction, and carrying options, such as a shoulder strap, to make it easier to move between job sites or maneuver in tight spaces.
---
Frequently Asked Questions
Can I use a paint sprayer for cabinet painting?
Using a paint sprayer for cabinet painting can provide several benefits, including smoother finish, faster painting process, and uniform coverage. Sprayers are especially useful for detailed or elaborate cabinet designs, as they can easily cover hard-to-reach areas.
Is a sprayer better than a brush?
In many cases, a paint sprayer may be better than a brush for cabinet painting. Sprayers can offer a more consistent finish, better coverage, and faster painting time.
A paint sprayer works by atomizing the paint into fine particles, creating a consistent spray of color that can be evenly applied to a surface. This creates a seamless, high-quality finish that is difficult to achieve with brushes or rollers, as they are prone to leaving brush marks and drips.
Sprayers also offer the added benefit of faster application, making them an ideal choice for time-conscious DIY enthusiasts.However, brush painting may still be preferred for small touch-ups or refinishing tasks.
---
Wrapping up the Best Paint Sprayers for Cabinets
When shopping for a paint sprayer for cabinets, it is essential to consider factors such as the type of sprayer (airless, HVLP, etc.), the size of the spray tip, adjustable pressure, and ease of cleaning.
These factors will contribute to the overall performance and effectiveness of the paint sprayer in achieving that perfect finish on your cabinets.
Armed with this knowledge, you can confidently venture into the world of paint sprayers for cabinets, and find the best one for your needs. Check out our list of the Best Paints for Cabinets next!