Outdoor metal furniture is a stylish and durable addition to any living space, whether located on a patio, in the garden, or by the pool.
However, exposure to the elements can cause wear and tear on even the best quality furniture, leading to the need for a fresh coat of paint to restore its appearance and protect it from further damage. Selecting the best paint for outdoor metal furniture is essential to ensure long-lasting results and a visually appealing finish.
There are several factors to consider when choosing the best paint for your outdoor metal furniture, such as the type of metal, the climate in which the furniture will be used, and the desired appearance.
With an abundance of paint options available on the market, it is vital to understand their qualities and choose the best one suitable for your individual needs.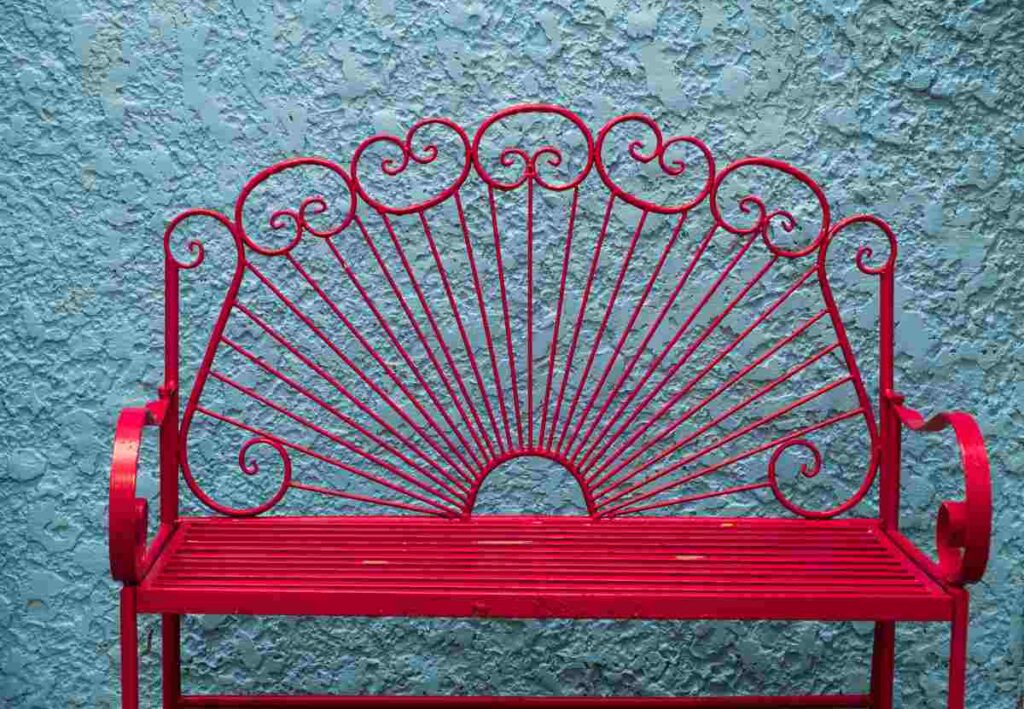 ---
Best Semi-Gloss Paint
The Rust-Oleum Black Stops Rust Protective Enamel is designed to protect metal, wood, concrete, and masonry surfaces from weather and corrosion, making it a great choice for refinishing outdoor metal furniture. The oil-based formula provides a durable protective coating that also offers excellent rust prevention.
Drying to the touch in 2-4 hours, this enamel paint may require some patience for those looking for a quick fix. Nonetheless, once applied, it leaves a glossy finish that enhances the look of your outdoor furniture. Be mindful of the coverage this product provides, as one can cover up to 45 sq. ft., which might be insufficient for larger projects.
While Rust-Oleum boasts its resistance to abrasion, fading, and chipping, one should still exercise care to prolong the paint's lifespan and maintain the furniture's pristine appearance. With a 4.4-star rating from 272 reviews, this protective enamel demonstrates its effectiveness in safeguarding your outdoor metal furniture and helping it resist Rust-Oleum's elements.
Rust-Oleum's Protective Enamel offers reliable protection and a glossy finish for your metal outdoor furniture.
Pros
Weather and corrosion-resistant coating
Oil-based formula enhances durability
Provides a glossy shine to surfaces
Cons
Dries in 2-4 hours, may take time for some users
Covers up to 45 sq. ft. only
Resistance to chipping may not be perfect
---
Budget Option
Krylon K05505007 COLORmaxx Spray Paint and Primer is an all-purpose, fast-drying paint that delivers excellent adhesion, durability, and rust protection, making it suitable for a wide variety of indoor and outdoor projects, including metal outdoor furniture. It can be applied to wood, metal, wicker, most plastics, glass, plaster/ceramic, fabric, and paper, making it a versatile choice for any DIY enthusiast or professional.
The paint offers added rust protection for both indoor and outdoor projects to ensure the longevity of your metal furniture. It dries to the touch in just 20 minutes and is ready to handle within an hour, allowing you to complete projects quickly. The spray-any-way capabilities make it easy to apply from any angle, and the big button spray tip ensures comfortable usage. Each 12 oz. can cover up to 25 square feet, providing decent coverage for smaller projects.
The gloss finish of the Krylon K05505007 COLORmaxx paint may not be suitable for those looking for a more matte or subdued appearance. Additionally, the recoat window is within 4 hours or after 48 hours, which might require careful planning and adherence.
Krylon K05505007 COLORmaxx is a dependable choice for your metal outdoor furniture painting needs, offering versatile surface adhesion and lasting protection.
Pros
All-purpose paint for various surfaces
Indoor/outdoor use with rust protection
Fast drying time and easy application
Cons
Limited to 25 sq. feet coverage per can
Recoat window restrictions
Gloss finish may not be ideal for all preferences
---
Best Spray Paint
Montana Cans Gold Matte Spray Paint offers a flexible, acrylic-based matte formula that provides excellent opaque coverage. Its versatility allows it to work well on various surfaces such as wood, concrete, metal, plastic, canvas, and glass. Being 100% lead and CFC free, it ensures safety in terms of its environmental impact.
However, it is essential to handle this paint accordingly to avoid issues like spraying droplets that can affect the quality of the job. Careful surface priming and shaking the can thoroughly can help prevent this.
Additionally, the paint may require multiple coats to achieve a strong glow, which could potentially lengthen the overall process. Some users reported issues with the nozzle, such as uneven spraying or spattering. Cleaning the nozzle might resolve this, but it could still be a cause for frustration.
Montana Cans Gold Matte Spray Paint is a viable option for those seeking a versatile and flexible paint for metal outdoor furniture.
In conclusion, Montana Cans Gold Matte Spray Paint offers a versatile and environmentally friendly option for painting metal outdoor furniture. Its pros outweigh its cons as long as one pays attention to proper handling and application.
Pros
Flexible, acrylic-based matte formula
Works on multiple surfaces, including metal
100% lead and CFC free
Cons
Requires proper handling to avoid droplets
May need multiple coats for strong glow
Reports of sporadic nozzle issues
---
The Rust Cap Hammerite Smooth Enamel Finish is specifically designed to provide excellent rust prevention on metal surfaces. This enamel paint is tailored for iron, steel, and metal materials, making it ideal for outdoor metal furniture that is susceptible to corrosion and weathering.
With its high-gloss, smooth finish, this paint not only ensures long-lasting protection, but also enhances the appearance of the furniture. The almond color brings a touch of elegance and sophistication to the metal outdoor pieces. However, it is worth noting that the available color options are limited, which may not suit everyone's preferences.
The Rust Cap Hammerite Smooth Enamel Finish is a suitable choice to protect and rejuvenate metal outdoor furniture.
While the aerosol application method facilitates easy and quicker coverage, it may not be ideal for all users, especially those who prefer traditional paint application methods. Furthermore, achieving full coverage may require multiple coats, which could lead to increased effort and time spent on the painting project.
In conclusion, the Rust Cap Hammerite Smooth Enamel Finish is a reliable paint solution for metal outdoor furniture, offering rust prevention and a stylish, durable finish. However, users should consider the limited color options and the need for multiple coats to achieve desired results.
Pros
Rust-preventative formula
Highly durable high-gloss finish
Suitable for iron, steel, and metal surfaces
Cons
Limited color options
May require multiple coats for full coverage
Aerosol application may not be suitable for all users
---
The Majic Paints Diamond Hard Acrylic Enamel offers a high-quality, all-purpose paint suitable for wood, metal, brick, drywall, glass, and several other surfaces. Its water-based formula provides a low odor, non-flammable, and environmentally friendly alternative to oil-based paints. The product's rust-inhibiting properties ensure that metal outdoor furniture remains protected from corrosion and damage over time.
One noteworthy aspect of this paint is its impressive finishing and color retention. The acrylic enamel levels to create a smooth, satin white finish that retains its aesthetic appeal for years. Additionally, the paint's durable finish resists scratches and scuff marks, ensuring that painted furniture continues looking pristine.
However, customers should be aware that this paint may require multiple coats for optimal coverage, particularly on uneven or porous surfaces. Some users have reported visible brush marks or air bubbles when not applied carefully.
Make sure to follow the recommended application methods and use a high-quality brush for the best results. Also, be cautious if you live in California, as this paint may not be in compliance with the state's Prop 65 regulations.
Pros
Versatile application on various surfaces
Rust-inhibiting, water-based formula
Superior finishing and color retention
Cons
May require multiple coats for some surfaces
Possible brush marks if not applied carefully
Could be problematic with California PS 65 law
---
Buyer's Guide for Outdoor Metal Furniture Paint
Paint Types to Consider
There are several options when it comes to choosing paint for outdoor metal furniture. Each type of paint has its unique properties that make it suitable for specific applications.
In this section, we will explore some of the most popular paint options for outdoor metal furniture such as oil-based paint, water-based paint, acrylic paint, and high-heat paint.
Oil-Based
Oil-Based Paint is a strong choice due to its durability. When applied, it dries to a hard, glossy finish that can withstand harsh weather conditions and resist chipping and fading.
While it takes longer to dry than water-based paint, the robust finish makes it a popular choice for outdoor metal furniture. One recommended oil-based paint is Rust-Oleum Protective Enamel, known for its thickness and value-for-money.
Water-Based
Water-Based Paint is an eco-friendly option, and it dries faster than oil-based paint. Water-based paint is easier to clean up and has lower levels of VOCs.
However, it might not provide the same level of protection and durability as oil-based paint. When used appropriately, water-based paint can still deliver good results on outdoor metal furniture.
Acrylic
Acrylic Paint offers a balance between oil-based and water-based paint. It combines the best properties of the two, such as quick drying time and resistance to weather-related damages.
Acrylic paint can often be found in spray paint form for easier application, like Rust-Oleum Painter's Touch. With proper priming and application, acrylic paint can create a durable finish for metal furniture.
High-Heat
High-Heat Paint is a specialized paint specifically designed to resist high temperatures and protect surfaces exposed to extreme heat.
Although it might not be needed for all outdoor metal furniture, high-heat paint can be useful if the furniture is placed near fire pits, grills, or other sources of intense heat.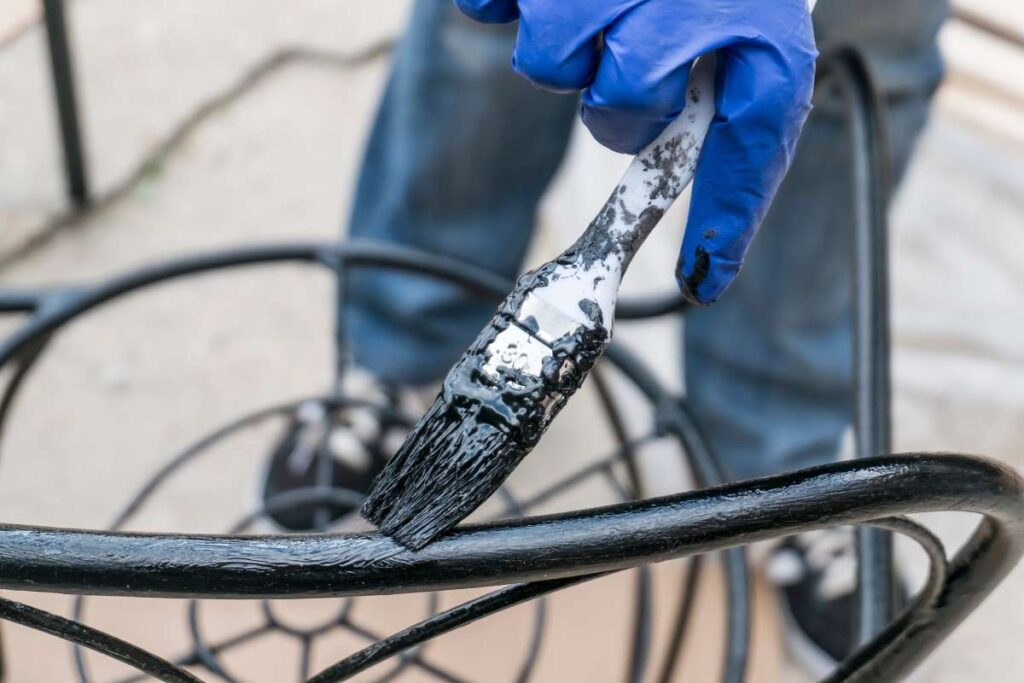 Finish Type and Primer
It's important to consider the type of finish, such as gloss or matte, when selecting paint for outdoor metal furniture. Gloss finishes may provide better protection against UV rays and weather damages but might show scratches and imperfections more easily than a matte finish.
Priming is an essential step in the painting process to ensure a strong bond between the paint and metal surface. This process also helps to improve the paint's durability and longevity.
Preparing the Surface for Painting
Before starting the process of painting outdoor metal furniture, it's essential to prepare the surface properly. This ensures the best possible adhesion of the paint and increases the durability of the finish. The preparation steps mainly involve cleaning the surface, removing rust, sanding, and priming.
Clean the Surface
The first step is to clean the furniture thoroughly, removing any dirt, grease, or other contaminants that might interfere with the paint adhesion.
To do this, use a mild soap and water solution, or look for specialized cleaners designed for metal surfaces. After washing, allow it to dry completely before moving on to the next step.
Check for Rust
Next, check for rust on the metal pieces. If rust is present, use a wire brush to remove loose flakes. For stubborn spots, a sanding block or sandpaper with a grit of around 60 to 80 can provide more effective results.
This step is crucial because rust can cause the paint to deteriorate over time and eventually lead to further damage.
Sand the Surface
After removing the rust, sand the entire surface gently using a finer grit sandpaper (around 180 to 220 grit). This step helps to create a smooth and even surface that allows the paint to adhere better.
Moreover, it also helps to roughen up any remaining glossy areas, ensuring that the new paint will stick properly. Always remember to wipe down the piece with a clean, damp cloth to remove any dust or debris after sanding.
Prime
Finally, apply a suitable primer to the metal surface. Priming the furniture provides an additional layer of protection against weather elements and creates a better bonding surface for the paint.
It's essential to select a primer specifically designed for metal surfaces, providing the best results. Once the primer is dry, the furniture is ready for painting.
Design and Aesthetics
When choosing the best paint for outdoor metal furniture, it's essential to consider not only durability but also design and aesthetics.
The right paint should blend well with the furniture's design and exterior setting while providing an attractive finish to enhance the overall appearance.
Paint Color
Color plays an essential role in any design, and outdoor metal furniture is no exception. It's crucial to select a color that complements your existing outdoor decor, whether it's a bold, statement color or a more neutral shade to blend seamlessly with other elements.
Popular options include black and other neutral tones, which provide a timeless and versatile look. However, don't be afraid to explore unique colors that express your personal style and make your outdoor space inviting.
Paint Finish
The finish of the paint also impacts the overall look of your metal furniture. Glossy finishes are eye-catching, reflecting light and creating a polished, clean appearance, while matte finishes offer a more subtle, modern, and understated look.
Depending on the intended design, choose a paint finish that aligns with your desired aesthetic. It's worth noting that glossy finishes are often more resistant to weather damage and may prolong the life of the paint.
---
Frequently Asked Questions
What type of paint is most durable for outdoor metal furniture?
There are several types of paint suitable for outdoor metal furniture; however, the most durable option is typically a high-quality enamel paint, such as Rust-Oleum Protective Enamel.
These paints offer excellent durability, adhesion, and resistance to rust. They can also withstand the rigors of outdoor exposure, such as sunlight, rain, and temperature fluctuations.
How do I prepare metal furniture for painting?
Proper preparation is essential for achieving long-lasting results when painting metal furniture. First, use a wire brush to remove loose rust and debris. Next, sand the surface with a palm sander, focusing on removing all remaining rust and creating a smooth, clean surface.
For any mildew, use a bleach and water solution to clean the affected areas, then rinse thoroughly to remove all chemicals. Ensure the furniture is completely dry before applying any paint.
What are the best weather-resistant paints for outdoor metal furniture?
Weather-resistant paints are crucial for preserving outdoor metal furniture. Several popular options include Rust-Oleum Protective Enamel, Krylon All-In-One Fusion, and Rust-Oleum Universal Spray Paint.
These paints provide robust protection against the elements, resisting rust, chipping, and peeling while offering excellent color retention.
How many coats of paint should I apply on outdoor metal furniture?
Applying multiple coats of paint can help enhance durability and achieve a consistent finish. It is generally recommended to apply at least two coats of paint, allowing sufficient drying time between each coat.
Always refer to the paint manufacturer's instructions for specific guidance on the number of coats and drying times.
Can I use a paint sprayer for outdoor metal furniture?
Yes, paint sprayers can be an efficient way to paint outdoor metal furniture. Sprayers allow for a smooth, even application of paint, thus reducing the risk of brush marks or uneven coverage.
When using a paint sprayer, ensure proper technique and safety precautions are followed to achieve optimal results.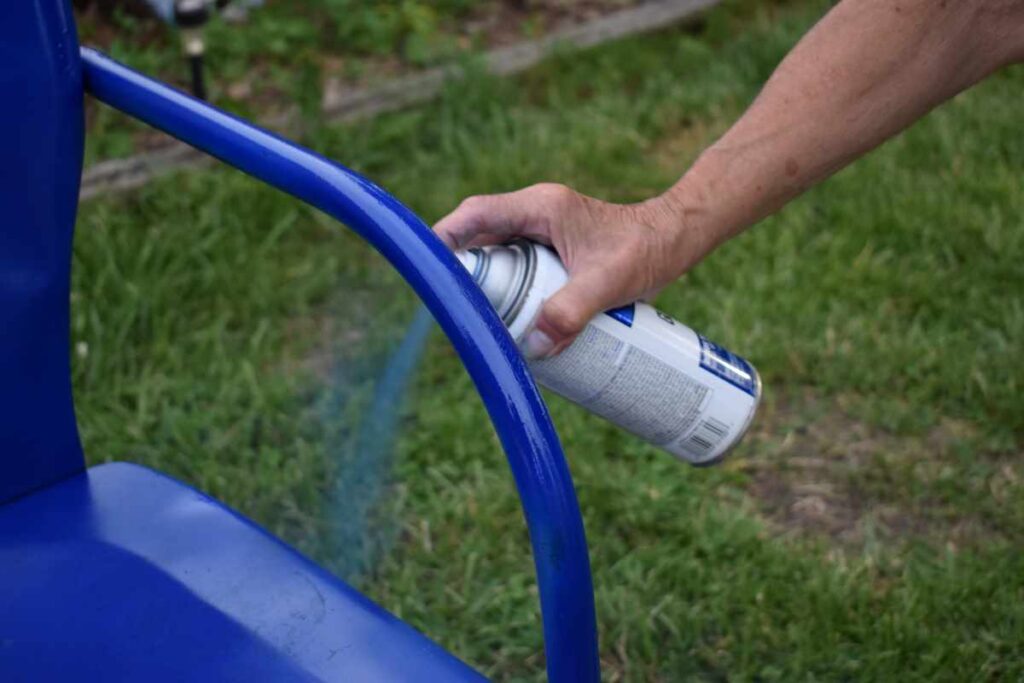 How long should I wait between coats of paint for outdoor metal furniture?
The waiting time between coats of paint may vary depending on the specific paint product and environmental conditions.
As a general guideline, allow 24 hours of drying time between each coat. Check the paint manufacturer's instructions for specific drying times and follow their recommendations for the best results.
---
Wrapping up the Best Paint for Outdoor Metal Furniture
There's no doubt metal furniture is amazing. It just needs a fresh coat of paint to really stun your neighbors!
Next, check out The Best Paint for Outdoor Wood Furniture.