One of the best ways to freshen up your home and have it looking better than ever is to give some of your furniture a face-lift. Rather than spending a ton of money and purchasing all new pieces, you can put your DIY spirit to work and repaint your furniture.
However, before you can start painting and repurposing, it's important to have the best paint brush for furniture. Otherwise, you might be left with streaky, speckled pieces that look worse than when you started.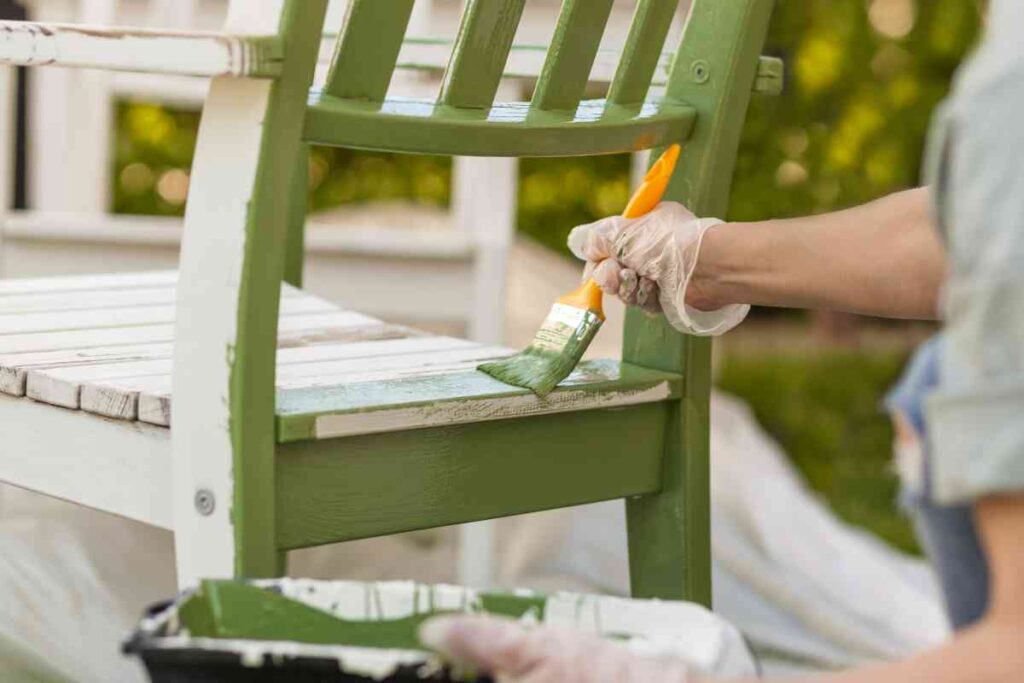 ---
Our Top Picks
Best Overall
Wooster 2″ Brush
Runner Up
Purdy 2.5″ Brush
Best on a Budget
Chip 2″ Brush
---
1. Wooster 2″ Paint Brush
Best Overall
If you want the best paint brush for furniture, the 2″ Wooster Brush is a favorite of DIYers worldwide. It's a uniquely designed brush with a very short, ergonomic handle that allows for maximum control.
It's also one of the most versatile paint brushes on the market because of its shape and size. The bristles are fine enough to get into tight corners, drawers, and edges, but it's wide enough to handle flat surfaces with relative ease.
Adding to its versatility is the fact that the bristles on this paint brush can handle all furniture surfaces and types of paint. Therefore, it's a great option if you only want to buy a single brush but use multiple paint products.
This paint brush also features an angled edge, making for a cleaner and sleeker application. If you're working with broader surfaces such as a tabletop or coffee table, Wooster has a 3″ brush that offers wider brush strokes.
Pros
Compact design
Ergonomic, easy-to-control handle
Applicable to all types of paint and furniture surfaces
Not too big for tight spaces
Cons
Fairly pricy for a single brush
The handle is too short for some
---
2. Purdy 2.5″ Brush
Runner Up
When it comes to painting products and materials, few names are as popular as Purdy. As such, it seems fitting that they make the best paint brush for furniture when you need a broad brush stroke.
While the Purdy 2.5″ brush doesn't seem like it would be that much bigger than a 1.5″ or 2″ brush, it makes all the difference in the world. You don't need nearly as many brush strokes when you're painting with a larger brush, which means you'll save time and energy.
This Purdy brush is the polar opposite of the Wooster listed above. Rather than a short, ergonomic handle, the Purdy has a long, elegant handle that's easy to grip and control.
While it has an angled edge that's perfect for tight corners, its bristles are slightly thicker and tougher than most furniture paint brushes. It's also a versatile tool compatible with all types of paints, stains, and furniture surfaces.
Like Wooster, Purdy brushes are available in various shapes and sizes to suit your needs.
Pros
Long handle
Easy to grip and control
Angled edge
Bristles are compatible with all paints and stains
Wider head for broad surfaces
---
3. Chip 2″ Paint Brush
Best on a Budget
Each of the brushes we've looked at thus far costs almost as much as some entire sets. So, if you're looking for a budget-friendly brush that also happens to be one of the best paint brushes for furniture, look no further than the chip paint brush.
Chip paint brushes are usually sold in packs of two or more and typically cost between $1 and $2 each. While they aren't as versatile or high-quality as other paint brushes, they'll do the job.
Chip paint brushes typically have mid-sized, ergonomic handles and are single-use brushes, which means you dispose of them when you're finished.
Because of their bristle design and functionality, you can use chip brushes with any surface or material. You can also use them for staining, waxing, glazing, and dry brushing.
Just be aware that chip brushes tend to lose bristles as you're working, and you'll have to remove the lost bristles before they dry into your paint.
Pros
Very affordable
Compatible with all paints, stains, and surfaces
Often sold in multi-packs
Can be used for other purposes
Cons
Tends to lose bristles
May leave brush marks
---
4. Infiniti Element Brush
This brush features a very short, flat handle, which really isn't a handle at all. In most cases, you'll have to wear a glove when you paint with this brush because there's a 100% chance that you'll get paint on your painting hand.
However, once you get over the learning curve and understand how to use this brush, you'll be blown away by its effectiveness. Because it has natural bristles, it leaves fewer brush marks than other paint brushes.
It's perfect for tight corners but also broad enough for flat surfaces.
The Infinity Element is very easy to clean and maintain and will last for years if you care for it properly.
Pros
Unique design and handle
Very ergonomic
Easy to clean and maintain
Leaves very few brush strokes or marks
---
5. Brossum Round Brush
What sets this Brossum brush apart from the rest is its design and structure. The bristles are very soft, and the handle has one of the best designs ever.
It's extremely ergonomic, the perfect length, and made of durable wood. It has been described as very comfortable and easy to hold.
Even more impressive than the handle, however, are the ultra-soft 2″ bristles on this brush. They eliminate the possibility of brush strokes and are compatible with all paints, stains, surfaces, and uses.
The Brossum brush is extremely easy to clean and maintain. It's a brush built to last and serve all your furniture painting and waxing needs.
Pros
Great handle and grip
Natural bristles
No brush strokes or marks
Compatible with all materials and surfaces
Easy to clean and maintain
Cons
Natural boar hair bristles have an odor when they get wet
---
6. DIY Artz Paint Brush Set
If you haven't noticed by now, there are many different types and sizes of brushes that you can use to paint furniture. Rather than buying multiple individual brushes for all your needs, why not just buy a complete set?
Buying a set is the best way to guarantee that you always have the best paint brush for furniture, regardless of what you run into. If a set is what you're looking for, the DIY Artz set is the way to go.
This set comes with six paint brushes of varying sizes, widths, and designs. There are multiple oval brushes when finesse is required, but there are also wide brushes for covering vast surfaces.
Each of the brushes in this set has natural bristles that are soft, durable, and leave little to no brush marks. While the bristles are best suited for chalk and milk paints, they're compatible with other products and surfaces.
Buying this paint brush set will ensure you always have the right tool for the job. Versatility is necessary when you repurpose different types and pieces of furniture, including things like picture frames and other smaller decor.
Pros
Ensures you have the right brush in every situation
Feature ergonomic handles and natural bristles
Includes oval and broad paint brushes
Easy to clean and maintain
Cons
Doesn't include an angled brush
---
Different Types of Paint Brushes for Furniture
A big part of choosing the best paint brush for furniture is choosing the right type of brush. And, if you're a first-time painter, you'll probably be shocked to learn that there are dozens of different types of brushes.
However, when choosing the best paint brush for furniture painting, there are three types to consider.
Natural Bristle Paint Brush
For those of you painting your furniture with traditional oil-based paints, you should use a natural-bristle paint brush. Inexperienced painters don't realize how big of a deal it is when you use the wrong type of bristles with different paints.
While nylon and synthetic bristles will get the job done, natural bristles will provide a smoother, cleaner finish. Therefore, a brush with natural bristles is the best paint brush for furniture when working with oil-based products.
Nylon Bristled Paint Brush
If you're painting with latex paint, polyacrylic, or other water-based products, you should use a paint brush with nylon bristles. The material that nylon bristle brushes are made of makes it more accommodating for water-based materials.
While you can optionally use nylon paint brushes with oil-based paints as well, it's easily the best paint brush for furniture when using water-based paint.
Oval Paint Brushes
Regardless of what type of paint you're using, many DIYers swear that an oval paint brush is the best paint brush for furniture. Oval paint brushes eliminate the potential of brush stroke marks because of how they're designed.
However, oval paint brushes aren't as wide as traditional brushes, so it will take longer to finish the job. But, if time isn't a factor and you simply want to do the best job possible, then an oval paint brush is the best paint brush for furniture.
---
How to Choose the Best Paint Brush for Furniture
Now that you have a few options for the best paint brush for furniture let's consider how to make your decision.
Budget
Your budget plays an integral role in every area of your life, and choosing the right paint brush is no different. While you're not going to go broke on any of the paint brushes on this list, some are more affordable than others.
However, you also don't want to go too cheap and purchase a paint brush that won't fulfill your needs. Cheap paint brushes tend to show more brush strokes and lose more bristles than higher-end paint brushes.
Therefore, while cheap paint brushes cost less up front, they require more effort and patience and won't perform as well as expensive paint brushes.
Handle
The handle is one of the biggest factors when choosing the best paint brush for furniture. Everyone has different preferences regarding the handle, as some prefer longer options while others prefer short handles.
You should also consider the material and design of the handle. It should be durable, feel comfortable in your hand, and be ergonomic enough to get into tight spots.
If you're unsure what type of handle you prefer, it's a good idea to go to your local hardware store and try a few out.
Bristles
Aside from the handle, the bristles are the main thing to consider when purchasing your paint brush. Natural bristles are better with oil and chalk-based paints, while nylon and synthetic bristles are better for water-based paints.
However, by purchasing a quality paint brush with premium bristles of any sort, you can have the best of both worlds. Premium bristles will also reduce the chances of brush marks and strokes.
Size
If you paint furniture on a large scale or for a living, the size of the brush plays a role. Brushes with wider heads can cover more surface area, which is important if you paint furniture all day.
However, when you're getting into tight corners, you need a brush with a narrow head.
Style
Finally, the style of the brush will play a huge role. In most cases, you can choose between traditional, broad paint brushes or oval ones.
Oval brushes are better for finesse, tight corners, and if you're concerned about brush marks. However, traditional paint brushes are better for large surface areas and painting things in a hurry.
---
Final Thoughts About the Best Paint Brush for Furniture
As you can see, there's a lot to consider when choosing the best paint brush for furniture. However, by considering the factors listed in this article and choosing one of the paint brush options we provided, you're sure to make the right choice.
If you're excited about repurposing old furniture, we have lots more information and ideas!