When balancing a busy life with our favorite hobbies, it can feel like there simply aren't enough hours in the day.
It doesn't feel great to abandon beloved knitting projects when you're needed elsewhere. Wouldn't it be nice if a machine could speed it up for you?
Thankfully, there is! Knitting machines are a fantastic tool to assist any knitter, from a hobbyist to a professional.
To discover which knitting machine is right for you, keep reading to learn about our top 5 picks for the best knitting machine!
---
Our Top Picks
Best Overall
SENTRO Knitting Machine
Budget Option
WISHRUN Knitting Machine
Best for Beginners and Kids
FYGAIN Knitting Machine
Best High-End Option
Addi Express King-Size Knitting Machine
Best Flat Bed Option
Walfront LK150 Domestic Knitting Machine
---
Best Overall
If you're looking for a simple, solid, tried, and true knitting machine, look no further than the SENTRO Knitting Machine.
First and foremost, the SENTRO is more of a knitting kit than a knitting machine.
It comes with everything you need to get started on your first knitting machine project, including different needles and a few skeins of yarn.
It's compact and lightweight but still big enough to craft adult-sized beanies and socks, both flat and in-the-round.
For such a well-rounded knitting machine, it has a very affordable price point.
The SENTRO is an excellent step up for newbies who are ready to invest a bit more in their knitting.
However, it is still a relatively basic knitting machine. While this simplicity makes for a manageable learning curve, it has a few functional flaws.
It's a manual knitting machine, meaning it operates by hand crank. It also lacks a row counter, which is a common feature on more advanced, high-quality models.
The SENTRO Knitting Machine is also a bit picky about yarn weight, sometimes jamming up when knitting heavier yarns.
Overall, the SENTRO is a great, inclusive, affordable option for knitters of all skill levels.
Pros
Affordable
Easy to use and well equipped
Compact
Cons
Manual
No row counter
Can't handle bulky yarn
---
For crafters looking to explore the world of knitting machines for the first time, the WISHRUN Knitting Machine is a great starting point.
It's a very basic, generic model that includes needles, yarn, and other necessary accessories, making it an excellent machine to learn on.
The WISHRUN machine is on the smaller side with only 32 needles, so it's best used for simple, minimal projects.
However, the affordability of the WISHRUN Knitting Machine means that more advanced features and conveniences are left off.
It's a hand-cranked knitting machine restricted to light yarn. It also has no row counter.
Despite that, the WISHRUN Knitting Machine is a great model for the modest price point, and super cute too!
Pros
Affordable
Includes everything you need to get started
Basic and easy to use
Cons
Limited to small projects and light yarns
Minimal features
---
When it comes to getting younger ones interested in different activities, ease of use is definitely a more important factor than capability or durability.
For its portability and simplicity (and cuteness), the FYGAIN Knitting Machine is one of the best knitting machine choices for kids.
It's a very generic, simple, plastic machine that is much more accessible to kids than more advanced, higher-quality models.
Despite its lack of features and complexity, the FYGAIN machine includes a row counter, which is a great feature for younger children and those just starting out.
It's not super durable, and its range of projects is pretty limited, but it's perfectly suited for kids.
Pros
Extremely simple
No frills
Includes a row counter
Cons
Not very durable
Little variety in the types of yarn and projects available
---
Best High-End Option
So, you've tried your hand at knitting on a machine, and you fell in love.
Your beginner machine served you well, but now you're ready to move up in the world and invest in a higher-quality knitting machine.
If that sounds like you, the Addi Express Knitting Machine is the perfect next step!
Addi is a household name for knitters and crafters, known for quality and reliability.
The Addie Express Knitting Machine can easily handle yarn of all different weights, creating flat and circular projects.
The machine is incredibly sturdy, equipped with 46 needles and an integrated row counter to help you execute all your knitting ideas expertly.
With that being said, the jump from a generic, standard knitting machine to the Addi is a big one.
The Addi Express is not necessarily a beginner-friendly machine. It has a pretty steep learning curve and is a bit more complex than more basic knitting machines.
Those extra capabilities also come with a price. The Addi is also quite loud compared to other machines.
Nevertheless, the Addie Express Knitting Machine is a great step up for anyone looking to get more serious about their machine knitting.
Pros
Sturdy
Can handle a variety of yarns and projects
Includes a row counter
Cons
Expensive
Loud
Difficult to learn
---
Best Flat Bed Option
If you're looking to get really serious, however, you're probably considering making the jump from a circular machine to a flatbed knitting machine.
Flatbed machines are generally larger, more expensive, harder to operate, and more complex than circular machines.
If circular knitting machines are for hobbyists, then flatbed knitting machines are for professionals.
However, as far as flatbed knitting machines go, the Walfront LK150 Knitting Machine is compact, affordable, and easy to use.
It operates quietly and works with a variety of yarn efficiently. The Walfront has everything you need to get started, including a row counter, making it a great entry-level flatbed knitting machine.
Its 150 needles, as opposed to the more typical 32 to 46 on a circular machine, can handle different projects of all sizes, designs, and patterns.
However, because it's a flatbed machine, you cannot knit in the round using the Walfront LK150.
Compared to circular knitting machines, flatbed machines have a much steeper learning curve overall.
But for the type of machine and the price point, the Walfront LK150 is the home flatbed knitting machine cream of the crop.
Pros
Compact and easy to transport
Entry level flat bed machine
Great variety of projects
Cons
Expensive
Difficult to learn
No knitting in the round
---
The Best Knitting Machines Buyer's Guide
Ease of Use
Knitting machines can have quite the learning curve depending on the make and model.
If you're feeling confident in your knitting skills, then you can probably skip the basics and opt for a more advanced machine.
However, talent in hand knitting doesn't necessarily translate to the knitting machine! But, a basic knowledge of the practice does certainly help get you started.
Needles
The number of needles on a knitting machine can vary from 20 to 200, and knowing what kind of projects you're interested in will ultimately help to guide your buying decision.
For baby blankets and gifts for the family, you probably don't need the 200-needle model. But if you want to knit afghans, you should probably opt for the larger size.
Final Product
When perusing knitting machines, it's important to be realistic about your final product.
Knitting machines will produce extremely neat, uniform, simple stitches at a very fast pace. And that might be exactly what you're looking for!
But if you like a more organic-looking product that you can knit and purl to your heart's content, then you might want to stick to knitting by hand.
---
The Best Knitting Machines: FAQ
Are knitting machines faster than knitting by hand?
The answer to this question is pretty subjective, depending on your skill level. But generally, a knitting machine can save you a significant amount of time on your knitting projects.
Can you knit and purl on a knitting machine?
Unfortunately, you can't really knit and purl continuously on a knitting machine, making projects that incorporate different stitches difficult.
For stitches like garter or stockinette, you'll need to use an accessory or turn the needles by hand.
Are flatbed or circular knitting machines better?
Though flat bed knitting machines are considered to be the higher-quality, more advanced option, the answer to this question is based more on your desired outcome than anything.
Even though they're typically flimsier and cheaper than a flatbed, circular knitting machines are much easier to use and better for small, individual projects.
Flatbed machines usually cater to professionals or people looking to tackle much larger projects.
So, which option is "better" is really up to what you want to create!
What can you make on a knitting machine?
Almost anything! If you can knit it, you can probably make it with a knitting machine.
Even if the machine isn't conducive to the specific pattern you want to create, like an intricate patchwork sweater, for example, you can still knit the individual components of the garment.
Weaving together the machine-knitted pieces to create the final product will still be way faster than doing it all by hand.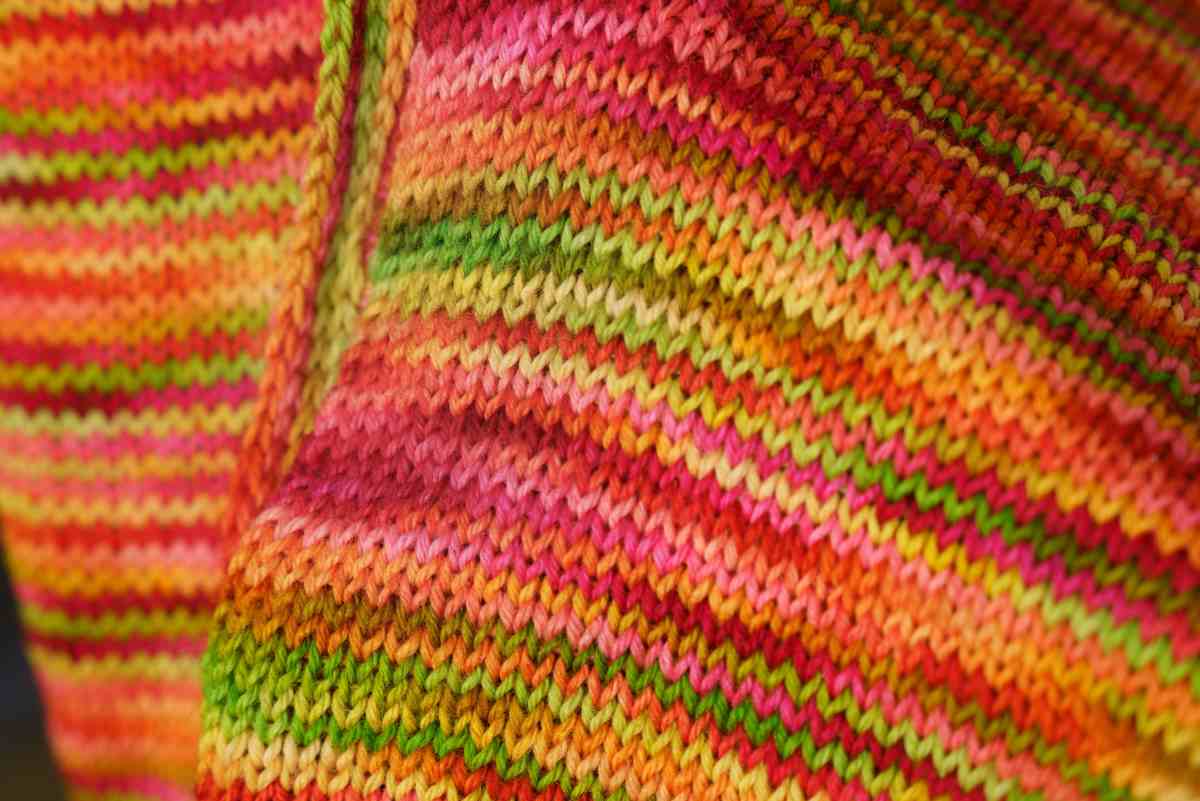 ---
Weaving in Loose Ends: Final Thoughts on the Best Knitting Machines
Like most artistic, crafty hobbies, knitting is typically very personal and close to the heart. However, that fact does not preclude you from using a knitting machine!
Knitting machines don't replace your creative spirit – they just give you more time to dedicate to new projects.
Why not start with a SENTRO Knitting Machine and discover all the benefits a knitting machine can offer you?
Check out our Beginner's Guide To Finger Knitting for even more fun yarn craft ideas.