Stenciling is a great medium for artists of all levels. Stencils can lend you some guidance and structure if you're feeling stuck on a project or don't know how to get started, no matter your skill.
Craft stenciling creates intricate, even, and precise designs that are perfect for your DIY projects!
It also provides kinetic meditation and results in a beautiful piece of art you can really be proud of.
However, there is no shortage of art supplies out there, and navigating through them all can be intimidating, especially if you're a newer artist.
With that being said, keep reading to explore some recommendations for the best fabric paint for stenciling!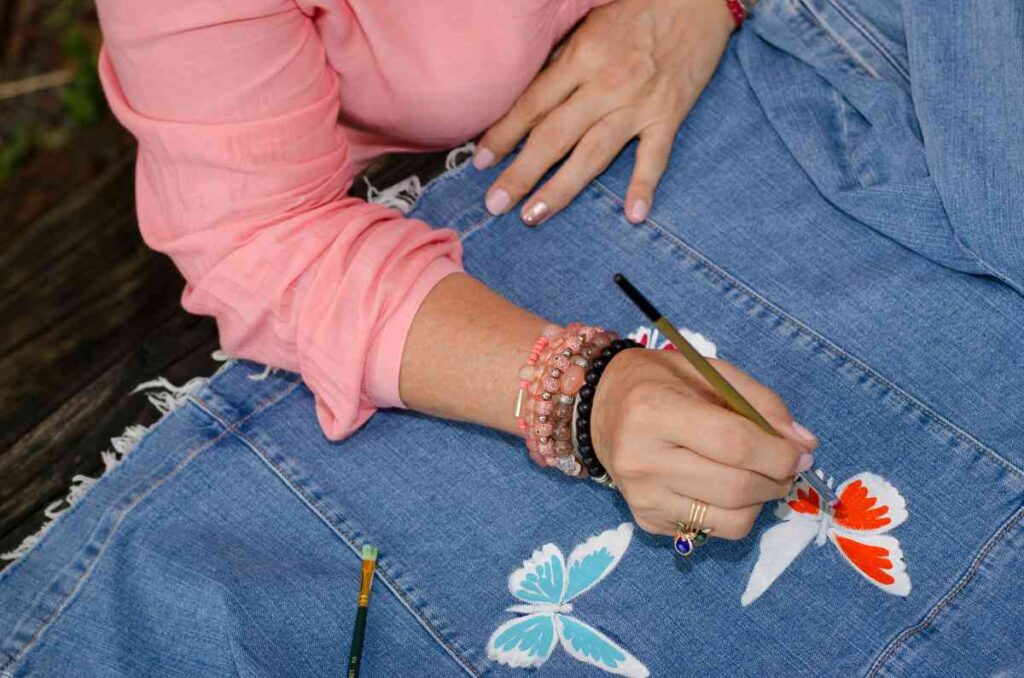 ---
Our Top Picks
Best Overall
Jacquard Textile Fabric Paint
Budget Option
Mont Marte Signature Fabric Paint
Best 3D Fabric Paint
Tulip Dimensional Fabric Paint
---
Best Overall
When it comes to fabric paint for stenciling, the Jacquard Textile Fabric Paint has found its way to the top spot.
Of all the similar products on the market, it's the most consistent and reliable fabric paint for stenciling.
The 8-piece kit comes with all your basic colors and plenty of black and white paint to create any color you might be missing.
The pigment appears vibrant and opaque, even showing up well on dark fabrics and denim. However, it's a pretty thick consistency, so you may need to water it down for certain projects.
It applies smoothly to both synthetic and natural materials and leaves the fabric soft and malleable.
The Jacquard paints are fade-proof, machine washable, and won't chip or peel over time.
Still, the Jacquard Textile Fabric Paint is a top-notch, durable, and versatile product for stenciling and more.
Pros
Opaque, bright colors
Smooth application
Extremely durable
Cons
More expensive
Thick consistency often requires mixing or watering down
---
Budget Option
If you want to try your hand at stenciling but aren't willing to invest in expensive products just yet, then the Mont Marte Signature Fabric Paint is an excellent starting point.
These fabric paints for stenciling are super affordable while still getting the job done.
And if after a few tries you decide stenciling isn't for you and you prefer a different technique, the Mont Marte paints also work great with a brush, sponge, or squeegee.
The Mont Marte paints hold up fine in the washer and aren't prone to fading, but they will, unfortunately, stiffen, peel, and crack over time.
Though the price is low, the bottles are pretty small.
Cons
Will crack and peel over time
Small bottles
---
Best 3D Fabric Paint
3D paint, sometimes called puffy paint, is a great way to add texture and dimension to your stenciling.
For a great 3D fabric paint for stenciling that really stands out against the background, the Tulip Dimensional Fabric Paint is a great option.
It's as fun to use as it is to wear and applies easily to most natural and synthetic fabrics with a nice, glossy finish.
Even with the texture, the Tulip paint is washable on a delicate cycle.
Unlike other fabric paints for stenciling that require ironing over to "set" the paint, the Tulip Dimensional Fabric Paint should not be ironed, making it a bit less long-wearing than your typical fabric paint.
The Tulip paint does take quite a while to dry, though, and when it finally does, it leaves the material under and around the paint feeling quite stiff and rigid.
However, it's extremely easy to clean up and apply and comes in various brilliant, beautiful colors.
Pros
Great way to add detail
Easy to apply
Works with a variety of fabrics
Cons
Long drying time
Can make fabric feel stiff
Less durable
---
Best Fabric Paint Pens
If you want to get serious with your stenciling, you'll likely be after a fabric paint that allows for more precise application.
In that case, a fabric paint pen might be more up your alley.
The Crafts 4 All Fabric Pens come in a wide range of vivid colors, and the pointed tip provides the precision you're after for fine details or lettering.
These fabric pens for stenciling are permanent and can be washed on a low-heat cycle without compromising the paint's vibrancy.
The Crafts 4 All pens can be used on synthetic and natural fibers but bleed on smoother surfaces like silk.
And because the paint is in pen form, it's much more likely to dry out and do so quickly if the cap is left off.
But overall, the Crafts 4 All Fabric Pens are an excellent choice if you're looking for a way to add some detail to your projects while avoiding the mess of painting.
Pros
Precise
Easy to use
Wide variety of colors
---
Best Metallic Fabric Paint
For some added fun and glamor, try out some metallic, glittery fabric paint for stenciling!
But, not all metallic paints are created the same. Often, they come across streaky, chunky, and thin, lacking the opacity and consistency of standard paints.
But not the ARTEZA Fabric Paints!
These metallic paints are durable, blendable, and apply to most fabrics smoothly. The vibrant colors come in various finishes, including glow-in-the-dark and glitter!
They even work well on the most stubborn of fabrics, like denim. And unlike other glittery or metallic fabric paint, they won't crack or peel off after drying.
However, even though they're more opaque than most other metallic fabric paints on the market, they aren't quite as vivid as regular fabric paints and will require a second coat.
They're also a bit pricey for fabric paints. But for what you get regarding volume and quality, it's well worth the investment.
Pros
Higher opacity
Easy application
Durable
---
Best Fabric Paint for Stenciling Buyer's Guide
Durability and Permanency
One factor to consider when pondering your fabric paint for stenciling options is durability.
A common downside to fabric paints is the flaking, cracking, and peeling that occurs over time.
Depending on the fabric, the quality of the paint, and how you wash the item, you can ward this off for a long time.
Some are such high quality that they won't peel at all. But long term, it's typical for fabric paints for stenciling to wear down, either in consistency or color.
Wash your painted fabrics in the washing machine in cold water on a gentle cycle to keep them safe.
Fabric softeners and stain removers can eat away at the paint, so keep your wash free of those and use a neutral, mild detergent.
Ease of Use
Generally, fabric paints for stenciling are easy to use. Many have an applicator tip, and fabric paint pens are about as easy to use as they come.
The only learning curve you may encounter is using different tools, like a brush or sponge, with the stencil.
All in all, stenciling with fabric paints is a simple and enjoyable activity to share with the whole family, young ones included!
Surfaces
Not every kind of fabric is conducive to fabric paint stenciling.
To ensure that your purchase is worthwhile, make sure you check and see what surfaces or fibers the paint is made for.
Some work fine on synthetic fibers but not natural ones. Some won't stick on smoother fabrics, and others will glide on like a dream.
Most fabric paints for stenciling will state where they can be applied, so having some idea of what you want to work on before you buy your paints ensures you pick the best product.
---
Wrapping Up the Best Fabric Paint for Stenciling
There are so many amazing options to choose from when browsing for some fabric paints for stenciling.
When you're next on the hunt for some top-tier fabric paints, why not give the Jacquard Textile Fabric Paints for your next project?
For more information on getting started, check out our guide to painting with stencils!