There's no better way to protect your latest chalk paint project than by applying a wax seal. Chalk paint wax ensures a smooth finish and beautiful appearance.
But there are so many chalk paint wax brands out there. Which one is the best?
Keep reading for a review of the seven best chalk paint waxes for furniture.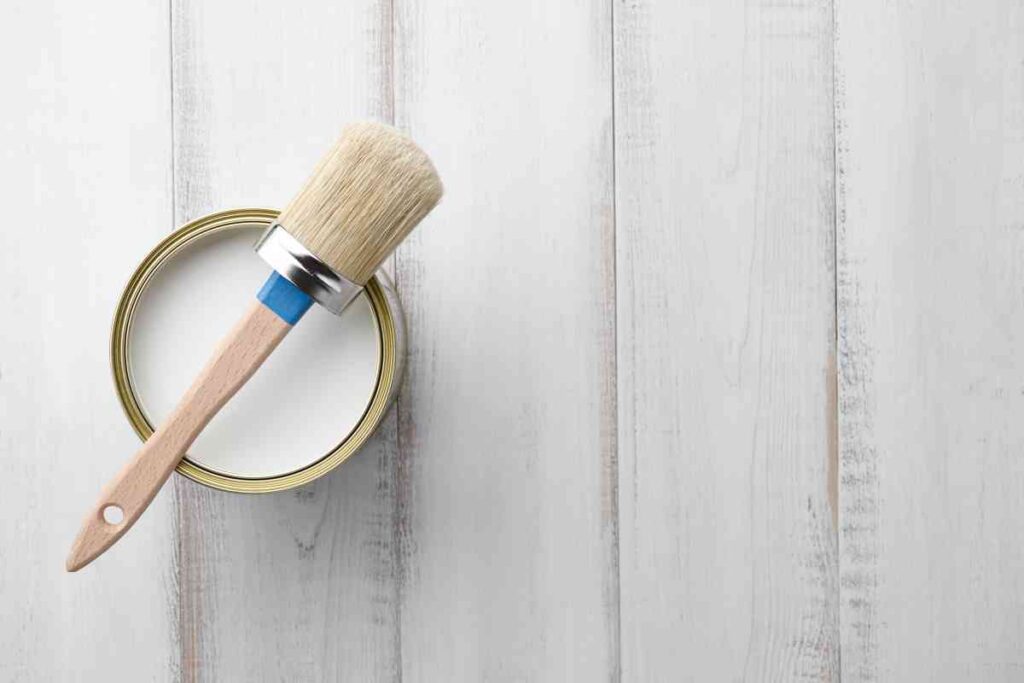 ---
Best Overall
Jolie Finishing Wax
My top pick overall for best chalk paint wax is Jolie's Finishing Wax. This wax goes on easily, and you don't have to put up with any overwhelming odors.
If left alone, Jolie Finishing Wax dries into a matte finish. But you can also buff it to give a subtle sheen.
Its water-resistant quality is great if you have children or pets in the house. There's no need to worry about accidental spills!
This Jolie wax comes in clear, white, black, or brown. It's versatile and can be used on chalk paint and raw wood.
It is one of the pricier options. But in this case, you get what you pay for: a quality finishing wax.
Pros:
Easy to apply
No odor
Water-resistant
Cons:
Pricier than other brands
---
Budget Option
Minwax Finishing Wax
If you're redoing furniture on a budget, Minwax Finishing Wax is the product for you. This chalk paint wax comes in a one-pound can for a modest price.
You can use Minwax's wax on any finished wood surface. Or, you can apply two coats directly onto raw wood.
It's great for most DIY projects that don't require a polycrylic seal.
This wax is easy to apply. It only takes 10 to 15 minutes to dry and leaves a subtle polished appearance. It's not too glossy and not too matte.
Minwax Finish Wax is an oil-based wax that requires paint thinner to clean up. But it's so versatile and cost-friendly. You can't go wrong with having it around.
Pros:
Cost-friendly
Easy to apply
Dries quickly
---
Best Antiquing Wax
Howard Products Chalk-Tique Wax
Howard Products' Chalk-Tique Wax is made specifically to enhance chalk paint projects. It dries into a nice satin finish to give off a smooth appearance.
Chalk-Tique Wax comes in both light paste and dark paste. The light paste is good to use if you just want to seal and protect the paint.
On the other hand, the dark paste seals and adds a distressed, antique look to furniture.
This is a great way to complement and age light paint colors.
I recommend this chalk paint wax if you're working on a project with intricate wood detailing. The dark wax will highlight those details by settling into the grooves.
Pros:
Great for distressing furniture
Smooth finish
Highlights wood detailing
---
Most Versatile Finish
FolkArt Clear Wax
FolkArt's Clear Wax is the perfect chalk paint wax, no matter your desired finish. This wax is easy to apply with a brush. It goes on smooth and dries hard.
If you want a matte finish, you can remove the wax shortly after applying it.
For a glossier finish, allow the wax to sit for one to two hours before buffing. The more you buff, the more gloss you'll see.
FolkArt Clear Wax is not limited to chalk paint. You can use this sealer for many kinds of painted surfaces and raw wood.
So, it's great to have around the house as a frequent DIY-er. Not to mention, it's cost-friendly!
Pros:
Versatile finish
Easy to apply
No harsh odor
Cost-friendly
Cons:
Can leave a yellow tint if applied too thick
---
Best for Smooth Finish
Country Chic Clear Wax
As the name implies, chalk paint can have a rough, chalky finish. Country Chic Clear Wax takes care of that completely.
This chalk paint wax is known for leaving a buttery smooth finish.
Country Chic is one of the pricier waxes, but the consistent finish may be worth it.
This wax is also made from eco-friendly ingredients, including beeswax, tree nut oil, and carnauba wax. That means you don't have to worry about any strong oil-based odors.
It's also safe to use on children's and pet furniture.
Country Chic wax has a low-sheen finish and cures within three to four weeks.
Pros:
Buttery smooth finish
Eco-friendly ingredients
Children and pet-safe
Several finishes to choose from
---
Best Oil-Based Wax
Retique It Furniture Wax
Retique It Furniture Wax is my pick for the best oil-based chalk paint wax.
Oil-based waxes do have an odor when applied. So, you should always use this in a well-ventilated area. But they also have a long-lasting, beautiful finish.
Retique It is no different. It's made to give chalk paint projects a professional finish. You can also use it on raw wood and other paint finishes.
Retique It is easy to apply. And you are able to control the finished sheen by how much you buff the wax.
Pros:
Easy to apply
Leaves a professional finish
Sheen is versatile
---
Best Eco-Friendly Wax
Soft Southern Strokes Finishing Wax
Soft Southern Strokes Finishing Wax is the perfect, eco-friendly blend.
This chalk paint wax is made from white beeswax, walnut, and carnauba wax. All these ingredients leave a light honey and citrus scent when applied.
That means this is a non-toxic blend that is safe for children and pets.
Soft Southern Strokes can also save you some time. It requires little to no buffing and will dry into a soft, matte finish.
Apply this chalk paint wax with your fingers, a cloth, or a round brush.
Pros:
Eco-friendly
Children and pet-safe
Doesn't require buffing
Pleasant scent
Cons:
Has a thicker consistency than other waxes
---
Buyer Guide for Chalk Paint Wax
Why Use Chalk Paint Wax
Chalk paint wax is an easy way to finish off your furniture restoration project. Chalk paint has a dry, matte finish.
Wax improves this appearance by evening out imperfections and giving a smooth, glazed finish.
Wax also seals and protects your paint job. This is especially important for high-traffic furniture such as dining room tables and chairs.
Wax will ensure that the paint lasts as long as possible without chipping or fading.
Choosing the Right Type of Wax
There are several different kinds of chalk paint wax.
The first difference you may notice is whether the wax is oil-based or beeswax.
Oil-based wax will have a stronger odor, but the finish typically lasts longers. Beeswax smells more pleasant, but you may have to reapply within a year.
Waxes will also differ in color. Most finishing waxes are clear. This is designed to enhance and seal the paint color.
You can also find waxes in darker colors. These colors are meant to be decorative while also providing a seal. This is a great way to add a distressed, antique look to furniture.
Other Products You Might Need
Besides chalk paint wax, you may need a few products to complete your project.
An application brush will allow you to apply wax to your project easily. These brushes are typically round with thick, natural bristles. Most chalk paint brushes are multi-purpose, so that you can paint and apply wax with them.
You can also use cotton rags or deconstructed cotton t-shirts to apply wax.
Using a buffing cloth is a great way to get your desired finish. The more you buff, the more sheen you add!
---
How to Apply Chalk Paint Wax
There are two main methods of applying chalk paint wax: with a brush and with a cloth.
By Brush
To apply chalk paint wax by brush, gently dip the brush into the wax. You don't want to get too much on the brush at once.
Apply the wax to your furniture in small sections. This will allow you to quickly wipe excess wax off as you go.
You can either brush in circular motions or side-to-side with the wood grain. Both of these methods will help the furniture piece absorb the wax finish.
Remove any excess wax with a cotton cloth. Any left-behind build-up can cause yellowing. When removing excess wax, wipe wax gently so as not to cause premature buffing.
Allow the wax to dry completely before applying another coat. This can take up to 24 hours.
By Cloth
Wax can also be applied with a cloth. Using a soft cotton cloth, dip it into the wax. Similar to the brush method, you don't want too much wax on your cloth.
Rub the cloth onto the furniture in circular motions or side-to-side with the wood grain. As you go, use a separate cloth to remove any excess wax.
Allow the first coat of wax to dry before applying a second layer or darker coat.
Buffing the Wax
Once your desired coats of wax have dried completely, you're ready to begin buffing. Using a buffing cloth, rub down the entire furniture piece in a circular motion. Consistency is key to preventing uneven spots.
You'll need to buff the wax harder and more frequently to get a glossy finish.
---
Frequently Asked Questions
1. Do I have to seal chalk paint?
Technically, no, you don't have to seal chalk paint. But, unsealed chalk paint is much more likely to chip and stain.
Sealing chalk paint will protect your hard work. It also provides a beautiful finish to chalk paint. The wax gives a sheen similar to professionally finished furniture.
2. What's the difference between wax and polycrylic?
Wax is typically an oil-based finish. Polycrylic is a water-based finish.
Wax is a great choice for finishing chalk paint because it highlights the paint without adding too much gloss. Polycrylic, on the other hand, dries into a slick, glossy finish.
Polycrylic does offer a longer-lasting finish. It's easy to wipe down, which can be helpful in high-traffic areas.
But wax is a great way to smooth out imperfections and add distressing.
I think, overall, wax is a better finish to chalk paint. Wax highlights the antique style of chalk paint better than polycrylic.
3. Can I use any type of finishing wax with chalk paint?
The great thing about chalk paint is that most finishing waxes work well with it.
Finishing wax is made to be versatile, and seal painted or raw wood.
In fact, going for a general finishing wax is a great way to save money. Waxes that are marketed specifically toward chalk paint tend to have more of a markup.
4. How do I clean chalk paint wax off my brush?
To clean chalk paint wax from your brush, dip the brush into a jar filled with mineral spirits.
Allow the brush to sit in the mineral spirits for about three minutes.
Remove the brush from the solution and shake the excess into the jar. Blot the brush onto a paper towel to remove the rest of the excess mineral spirits.
You will then allow your brush to dry completely before reusing it.
---
Wrapping Up the Best Chalk Paint Wax
Using chalk paint wax is a sure way to add a beautiful finish to your furniture project. It highlights details and gives a smooth, professional result.
My top pick overall for the best chalk paint wax is Jolie's Finishing Wax because of its smooth, easy application. And it's water-resistant for those high-traffic areas! Check out our other posts for more helpful tips on painting and finishing furniture.