Its almost valentines day! Have you grabbed up the Valentines your kids' classmates will adore?? Well here you go! 12 different printable valentines – all completely adorable sloth valentines!! And.. there are sloths! Whether they stand alone, are attached to a goodie bag or you get creative with treats, they are sure to adore these FREE and one of a kind cards.
I love trying to find fun and DIFFERENT ways to tell the kiddos I love them and celebrate our love! I also love to enjoy having a craft day with them to help them show their friends the same! Added bonus is everything you see here came from the dollar store! Don't under estimate the goodies you can find there-you just have to be ready to plan ahead!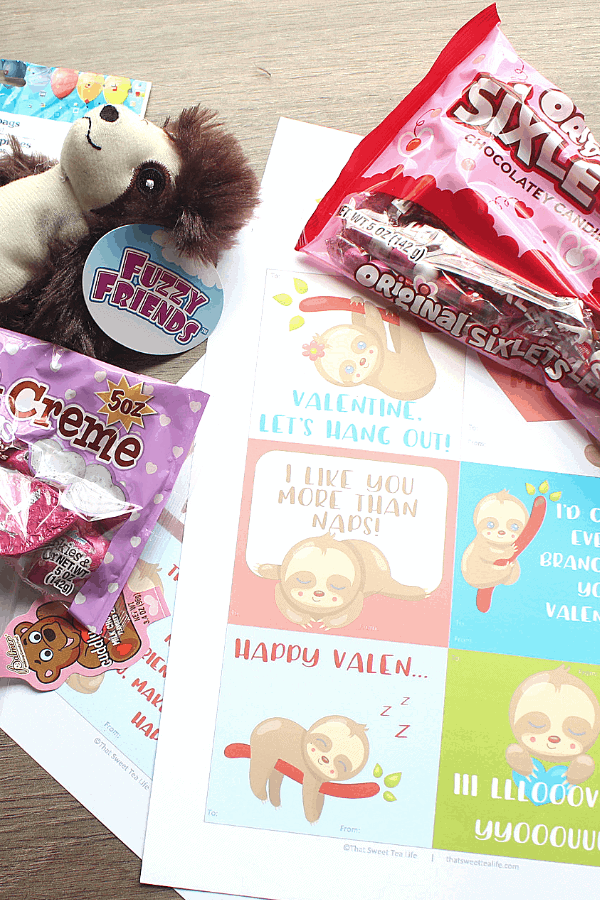 Just grab some goodie bags, some of your favorite treats (edible or not!), and print out your cards! If you have a nifty cutter that will make it easier on you! (and your kiddo)

Once they are all cut you can simply attach them to the bags or even place them inside the baggies after you add your selection of treats! It can be candy, or toys, or whatever you can imagine!
Aren't they adorable?? And they won't be the same as all the others. They are unique but just as easy as buying a kit!
You can even grab up a cute little plushie or cup for a special someone like the teacher! EVERYONE loves sloths!! ..ok maybe thats a stretch, but even if they don't SURELY they will love these sweet guys right??
Ok now its time to make some of your own! PLEASE be sure to post pics and tag me! I would love to see your creations! Happy Crafting guys!