The right furniture can take an outdoor space from a boring slab of concrete or grass to an extension of the house. Outdoor furniture can serve many functions– both purposeful and decorative ones.
But what happens when an outdoor piece of furniture has seen better days? The sun, wind, and moisture outside can wear down wooden furniture quickly.
We've got good news for you!
The right exterior stain can finish a newly made table or bring new life to a well-loved patio furniture set.
Not all exterior stains are created equal. We've researched for you and compiled a list of the best stain for outdoor furniture.
Read on to learn more about the best exterior furniture stains on the market!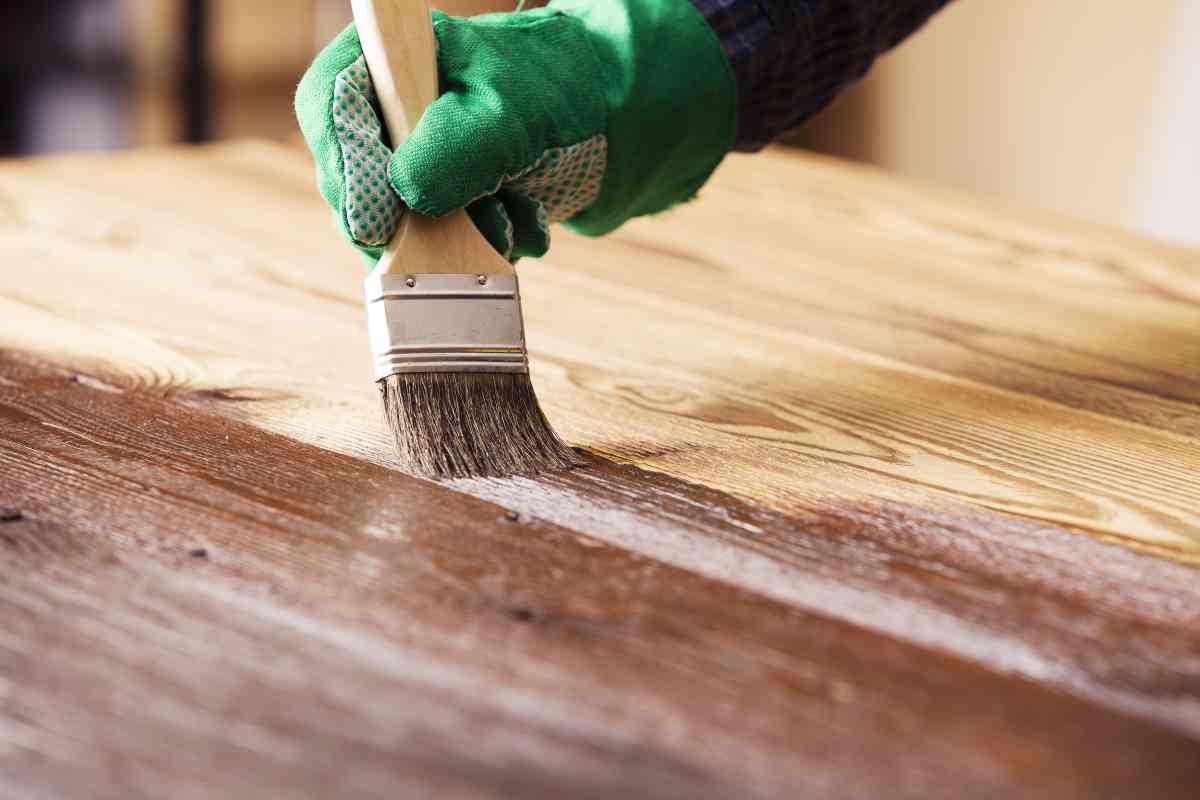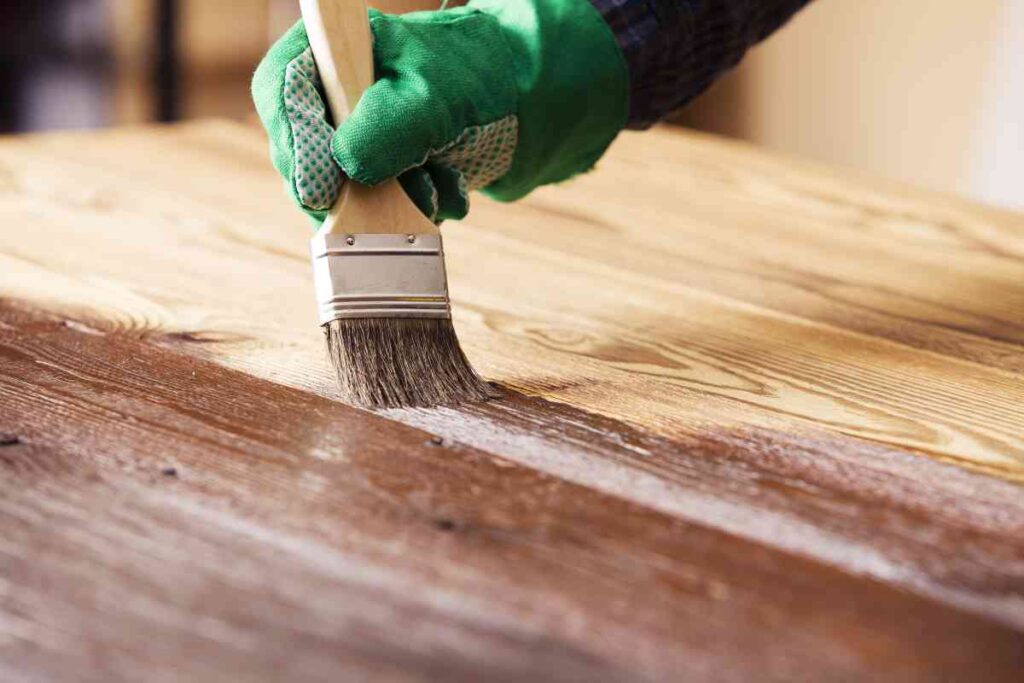 ---
Best Overall
Cabot's Australian Timber Oil Stain has claimed the number-one spot as the best stain for outdoor furniture because its unique formula leads to incredible, long-lasting results!
Cabot has perfected the mix of three different types of oils: linseed oil, tung oil, and long oil alkyds. Each of these oils has specific attributes that combine to make an outdoor furniture stain that penetrates the wood deeply and protects it from all kinds of natural elements.
This outdoor furniture stain comes in five shades and protects against harsh UV rays, mold, and mildew. Even the heaviest rains will bead up on top of finished wood.
Pros
Fantastic results that can save even the most weathered outdoor furniture
Easy to apply
No need for additional sealant products
Cons
A bit more expensive than other brands on the market
More difficult to clean than a water-based product
---
Best Water-Based Stain
Defy Extreme Wood Stain is a close runner-up for the best stain for outdoor furniture. It's water-based, which means clean-up is easier.
There are five beautiful, semi-transparent shades to choose from, which means the natural grain and texture of the wood below will remain visible.
This wood stain contains smaller than microscopic particles of zinc, which means it acts as a sort of sunscreen for your outdoor furniture. The zinc nanoparticles will reflect harsh UV rays off the surface of the wood, protecting it from their effects.
Pros
Easy to clean up— use soap and water
Reapply for maintenance without sanding
Dries quickly between coats
Cons
Colors can be inconsistent
Thin consistency makes it challenging on vertical surfaces
---
Best for Color Choices
If you're looking for the best stain for outdoor furniture with a wide range of colors from which to choose, look no further than Varathane Premium Gel Stain. There are ten colors, ranging from light golden pecan to deep black.
This stain has an extremely thick consistency, similar to pudding, making it a fabulous choice for outdoor cabinets or chairs. The thick gel will keep application to vertical surfaces much cleaner than a water-based stain.
Pros
Easy, clean application
Budget-friendly—a little goes a long way
Many colors available
Cons
Gel stain application learning curve
---
Best for Small Projects
Coming in at under $15 for a 17-ounce bottle, Furniture Clinic Wood Stain is the best stain for small outdoor furniture projects.
This stain is water-based, making for easy cleanup. It's got a thinner consistency, so keep that in mind if staining something with many vertical surfaces.
This stain for outdoor furniture is also safe to use indoors. Bringing a project inside negates weather variables, making the process even easier.
Pros
Affordable for small projects
Non-toxic and low-odor
Dries quickly
Cons
Covers grain more than enhances
Colors sometimes don't match what's advertised
---
Best Plant-Based Stain
Not only is the Luminos Outdoor Wood Finish plant-based, but it's also full of vibrant colors!
These brightly colored stains were created in Spain and are inspired by the Mediterranean waters surrounding the island of Formentera. With color options spanning the entire rainbow, this is the best stain for outdoor furniture of homes with a backyard oasis.
A single quart of this stain will provide two coats of coverage to 100 square feet of surface area.
Pros
Unique color options
Comes in a plastic, rust-proof container
Buildable color intensity
Cons
Won't work well on dark wood tones
May be blotchy if not applied correctly
---
Additional Materials You May Need for Outdoor Furniture Staining
Prep Items
Even the best stain for outdoor furniture on the market won't work correctly if the wood hasn't been well prepared. Here's a list of items that will make all the difference in your prep work.
Polish Remover
Most wood furniture you have around your house has a nice coat of furniture polish on it. That layer of polish must come off before the stain can touch the raw wood.
Using wax remover will save you some elbow grease in your next step, sanding.
Bona makes a tried-and-true polish remover that is sure to get the job done. All you need to accomplish this task besides that is a rag and a little bit of elbow grease!
If you've built your furniture or the wood you're staining is rough and weathered, you can skip this step.
Palm Sander
While you could sand down your entire piece of furniture with a sheet of sandpaper by hand, a trusty palm sander will get it done in a fraction of the time.
The "Mouse" by Black + Decker will become your best friend while staining outdoor furniture. It is lightweight and compact. There are three positions by which you can hold it, making sure you can grip it securely no matter what weird nook or cranny you're trying to reach.
Speaking of nooks and crannies, the sander has a pointed tip, which will make easy work of any corners on a piece of furniture. If the pointed tip isn't enough, you can put on the detachable "finger attachment" that can get into even more difficult-to-reach places.
If your project is small enough to sand by hand, check out our guide on how to sand furniture.
Drop Cloth
Getting the best stain for outdoor furniture on anything other than the intended surfaces is a mistake easily avoided. Even the most experienced professionals don't skip laying out a drop cloth before starting their job.
While there are thin, plastic drop clothes you can throw away after each use, canvas ones are much more convenient. They won't stick to you or rip, and they're reusable.
Green Lifestyle makes an all-purpose canvas drop cloth in nine sizes. The material is absorptive, ensuring any spilled stain won't pool, and machine washable and dryable.
Tack Cloth
For a perfectly smooth finish, you've got to make sure every bit of dust left behind from sanding is off the piece of furniture.
A shop vacuum will work if you've already got one around your house, but it isn't necessary for a smaller project like furniture.
If you don't have one and are looking for a cost-effective tool to remove all the dust, pick up some painter's tack cloths. Tack cloths are a gauze-like material that can be bunched up and used to remove leftover dust, dirt, and other debris.
Staining Items
The items you use through the actual staining process may vary depending on the type of stain you have, but these are some good things to have on hand.
Rags
Thicker stains will go on best with a rag application. The rags you use to apply the best stain for outdoor furniture should be closely woven, without strings that may come loose and get stuck in the finished product.
Nabob Wipers sells t-shirt knit rags, available to purchase by the pound. They are guaranteed to be lint-free and are machine washable.
If you're hoping to reuse your staining rags, make sure you get them washed before the stain has a chance to dry. The dried stain will change its texture, making them unusable for future staining projects. If you don't plan on washing them right away, toss them in a bowl or utility sink with some water to keep everything damp until you get a chance to get them in the washer.
Brushes
Paint brushes are a great tool to apply most stains for outdoor furniture, especially if the stain is a similar viscosity to paint.
Pro Grade has a set of five brushes that are all different sizes. You'll be able to pick the appropriately sized one for the furniture piece you are staining.
This set also comes with angled and stubby brushes, so you have plenty of options from which to choose.
Foam Brushes
Foam brushes will be your best bet if your piece of furniture has a lot of nooks and crannies. These can get in there in a way rags and brushes can't.
Bates has a set of 16 two-inch foam paintbrushes that are certain to get the job done.
When shopping for foam brushes, don't overthink them. Remember, they'll probably need to be thrown away at the end of the project after all.
---
Frequently Asked Questions
Time spent researching the best stain for outdoor furniture is never time wasted. Here is a little extra information for you as you make your decisions.
Why is protecting my wood furniture so important?
UV Rays
UV rays are no joke when it comes to damaging wood.
First, the sun's rays will bleach any wood left outside. What started as a deep chestnut will slowly turn to a dusty grey color if left out long enough.
Secondly, UV rays break down the wood's fibers. This breakdown weakens the wood and leaves it more susceptible to cracking, splintering, and warping.
Just like your skin needs a layer of sunscreen to block harmful UV rays, outdoor furniture needs a layer of exterior stain.
Wood Rot
Out in the wild, wood rot is a great thing. It's part of the circle of life. However, it's less celebrated when it's affecting the table on your back patio.
Wood rot happens when moisture and fungus set up shop together inside your wood.
Wood that gets wet and can't dry completely is the perfect home for various fungi in the atmosphere. The fungi grow in the wood, using the wood fibers as food.
Stain works as a barrier to moisture. A good coat of stain will have moisture beading on the surface of the wood instead of sinking into it.
Is there a difference between interior and exterior stains?
There is quite a substantial difference between interior and exterior stains.
Interior stain exists to add color or completely change the appearance of the wood inside. It typically needs to be covered by a clear top coat and rarely needs to be reapplied due only to wear and tear.
Exterior stain for outdoor furniture strengthens and protects the wood. Yes, it also changes or deepens their color, but that benefit is secondary to its protection.
If you were to use interior stain on an exterior project, it would be like putting lipstick on a pig. Yes, it would look pretty for a while, but inside, it would be wearing down from UV rays and possible wood rot.
It is possible, but the extra steps required and easy access to exterior stain make it a waste of time.
Is deck stain different from outdoor furniture stain?
While it may be tempting to swap stain for outdoor furniture out with deck stain, be it for budget or availability, the two are not the same at all.
Deck and patio staining contains properties for specific use on those surfaces. In addition to adding color and protecting from wood rot and UV rays, deck and patio stains include other ingredients like pesticides and mold deterrents.
Since most outdoor furniture regularly comes in contact with bare skin, it is best not to use a stain with added harsh chemicals when staining outdoor furniture.
The distinctions go both ways. Stain for outdoor furniture isn't the best solution for an entire deck.
It's important to note that there are exceptions to the rule. Some exterior stains, like the Cabot and Defy options above, have been cleared by the manufacturers for use on both surfaces. Make sure to read all the information available about a product.
With all the specifically formulated products on the market now, there is sure to be a product that will work for your budget and project!
---
Wrapping Up the Best Stain for Outdoor Furniture
A fresh coat of stain will bring even the saddest piece of outdoor furniture back to life.
Many outdoor stain products are available these days, but they're not all created equally.
We hope this list of the best stain for outdoor furniture has given you the confidence to jump into your project head-first and transform your space!
And don't worry—if you've read this far and decided stain may not be the answer for your outdoor furniture project, check out our posts on how to paint outdoor furniture.