Yellow is a sunny, warm, and happy color that energizes and offers up many beautiful, comfortable, and stylish hues for decorating. Brown is a color that creates a feeling of comfort and coziness in any space in which it is found. When you combine them, yellow and brown look bright, exciting, warm, and cozy all at the same time. The colors together bring up feelings of happiness, comfort, and joy. Those reasons make them an amazing choice of colors to use when decorating your living room! Read on for some of the best yellow and brown living room decorating ideas!
Brown Couch with Yellow Pillows and Other Accessories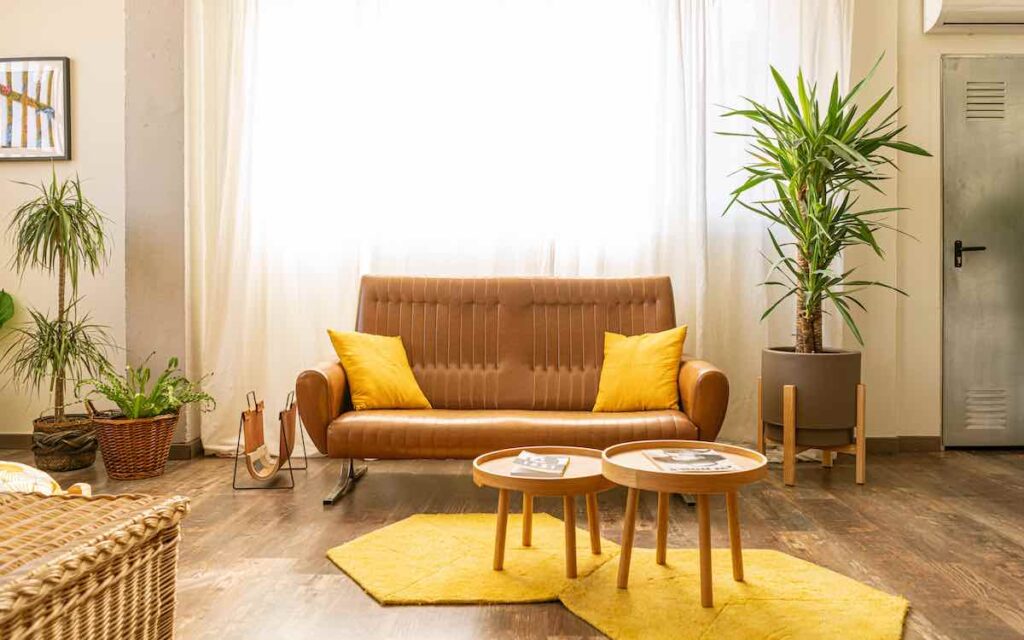 If you're looking to just dip your toe into yellow and brown living room decorating ideas, this is the idea for you. You can evoke the feelings of comfort and joy that come with this color combination without committing to painting a wall or buying a piece of yellow furniture!
I know "brown couch" can mean a million different things to a million different people, but I think no matter which route you go, it usually means cozy. There's not much better than an overstuffed, worn-in, brown leather sofa to snuggle on and read or watch your favorite movie. A down-filled, yellow pillow to rest your head on and a snuggly, warm yellow throw will just be the cherry on top.
The nicest part of this idea is that even when your focus is on yellow and brown living room decor, you're not limited to just brown and yellow. You can mix in other colors. Blush pink, navy blue, and teal make a great addition to yellow and brown living room decor, but you're not limited by anything. The brown and yellow just act as the sauce and cheese of a decorating pizza and the other colors are the toppings!
Paint Your Fireplace Bright Yellow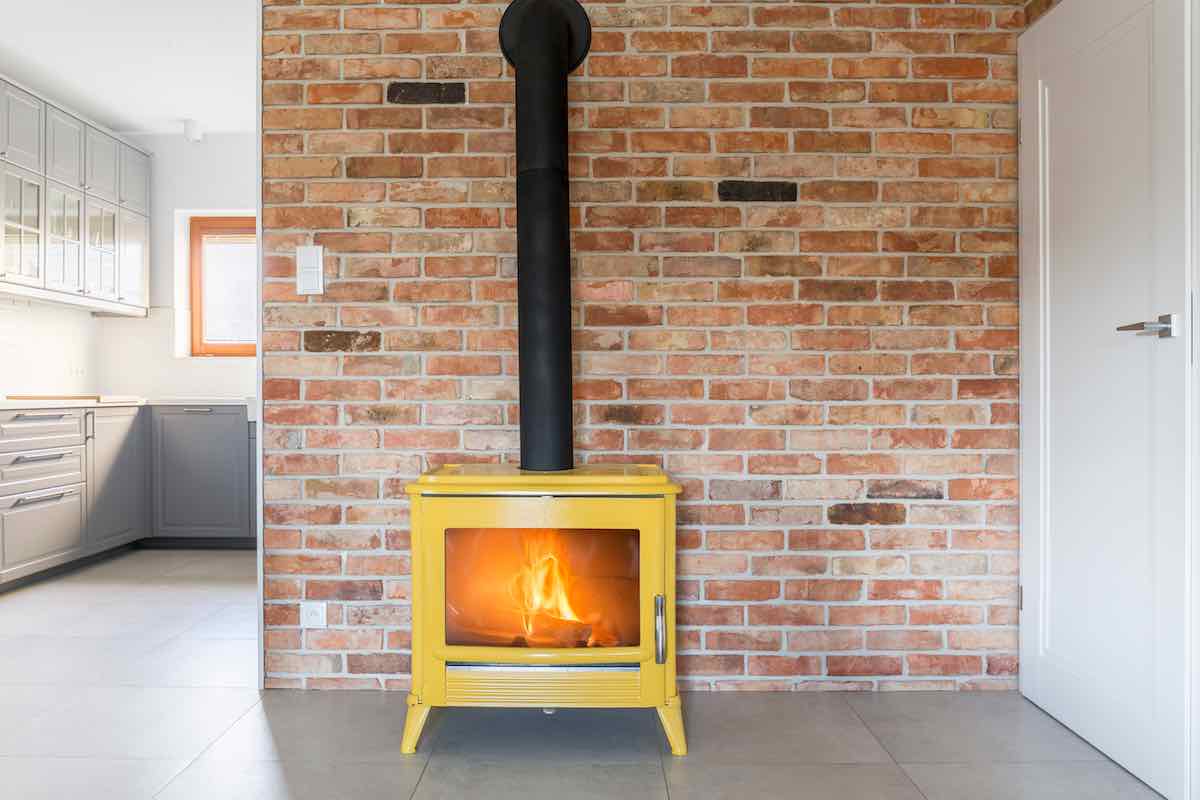 If you're ready to commit to yellow and brown living room decorating ideas, your fireplace is a great place to start! Since it's already typically the focal point of a room, why not up the ante and make it really worth looking at?
Something bright and cheery like Benjamin Moore's Oxford Gold is a great choice if you want to be able to pair other shades of brown with it. Since yellow and brown living room decor exists in the same color family, it's nice to keep it bright so you can play with other shades in your furniture and accessory choices. A golden yellow works well with both tan and something deeper, like a chestnut color.
While some fireplaces are drywall and easy to paint like you would any other wall, some are metal or brick and can be tricky and a little nerve-wracking to paint. If you need some pointers, check out How to Paint Brick: A Step by Step Guide for some help.
Splash the Color on the Floor
Bright pops of yellow aren't tied only to couch or wall accessories. A bright yellow rug or even yellow flooring brings a whole new level of energy and life to a room! Pair it with a nice brown couch like we talked about earlier, and you're setting up your living room to be quite the life-giving environment with yellow and brown living room decor.
The rug doesn't have to be only yellow. There are so many rugs available online these days that you don't even have to leave your house to see everything available to you. Stripes, geometric, Turkish, or something solid yellow would all be great choices to bring some more yellow to your space.
If you're looking to brighten up a space with your yellow and brown living room decorating ideas, look for a rug that combines yellow and brown with some other bright colors like blue, green, pink, or maybe even white. Something like that will bring a lot of energy and excitement into a space.
If you're hoping to make a relaxing environment, stick to a rug that combines yellow and brown with more neutral colors like gray, white, and tan. That will give a more grounding feel to any space in which it's put.
Build and Paint a Visually Interesting Accent Wall
Next on my list of yellow and brown living room decorating ideas is an accent wall! There are so many tutorial options for accent walls that you can DIY in your home all over the internet. Multiply that by the number of colors you could paint it and you have almost endless options!
One easy-ish option is to use scrap pieces of wood to make a visually interesting, geometric pattern on your wall and then paint it all one color. You could do squares, herringbone, chevron, or go a little more free-form and let the wood talk to you to make different-sized shapes. This is a great pairing with yellow and brown living room decor.
A great pro to this item on the list of yellow and brown living room decorating ideas is that you can choose how much of a statement you want your accent wall to make. If you want it to really pop, go full-on yellow and use brown as an accent color. If you're not quite ready to commit to an entire yellow wall, you can paint it a more neutral shade of brown and still have an interesting, unique to you focal point in your house.
If you're looking for a starting point or some inspiration, especially for a kitchen accent wall, check out these 24 Ideas for Your Kitchen Accent Wall.
Go Retro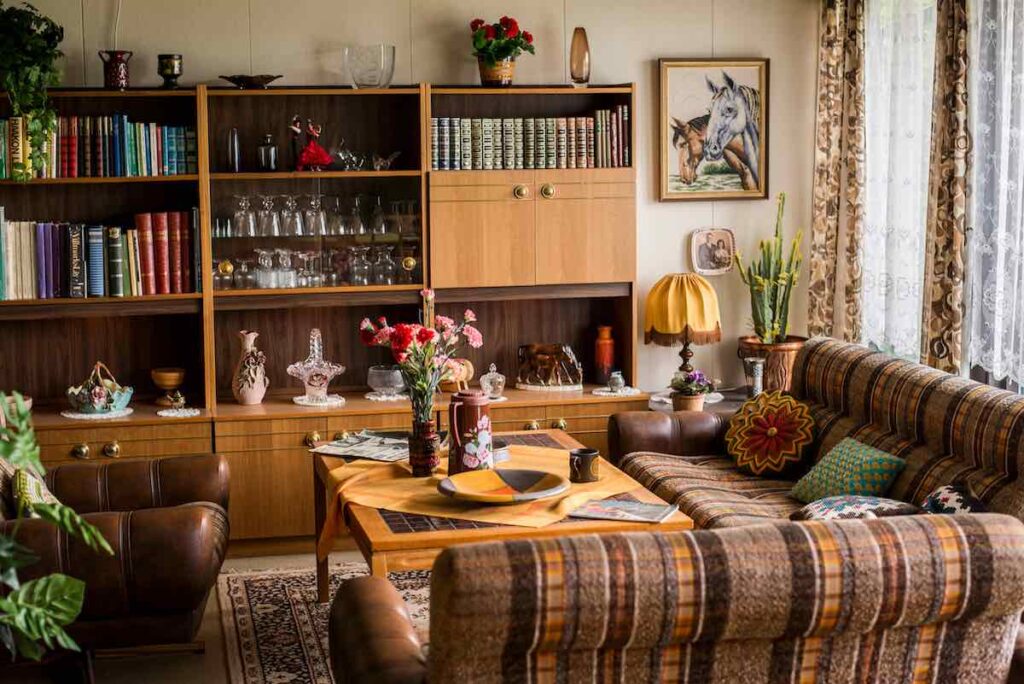 If your idea of a fun space is more of an eclectic living room feel, using yellow and brown living room decor to go down a retro path is a great idea! Yellow and brown plaid is a classic retro print used often in the 60s and 70s. We all know that what goes around comes around, so this look has been revived a few times over the years.
A plaid brown and yellow sofa is a great anchor to a retro living room. No plaid couch is complete without some crocheted pillow covers and blankets to toss across the couch. Add in some ceramic tchotchkes and a lamp with a fringed lampshade, and you'll feel like you've stepped back in time by utilizing these yellow and brown living room decorating ideas.
Sometimes when you're going for a retro feel, that means you're buying pieces original to the time. Oftentimes, that means the pieces may need a little bit of work. Sanding and staining furniture is always an option, but painting is sometimes quicker and easier. If you're questioning which way is best for the piece of furniture you're looking to use in your retro yellow and brown living room decor, check out Can you Paint over Stain?
Layer Brown and Yellow Curtains
Curtains can make a room feel a million times more complete. Not only do they help with privacy, temperature regulation, and blocking out the harsh sun, but they can be a beautiful addition to your living room. I think oftentimes people feel like they have to pick one color or the other, but in reality, laying curtains is a great way to add another layer of texture into a space.
When it comes to yellow and brown living room decorating ideas, using both brown and yellow curtains means you can bring those comforting, grounding, cozy colors into any space. Even if you're renting and have to keep the builder-grade white walls, you can add your own touch and personality with a mix of layered curtains.
If you'd like to keep it light and breezy, keep the fabric lighter. Something sheer or linen will give you color without blocking out a ton of light if the amount of natural light you get in your space is an issue. If you get a lot of direct sunlight and are hoping to curb a little of the light and heat that come from that, something heavier is a good choice. Velvet or a doubled piece of satin are luxurious options that make a space feel opulent and block light out well.
Yellow Furniture
Yellow furniture may be too big of a commitment for some people, but if you're ready to go for it… go for it! A sunny yellow sofa or golden accent chairs will add a pop of pizzazz and personality to the color scheme of your yellow and brown living room decorating ideas.
Yellow furniture isn't only an option for pieces you sit on. You can also get a yellow side table, dining room table, or ottoman. To get brown back into the mix, consider a deep, rich brown dining room table and some fun and funky yellow dining room chairs. Or maybe you mix a buttery smooth brown leather sofa with a golden yellow coffee table. There are a lot of mixing and matching possibilities when it comes to yellow furniture!
Paint Your Walls Chocolate Brown
To achieve the ultimate level of coziness and comfort, paint your living room walls a deep, rich, chocolate brown. This is a great yellow and brown living room idea for a bigger space. Dark colors tend to make spaces feel smaller, so it's a bit riskier to do this in a smaller space.
It doesn't mean it's impossible though. A smaller room painted a dark color will give the feel of an intimate, cozy space. Use more of a golden yellow for accents for an added layer of richness and depth to your yellow and brown living room decor. Imagine sitting in a chocolate brown room lit by lamps and candles, cuddled up on a couch with your favorite blanket and reading a good book. I'm feeling more relaxed and rejuvenated just thinking about it!
Get to Decorating!
To create an invigorating, cozy, and comforting space, use these ideas to combine yellow and brown living room decor to create the living room of your dreams! If there are ideas you can think of that we don't know, leave them for us in a comment!
For more color-specific decorating ideas, check out these posts:
21 Unique Ways to Bring Pink into Your Home
7 Inspiring Ways to Incorporate Moss Green into Your Home
15 Blue Furniture Ideas That Prove Blue Can Look Amazing
7 Ways To Decorate Your Home With Pale Green
8 Ways To Decorate Your Home With Peacock Blue
Creative Ways to Incorporate Phthalo Green into 7 Spaces in Your Home