Winter is a time for all things snow and sparkle, and it's one of my personal favorite seasons to start decorating for! There are so many different avenues you can choose when it comes to winter decorating ideas, and it can be incredibly hard to decide which ones to use in your home. Not to worry; I've narrowed down my top favorite winter decorating ideas right here for you. Let's jump right in!
---
Twinkling Lights
What is wintertime without twinkling lights winking on every street corner? However, this isn't just an outdoor winter decorating idea; you can absolutely implement these sparkling strands in your interior décor, as well!
Personally, I love taking white twinkle lights and hanging them up around the entire perimeter of the room, adding a dash of elegant glitz everywhere you look. But this can be a time-consuming process—not to mention expensive, depending on how big of a room you're trying to decorate.
If you want to feature lights without sacrificing too much of your Christmas budget, you can always get a series of glass mason jars or candleholders and fill them with battery-powered fairy lights!
Of course, if you want to go a more classic route, decorating the trees in your front yard with strands of lights is one of the easier and more eye-catching winter decorating ideas to feature twinkling lights.
Lighting up your trees this way gives an undeniable sense of ethereality to your yard, especially once it starts snowing! The lights will reflect off the snow and make everything sparkle.
---
Holiday Classics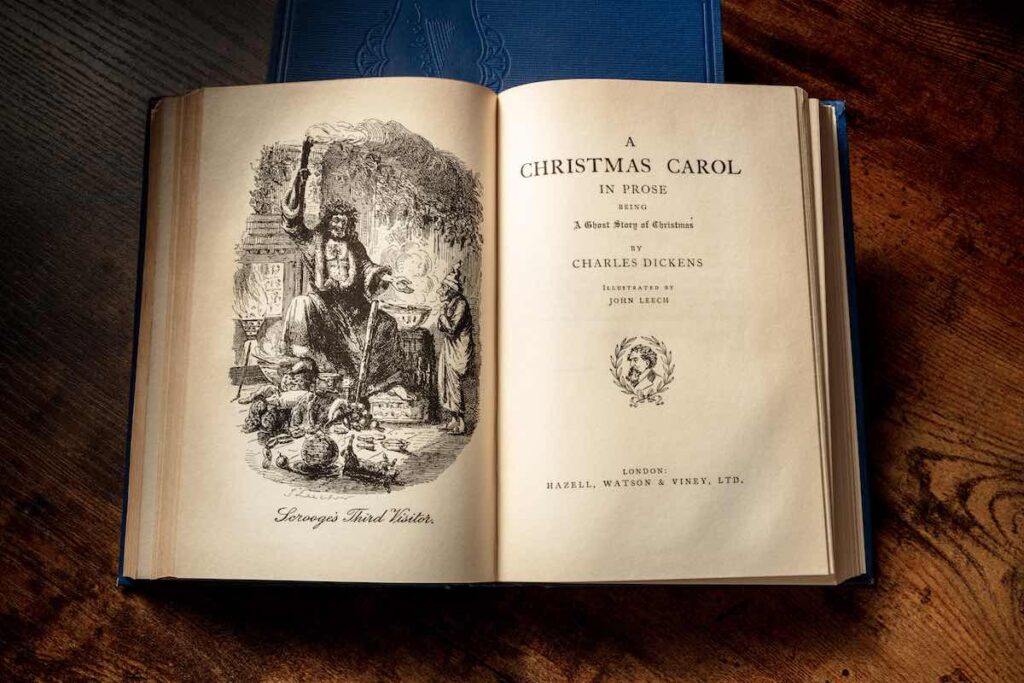 I love taking advantage of my bookshelves to decorate for various seasons, and winter is no different. If you can track down editions of holiday classics or wintery novels that happen to complement or match each other, I suggest setting them in a stack on your coffee table or end table to bump up the "cozy library" vibes of your home.
Nothing screams winter like a roaring fire, an open book in your lap, and a throw blanket to keep you warm as you read the night away.
---
Cozy Accoutrements
Speaking of throw blankets, if you're someone who absolutely loves to have your home feel as cozy as possible, this is one winter decorating idea you absolutely have to go all-in on.
Pillows and blankets arranged throughout your living room function as a sort of "invitation" for guests to come in, sit down, and relax—and they make a wonderful little getaway for you!
Avoid thin, flimsy blankets or pillows with rough material; though these can work fine for décor, you want to prioritize functionality during the colder seasons. My favorites for winter are knit or fleece-lined blankets and velvet or silk pillowcases.
If your furniture is neutral-colored, use pillows and blankets to give it a pop of color; if your furniture is bolder, use neutral tones in your blankets and pillows to balance it, or find pillows and blankets with patterns that include the same shade as your furniture to complement.
---
Table Settings
Winter is packed full of holidays, which means plenty of events to set your table for. Dishes, napkins, silverware, glasses, and even centerpieces all come together for this winter decorating idea; you can choose all kinds of different themes to light up your dining room!
If you're feeling festive, you can lean into the holiday theme with red and green, or you can go classically "winter" with silver and blue. If you want to give off a vibe of elegance and class, set up your space in shades of silver and gold.
If you want your dishes to do the decorating work for you, pick out winter-themed ceramic dishes, colored glasses, and etched silverware.
---
Winter Florals
Of course, dishes aren't the only consideration here; putting together a centerpiece is crucial to showing off your decorating prowess.
You could set an arrangement of winter-themed flowers or other bouquet elements in the center of the table, such as poinsettias or holly (though if you have pets, you may want to avoid these—they're poisonous to cats and dogs!) or juniper, birch twigs, evergreens, or red roses.
---
Garlands and Greenery
Garlands are a beautiful way to add a touch of nature to your winter decorating ideas. Garlands are a popular choice for winter greenery, as they tend to be designed like "evergreen" plants.
You can also combine two winter decorating ideas by wrapping your garland in twinkle lights and hanging them up around your house—I especially recommend this if you have a fireplace mantel to decorate this year!
---
Kid-Friendly Crafts
Crafts are a great way to get the whole family involved in coming up with winter decorating ideas. Get yourself some craft paper and scrapbooking scissors, sit down with your kids, and get crafting!
My personal favorites are paper snowflakes, paper chains, and "Countdown" calendars. Paper snowflakes are especially fun because your kids can try a million different patterns, and you can string them together and hang them on the wall to show them off! You can also glue small magnets to the back and turn them into fridge decorations.
As for countdown calendars, you can take advantage of these no matter which holiday(s) you and your family celebrate! You can grab that craft paper, some paper punchers, glue, stickers, and anything else you might want to use to put together a calendar counting down to your next holiday.
This is another craft you can use magnets for—hang these calendars up on the fridge, and your kids can cross off the days one by one until the holidays arrive!
---
Floor Rugs
One difficulty of winter? Freezing cold feet. Even with socks, it can be difficult to avoid icy toes, especially if your floors aren't carpeted. This is where rugs come in! You can get plush, warm rugs to place in your kitchen, entranceway, and other places that might suffer from drafts and cold flooring.
This is also a great way to complement the rest of your winter decorating ideas you've already implemented in your home. Colorful rugs can add a pop of rich holiday flair while they're protecting your feet from the chilly floors!
---
Mug Display
Another fun way to bring a touch of cozy winter vibes into your home is by displaying your mug collection for all to see.
Whether for hot chocolate, coffee, hot toddies, or other warm wintery drinks, mugs are a staple of snowy mornings and blanket-wrapped evenings by a fire. You can even complement this winter decorating idea by setting up a coffee and hot chocolate station when guests come over…or just for you!
---
Wrapping Up Winter Decorating Ideas
I hope this list has helped you narrow down your myriad winter decorating ideas! It can be stressful switching your indoor and outdoor spaces to reflect the new season, but in the end, you'll be absolutely thrilled to relax in your winterized living space.
Need more seasonal and holiday decorating ideas? Visit our décor section to discover all our best ideas for sprucing up your space!
About the Author
Latest Posts
Cassidy Eubanks is a proud Michigander, an avid reader, and a writer for That Sweet Tea Life.
Her bachelor's in Creative Writing isn't where her passion for creative pursuits stops – she grew up crafting, scrapbooking, and finding ways to make the most out of every space in her home. She loves sharing her favorite ideas for decorating and DIYing on That Sweet Tea Life to help you create the living space of your dreams!