My Antique Washstand had me STUMPED! You may have come across these wash basins at market places or flea markets, at antique or thrift stores. The basin stands were used many many moons ago for washing and the like when running water was not in existence or a steep luxury. Usually there was a large bowl with water that would have sat on the surface which often had marble tops. The bar across the antique wash stand would have held hand towels and such. I love thinking about the history of these pieces and the lives they lived before we come across them,.. and even before we existed at all. It makes me appreciate the time and place we live now,.. We are blessed more than we can possibly comprehend.
Meet my project piece. I came across her at a local antique store and she's just been waiting for me to do my work. When I came across the opportunity to try out Dixie Belle Paint products, I decided it was just the time.
What will we need to refurbish this antique wash stand?
Here is everything you will find me using to refurbish this old girl. (and alternatives I may mention) Links are provided and some allow me to earn a commission if you make a purchase through them.
[mailerlite_form form_id=1]
This "lovely" would need just about every Dixie Belle paint and product and technique thrown at it! So, where to begin right? I decided to start with the top. I knew the most daunting part would be just removing all that broken veneer. Plus I had a plan for the finish on the top that made me want to attack it before anything else.
Now, how to remove that veneer…? When you ask experienced folks you will tend to get advice,.. lots and lots of advice. The consensus though is HEAT. The main thing you want to do is heat the glue adhering the veneer to make it easier to pull up. Some will say you should use an old iron, and some will say use a heat gun,.. I feel like the heat gun would have been the best bet BUT I had given mine to my husband to take to work,.. I did however have my iron and some parchment paper to protect it. (That is a must).
I turned the iron on to the highest setting then took a large piece from of the parchment paper and I laid it out. This would prevent any "yuck" from getting on the iron. Then with the parchment paper acting as a barrier I placed the iron over the veneer and pressed for about 20 seconds. You may have to press for longer or even a shorter time. Feel free to experiment with your own project. I sat my iron to the side on another area and I rotated my work area back and forth,.. be sure to press though! At least for me, just laying the iron there wasn't enough. This is why I say a heat gun (Something that moves and circulates heat) may work better.
Bit by bit I heated the surface then pried away the layer of veneer with a putty knife. Some said water would have been good-laying wet towels over night. I was scared to use that approach since there was already so much water damage. I didn't want to risk it. I did spray and area with a water bottle before heating it up since it was stubborn.
---
This seemed to make the wood more soft and pliable than I was comfortable with. This allows it to be easy to scar and gouge with the putty knife. I stuck with a dry approach after that and was able to remove all the veneer in about 30 minutes.
---
Be sure to always scrape away from your body AND WEAR EYE PROTECTION! The tiny shards of veneer tend to splinter and fly all over if you aren't careful. They can easily shoot up into your eyes!
The surface left behind was rough and far from perfect, but at least I knew I had solid wood. It was scared and knots showed. There were crevices where the wood was imperfect even before the veneer was initially laid,.. BUT I could see my vision coming into view. I wanted to stain it gray and then sand the surface back to reveal mostly wood. Because of this I decided I didn't want to smooth out the surface first. Just as it was I decided to go ahead and use a gray Voodoo Gel Stain from Dixie Belle Paint called "Up in Smoke" applied with a standard brush. (You can get VooDoo Gel Stain HERE)

I would find that the gel stain was quite opaque! Really it didn't appear to be much different than paint. Here you can see the opacity in my first coat. (You can get that brush and others HERE)
As it dried there really wasn't a sheen to speak of. Just a rather full coverage gray. My next step would be to sand the surface smooth. In doing so my assumption would be a large portion of the gray would be sanded away to reveal the wood again..
Using a 120 grit disc on my orbital sander I went over the surface,.. as I predicted much of the gray would rest in crevices, knots, and inside the wood grain pattern. By leaving the wood in such rough condition before applying the gel stain, the sander would knock away a large portion of those high points to reveal wood as you can see in the first part of my work in this photo.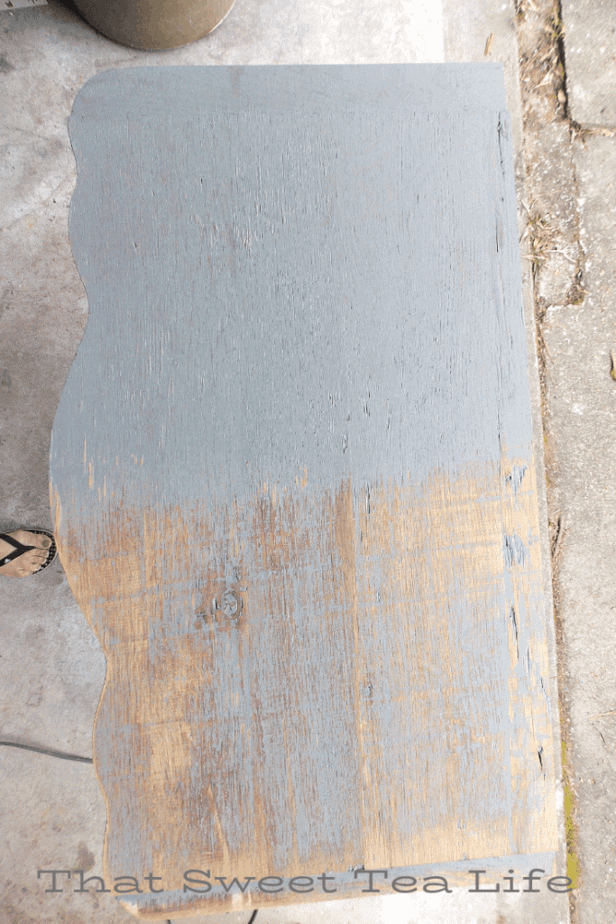 I loved being able to identify the old saw marks and how the gel stain accentuated all the different wood characteristics. Each blemish becoming a lovely little morsel.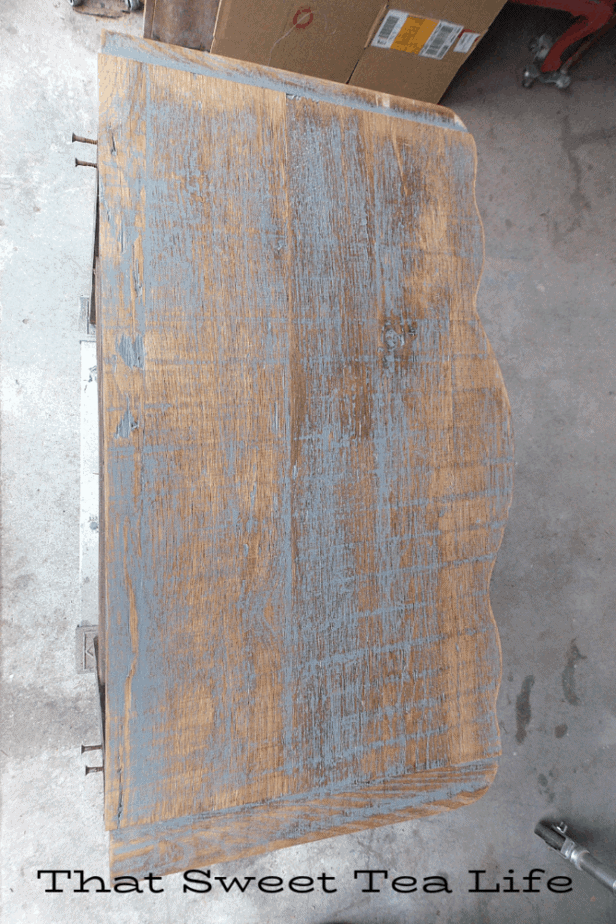 The next step,. I have to apologize for! I decided on the surface I wanted to use an oil modified polyurethane. While being water based, this product which you can find here has oil based properties making it even more durable than typical water based products. Noteworthy though is it WILL AMBER. This means it's not desirable over white, and this is why I wanted to do this part of the process first. I wanted it to go through the initial "ambering" (or yellowing) while I finished the rest of the piece so I could evaluate whether I wanted to keep it.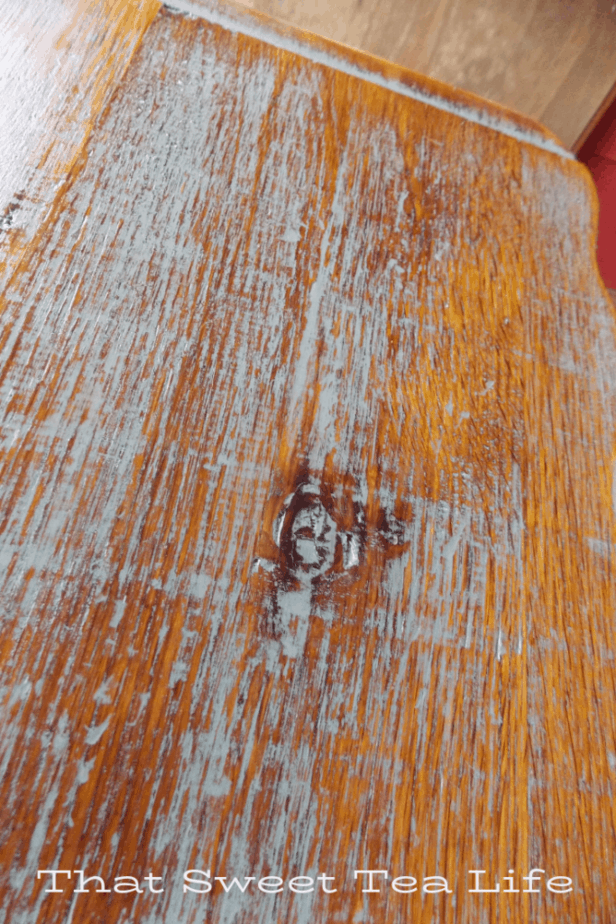 This would also effect the gray that had been applied so I wanted to watch closely. Using a standard brush I simply loaded it up and applied a decent coat-enough should be on the brush to go from one end to the other without reloading,.. this allows it to level out as it's meant to.
---
Something noteworthy is that since it is prone to yellowing, you will want to be even more sure than normal that it doesn't gather or pool. While it was still very wet I used canned air (resist blowing through your mouth and spitting on the surface) to blow the small crevices out so the product didn't settle there.
---
Notice how the beauty in the wood is magnified! I just love the richness. For this reason I tend to just enjoy using oil based or modified products over wood. I could have used Dixie Belles "Best Darn Wax" however I intend to sell this or otherwise find a new home for it (sadly) so I wanted a permeant sealer.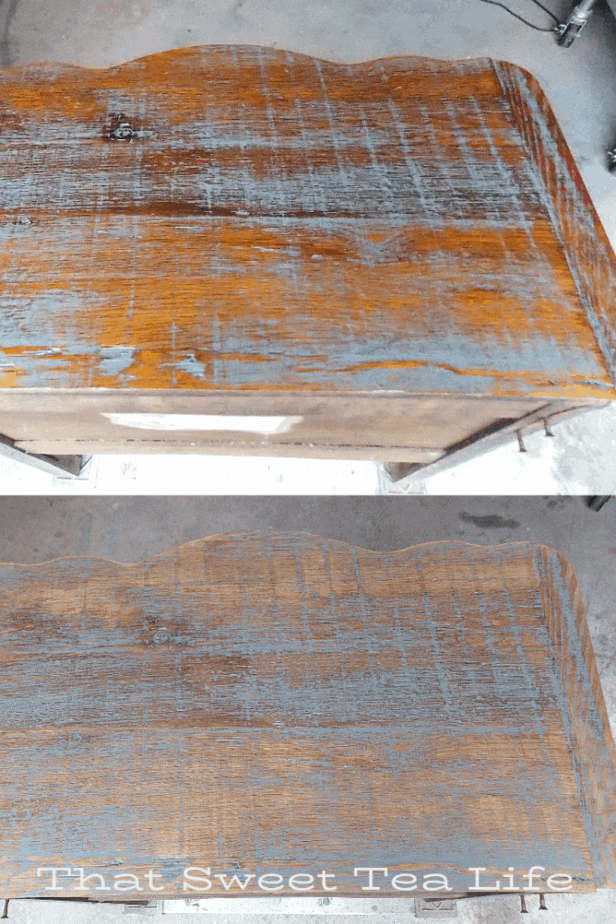 On to the body! It's time to get it all cleaned up! For this I used Dixie Belles version of TSP called White Lightening. (You can get that HERE) It's actually contains TSP but also contains other ingredients. Please if you use it be careful and wear gloves. While it may or may not bug you on the first use, over time it's just not good to allow contact on your skin. The directions state 2 tbsp per gallon so, I added 1 tbsp to a half gallon of warm water. In comparison to regular TSP I feel like White Lightening leaves less of a residue and is less corrosive. Perhaps this is the purpose of them formulating their own? (Both are linked above)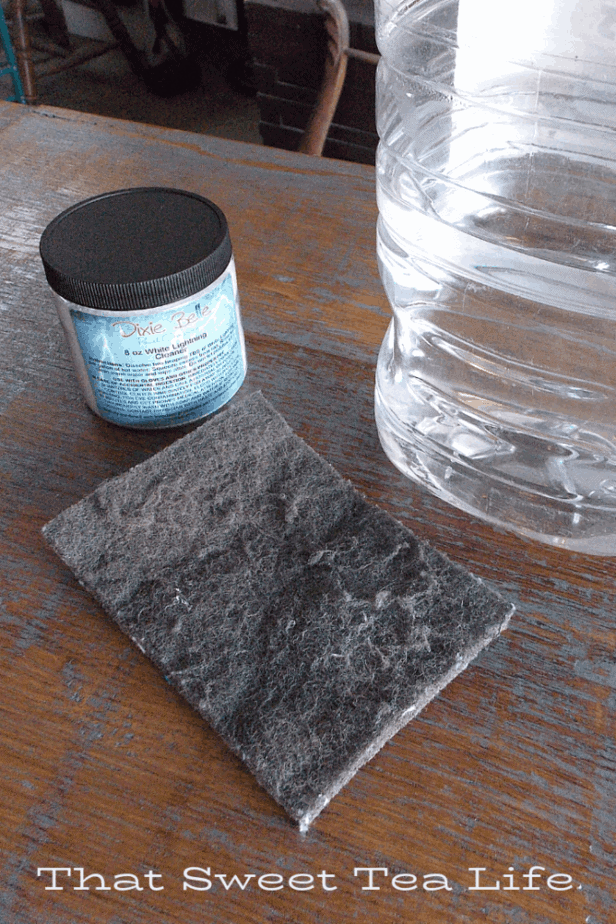 I used a scotch brite style pad to clean my piece using the White Lightening mixture. Typically you may want to sand the piece before or after this step to scuff the finish, however my wash stand had no existing finish left. It was quite porous already so no sanding needed! I just scrubbed everything down with the White Lightening.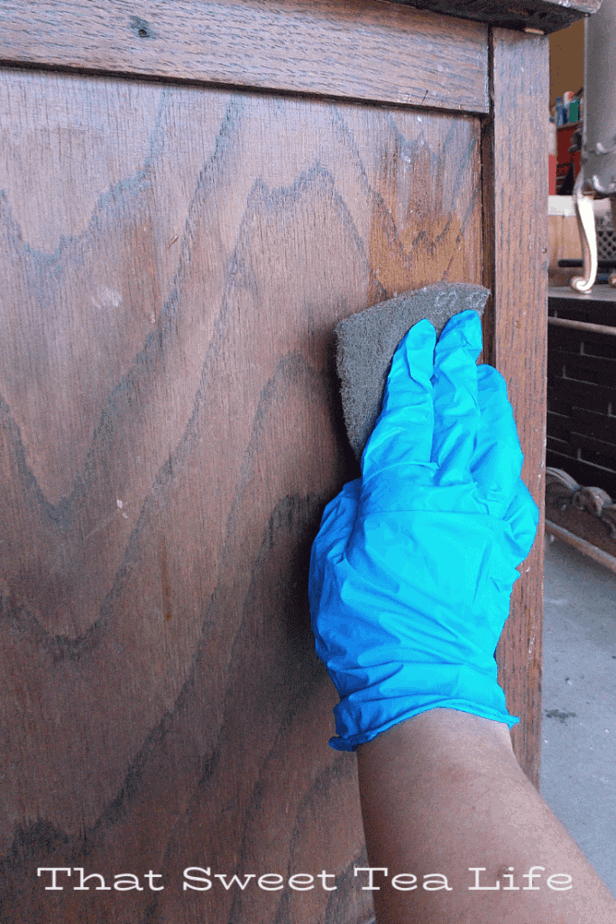 I worked in sections and after I scrubbed each section down, I took a damp rag (not sopping wet) and rinsed off the White Lightening. You do NOT want any residue from the product left behind to cause issues with your paint adhesion later. Notice my rag is only slightly damp and not dripping everywhere. You do not want liquid pooling and running all over your piece.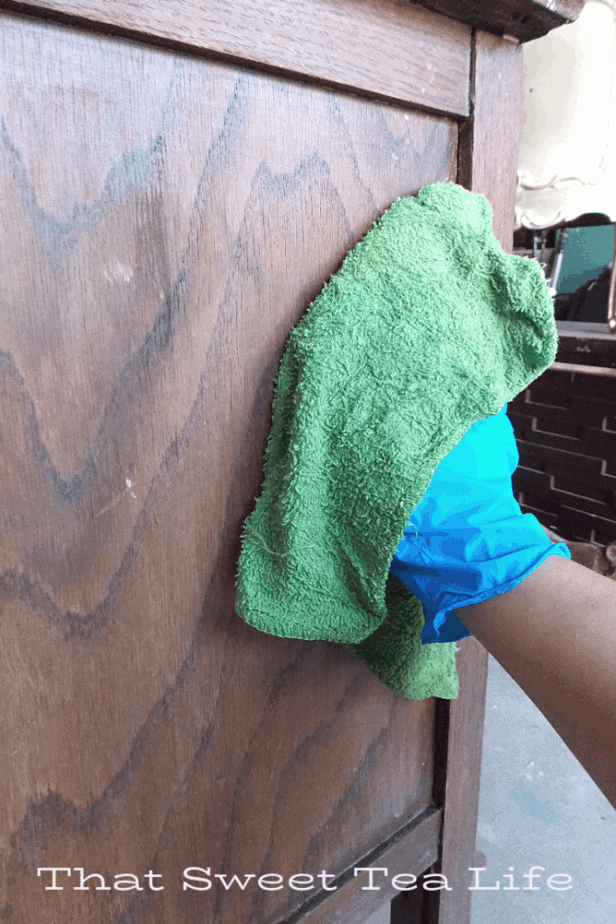 As I was cleaning I inspected the piece for any areas that needed extra attention. I found a significant crack that made the door loose as it was opened. I decided to take some Gorilla Glue (Found Linked Above) formulated for this sort of thing and apply it to the crack. While the glue states to simply hold it for a few seconds, I know from experience that any glue will strengthen over time and generally will hit it's peak at 24 hours. So, I opted to apply the glue, attach a clamp, and wipe the excess. I will leave the clamp there until the next day. It may not be necessary but.. why not?! I enjoy the peace of mind those extra precautions provide!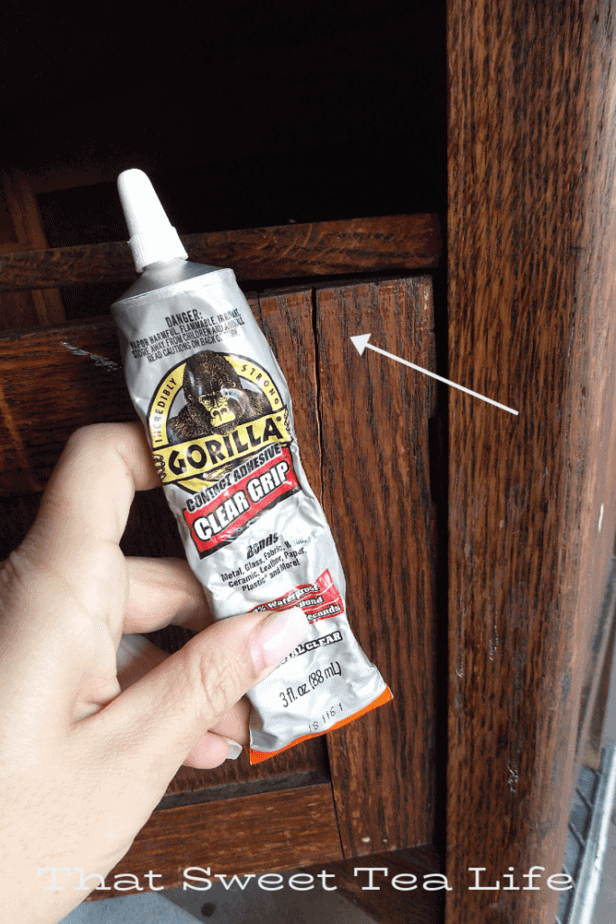 I may not need them often but I love having these long clamps on hand when I do! You can see what I used here.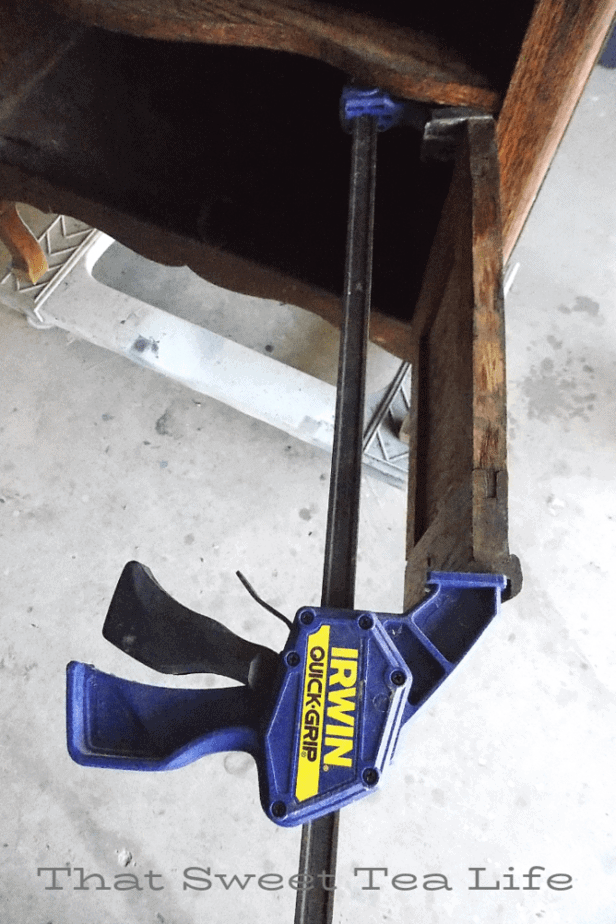 Once everything was completely dry from cleaning with the white lightening and rinsing off, (when in doubt wait a day) I primed using Dixie Belles BOSS. While it's absolutely not necessary for the sake of adhesion, the BOSS will take care of any bleed that may attempt to come through. With the wood being so raw and not being sealed, there is a huge chance bleeding can be an issue. If you aren't familiar with bleed, this is where the oil/tannin/stain from the wood wicks up into the paint changing the color to yellow or brown variations. Even dirt can cause this!! You can see here why it's so important to clean first!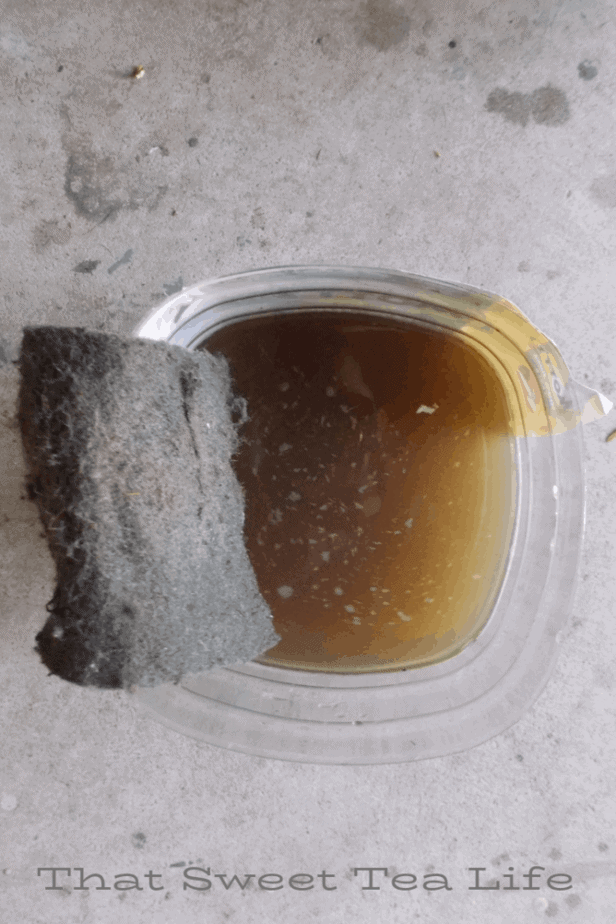 Gross right? Now you can see as I apply Dixie Belle Paints BOSS it's white in appearance. Using a regular brush I applied the BOSS and as I continued to work it did begin drying clear. I also noted a slight bit of "grip" that seemed to come with it. I feel like it will grab on to the paint nicely when I begin. Be sure to cover everything really well to prevent any contaminants from bleeding through into the paint! (To get your own BOSS go HERE)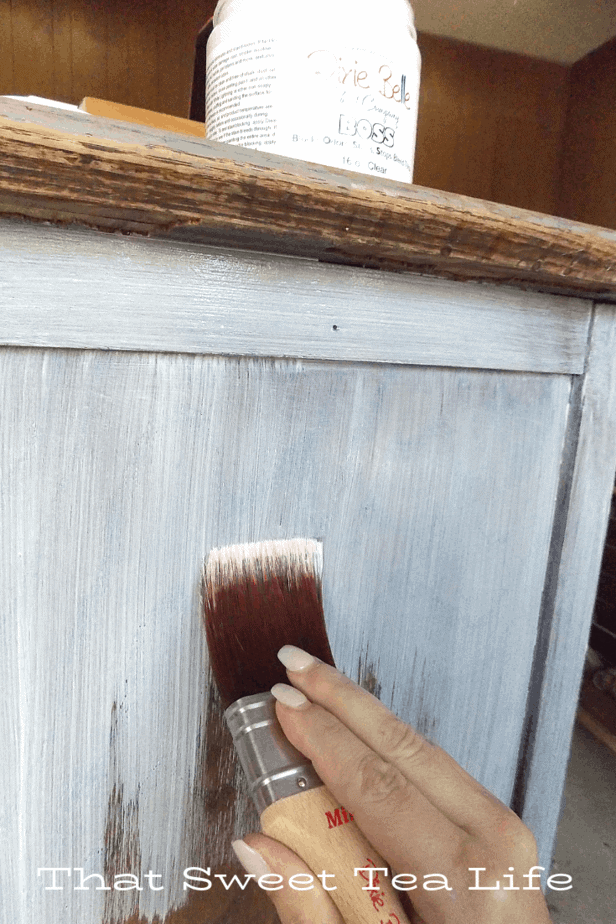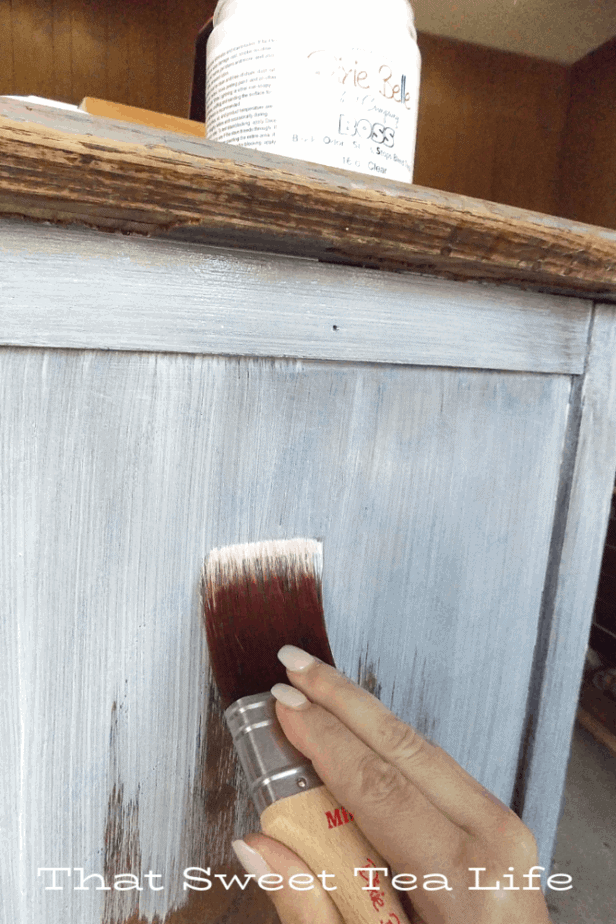 I decided to make this my stopping point for the day and I left the primer as well as the glue that was clamped to dry and cure! Tomorrow I will paint!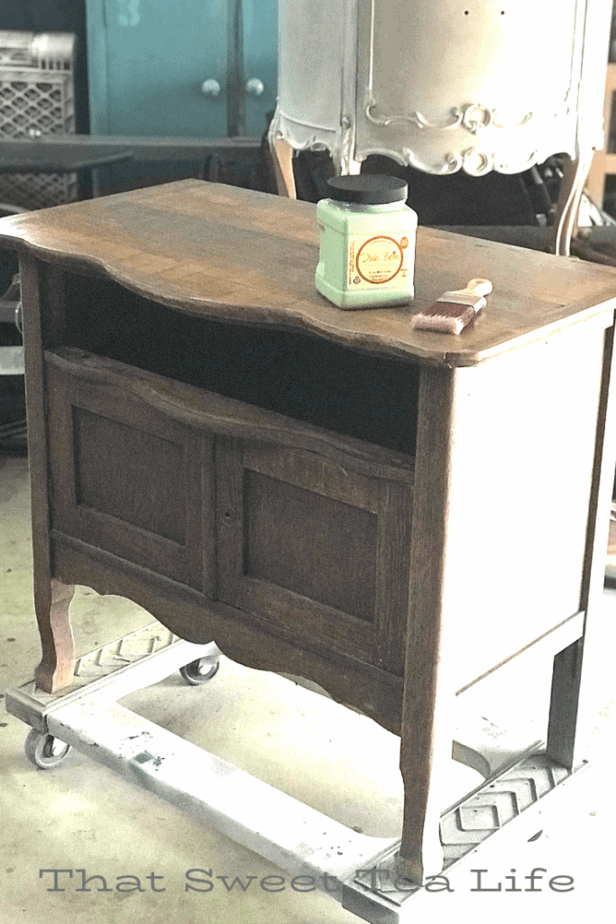 All primed up! As you can see the primer turned clear. The feel of it is slightly similar to a fine grit I said before. Now, on to the paint! I wanted a fresh vintagey green color so I opted for "Mint Julep"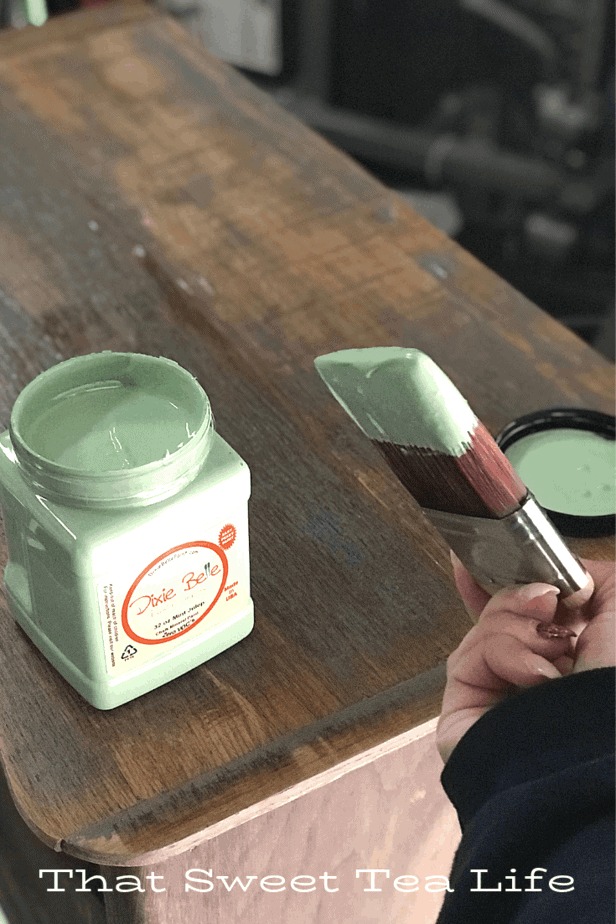 It's pretty dang thick. Do with that what you will. Some prefer a thick paint, and some don't! I felt like it wanted to go on pretty thick and I wanted to see what it would do. Because of this I didn't wet my brush or use a spray bottle. Would it leave gloppy brush strokes or texture? What would the coverage be like?
It grabbed and I got 99% coverage in the one coat. (Dixie Belle Paint has become my go to! To get yours go HERE) Normally I like to use several thin coats to achieve my finish to prevent issues with cracking or bleed, but again I wanted to just use the paint in it's most raw form since this is my first time. I continued to paint and it dried relatively quickly. It didn't dry to an overly mineral feel like many mineral paints do. And at least for the color, the shade didn't really change from wet to dry. This isn't a bad or goof thing-just noteworthy for some. I decided to go with a slightly rustic or distressed finish so I just stopped at one coat! Then I took a step back, and I worked on the details a bit.
I decided I wanted to reincorporate that Up in Smoke Voodoo Gel stain into the details so I grabbed a little artists brush and I used it and the Mint Julep paint to accentuate the carved pieces on the back. But staying primarily on the front raised areas I didn't have to worry much about cutting in and having to avoid the rest of the wood I wanted to keep untouched.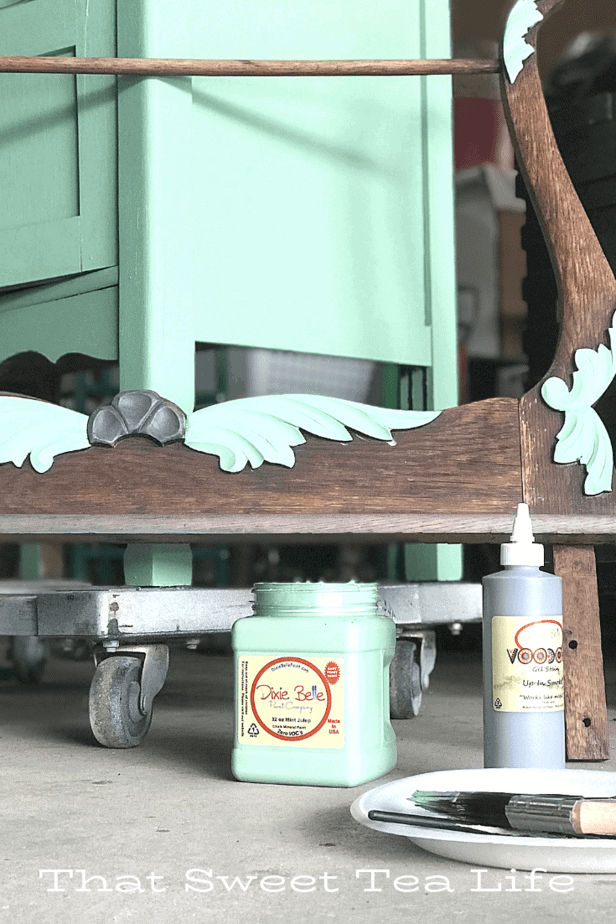 The next step would be to sand if needed and distress. The paint actually leveled out pretty well! There wasn't really brush strokes left behind. So, I mainly just sanded around the edges and such where I wanted to show distress. I usually just limit this to edges and where I feel like the paint would naturally wear away over time. I enjoy using my flexible 3M sandpaper which you can find here. I went with 220 since I didn't really want scratch marks and just wanted a gentle distress. Placing it over my scrubby pad would give it some "give" so the pressure is more evenly distributed.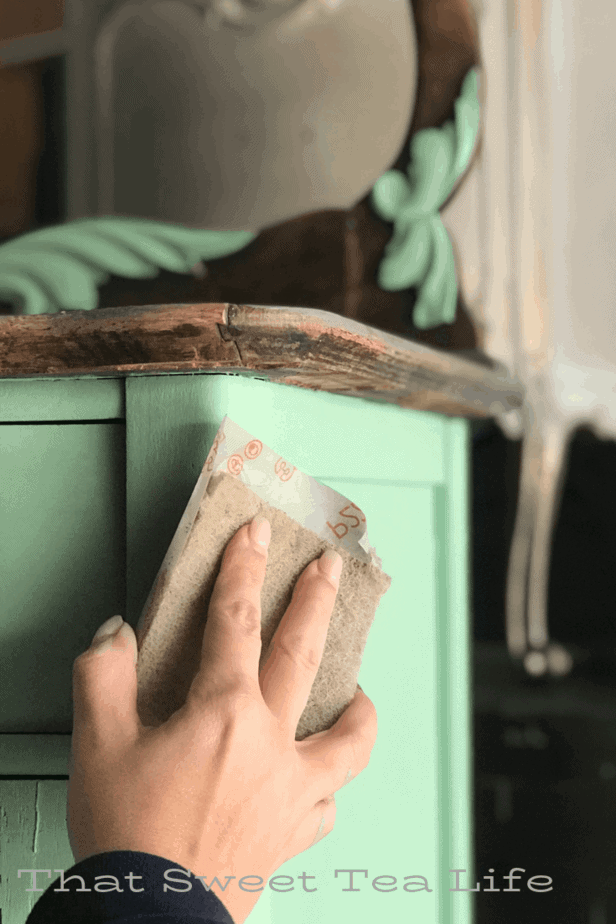 After getting everything distressed our sanded smooth where needed, it was time to wax! Since the top was already finished in a super durable top coat, I felt like using wax would be fine on the rest. This will accentuate the wood where it shows, and be less prone to bleeding on this light color. ANYthing to avoid the bleed! To apply I use my very favorite wax brush which you can find here! I've had it for a few years and these brushes are SO thick and wildly inexpensive! I don't prefer natural bristle brushes for paint, but if I did I would try these guys,.. hmmmmm…. maybe I should! But, for waxing, they are my go to!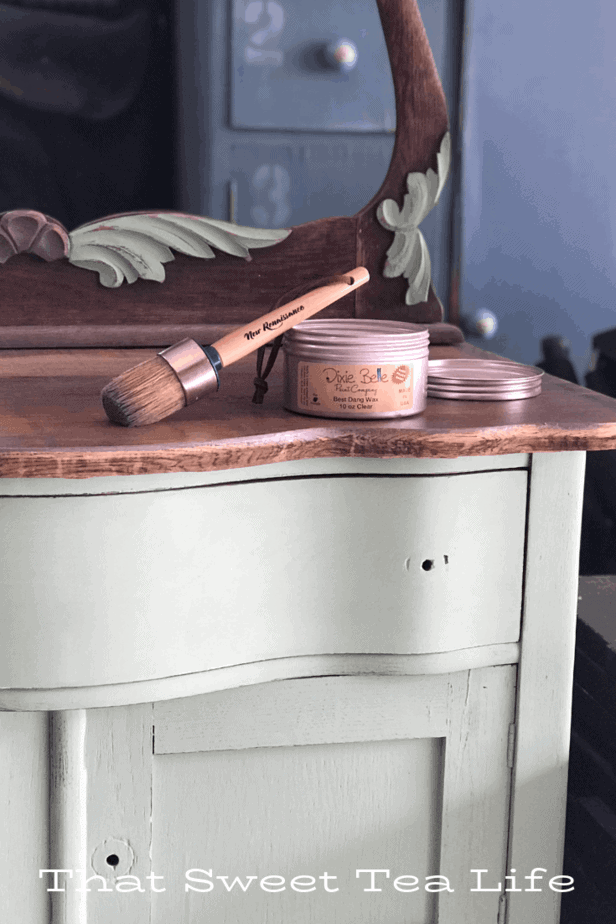 Dixie Belle Paints "Best Dang Wax" isn't super soft or super firm. It went on smooth and didn't have an obnoxious smell to it! I can't use waxes that have a large amount of solvent so this made me happy. I didn't use much so it basically buffed itself. Also, as you can see below, it didn't alter the color of the paint very much- so at least with this color, it was the same wet or dry. (Do with that as you will in comparison to "mineral paints". After I was finished I went back with my microfiber cloth, (you can see what I mean here-I got those exact ones a while back and they are my go to for buffing!) and I wiped off any excess, buffing the rest as I went along. (You can grab your own Best Dang Wax HERE)
And she's done! I decided I liked the top and kept her as she was. There wasn't a deep yellowing so I was happy with it.
The top coat gave it a lovely sheen. I decided to sand smooth with my orbital and 320 grit sand paper, then applied another coat. The feel is silky smooth… I love this as it contrasts nicely with the rough appearance.
I love the look of the wood and the gray gel stain,..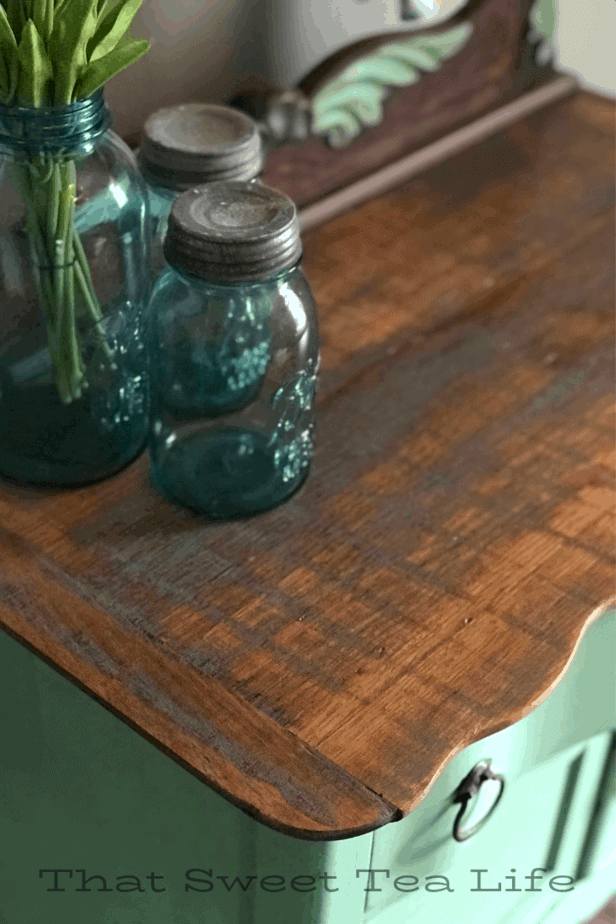 I used the original hardware on the drawer, just cleaning it up a little with the flexible sandpaper and using the wax to revive them a tad. The knob on the door would come from one I had in my stash gifted to me by a sweet friend. With all the deep dark tones in the wood, I was happy to keep some elements light and bright.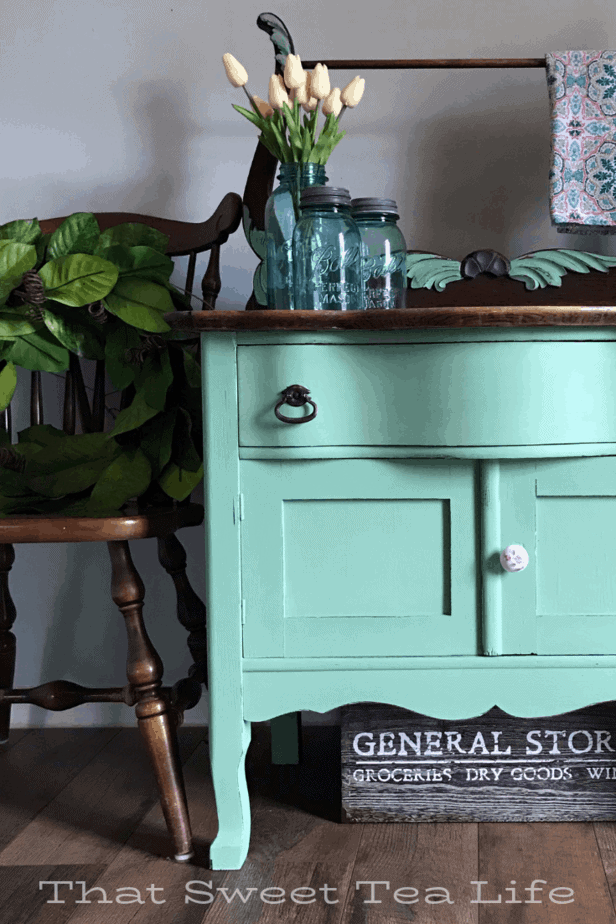 Such a sweet little peaceful space,..
I hope you enjoyed this makeover! Let me know if you have any questions!