Complement your charming home with accents from a simpler time. Vintage Farmhouse Signs can be used in welcoming home décor ideas and themes that give a nod to rustic Americana and retro design. If you want to give your home a comforting and cohesive farmhouse style, start with some simple signs that will convey the message you want to send.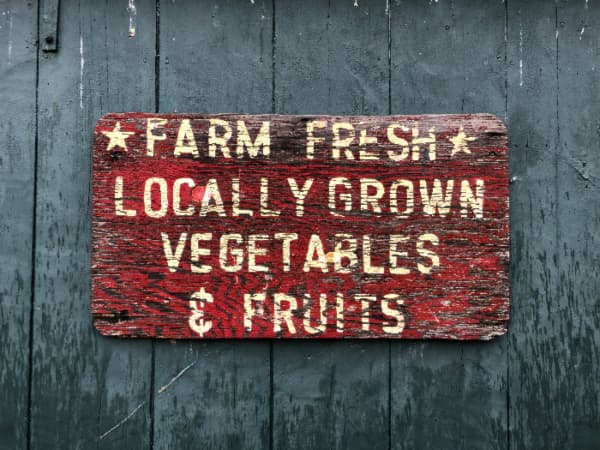 15 Vintage Farmhouse Signs to Compliment Your Home
Vintage signage is a cool way to accent your farmhouse- whether you buy an authentic sign or recreate your own and they are the perfect touch for your contemporary farmhouse styling. Here are 15 examples of vintage farmhouse signs to use in your home's decor.
1.Painted Planks
For a rustic, farmhouse appeal, paint simple wood planks with your favorite acrylic paint and stencil a farmhouse message, such as 'fresh eggs' or 'welcome' in a contrasting color. This project works well with chalkboard paint, and the washed-out color gives the sign a shabby chic flavor. If you are going to tackle these home décor projects on your own, use these practical tips for cleaning paintbrushes after.
These plank style signs are intended to be rustic and basic, for the most authentic Farmhouse look. Also, they can be propped against a door, wall, or other support to stabilize them vertically, though some may use these in a horizontal fashion on a shelf or over a doorway.
2.Welcome Wreath
Instead of an actual sign, share a farmhouse message on a welcoming wreath. Take a simple, inexpensive grapevine wreath and give it a spritz of metallic spray paint. Once dry, hot glue some faux or dried flowers, leaves, and foliage to the wreath; nest wood letters or a small sign in the greenery and hang on your front door. Check out the scrapbooking section of your favorite craft store for miniature signage that can be tucked in to convey a particular message, too.
3.Antique and Vintage Farmhouse Signs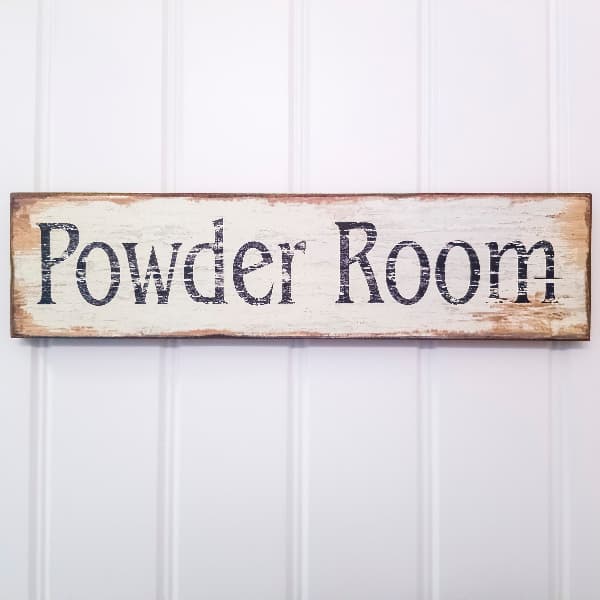 Visit your favorite antique store for actual vintage farmhouse signs that are perfectly at-home in your kitchen or on your front porch. Look for old-time advertising or handcrafted items that you simply cannot find in home décor retailers. These are a great accent that could be the focal point of your interior design theme. A lot of signage can be found at auctions and liquidations, too. Consider this when visiting thrift stores and garage sales- you never know when a great vintage sign will pop up!
4. Metal Advertising
Speaking of vintage and retro signage, look for metal advertising signs (replicas are fine, too) to add to your kitchen or family room. Look for products that will be suited to your farmhouse style, such as retro dairy signs. Some of the original metal signage is valuable in terms of collectors, so you may want to check out replicas of your favorites found from online vendors. There are many affordable replicated ad signs found widely, which can also have that vintage feel.
5. Totems and Posts
If you are a DIY sort of person, remember to salvage interesting bits and baubles when you are refurbishing or flipping furniture. From buttons and embellishments to fabric and lumber, you can use these tidbits later to create your own welcoming sign for your farmhouse, including a garden totem or a welcome post!
6. Ribbon Ring
Got a Styrofoam ring hanging around? These are often used for floral design or wreath making. Take one of these rings and wrap ribbon around it, working to cover the foam ring. Choose a color or print that complements your house or home. Once covered, you can glue or pin the end of the ribbon and embellish the ring as desired. Some farmhouse ideas include plastic eggs, tiny rooster cut-outs, or galvanized metal adornments, like tiny dishes. Check out the cool adornments found at your local arts and craft store.
7. Staked or Picket Signage
When you envision a vintage farmhouse, you might think of the traditional picket fencing that is often seen around the front yard or entry. Recreate this with pickets forming a small fence that can be staked into the ground. You can either paint the pickets with a welcome message or you can attach something to the pickets, like wood letters or faux foliage.
8. Lattice and Letters
Similarly, to the picket signs, use a piece of lattice work with some stenciled or wood letters for a fun and distinctive accent piece that resembles Vintage Farmhouse Signs seen in high end interiors. Weave silk vines or greenery in and through the lattice- just as foliage would grow around your lattice in nature! Prop the sign near your front door or garden for a festive touch.
9. Message on an Easel
If you have a farmhouse, you may have the advantage of a front porch; if so, try putting a message on an easel. That is, recreate Vintage Farmhouse Signs with your own that is propped on a wood easel by the door or entry for your visitors and guests. This could be a simple welcome message, stenciled on foam board or cardstock, or go the extra mile for a long-lasting sign and stencil on a piece of plywood or repurposed plank from a home project. For some reason, a message on an easel grabs attention and captures the eye of all who come to call.
10. A Metal or Ceramic Jug
If you are ever out thrifting or at yard sales, keep an eye out for a vintage jug, either metal or ceramic, to use as Vintage Farmhouse Signs- these are particularly cute on a front porch or patio. Simply give the jug a fresh coat of paint, if needed, and stencil a message, logo, or motif on the side. Use acrylic paints and seal with a spritz of regular hair spray to help keep the stenciling safe from the elements. These are perfect in a grouping on a set of steps or stairs leading to your door, too.
11. Repurposed Hub Caps
Who says a sign must be near the door? What about placing your sign on an exterior wall of the garage or other outbuilding? Another fun Vintage Farmhouse Signs inspired idea is to repurpose old hub caps- yes, hub caps- into a unique grouping on an exterior wall of your property.
Spray paint them all in contrasting or the same color and you may be surprised by how fetching and retro they look! These are more than a design element; they can also be a welcome sign or message to those visiting your home. Paint each hub cap distinctively with a letter or word that you want to convey to guests.
The options are endless, but it all starts with some hub caps!
12. Tea-Cup Chimes and Feeder
Want to put out a sign that your feathered friends and visitors will respond to? Try making simple tea-cup feeders, which are both vintage-inspired and perfect for a farmhouse theme. These are a great way to use and enjoy old teacups and saucers, that might be broken, damaged, or left over from past themes and table schemes. To make these nifty feeders to welcome birds to your property, porch, or patio, use these simple instructions:
– Use glue or epoxy to secure the cup on its side to the saucer. Make sure the handle is on top, so that you can suspend the feeder from it.
– After the glue dries, fill the cup with seed. The seed will spill out into the saucer, which is what you want it to do so the birds have easy access.
– Use clear thread or fishing line to suspend and hang the tea-cup feeder from your porch, a tree, or other spot in your yard or garden.
Know that these cute feeders make excellent and inexpensive gifts to share with others, too. These tiny tea-cup feeders look amazing when hung in groups from a tree or fence; what better signage to welcome others to your farmhouse than that?
13. Painted Slate Sign
There is something inherently rustic and vintage about slate tiles. They can be repurposed into a number of useful objects that bring farmhouse flair to interiors, but what about used as Vintage Farmhouse Signs? Yes- these slate tiles are easily stenciled, painted, and hung to bring a fresh, farm vibe wherever you place them. For instance, stencil and paint your family name, crest, or company logo and color with acrylic paints. Make sure to seal your slate tile signage if you plan to hang them outside or where they could be impacted by the elements.
14. Framed Farmhouse Creations
If you are a crafter or plan to do-it-yourself, start by saving and salvaging old photo frames. They do not need to have glass in them, but the bigger the better! These frames can be filled with your computer-printed message, note, or motif and hung on a wall. The glass will protect the sign from the elements if you plan to use the signage outside, but no glass is necessary indoors. Change out the message from season to season and use a tea-stained or oaktag paper for retro flavor and to mimic Vintage Farmhouse signs and styles.
One popular sign idea is to print the family's last name in a unique font, with the year the homestead was established below.
15. Shadowbox Signage for the Farm
Another clever and very farmhouse-inspired sign for your home is a themed shadowbox. A shadowbox is a fun way to display collections, trinkets, and items that go along with your vintage or retro farmhouse scheme; consider items like antique utensils, old news clippings, ticket stubs, or ceramic miniatures that go along with your interiors. You can also make your own shadowbox for your sign, if you like, using picture frames, paint, scrapbooking supplies, and a few basic tools.
The result is a sign that can depict your family name or a clever message, with some three-dimensional objects that add interest and visual appeal to the sign. For instance, consider a culinary themed farmhouse shadowbox that utilizes everyday items, like a spoon or cheese knife, with a patterned paper background and wood letters spelling out 'dairy.' These intriguing little displays are perfect for drawing in your visitors' attention and capturing a second look, plus they pay a fond homage to a simpler time.
Just Have Fun With It!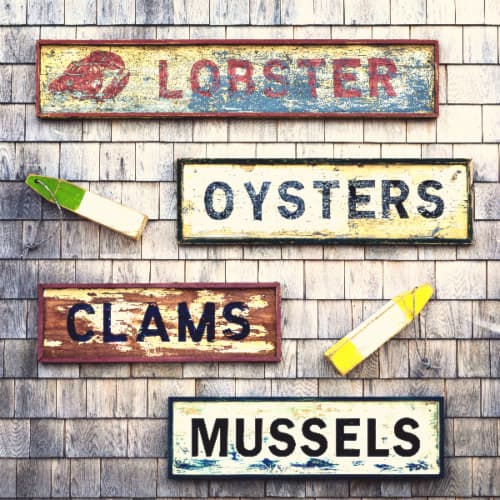 Decorating a farmhouse? Or maybe you are just trying to revitalize your home's interiors with something fresh? Embrace the inherent warmth and welcome of your home with these Vintage Farmhouse Signs and suggestions. These sign ideas are the perfect finishing touch to a space, spot, or room without being too much and without creating clutter.
Whether you seek out authentic signage from online sellers or if you choose to craft and construct your own, these will bring a bit of flair and personality to your theme, both inside and outside. Consider these Vintage Farmhouse Signs for your distinctive dwelling!