Upcycle furniture ideas not only save you money in the long run, but they also turn your home into a space that is uniquely yours.
When you turn an old dresser into a bathroom vanity, you can be sure nobody else has the exact same vanity in their home.
A play kitchen made from an old TV stand is literally one-of-a-kind.
Giving a piece of furniture a second life is good for the environment, your budget, and your creative mind.
Read on to get inspired to fill your home with these hidden gems!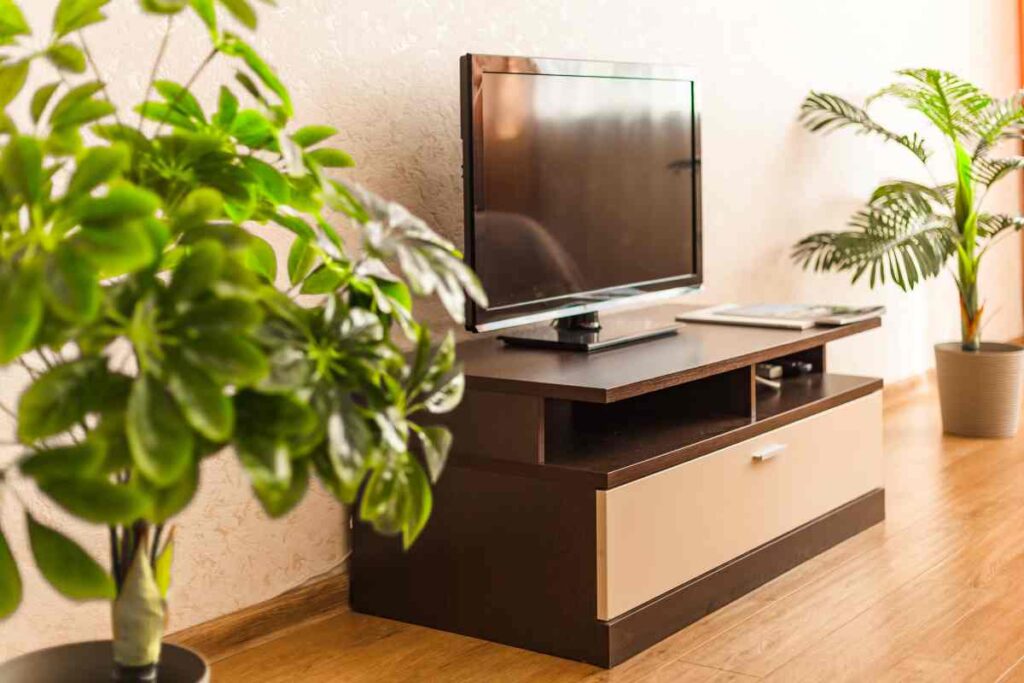 ---
Upcycle Furniture Ideas for the Living Room
Cube Storage Window Bench
If you've got a four-cube organizer lying around unused, flip it on its side, add a cushion, and make a bench!
Use it in a mudroom with shoe storage in the cubbies, or put it under a picture window and fill the cubbies with books. Add a couple of pillows and a blanket, and enjoy a cozy reading nook!
TV Stand from Old Dresser
Simply removing the top row of drawers from a long dresser upcycles a plain dresser into an incredible TV stand!
You'll need simple tools to remove the drawer hardware and probably a few coats of fresh paint to bring it all together. The result is a one-of-a-kind TV stand with a load of storage for DVDs, gaming systems, etc.
Unique Bookshelf from Cable Spool
A unique upcycle furniture idea is to turn an old industrial wooden spool into a bookshelf.
You might not have one readily available, but you can easily buy one online. A fresh coat of paint will jumpstart the transformation, but don't stop there!
Add a round cushion to the top and your favorite books all around the bottom, and you've got a shelf-and-seat-in-one.
Antique Desk Turned New Bar
If you love entertaining, here's an upcycled furniture idea you'll love! Antique secretary desks make a perfect, unexpected mini bar.
This idea will be especially surprising if the desk is in good enough shape to leave it as-is on the outside.
All the nooks and crannies, once used for pens and envelopes, fit bottles and bar accessories like they were made for them. The fold-down desk makes an excellent mixing and serving station, too.
---
Upcycle Furniture Ideas for Bathroom
Dresser Turned into Bathroom Vanity
Save an old dresser from a thrift store and turn it into your new bathroom vanity.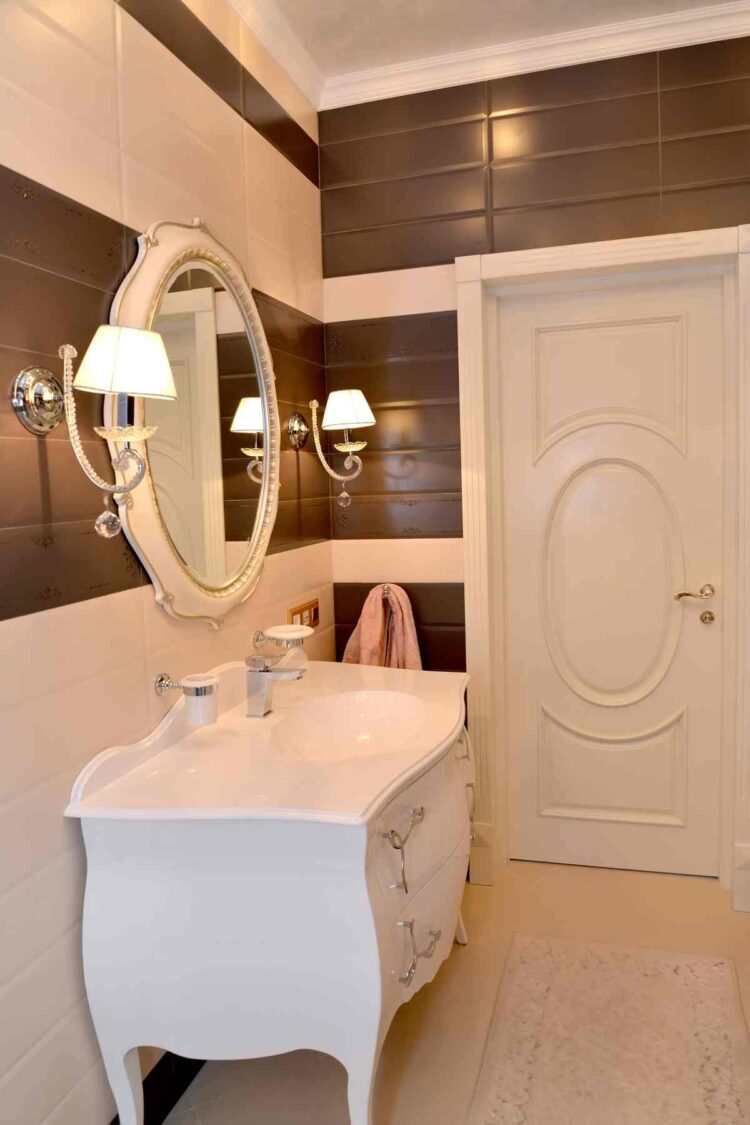 Depending on the size, you could use this upcycling idea to make a single or double vanity.
With the right tools and a little creative cutting, you can keep most of the dresser drawers usable for bathroom storage.
Old Mailbox as Toilet Paper Holder
This idea is as simple as it sounds.
Take an old mailbox, turn it to where the opening is facing up, and use it to store toilet paper in your bathroom. The door will act as a lid to keep everything nice and clean.
This works well in a home full of other farmhouse touches or any house full of quirky items that make you look twice.
---
Upcycle Furniture Ideas for Kids
Upcycled Dresser Doll House
A taller dresser with all the drawers and hardware removed is the perfect upcycle furniture project for a little girl's room.
With some scrapbook paper, glue, and creativity, an old dresser will be transformed into a doll's dream house!
Grab a set of furniture and dolls and get to playing!
TV Stand Turned Play Kitchen
TV shapes have changed over the years, so instead of throwing away your old, square-TV entertainment center, turn it into a play kitchen.
The existing cabinets can be painted and used as a fridge. Where the TV sat can transform into a cooktop and sink. Flip one of the smaller, under-TV cabinet doors 90°, and it's an oven door!
Book Storage from Old Drawers
Don't throw away the drawers you've taken from a dresser to upcycle furniture to something else. Turn them into funky bookshelves in a playroom.
Cut the back half of the draw off, add a couple of blocks of wood to the corners of the drawers with wood screws, then use the blocks of wood to attach the front half of the drawers to the wall with drywall anchors.
Dress Up Closet out of a Dresser
Speaking of dresser drawers, another upcycling furniture idea is to turn a three-drawer dresser into a dress-up closet.
Remove the top two drawers, take out the drawer slides, and attach a piece of wood on top of the remaining drawer to create a closet space with a drawer underneath.
Add some wrapping paper to the inside, a hanging rod across the top, and a few hooks on one side for costume jewelry. Put a few baskets in the drawer for accessories voila. A closet!
---
Upcycle Furniture Ideas for Kitchen
Small Filing Cabinet Turned Kitchen Cart
If you've got an old filing cabinet sitting around, put a fresh coat of paint on it, add some casters to the bottom, and use it as a kitchen cart!
Not only does this furniture upcycling project give you more storage space, but it can also act as extra counter space if you've got a small kitchen. You can also put a rod on the side and use S-hooks to hold utensils.
Upcycled Armoire Coffee Station
An old armoire is a great furniture upcycling project. One of the many things it could become is a coffee station of your dreams.
You can choose to leave on the doors or take them off. Either way, add a fun pop of color inside with paint or wallpaper and fill it up with everything coffee!
Use Old Cabinet Door as Serving Tray
Upcycling furniture doesn't have to be complicated. Take the original hardware off an old cabinet door and fill it in. Add a handle to each short end of the cabinet, and now you've got a serving tray!
---
Upcycle Furniture Ideas for Laundry Room
Drying Rack from Old Ladder
Hanging an old ladder from the ceiling doesn't just free up valuable floor space in a small laundry room. It also adds a fun farmhouse flair to your home!
Use a hung ladder as a drying rack in your laundry room, or hang one in your bedroom as a makeshift closet.
Bookshelf Turned Laundry Basket Storage
Use an old bookshelf as a laundry basket storage unit. With laundry baskets coming in so many shapes and sizes these days, you're bound to find some that fit an unused bookshelf you've got lying around.
Take this upcycled furniture idea to the next level by labeling the shelves with the corresponding basket's use.
---
Upcycle Furniture Ideas for Bedrooms
Door Turned Headboard
Next time you need a new headboard, head to your nearest salvage shop to find a door full of character and charm.
Use a mounting kit to secure it to the wall. A door standing up will make a great headboard for a twin-sized bed. Turn the door on its side to use it as a headboard for a queen or king-sized bed.
Upcycled Shutter Headboard
Instead of using a door, you could also use old window shutters for a distinctive-looking headboard.
Leave them untouched for a rustic look, or sand them down and give them a fresh coat of paint for a more uniform appearance.
Habitat for Humanity Re-Stores is an excellent spot to find shutters for this upcycled furniture project.
Bookshelf Turned Underbed Storage
For an extra bit of storage, lay an old bookshelf down on its back, add some small casters to it, and roll it under your bed!
The shelves act as natural dividers. This is a solution for out-of-season clothing, as well as rotating out toys in a child's bedroom.
---
Upcycle Furniture Ideas for Outside
Sandbox from a Bookshelf
If you've got a bookshelf on its last leg, take it outside and turn it into a sandbox!
This upcycled furniture idea is perfect for a family on a budget. Instead of spending a ton of money on a plastic sandbox and all the sand and the sand toys, a few coats of paint and sealer will turn the bookshelf into a backyard beach.
Magazine Rack Planter
If you've moved away from printed magazines in favor of online articles, don't throw out your magazine rack. Instead, turn it into an outdoor planter.
Line it with some coco liner to keep the potting soil contained, and then fill it with your favorite plants or flowers.
Old Chair Turned Garden Swing
Sometimes, upcycling furniture turns a piece from functional to fantastic! You can transform an old wooden kitchen chair into a whimsical porch swing.
Taking off the legs, adding some 2×4 for support, and using a porch swing hanging kit will have you sipping some lemonade on your front porch swings in no time.
Old Filing Cabinet to Garage Storage
This may be the easiest upcycle furniture idea on the entire list. It doesn't require any paint or tools. It's upcycling furniture in its most basic form.
An old, tall filing cabinet can be laid down flat with its drawers removed and become a phenomenal garage organizer. That's all you need to do to have a place to wrangle your yard tools, sports equipment, and other outside gear.
Of course, you could paint it or add casters to make it moveable, but simple and sweet works just as well.
---
Wrapping Up Upcycle Furniture Ideas
Furniture doesn't have to play just one role in our homes. Upcycling furniture gives it a second life!
Whether you're looking to save money or create a completely customized house, these upcycled furniture ideas can fill your home with pieces you'll be proud of.
If you've got your eyes on a project that requires painting, make sure to check out our Furniture Painting Guides before getting started!