It may be the middle of winter right now, but summer cook-outs will be here before you know it and there's never a better time to get some crafty, DIY projects done than when it's cold and wet outside! This DIY tin can utensil holder will be such a great addition to your picnic table, or even blanket, this summer.
With just a few simple supplies that you've probably already got sitting around your house, you can make a cute, practical utensil caddy to help you store and transport everything you need to eat all of the delicious food at your summer party.
Read on for the tips, supplies, and steps to make your own adorable and affordable utensil holders.
Craft Supplies Needed: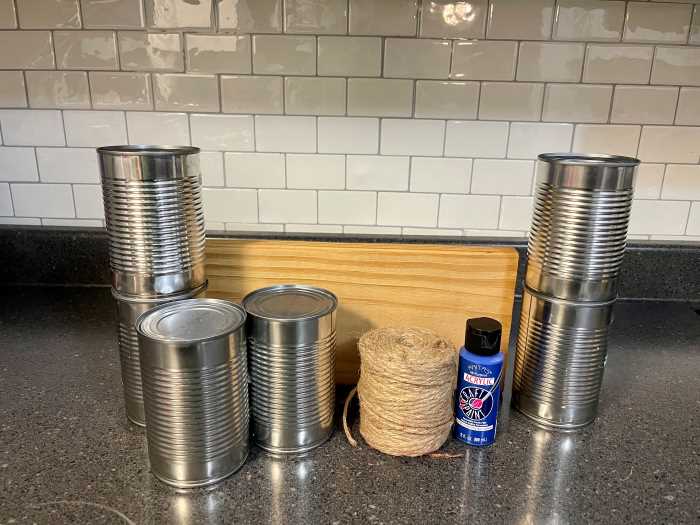 Tin Cans
Save up your tin cans over time. Your average ~15oz can is the perfect size for this craft. You will need to tear the paper off and wash it with hot water and soap before moving on. Next, you need to make sure you take care of your can's sharp edges.
There are a couple of ways to do this. First, you can use a can opener that's specially designed to eliminate sharp edges. Here is a good option for that.
If you don't have one of those can openers handy, use a metal file to file down the sharp edges. Don't skip this step! The last thing you want is for a guest to reach for a fork and cut themselves on a can.
Paint of Choice
There are several different paint options that would work for your tin can utensil holder. Use whatever you have handy. Chalk paint would make it a breeze if you have it sitting around, It's ideal because it's got a solid coverage in possibly a single coat of paint. If you don't want to spend money on real chalk paint, you can always make your own by mixing any acrylic paint you have sitting around with some Plaster of Paris.
Spray painting is an option if you have some spray paint sitting around, too. If you choose that method, you'll want to do several passes of thin coats of paint, making sure to let it full try between each coat of spray paint.
Acrylic paint will work as well and is very affordable and readily available at any craft store, some Dollar Trees, and most supermarkets.
Block of Wood
You'll need a board roughly 11″ long and 5″-6″ wide. It should be at least 2″ thick to leave space for the screws you'll use to attach the cans later. If you don't have a wooden board sitting around, ask your friends! You'd be amazing how many people have scrap wood sitting around they'd be happy to share with you. Remember, this is supposed to be an affordable craft project, so don't be afraid to get creative in finding the supplies!
Hammer, Screwdriver, and Screws
These tools are needed to securely attach the tin cans to the blocks of wood. You can bypass the screwdriver for a drill if you've got one available to you.
Something to Use as a Handle
Your creativity is your limit here! You can use a drawer pull or a gate handle. Or you could try a piece of leather or some braided rope. The point is to have something to attach to the top of the wood to help you transport your tin can utensil holder where you need them to go!
Extra Decorations
Again, use whatever you've got on hand-or nothing! You can add washi tape, rope, yarn, painters tape to make fancy designs, whatever your mind can dream up!
Steps to Make DIY Tin Can Utensil Holder
1. Gather Supplies
Make sure you've got everything on hand so you don't have to stop what you're doing to go and find what you need. It's not like I know that from experience or anything…
2. Paint and Decorate
Choosing whatever method of painting you have handy, go ahead and paint your tin cans and your entire board. You can choose to paint inside the can or not. I'm personally choosing not to because I don't have a lot of paint and I'm not sure it won't chip once I put utensils in it. If you're using spray paint, it may be pretty hard to not paint the inside, so take that into consideration when making your paint choice.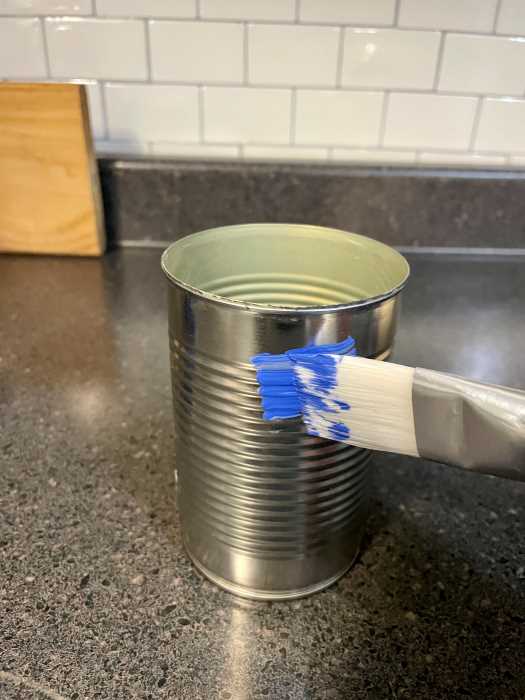 If you're using paint that requires brushing it on, stick your hand inside the can in order to maneuver the can where you need it without touching the fresh paint.
This is where the transformation begins. You can choose bold colors, bright colors, neutral colors, or a mix. Whatever you choose, it will be unique to you!
Make sure to let the paint dry completely before moving on to the next steps.
Once you're done painting and it's had time to dry, now's the time to add any other decorative pieces you've got lying around. The easiest way to attach anything that's not tape is going to be a hot glue gun or superglue. Regular white glue isn't going to be strong enough.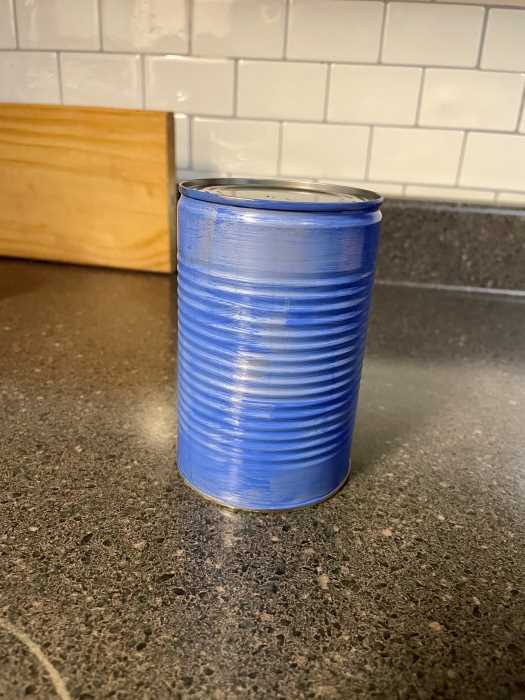 3. Attach Cans to Board
Take the time to measure and place your cans where they're appropriately spread and placed. Mark the wooden board where they are so you don't forget as you attach each can. I chose to make mine not exactly symmetrical so that the screws had space to go into the wood without running into each other.
If you've got a drill available, that would be the easiest way to attach the cans. I found that I had to predrill the hole into the wood in order to make this work. The drill was too strong otherwise and it stripped the first screw I tried to use going directly through the can into the wood. Once I drilled the hole first, it was a piece of cake to attach the cans.
If you don't own a drill, you can still do this craft! In fact, it may be even easier to just use a screwdriver! Use a hammer and the tip of a screw to make a hole about 1/4″ down into the can. Then use your screwdriver and screw to attach the cans to the wooden board.
4. Add a Handle
Attach whatever you've chosen to use as a handle for your tin can utensil holder at this point. Make sure it's securely attached so that it won't break off while you're carrying your utensils, making a massive mess.
For this project, since I'm snowed in while I'm working on it, I decided to use some jute twine I already had lying around my house to make a handle. I cut 6 pieces about 18 inches long and knotted them at one end. Then I braided them together, 2 pieces in each section of the braid to make it a little thicker. Once the braid was long enough to form a handle, I tied it off in a knot on the other side and then cut off the excess. I just used super glue to attach it because that's what I had at my house.
5. Fill up Your Tin Can Utensil Holder
Now you need to decide what you're going to put in your tin can utensil holder. I'm planning on filling mine with plastic forks, plastic knives, plastic spoons, straws, salt & pepper packets, and rolled up napkins. You can make this work for whatever you're serving. If you're eating corn on the cob, you could fill one of the cans up with corn cob holders. If ribs are on the menu, one of the cans can be full of individual hand wipes. This is definitely a multi-functional item!
6. Invite friends over to your house for a BBQ and show off your hard work!
You did it! You made your very own, one of kind tin can utensil holder from a piece of wood and 6 tin cans. I'm sure your friends and family will love having everything they need to enjoy a delicious meal together all in one place.
Other Uses for Tin Can Utensil Holder Caddy
Unfortunately, we can't BBQ and picnic year-round in most places, but this caddy can still be used during the winter!
Dining Table Organizer
Nobody said this holder can only be used outside! Keep one on your dining room table year-round to keep everything you need tidy, handy, and organized. It would make it even easier for young kids to help set the table, or it would make things easier for guests who wouldn't have to ask where something was that they needed.
Craft Organizer
This tin can utensil holder can be completely repurposed as a craft organizer! Instead of filling it with forks, knives, and spoons, fill it up with crayons, markers, and paintbrushes. If you're a mom with young kids, you know how easily coloring and craft supplies can take over a table. Use this to corral them to get back a little of your sanity while still encouraging creativity in your family.
What's next?
This is a great, affordable, easily personalized craft that would be fantastic to make as a gift and pass on to people who love hosting others. Make a double batch of chili and you'll have enough cans to make a couple of these! If you follow this tutorial to make a tin can utensil holder, take a picture and post it in the comments. We can't wait to see what you think up and create!
About the Author
Latest Posts
Stephanie Lamberth is a writer who loves crafting, playing board games with family and friends, and cozying up in a warm blanket to get lost in good fiction books.
Crafting has been a part of her life for as long as she can remember. She comes by it naturally, with her mom encouraging it from a young age with a craft bin always busting from the seams with goodies to experiment with and explore. Her favorite things to craft these days are gifts to give family and friends because it's an opportunity to express creativity and love at the same time!
She currently lives with her husband and three kids in Tennessee. They all work and school from home and love spending time together!
Stephanie can be reached at stephanielamberthwriting@gmail.com