We have selected some of our favorite black furniture pieces that can be easily transformed into something unique and beautiful. If you're looking for a weekend project that will make your home look more stylish and sophisticated, then this is the post for you!
A piece of painted black furniture really is powerful, it adds a bit of drama and a bit of interest to a room. In this article, we will go over some of the most breathtaking and interesting furniture pieces you can paint black to add some flair to your home.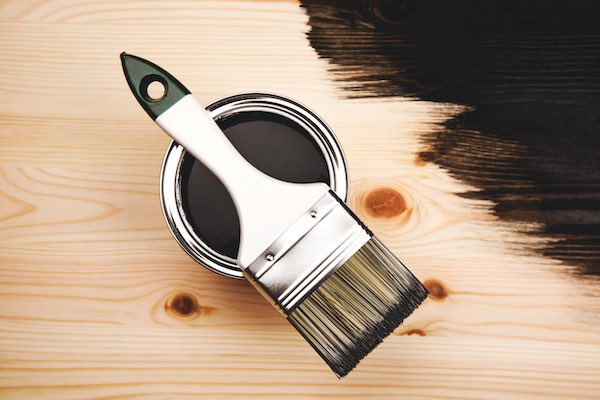 Painting Black Furniture 101
Whenever you decide to take the plunge and paint a piece of your furniture making sure you know exactly what types of paints and primers are available is very important. For example, painting a piece of wood furniture would require something different than let's say metal or hard plastic. I will break down a few here before we jump into the 11 pieces you can paint for that weekend DIY.
Painting Wood
When painting anything wooden you are going to want to make sure your furniture piece is nice and clean, free of any type of residue. You will then want to sand down your piece creating a nice clean fresh surface to work with. You will then need a primer such as a Rustoleum brand primer, this is what is going to make your black paint nice and opaque. Once you have your primer on you will then go ahead with your black paint, you may need to do multiple thin coats to get the exact coverage you want. Seal with a protective sealer such as Minwax Polycrylic.
Painting Metal
Painting metal is a lot different than painting a piece of wood. Most metal items you will buy are already factory-primed so they do not need any type of priming although you may want to use very light sandpaper in order to create even better adhesion. You may also want to use spray paint versus liquid or latex paint and a paintbrush. Rust-oleum brand spray paints are perfect for this type of job! After spraying down your item wait for it to dry completely and see if you would need any touch-ups or the second layer of paint if need be. Once it has dried you can then use a high-performance sealant from Rust-oleum to protect your work.
1. Credenza
For some furniture I feel like that old saying just rings true, things were just built better back in the day. Furniture was mostly made of wood and actual hardware, not so much particle board that you see on a lot of quick ship websites today. That being said, if you have an antique or just an outdated credenza give it a modernizing facelift a coat of nice black paint.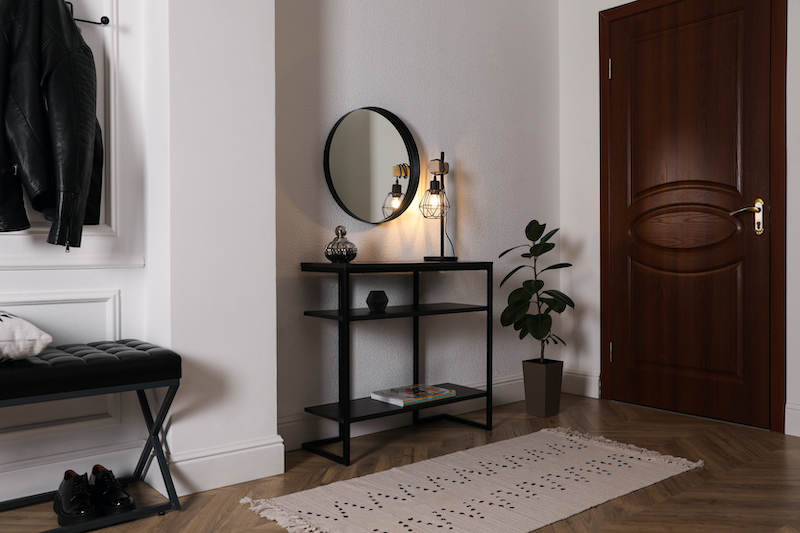 I found this amazing step-by-step article that dives into giving this antique credenza the absolutely most stunning makeover and it looks just amazing. Now they did add in some gold leaf to jazz it up even more but let me tell you, you will be shocked by the before and after photos! Check out The Gathered Home to see how simple and fun this DIY really is.
2. Headboard
Bedroom furniture might be one of the priciest furniture that you can buy so once something goes out of style well you may be stuck with it for some time. But, you can always DIY something to bring it back up to date and make something sleek and trendy! The best part is you can complete this project in one weekend, just prime and paint.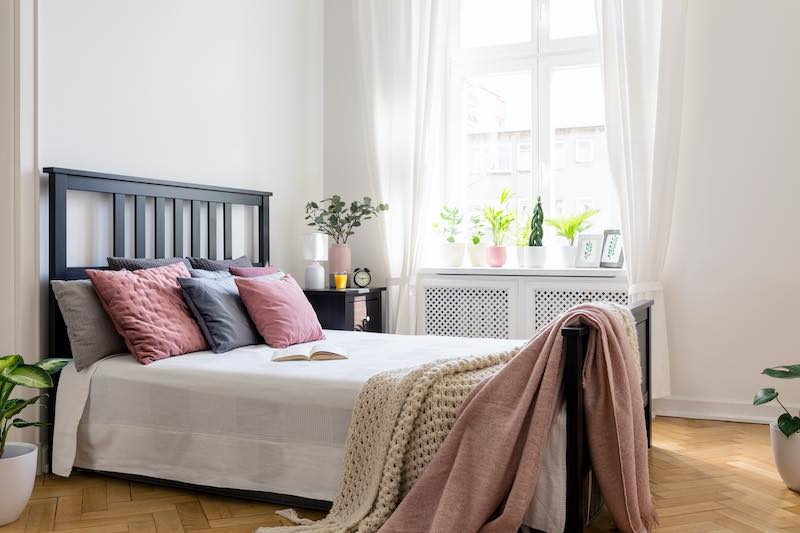 I specifically love the way it just pops and really draws your eye to the headboard as the focal point of this bedroom design. What's even better is the use of the white bed linens to really make it so sleek and oh so trendy. The pops of pink and neutral colors offset the harshness of the black and make it look even cozier.
3. Dressers and Drawers
Since we are on the topic of the bedroom while you are at it painting your bedroom headboard why not hit the dressers too? Or even more unique just the drawer faces? This really adds some interest in the room and a nice subtle dramatic look whereas you are not painting an entire wall black but just a small piece of interest.
I think the transformation of the old outdated wood tones of this dresser was just begging for a coat of black paint. The way it has been distressed makes the piece look even more beautiful and just brings a cozy comfy feeling into your bedroom. Add some greenery on top, maybe a few candles, and you have a shockingly stunning new piece of furniture that didn't cost much or take up too much of your time! If you are looking to see how this can be accomplished head over to Miss Mustard Seed to see how it was done!
4. Window Trim and Casings
Since the weather by me has been so cold and dreary as of lately I was doing what all good millennials do and was flipping through TikTok and came across a video of a woman who had painted all of the insides of her windows trim black, I was shocked how much I adored it and how it just made the room so much more interesting and cozy.
The final look of this really blows me away, I cannot believe how something so simple can have such an amazing effect! If you want to learn more exactly how to pull this off check out the article here at Repurpose Life's Blog it will show you just how to achieve these insanely pretty looking windows.
5. Bathroom Vanity
Another great weekend DIY is to refresh your bathroom vanity. I know this because I have personally done it myself when my husband and I bought our first home. We were on a bit of a budget and one thing I wasn't going to rebuy was any type of cabinets since I knew I could paint them and give them my own personal touch.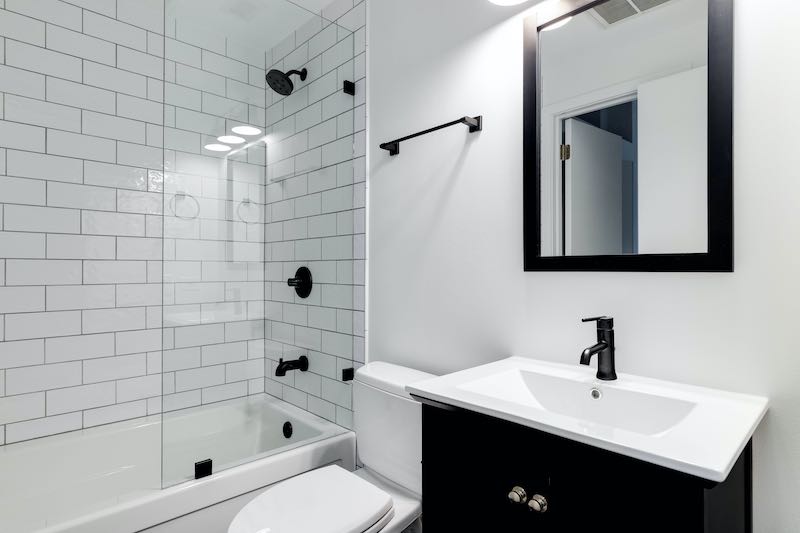 It is truly amazing what a few cans of spray paint can really accomplish. Your bathroom went from drab to fab very quickly and on a budget! If you are wanting to refresh your bathroom vanity check out this article at Home Talk that can guide you step by step on how to achieve this stunning look.
6. Mirrors
If you want to take the plunge and add a touch of black to a room but do not want to paint a furniture piece or anything too large your next best option would be a mirror frame. Let me tell you, these all look so classy, and the best part is if you ever get tired of it well you can always take it down!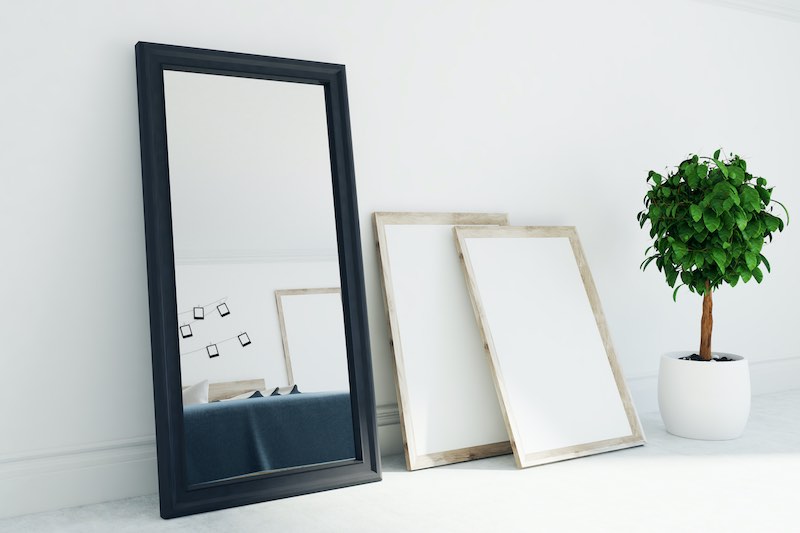 It's amazing to me how a can of paint and primer can take something so dull and just bring it back to life in no time at all! Painting a mirror black will add some drama and some interest to any light-colored walls and will draw your eye making the room automatically look larger! Now, who wouldn't love that!
7. Dining Room Chairs
Wooden dining chairs looking a bit roughed up? Not really matching with your sense of style anymore? Well, there's an inexpensive hack for that! I know we mentioned before how expensive new bedroom furniture can be and it is very much the same for dining tables and chairs, I know when I purchased my home years ago that was one thing that blew me away how expensive they can really get! Even if you pick of a new dining set while thrifting here is an amazing way to make it look like a million bucks!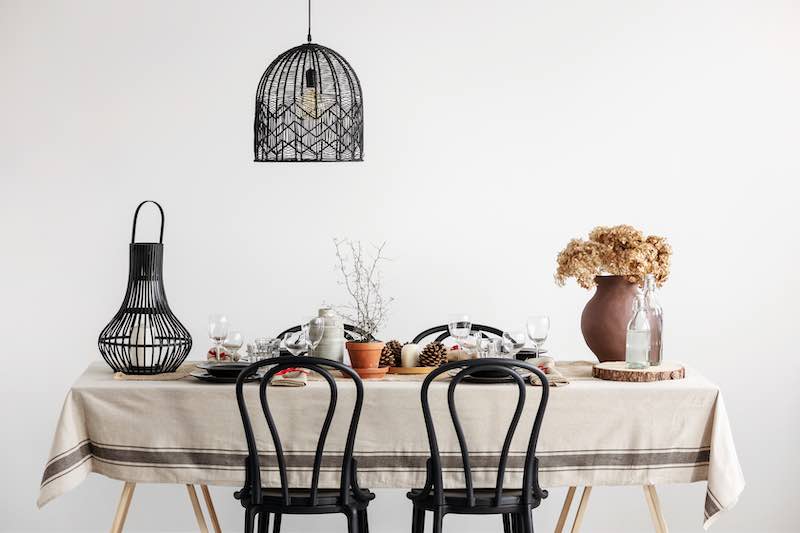 Painting your old wooden or even metal dining chairs is a great way to give your kitchen or dining space an amazing facelift that you can accomplish on a budget. Plus the black adds just a little more drama and something of interest in a room especially when paired with a light-colored dining table.
8. End Table
Now, I don't know about you but my end tables sure do take a beating from coffee cups to dog toys, food plates, remote controllers, and everything in between. So a facelift from time to time would be a great weekend DIY you could do! Plus with the dark color, it will even hide most small dings and scratches! And since you will be re-painting a nice sanding will do the trick to make your end table look good as new.
Check out this article if you're looking to transform a table you already have into something amazing, I cannot express how amazing this end table turned out from its original state. It truly looks like something that you would buy from a high-end furniture store but without spending that type of cash! If you would like to know how to transform your end table into a sleek and trendy black focal point check out the article at Angela Marie Made.
9. Desk
I know for a lot of people the workplace has gone from crowded offices to working from your kitchen table. But, having a workspace in your home when you work from home really is a great way to separate your work/life balance. But buying a brand new desk may not be in range price-wise, that's why I personally love thrifting because really with a can of paint you can turn something old and worn into a trendy Instagram-worthy office photoshoot!
Personally, I think I would love a black desk, even when I am writing I would have to worry if a bit of black ink got onto the table! But this is an absolutely beautiful look, especially if you have light-colored floors and walls it would just that something interesting to the entire decor and makes the room pop. You are going to want to get right to work if you have an office space this inviting!
10. Staircase Spindles and Newel Posts
Another great weekend DIY would be a nice fresh coat of black paint on the spindles and newel posts of your interior stairs. This is such a timeless look and could easily be done on a weekend to add some drama and boldness to your stairs. This looks especially nice when going from oak or pine to black.
I really love how this transformation looks, it just makes the space way more modern than the original oak wood that was there, even keeping the spindles white gives this staircase a beautiful contrast that is just so eye-catching! If you would like to see the entire transformation head over to Snazzy Little Things.
11. Light Fixtures
As we all know styles come and go, and one thing we rarely change is our above fixtures. It is hard for me to want to spend any kind of money to purchase new light fixtures when there is nothing wrong with them at all. One way to make them look new is with a nice coat of black paint.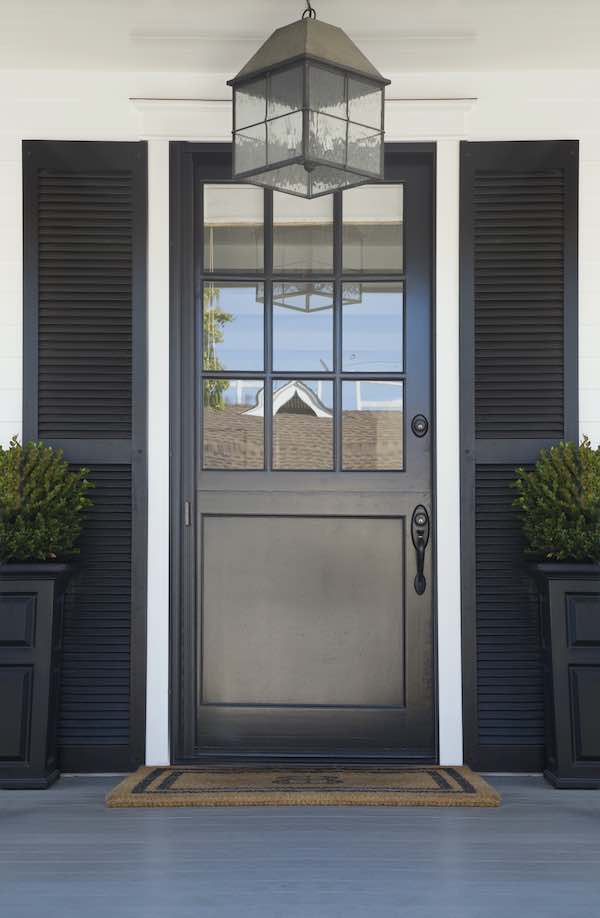 This hanging light fixture looks absolutely perfect, especially with the black-painted front door. You could achieve this look with any light fixture you already have and wherever you have it in your home inside and out! By painting the light fixtures black it just really stands out in the best way possible and draws your eyes in. Not to mention it looks oh so fancy.
Using Black Paint to Create Focal Points and Add Some Interest
If your looking for something different try one of the projects listed above! It really can transform a space and make something worn look brand new! Black furniture paint is also timeless and goes with any other color décor you may have. Plus, it is very on-trend and you don't need to spend a lot of money just to add some spice into your home décor!
About the Author
Latest Posts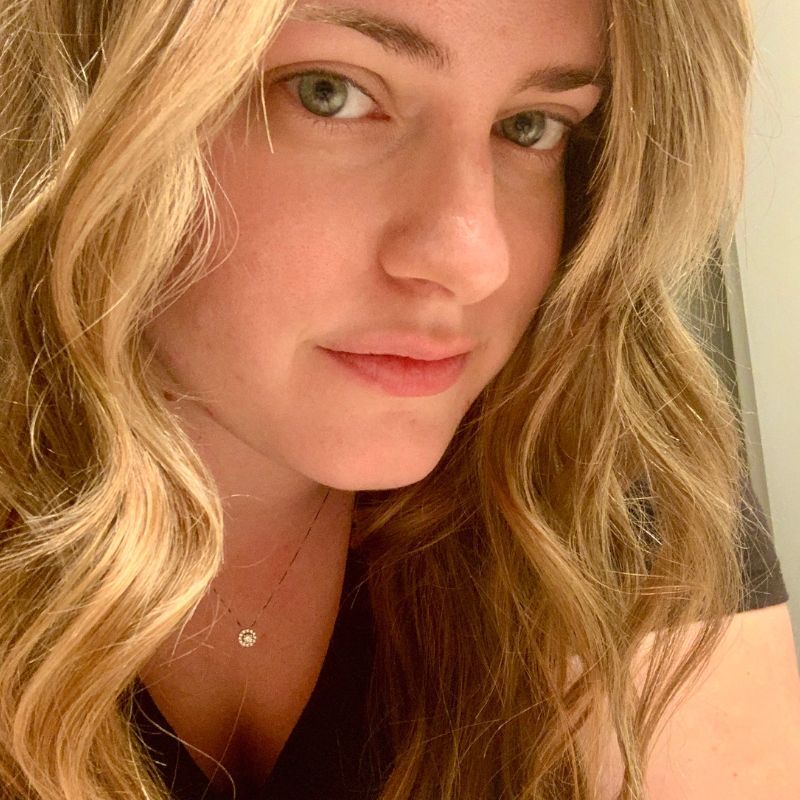 Lauren loves a good crafting project. Whether refinishing a coffee table or playing around with cutting machines or macrame, she isn't afraid to give it a go!
As a mom and wife, Lauren knows time management when crafting projects is a must! That's why you can count on her for her easy-to-follow guides and pro tips for making your projects flow flawlessly.
No matter what creative aspect Lauren has dabbled in most, that's why we love her advice!