One of the most fun aspects of Christmastime is hanging up the stockings…and more and more often these days, folks enjoy a stocking that feels as festive as the rest of the décor. Decorating Christmas stockings can be a great investment of love from one individual to another—and it can also be a great activity to gather everyone together to enjoy!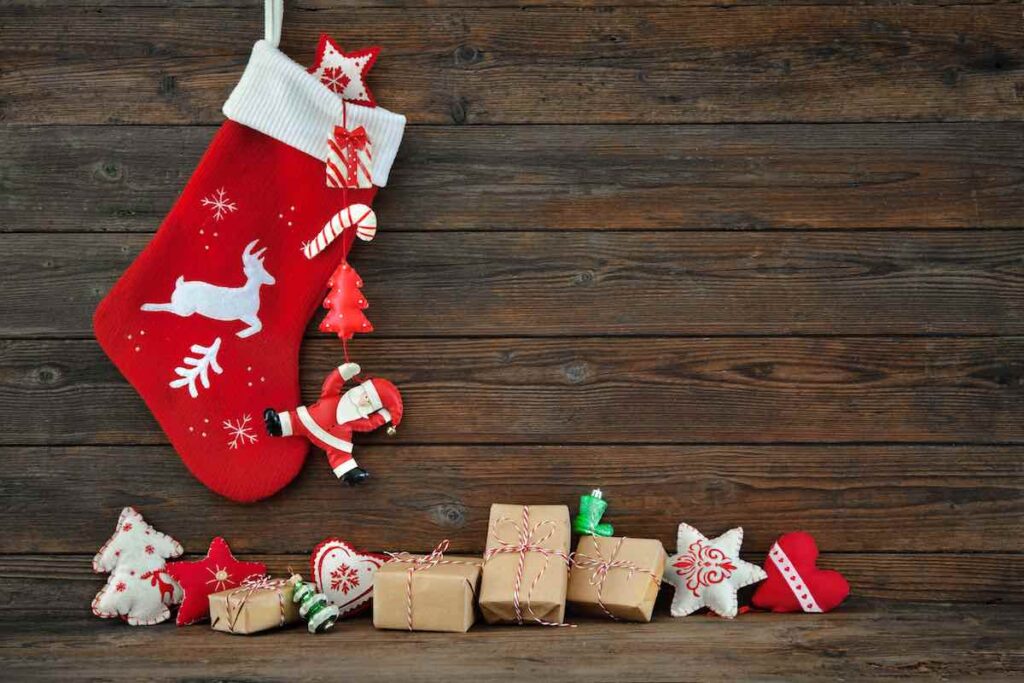 Read on for some stocking decorating ideas to help you kickstart your crafting this season!
---
4 Stocking Decorating Ideas
Themed Stockings
Fandom and Character Themes
When it comes to finding stocking decorating ideas that can work for folks of all ages, you typically can't go wrong with something that is character-themed or fandom-focused!
Nowadays, just about everyone has a TV show, book, movie, video game, or other media they are fond of. This can actually make coming up with stocking decorating ideas really easy! Fandom stockings can often be purchased premade, but you can also use some DIY skills to make a custom, one-of-a-kind themed stocking.
For example, you might use felt, felt markers or fabric paint, and good old needle and thread to craft and sew on a handmade character design. You can also often find fabric patches in character themes, featuring logos and emblems from different media, and so on that can be applied directly to the stocking.
If you are on the hunt for a less complicated sort of craft, you can also lean heavily into broader color themes. Consider simple matches to evoke something like a sports team's trademark patterns or a well-known character's color aesthetic.
Best of all, including some beloved fandoms and characters can get even the youngest crafters engaged and eager to decorate their own stockings, or to decorate them for siblings, friends, and other family members as a gift.
Color Themes
If you are on the hunt for stocking decorating ideas that fit more of your loved one's home aesthetic—particularly if it's related to their Christmas décor—then color themes might be the sort of stocking decorating ideas you want to go with!
White, pale gray, and red and green color themes are often quite popular around the holidays. However, your color-themed stockings can really take on any shade necessary to fit the aesthetic of the person you are making them for. You might purchase stockings in a base color and add decorations with fabric paint, glue, and other DIY craftiness in order to tailor the stocking specifically to each person's style.
The sky is truly the limit when it comes to stocking decorating ideas that focus on color schemes!
---
Personalized Stockings
Some of the best stocking decorating ideas out there come from the heart! This includes making some personalized stockings for the important people in your life—or even making one for yourself that truly appeals to your heart and style.
A personalized stocking can take on a lot of different forms. A lot of it may depend on your budget and personal level of DIY skills. Luckily, there are plenty of stocking decorating ideas out there when it comes to personalization!
For those looking for stocking decorating ideas that are fairly simple and straightforward, a great option is to use glitter glue, fabric paint, or other decorative gel to personalize a stocking with someone's name. Typically, you will want to aim for a color scheme that either fits with the stocking or that matches to some of the interests of the loved one you are designing for. You may also want to invest in some stencils if need be, to ensure cohesive lettering and a clean look are both achieved.
If you are on the craftier side, there are even more stocking decorating ideas that can open up for you! You might try felt lettering—either precut, purchased felt letters, or some you cut out yourself. There are other lettering options out there including small, thin wooden letter blocks that can be glued on to the stocking. If you are handy with a needle, you might forgo the glue option altogether and instead hand-stitch a personalized stocking!
Another option for personalized stockings is to invest in some hand-crafted wooden lettering. These can often be found at boutique shops and online sellers, particularly during the holiday season, and they make for some of the best stocking decorating ideas out there!
Lastly, one of the most popular of all stocking decorating ideas is the personalization of a stocking with small items that hold significance to the individual or even to the family. These can vary from family to family, but there is such an appeal to having stockings with small items glues onto them that bring back memories and tell a story even as the family makes new ones together.
---
Stocking Decorating on a Budget
The Christmas season is not an inexpensive one. Many of us may find that we have neither the time nor the wiggle room in our budget to purchase and lavishly decorate a stocking for each member of our household. However, that doesn't mean there are no stocking decorating ideas that we can use!
Stocking decorating on a budget can actually be quite fun. One of the best ways to do this is with inexpensive pins. Think like the sort of button pins that can often be found at craft stores or even specialty stores aimed toward a younger demographic. They can also be purchased, often in bulk, on sites like Amazon.
With just a dollar store stocking and a few pins, you can let your stocking decorating ideas run wild! Tailor your pin selection to each individual's interest, whatever that may be. This process can help drum up some very budget-friendly and easily-executed stocking decorating ideas!
If you struggle to find pins, or if those are taxing your budget as well, consider gluing on inexpensive stickers, felt shapes, or cutouts to your stockings. Or, if you want to go even thriftier, you can make a treasure hunt out of pulling together stocking decorating ideas!
Take the family out on a winter hike and find unique pieces of nature to glue on to your stockings. Some things you might look for are small, pretty stones, branches and leaves, sprigs of evergreen, and the like. This can make help jumpstart some super personal and very inexpensive stocking decorating ideas.
---
Wrapping Up Stocking Decorating Ideas
Feeling inspired with these stocking decorating ideas? There is so much more to get you into the Christmas decorating mood! Check out our Christmas section for lots of fun, festive ideas to help you make the most of the holiday season!
About the Author
Latest Posts
Renee Dugan is a lifelong writer, professional editor, and work-from-home-mom.
A Midwest girl born and raised, Renee has a passion for hands-on work, a self-made environment, crafting, and creating seasonal aesthetics (especially at Christmastime).
Now that she's added motherhood to her repertoire alongside a lifetime of writing and editing, Renee continues to grow and expand her love for creating spaces that feel like home. That's why she's so excited to share ideas for how to make your space feel magical on That Sweet Tea Life!
Renee can be reached at renee.s.dugan@gmail.com