Making a memorable homestead is a must for cabin owners everywhere. Whether living in your cabin or renting out as an AirBnB, you want your home to feel put-together and full of rustic charm.
I'm here to help! Read on for some fantastic rustic cabin decorating ideas that will help you build the cozy cabin atmosphere of your dreams!
5 Rustic Cabin Decorating Ideas to Make Your Home Cozy and Refined
From floor to ceiling and everywhere in between, you want to bring your rustic cabin decorating ideas together in a natural way. I've broken down each of these areas separately to help you focus on making each element of your cabin truly shine!
All About the Floors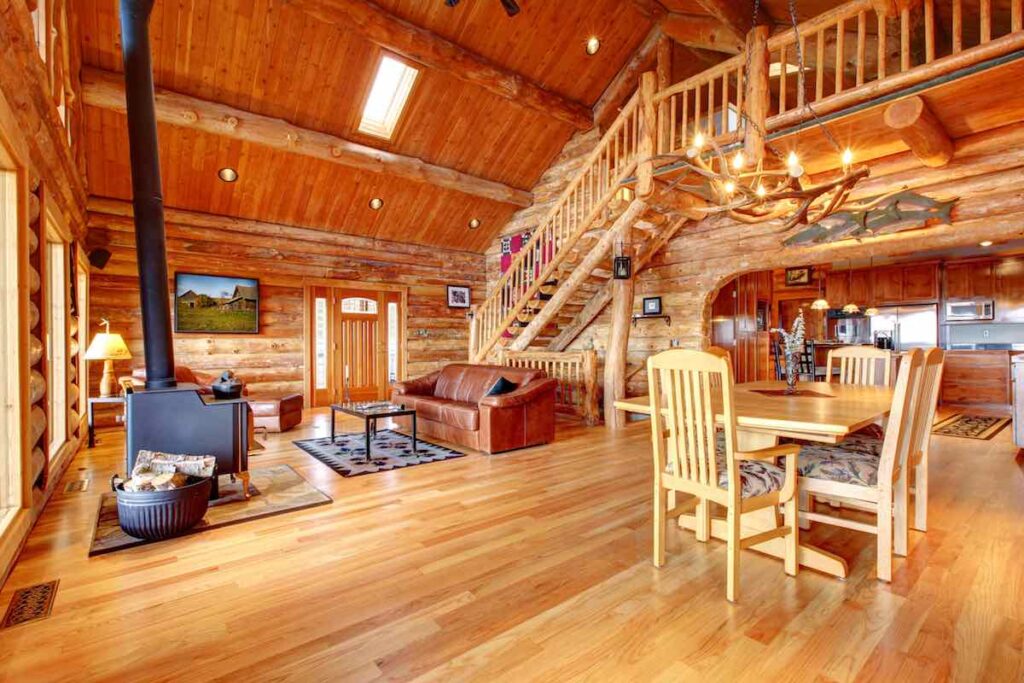 When it comes to choosing the flooring for your home, you will want to lean into some rustic cabin decorating ideas that bring out that feeling of a woodsy space without sacrificing the comforts of home!
If you look at just about any rustic cabin decorating images for inspiration, you will find one thing in common: most floors tend to be exposed hardwood. This really brings about that rustic tenor and has a real outdoorsy vibe, so where possible, you will want to employ hardwood flooring for an authentic rustic cabin decorating vibe!
If you find that genuine hardwood flooring is outside your decorating price range, you can also consider vinyl flooring that is designed to imitate hardwood in look and feel.
When it comes to decorating your rustic cabin, you will likely want to keep carpeting to a minimum. Consider reserving this for gathering places such as a den, study, or living room, while leaving pass-through areas such as the kitchen, hallways, bathrooms, etc. as hardwood. This will make maintaining a clean space easier and will really make the coziness of those carpeted areas stand out!
When selecting your cabin's carpet, consider choosing earthy brown and beige tones and going with a slightly shaggier carpet type, which can help build on that feeling of a rustic, pelted landscape.
Now, one of the upsides to carpeting that you unfortunately lose out on when playing with rustic cabin decorating ideas is that carpet helps regulate the temperature in your home. Without it, depending on where you live, you may run into some issues with your cabin feeling a bit chillier than you'd like.
However, this is where rugs come into play!
Rugs are a great solution to a lot of issues, including traction for kiddos and pets, insulation, and more! They are also great for catching the eye and directing focus to the areas you prefer to receive the most attention in any given room.
When choosing your rugs to fit with your rustic cabin decorating ideas, you will want to keep in mind which specific areas you are adding rugs to for size and shape purposes—area rugs, runner rugs, or even multiple smaller rugs all have their part to play in your décor options!
In terms of colors, to complete and compliment that rustic cabin decorating vibe, your best bet is to stick with warm, earthy tones. Think rich browns and grays, blacks, deep reds, creams, etc.
All About the Ceilings
When it comes to gathering up some rustic cabin decorating ideas for your ceilings, you may feel a bit inhibited by design. Many cabins go to one extreme or another—either open, vaulted ceilings, typically with high beams, or low, close, cozy ceilings that fit like a hug. The good news is, whether you have one of these ceiling setup extremes or something in between, decorating your ceiling can be an absolute breeze!
Where possible, consider having some exposed beams, particularly of a darker shade than the rest of the ceiling. This tends to give a more rustic flare and lends your living space an added sense of dimension regardless of high or low ceilings.
Planking the ceiling with wooden boards can also add a lovely flare of texture that will really catch the eye! Skylights added where possible can also very much open up an area, provide more of a natural glow, and add even more dimension to your ceilings.
All About the Walls
Deciding what to put on your walls is one of the things folks search for the most in their hunt for rustic cabin decorating ideas! You likely have a fair amount of gorgeous, exposed wood for wall space; what is the best way to fill it up?
Consider that sparsity may be better! You really want to let that wood shine. Where appropriate, some great decorating ideas for cabin walls are along the more vintage, outdoorsy, and woodland grain. Thicker wooden frames on pictures of forests, lakes, or other natural settings can be a huge hit; so can mirrors set in the same sort of frame and position at the right height, as these will also lend a bit more space and dimension to your rustic cabin!
Many folks also like to decorate with a hunter/gatherer vibe. Think taxidermy animals, pressed wildflowers, old oars and snowshoes, and other elements that invoke a sense of nature. A macrame plant hanger or wall-mounted vase with freshly picked wildflowers, lichen, or other plants inside can also really bring home that herbaceous, cozy feeling. Jutting wooden shelves, built-in bookshelves, and fairy lights pinned in place are also very popular rustic cabin decorating ideas that have gone over great with many a cabin homeowner and guest alike!
All About the Lighting
Similar to the rustic cabin decorating ideas for your ceilings, the actual build of your house will have an influence on what you can do with your lighting. Nevertheless, there are some really great lighting options out there that can add a fantastic amount of personality to your cabin.
Chandeliers and Fans
These are among the most popular lighting options for rustic cabin decorating, as is evidenced by even the most rudimentary internet search. In cabins with high, vaulted ceilings in particular, chandeliers and fans really help tie the spaciousness of the recessed areas together with the lower portion of the room.
Iron and antler chandeliers are particularly popular with rustic decorators, though a more simple, circular chandelier can also bring a lot of warmth to a space. The key here is to maintain that rustic cabin decorating scheme by avoiding elements such as teardrop crystals, pewter, brushed nickel, and other excessively bright and flashy chandelier options. Dark tones and imitation candles in particular will really help pull your rustic decoration together!
The same holds true for ceiling fans, where darker colors are a must. Broader and longer fan blades can also aid in that relaxed, cozy feeling you are looking for. Ceiling fans also have the bonus of helping maintain the ideal temperature in your cabin during the warmer months.
Canned Lighting
Another popular choice among folks perusing rustic cabin decorating ideas, canned lighting can be great for high ceilings and low ceilings alike! Though they can be costlier to install in some cases, canned lighting allows you to evenly distribute the light sources in any given room, making for a great, warm lighting option that can really drive home the snug feeling you are going for when decorating your rustic cabin.
Tabletop Lighting
Choosing proper lamps is a really essential factor to consider as you research rustic cabin decorating ideas. You want to make sure to choose lamps with shades and designs that really match that rustic décor vibe. Similar to the chandelier selection, going for iron and antler type builds, with an emphasis on darker, moodier color tones, will help maintain that warm feeling, whereas glass, brushed nickel, and other bright tones may detract from it.
Much the same in choosing your lampshade, you will want to focus on dimmer shades such as tan or deep crème and choose thicker shades with darker framers where possible. An added bonus element of rustic coziness may be found in selecting shades that depict natural settings such as a forest, a herd of grazing deer, and other such themes.
Wall Sconces
Last but not least, wall sconces have become an increasingly popular method of lighting for rustic cabin decorating! These can come in many shapes and sizes, including lanterns, torch-like lights, and more; as always, the key is to aim for darker colors and to match your sconces to the rest of your overall décor style.
All About the Furniture, Decor, and More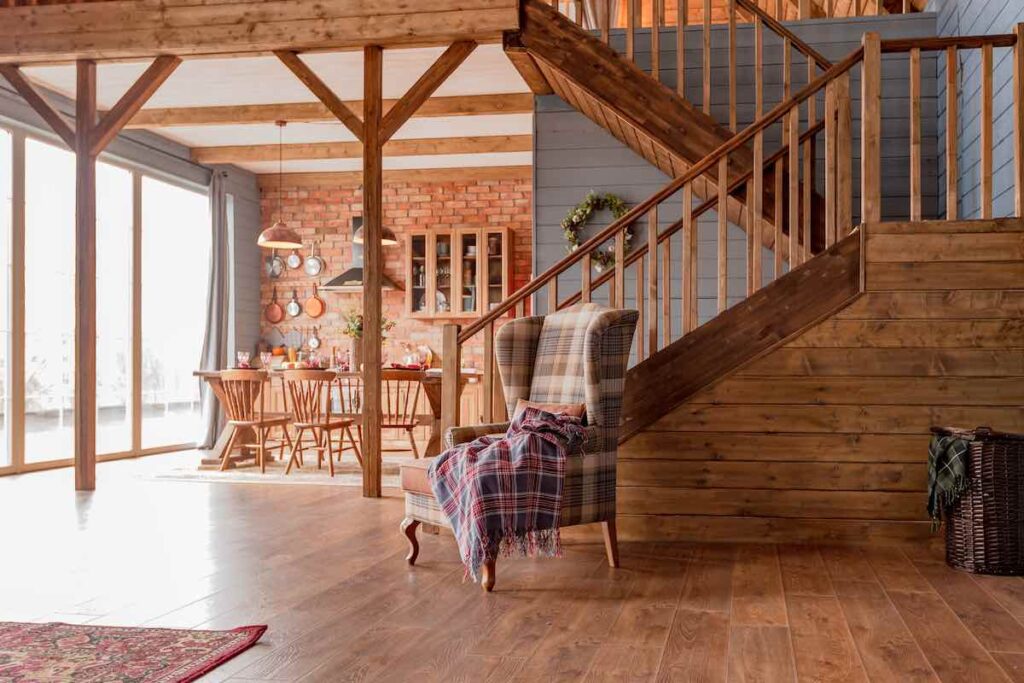 Pulling together rustic cabin decorating ideas for furniture, décor, and other stylish elements can be the absolute best part of this whole decoration process!
Consider using lots of plush furniture—leather or fabric sofas, armchairs, recliners, and so forth—and if you're going with upholstery, you may also want to give patterns a try so long as they have that rustic feeling, such as triangular or diamond patterns, etc. Always stick with those rustic tones and be sure to bear in mind the color of your walls to help pull everything together!
When choosing bedframes, you will want to consider a wooden or iron frame in keeping with the rustic theme. Tables, desks, and chairs will also fit best in a similar vein of iron, wood, or an amalgamation of the two—possibly with fabric upholstery as well!
A few decorative elements that can be relatively inexpensive yet bring that rustic charm together are woven baskets with real or fake fruit or flowers, candles, throw pillows and blankets, and vintage books for both tabletops and shelves. Trinkets that nod to nature such as carved elements, birds, and the like will also bring a spot of charm while keeping with the cabin's overall rustic theme.
Wrapping Up Rustic Cabin Decorating Ideas
Feeling excited by all these rustic cabin decorating ideas? The fun doesn't stop there! Check out the rest of our website for ideas on DIY décor, crafting, baking, and so many more fun things you can do in your rustic cabin!