While there are many shades of blue, Royal Blue is one that dates back centuries and was not only used by royalty but highly sought after as a glamorous color and sign of wealth and status.
An imperial attire factory, Scutts Bridge, created this color in the mid 17th century. It was designed for royalty, and King George the 3rd helped to select this and give it the name "Royal Blue." As time went on, it became popular in everyday life, and is one of the most popular colors in rollerball pens!
The two main colors that need to be mixed to create this deep, luxurious color are primary blue and purple (which is a mix of red and blue). The purple not only adds in more cool tones, but it helps to darken the primary blue to create a deep and complex color that is perfect for virtually any room in your house (or even outside!)
Now, enough about the history. Let's get down to how it can be used in your home to create an environment fit for royalty!
Curtains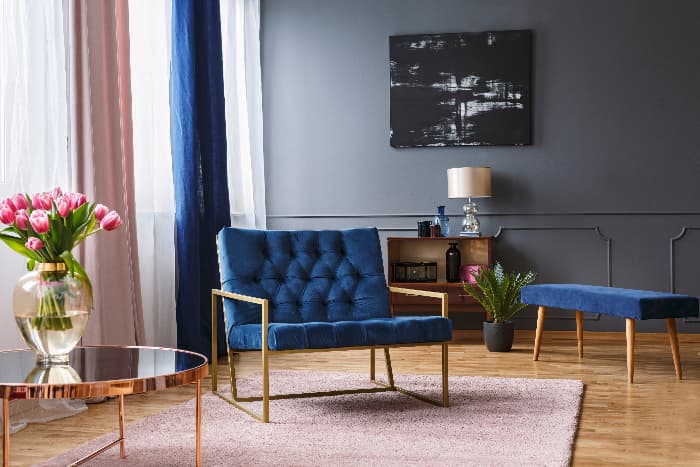 A lot of times people think that picking a color theme means you are required to paint the walls. However, when it comes to painting walls, people usually love it, or would rather chew their arm off. If you're in the second category, adding curtains in royal blue is a great way to bring in a pop of color without the absolute trauma that can come with painting.
When using royal blue curtains, it's important to consider the color scheme of the rest of the room. These curtains go best against lighter-colored, neutral walls (whites, creams, or grays). It's also easy to overwhelm a small space with this color, so keeping your furniture light may help to offset the dramatic effect of the curtains.
Kitchen
Using a royal blue color on your kitchen walls is a great way to invoke a clean, dramatic feel to the room. Many people opt for royal blue stripes to avoid creating a clustered, dark feel in their kitchen, but you can also utilize royal blue paint on an accent wall or the entire room if you piece together the rest of the room properly.
Incorporating white or cream curtains, or lighter color dishes, can effortlessly tie in royal blue painted walls and create an inspiring, or soothing space to cook and gather with friends and family.
As you can see in the picture, this room is painted entirely royal blue. However, it expertly uses lighter colors in chairs, granite countertops, decoration, and framing to help offset the dramatic nature of the walls.
Bathrooms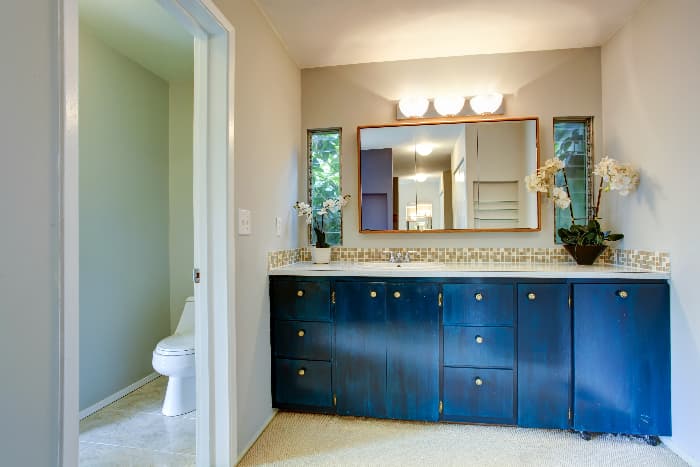 The bathroom is a staple part of our routine, which means it's important to keep it colored and styled in a manner that will help inspire you at the beginning of the day and unwind at the end.
This space is generally much smaller than other rooms, so it can be difficult to paint the walls this color. However, that doesn't mean that you have to forgo using royal blue entirely!
Using this shade on cabinets while maintaining a lighter countertop and walls can easily take your space from plain and boring to exciting and fun.
For those who love DIY projects, there are plenty of tutorials online for sanding, painting, and sealing your cabinets. If you're looking for a great royal blue paint to use on your cabinets, Behr has created an interior/exterior satin enamel paint in the color Deep Royal Satin that is phenomenal for painting cabinets with!
Exteriors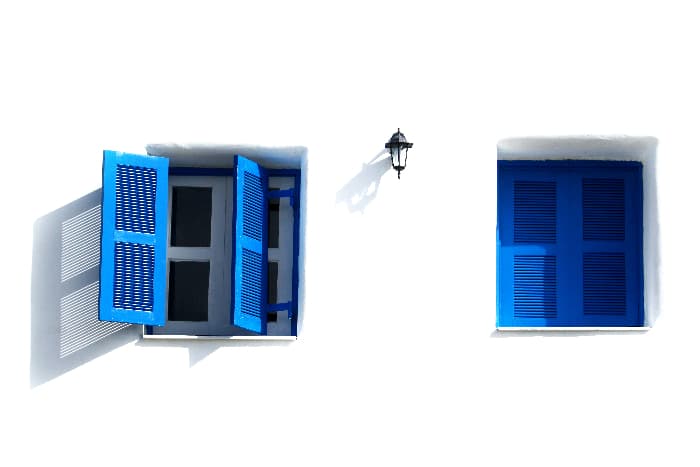 Royal blue creates a more colonial look when used as the trim on your home, or a modern look when used to paint the entire house. Whichever method you choose, make sure to use good exterior paint and consult a professional if you aren't sure exactly how to go about this.
A great way to add some color to a white house is to paint your shutters blue. This creates a unique look that is appealing to the eye and invokes a Mediterranean feel, without making your home stick out too much.
If you're not wanting to paint your entire home or trim, there are royal blue patio paints that can help accent your home without going overboard. Check out Behr's Porch and Patio Anti-Slip Floor Paint in Deep Blue. If you're going this route, it may be a good idea to pair white or cream-colored patio furniture to help offset the deep blue color of the patio.
Patio Furniture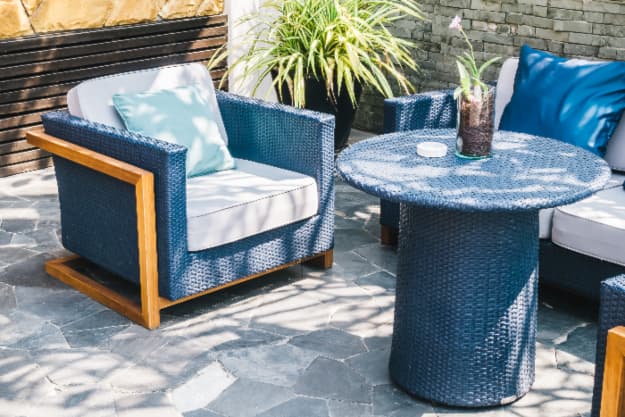 Whether you buy your patio furniture pre-painted or take on a fun DIY project, you can't really go wrong with royal blue. Not only does it withstand against spills, it's dark enough to cover up any dirt that may find its way onto the furniture.
However, it's important to take proper steps to prevent fading. Since this is a darker color, it is going to be more prone to fading from UV rays. To avoid this you can either seal it with a UV protectant coating or you can opt to keep your painted patio furniture in the shade as much as possible.
In the Bedroom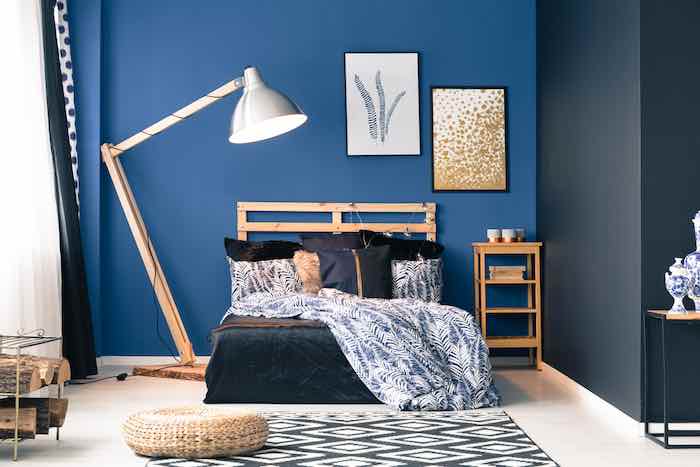 The bedroom is a perfect place to use deep royal blue paint in. What makes it even more appealing is that you can also pair it with royal blue accent pillows, throw blankets, or comforters without the space feeling claustrophobic. It's also a great way to absorb sunlight and help darken the room, allowing you to sleep in on your days off.
If you want to create a dominantly blue room, it's a good idea to try and offset it slightly with some lighter-colored accents. Opt for a gray floor lamp as pictured, or use lighter-colored woods for your bedroom set. It's really hard to go wrong with this color in the bedroom, so take full advantage of that and have fun with it!
Finally, you can tie in the entire room with a royal blue floor rug to complete your room and make it a chic place to retire to in the evening.
Furniture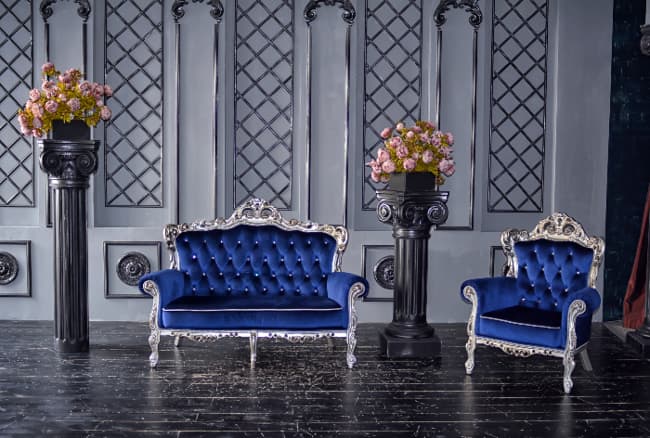 Another great thing about royal blue is how versatile it is with furniture. When used with vintage furniture, it creates a royal look (pun intended) and can transform your space from modern-day to antiquated and classy.
However, if that's not the look you're going for, there are plenty of furniture options in modern styles. A modern royal blue furniture set can make your living room appear more fresh and modern.
Finally, using royal blue furniture is a great way to create a nautical space. Royal blue coffee tables and side tables, when paired with wooden floors and white walls, can make you feel like you just walked into your summer beach house!
Final Thoughts for Royal Blue Paint
Whether you are painting your deck, accenting your kitchen, or creating a dominant theme in your bedroom, it's hard to mess up with this versatile royal blue color.
If you're not sure where (or how) to get started, look through some of our other blogs to gain inspiration, or search online for awesome DIY projects to help create a unique look for furniture that has character and a great story to tell along with it.