Some crafting supplies deserve to be on hand all the time. One of these is pipe cleaners. Why? Because pipe cleaner crafts are easy and endlessly versatile. You can find hundreds of ways to use these.
You can find pipe cleaners at any craft store for just a dollar or two. That's just another reason to keep them on hand and break them out whenever you're in a crafting mood! Here are 18 of the best pipe cleaner crafts that anyone can do.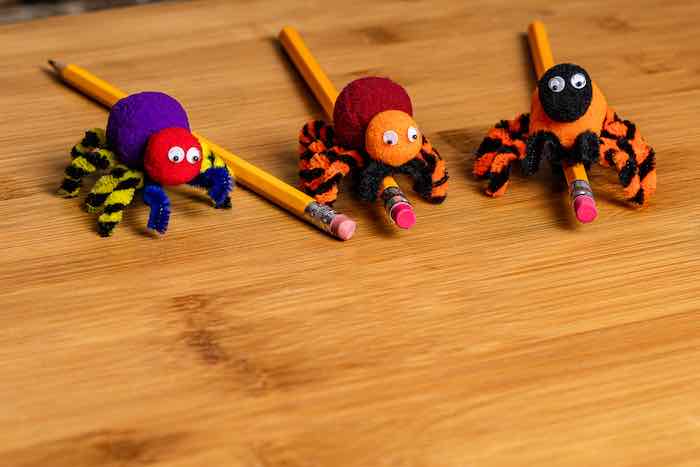 Next time Halloween rolls around, try your hand at making some pipe cleaner spiders. These are perfect for a seasonal kids' craft or even a cheap, easy home decoration.
All you need to do is form the pipe cleaners into spiders, with one pipe cleaner as the body and four as the legs. Bend each leg in half so that you have eight total. Wrap around the body, then string beads on at the joints.
Materials You Need:
Black and orange pipe cleaners
Beads
Materials You Need:
Next on our list of pipe cleaner crafts is Monster Finger Puppets.
This craft is super fun because there are endless ways to customize. Wrap the pipe cleaner into a spring shape that fits around your finger. Then glue a large pom-pom to the top to serve as the monster head.
Add googly eyes and decorate however you want. If you like, you can add extra elements like paper horns, claws, or teeth. It's the simplest way to make a fun new toy in just minutes.
Pipe cleaners
Pom-poms
Googly eyes
Glue gun
Scissors
This pipe cleaner craft is as straightforward as the last one. But instead of monsters, you can make these cute custom bugs. This is a fun craft for kids, who will love experimenting with different types of bugs (and probably making up some of their own).
As you can guess, the pom-poms serve as the body, with pipe cleaners for legs and antennae. There's no wrong way to do it, so jump in and have fun!
Materials You Need:
Pom-poms
Pipe cleaners
Googly eyes
Glue gun
Scissors
Another pipe cleaner crafts that your kids are sure to love are these bubble wands.
There's not a child alive who doesn't love blowing bubbles. But you don't need any special materials to make your own bubble wand — even one that doubles as a magical fairy wand.
You'll need a small cookie cutter in a fun shape to fashion the top of the bubble wand. Then make and attach a handle and string beads along it. It only takes a few minutes before you're ready to start blowing bubbles.
Materials You Need:
Pipe cleaners
Small cookie cutter
Beads
Bubbles
If you have a kid who loves to dress up, these pipe cleaner rings are a perfect craft. They are as easy as can be and only take a few minutes to put together.
First, measure your child's ring size by wrapping a pipe cleaner around their finger. Fashion the pipe cleaner into a ring shape, rolling the last section into a coil on top to serve as a ring base. Then use hot glue to secure a sparkly gem on top.
Materials You Need:
Pipe cleaners
Fake gems
Glue gun
Scissors
Every voracious reader needs a good bookmark. But who needs to go buy one when you can make your own out of a few simple crafting materials?
This craft uses large popsicle sticks as the base of the bookmark. To make the decoration on top, shape the pipe cleaners into the shape of flower petals and secure with hot glue. Use large buttons as the flower center. Now you have a handy bookmark that came together in just a few quick steps.
Materials You Need:
Pipe cleaners
Buttons
Glue gun
Dying Easter eggs is fun, but it's not the only way to make them stand out. This pipe cleaner craft uses plastic Easter eggs as a base, so you can reuse these decorations year after year.
Start by adding thin stripes of glue around the outside of the egg. Then wrap a pipe cleaner around it. Switch things up by using different colors, patterns, and designs. If you want to get kids involved, you can also use mod podge or another crafting glue to avoid hot glue burns.
Materials You Need:
Plastic Easter eggs
Pipe cleaner
Glue gun
Scissors
Pipe cleaners are a great tool for making homemade dress-up items. They're colorful, versatile, and easy to shape into almost anything. Just take these easy felt and pipe cleaner crowns that are perfect for your dress-up bin.
You can use regular chenille pipe cleaners for this or switch it up with some sparkly ones if you prefer. It's as simple as measuring your child's head and shaping the crown.
Materials You Need:
This pipe cleaner craft is a little more complicated, but it's worth the extra effort. This snow fairy doll is a fun craft for a long winter day.
To assemble, use the pipe cleaners as the main part of the body and the limbs. Take the silk flowers apart and use them to assemble a skirt. Cut the coffee filter into a snowflake and layer it on top of the flowers.
Use the crystal beads to add some structure to the torso and the wooden beads as the head. To finish, add white yarn "hair" and draw a face with a fine-tip marker.
Materials You Need:
One coffee filter
Scissors
Silk flowers
Two white pipe cleaners
Seven translucent beads
One wooden bead
Six feet of white yarn
Fine tip markers
It doesn't get much simpler when it comes to pipe cleaner crafts. These bracelets come together in just a few minutes, and you don't need any special materials. You just need pipe cleaners and a variety of large, colorful buttons.
Make sure the buttons have two holes in them so that you can string them onto the pipe cleaners. When you are done, just wrap the pipe cleaner ends together to complete the bracelet. There's no need to use glue!
Materials You Need:
Pipe cleaners
Large buttons with two holes
Remember having fun pencil toppers while you were back in school? Now you can make your own. These easy crafts make great party favors or other gifts.
This design is a Cat in the Hat pencil topper, but you can customize them in any way you choose. Just wrap the pipe cleaners around the end of your pencil to measure. Then decorate with googly eyes and any other elements you like.
Materials You Need:
Pipe cleaners
Googly eyes
Glue gun
If you have a child who is obsessed with superheroes, they will love these simple pipe cleaner "action figures". Although there are a lot of steps to putting them together, they're fairly simple.
Use the pipe cleaners to shape the torso and limbs and string small beads on to serve as the back and joints. Cut the straws to fit and put them on the arms and legs. Add the wooden beads as heads and cut the felt to serve as capes and masks.
Materials You Need:
Pipe cleaners
Googly eyes
Glue gun
Straws
Felt
Scissors
Wooden beans
Small beads
Scissors
Markers
This rainbow magnet is super simple. All you need to do is assemble the rainbow and glue the pipe cleaners together. Add some small magnets to the back. Then cut the felt into the shape of clouds and glue to the ends of the rainbow.
As a finishing touch, add some cotton ball "clouds" and stick them on top of the felt.
Materials You Need:
Pipe cleaners in rainbow colors
Blue felt
Cotton balls
Small magnets
Glue gun
These fun flower crowns use pipe cleaners as the base. Measure the size of your head (or whoever will be wearing the crown) and assemble the base. Then wrap it in green and yellow yarn.
Add yarn "flowers" using green pipe cleaners as stems. Wrap yarn around the fork. Once it is secured, cut it to resemble petals. Then add the petals to the stems and arrange.
Materials You Need:
Green pipe cleaners
Yarn in various colors
Scissors
Fork
These beaded dragonflies are incredibly easy to make. Use a blue pipe cleaner for the body, stringing blue beads to add some extra structure. Fold two silver pipe cleaners into wing shapes and connect them, either with glue or by simply wrapping them around the body.
Finish by add some googly eyes to your dragonfly.
Materials You Need:
One blue pipe cleaner
About 15 small blue beads
Two silver pipe cleaners
Googly eyes
Glue
Scissors
These bead flowers are a fun, easy craft for kids developing their fine motor skills. To start, shape green pipe cleaners into stems. String colored beads onto more pipe cleaners and fashion them into petal shapes, then attach them to the stems.
Materials You Need:
Green pipe cleaners plus pipe cleaners in various colors
Small colored beads
This Santa ornament makes a great winter activity or small holiday gift for a school class. To start, add red paint to the bottom half of a jumbo popsicle stick. Decorate with black and yellow ribbon. Use a red pipe cleaner to fashion the Santa hat and glue a white pom-pom on top.
As a last step, complete the face with googly eyes and a cotton ball beard.
Materials You Need:
Large popsicle sticks
Red paint
Googly eyes
Black and yellow ribbon
Red pipe cleaner
White pom-pom
Cotton balls
String
Last, but not least of our pipe cleaner crafts are these coffee filter butterflies.
These coffee filter butterflies are a fun exercise in color. Use a pipe cleaner to make the main body and the antennae. Then, make the wings by nesting two coffee filters inside one another. Color with washable markers in whatever design you like.
Then use a dropper or small spoon to drip water over the filters, letting the colors run. Set them out to dry. When they are ready, shape them into "wings" and attach to the pipe cleaner body.
Materials You Need:
Two coffee filters
Washable markers
Water
Dropper or spoon
One pipe cleaner
Conclusion
Pipe cleaner crafts are the perfect way to fill an afternoon. They're cheap, straightforward, and there are endless ways to make them special. These are just a few that you will find on the internet.
Do you have pipe cleaner crafts that you love to do? Drop them in the comments below!