If you are looking to spruce up a room in your home, one way to decorate your space is to add a color you love, or one you've never used before. In fact, this can be a bold and exciting way to get creative and give yourself a boost of positivity. After all, the right hues can have the best effect on your mood and productivity.
The first color to come to mind may not be pink. And you may be sitting here thinking that pink is only for girly princess rooms when you were five, but not now. However, there are so many creative ways to bring this color into your home, from the most subtle and delicate, to bold and bright. So bring on the pink home décor and let your inner decorator shine through with these 21 ideas for adding this hue to your home.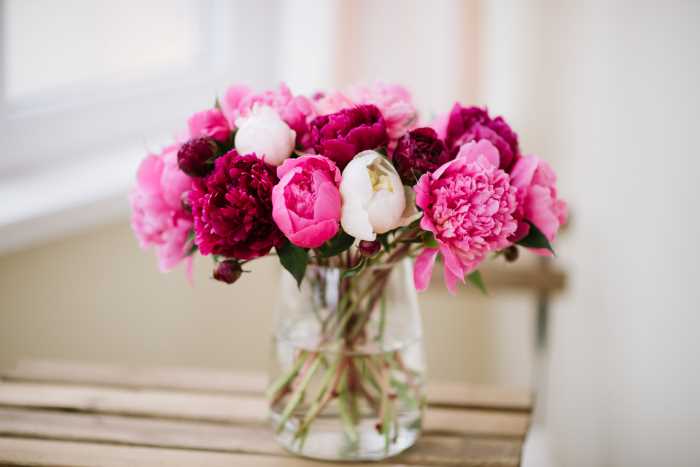 1. Embellish with Flowers
One of the easiest ways to add a touch of pink to your home is with flowers. Whether you're a seasoned flower arranger or an interested observer, adorning a room or two with flowers can be fun. You can purchase a vase at a craft store, use a vintage bottle from an antique shop, or search for a unique handmade container on Etsy.
If you enjoy doing it yourself, you can follow simple online tutorials to create a dazzling vase. Or if you're a crafty DIY-er, painting a container with Pink chalk paint can be a simple and fun activity to do in an afternoon.
After you've found the one you like, place pink flowers inside. Try picking delightful pink hydrangeas from your garden, or order a lovely bouquet of pink carnations and white baby's breath. Or visit your nearest craft store to pick up some realistic silk flowers. There are so many options
Other flowers you can arrange include roses, tulips, cyclamen Gerbera daisies, or peonies among others.
2. Paint or Wallpaper the Walls
If you are looking to add some pink hues to your home in a big or bold way, consider painting or wallpapering all or part of a room with the color. Not only can paint be budget-friendly, but it can also give you the opportunity to express your personal style in a daring way.
Or you can choose to wallpaper the walls with whimsical designs or illustrations. There are so many unique and diverse wallpaper options available now, you are sure to find something to suit your style.
You can choose to go bold by painting an entire room in pink, or you can create a focal point by doing an accent wall in this delicate hue.
And if you care about the environment or would like to go green, you can find eco-friendly wallpaper or paint online or locally to keep your home non-toxic and feel like a better person.
3. Accent Pillows
Embellishing a sofa or chair with throw pillows is one of the easiest ways add pink home décor pieces into your space. This can be especially true if you're not ready to decorate an entire room in this color, or you are working with a smaller budget.
One of the best things about throw pillows is the variety you can find. You can try out so many different patterns from floral to stripes to checks, until you find the right print to go with your room's aesthetic.
Arranging the pillows in layers on your furniture can create depth and style. This can be a fun, easy, and economical way to add a touch of pink to your room.
4. Keep it Sophisticated
While sophistication can be the key to looking fashionable yourself, it can also make your home look grand. Consider adding metallic items such as brass candles or vintage silver pieces. Furthermore, arrange pink carnations in a vase and place them in front of a gold leaf mirror on a brass table. Integrating decorative molding is a cheap way to create elegance for the high-end look you desire.
5. Add Childhood Whimsy
Admittedly, when you think of adding pink to your home, your first thought is your child's room, right? Utilizing pink home décor can be an exceptional way to integrate childhood whimsy into a child's bedroom. But this goes beyond simply slapping some pink paint on the walls and calling it a day.
You can hang up an imaginative print with magenta in it, or blush curtains with delicate designs. Depending on your design choice and color palette, you can paint the ceiling in stripes of strawberry and white, or salmon and white. Before you go and paint your daughter's room, asking her which color she'd like to use can be a great way to show you care and give her ownership in the decorating process. Plus, she'll probably love it even more if she chooses it herself. I know my little girl loved getting to pick out the paint colors when we wanted to paint her bedframe.
6. Beautify with Furniture Pieces
If you feel like going bold with pink, you might like incorporating a piece of furniture into your home. For instance, a pink statement couch in your living room is a unique and bold choice if you are looking for a more dramatic affect. You can modernize it by placing a zebra print throw pillow on top.
Another idea is to use pink chalk paint to paint a piece of furniture, such as a table, lamp, or dresser. You can also stencil on a floral design to make it look as though a professional artist painted it. Besides this, remember that it's essential to learn how to arrange your furniture for function and comfort.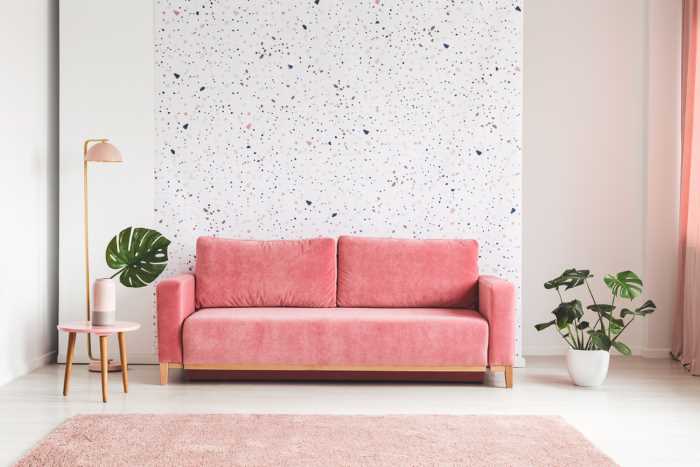 7. Vivid and Hot Hues
If the delicate shades of pink aren't your style, you always have the option to incorporate bold and hot hues into your home. You can utilize hot pink accents to your advantage whether your home is minimalist, contemporary, vintage, modern, rustic or Scandinavian.
Go dark and extreme with a pair of hot pink chairs and throw pillows in a room painted with rich deep contrasting hues.
Or place hot pink stools with white faux fur on top of a uniquely designed rug with a magenta hue. Whatever you may choose to do with this vivid color, you can get as creative as you'd like.
8. Accessories are Stylish
If you are like me, you like to have a few little trinkets or nick knacks intentionally placed around your home. And, if you're like me, your aesthetic style is more of the "I like that, I'll buy it," style than a formally named trend. These little additions work to add touches of your character to your home in fun and cool ways. And being cool is certainly acceptable, especially when it comes to using quirky colors that bring you joy.
Furthermore, getting creative and expressing yourself in these ways can be one of the healthiest things you can do for yourself. Simply set pink shoes, mini porcelain statues or other artistic objects on a mantel, nightstand or coffee table.
You can find handmade home décor or vintage items at Wayfair, Etsy shops, Pottery Barn, antique shops, or craft stores. .
9. A Formal Flare
Since pink isn't only for young girls, or even those with a penchant for amusement, formality can be the main theme. The muted tones of green and pink can be perfect for a living room. In fact, this muted color combo has become increasingly popular in recent years.
Another option is to paint part of the wall in a pink hue. This works especially well if your home has wainscoting. Paint the wainscoting in a soft pink hue, then paint the wall above in a contrasting darker tone to add depth to the room.
Or you can try a mixture of wicker furniture, patterned draperies, nature-inspired artwork, and rose and sage. This plays especially well in rooms with a white-domed ceiling to highlight the architecture.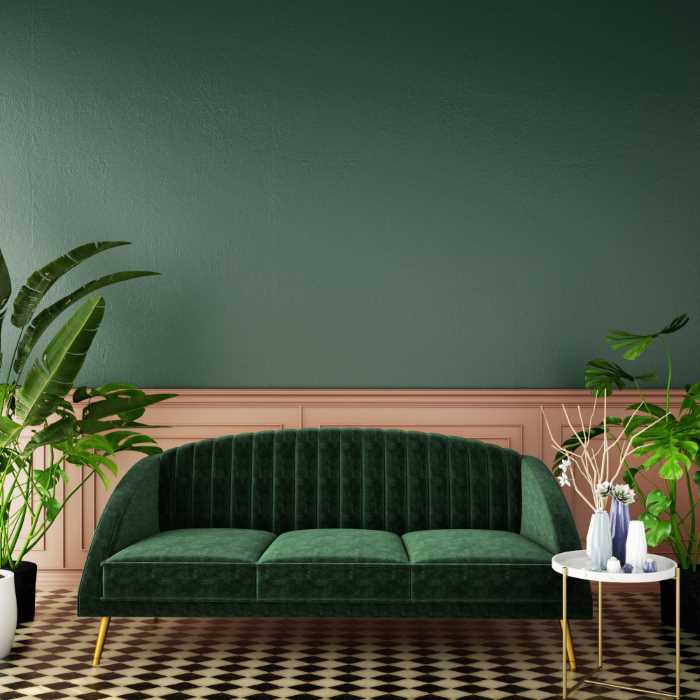 10. Start with a Painting
Adding pieces of art to your home can be some of the easiest ways to incorporate a variety of colors and hues into your aesthetic. This idea can be useful if you have a particular painting with pink hues you admire.
For starters, you can try incorporating colors from it into your room to create continuity and balance. For example, you can place pink flowers on a table in front of the painting to make the color stand out more. Or place it above a couch with a contrasting, yet complimentary, color.
Alternatively, paint a piece of furniture with pink chalk paint and arrange it in an eye-catching way, so you draw attention to the painting.
11. Make Artwork Yourself
Whether or not you are a crafty DIY-er, creating artwork yourself can be an enjoyable way to to pass the time for an hour or two. There is a certain level of catharsis that comes with creating something yourself. While you don't have to be a professional artist to create art you love, you can learn by watching tutorials or reading instructional books if you are trying something for the first time.
But, in reality, all you really need are inexpensive supplies such as paints, a paintbrush and a canvas to start with. If you're bored and need something to do right now, just pick up a pencil and paper to begin drawing. You can guarantee that almost anything you make will look artistic in a frame on a wall of your home.
An alternative to art is making a craft with pink chalk paint. Not only is chalk paint a must-have for crafters, but it dries quickly and looks divine. One of my favorite things to do is to a thrift store to find something to decorate with. Most often, I find something I like but it doesn't match the aesthetic I am wanting. But I bring it home anyway because I know that by adding a coat or two of chalk paint to the item, I can give it new life and a new aesthetic.
12. Create Beachy Vibes
If my husband had his way, we would be packing up, selling the house, and moving to the beach yesterday. Unfortunately for him, I am a Tennessee girl, and my roots are so deep I don't think you could dig them up with a back ho.
So, since heading to the beach every day isn't realistic for most of us, why not add a little beachy flare to your home. Its definitely my way of throwing my husband a beachy bone.
You can use tones of pink, warm peach, teal, coral, white, pale green and other hues to create a fun aesthetic that could possibly change this southern girls mind about staying in the south.
It all depends on your personal design style how you incorporate those hues. These fabulous colors can be integrated into lamps, artwork, patterned pillows and other decorative items.
13. A Touch of Color
If you aren't ready to go big with your pink décor, or bold hues are simply too much for you to stand at this point, try picking out light colors such as pink pastels and using them as smaller accents.
Integrating a couple of pastel pillows or a throw blanket into a room can help them blend in easily. Or find pieces that have just a hint of pink mixed in with other colors, so that the pink is there but not overbearing.
Until you are more comfortable with the idea of bringing pink into your room, you can see what other colors go with pink by experimenting with different palettes. Eggplant, orange, lavender, dark teal, lemon yellow, marigold, light gray, dark gray-green, lime green, baby blue, white and chocolate brown can go with various pink shades. The key is finding the colors that work for your room, and the balance you are most comfortable with.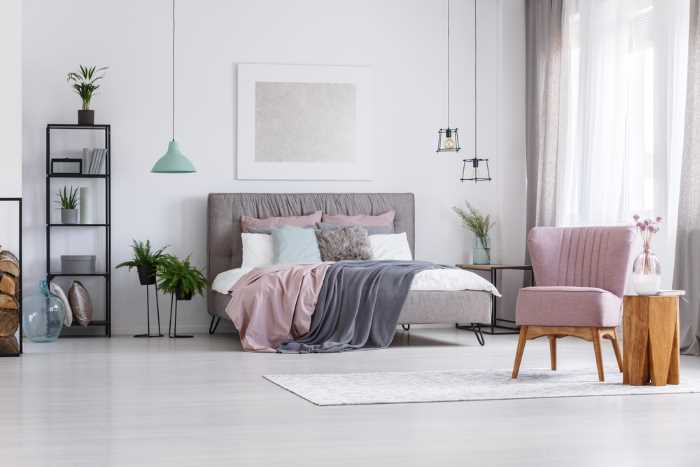 14. Softness is Inviting
We've all been to that friend's house where the furniture just isn't comfortable. Shoot, we've all even BEEN that friend at one time or another. But making your house as comfortable and inviting as you'd like it to be is certainly possible. And creating an inviting, cozy space with comfortable, inviting seating is one way to do it.
Choose comfortable furnishings in pastel pink hues and softer fabrics to create a comfortable sitting room you can enjoy with your family and guests alike.
You can even create a feeling of luxuriousness in a bathroom by adding the right décor touches in the right hues. Or you can encourage guests to feel cozy when they walk into the entryway of your home by adding the right soft hues to create an inviting aesthetic. The key is to find the color palette that works best for you and the look you are going for.
15. A Hint of Romance
Although you may think pink is a little too on the nose when it comes to creating a romantic vibe, when done correctly, it becomes the perfect color for expressing this sentiment. Part of the reason people find pink so polarizing is because it can be such a highly expressive color. But this isn't a bad thing.
You can pair pink and red roses together in a delicate vase for Valentine's Day, or make every day romantic by decorating a whole room in this feminine hue. Adding dashes of pink to a monochromatic design adds a classic romantic feel to any room
You can also try hanging dusty-hued floor-to-ceiling drapes or blush curtains to your room. Or, paint a dining room table pink for an unexpected twist. Love and pink are breathtakingly beautiful.
16. Surprise with Patterns
Using patterns smartly can capture the attention of guests in the best of ways. From geometric rugs to floral prints, every pattern you pick is an opportunity to enhance the appeal of a room, while sharing a little insight into your style and personality.
It is also important to remember that using patterns also requires a balanced eye. In other words, too many patterns can create a feeling of chaos and look messy and distracting. So, if you plan to incorporate bold prints and designs into your space, be sure to keep those minimal and balance them out with more simplistic and basic touches.
17. Experiment with Shades
Confession: I am a sucker for a well executed Ombre effect. I just love the gradual increase from light to dark, and vice versa. So, when it comes to experimenting with shades, whether in Ombre or not, I am always excited to see the end result of incorporating a variety of hues from the same color into a space.
Using varying the shades of pink can help the viewer stay engaged, add richness and depth to your space, and ultimately inspire you to keep decorating.
Some shades to consider are crepe, ballet slipper, rosewood, rouge, coral, flamingo, fuchsia, watermelon and many others. For one, try mixing dark pink, fuchsia, and pastel pink for a distinctive look.
18. Hang Up a Neon Sign
Before you go and give me the side eyes over the idea of a neon sign, did you know you can have customized signs made to fit your style? Or you can buy a chic one that adds a flare of color and whimsy to your space.
Neon signs have come a long way from what some of you might be thinking, and some are just downright cute.
Your sign can be placed on a bedroom wall above a bed, lower to the floor next to a dresser or above a small table in a corner. Moreover, you might want to use potted plants, artistic objects and more to fill the room properly.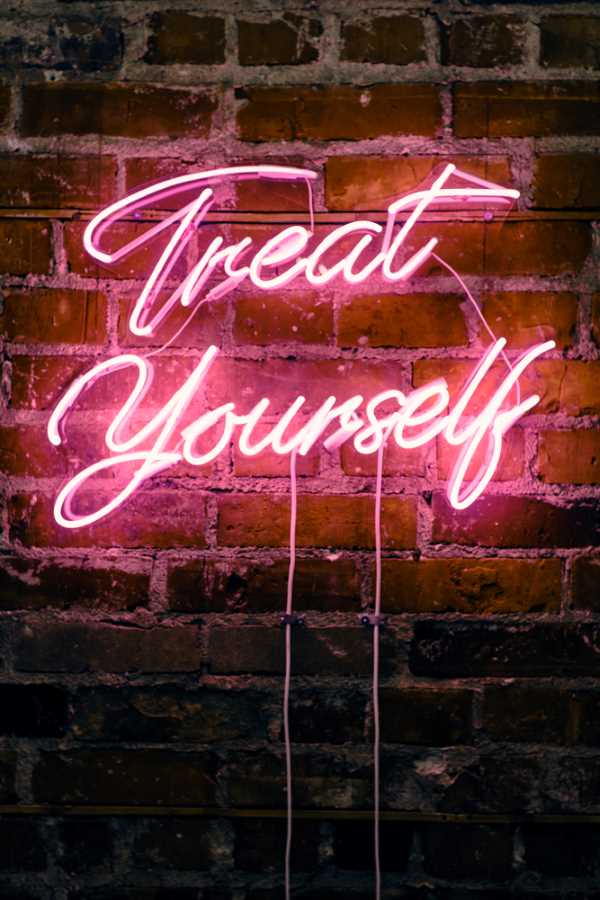 19. Animal Print Play
The use of animal prints is beginning to make a comeback. We are beginning to see leopard and zebra prints popping up in fashion and décor all over the place. But whose to say we have to stick with the traditional look of these patterns? Certainly not me.
Amusing yourself with all of the perks of the color pink can be gratifying. Try adding a leopard print pillow that incorporates pink accents into your room, or lay a brilliant bubblegum bedspread on your bed and pair it with an animal print lamp on your bedside table.
For a child's room, you can find animal prints in varying colors, from pinks to purples to blues. Use these colors to add splashes of color and energy to the room.
20. Bring in Retro Appliances
When we bought our house, I was so excited to find that the stove came with the home. It is the original stove from the 1960s and I absolutely love it. And while it isn't pink, it adds a vintage/retro feel to our eat-in-kitchen that I just adore.
One of the biggest ways to go retro is to fuse pink appliances into your kitchen space. Set a pink mixer on the kitchen countertop for a functional fashion statement. Or find a vintage kitchen scale in pink.
Other appliances you might love include a waffle maker, tea kettle, rice cooker, coffee pot, ice cream maker or food processor. In addition, waking up every morning to use distinctive kitchen appliances can make you feel like you live in your favorite decade.
21. Make a Bold Statement
If you like to go big and bold with your decorating style, then you probably have no problem with the thought of using the hot and vivid tones we talked about before. And you probably have not problem incorporating them into your room in stunning ways.
To make a statement, you can add a rich pink headboard to your bedroom, use a pink brushstroke pattern for a wall, or hang a large rosy-hued mural, such as cranes, above a bed.
Another way to make your home décor stand out is to create a statement wall. Pick out pillows and wallpaper in bold patterns and pair these with rattan furniture. Rather than commit to a particular wallpaper, you might want to keep your options open by using removable wallpaper. This is also a good choice if you are renting the space you live in.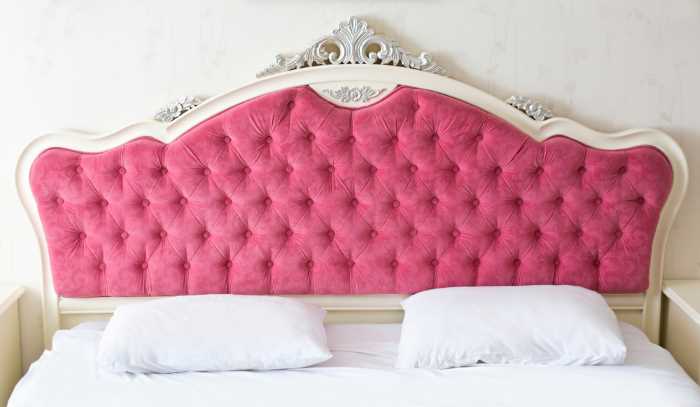 Tips for Decorating with Pink:
Every Pink is Different: In contrast to a lighter pink, which can be reminiscent of delicateness and tranquility, a bolder pink can evoke feelings of strength and femininity.
Use it as a Neutral: Instead of beige, pink can be an alluring neutral. This can be distinctly true when pairing it with artwork.
Give Off Masculine Vibes: Along with blacks and darker grays, a pink-peach tone can be masculine and enchanting, not girly.
Other Neutrals Make it Subtle: To avoid an overwhelming palette, create contrast by combining off-white, charcoal, white or black with pink.
Decorate Almost Any Room: Whether you'd like to make a statement in the foyer or create a pretty dressing room, pink is versatile.
Play with Layers: Layer different tones of pink napkins, vases, floral arrangements and chargers on a dining table to make it appear fascinating.
Conclusion
It can be a little unnerving to add a bold and polarizing color, like pink, to your home for the first time. However, if you arm yourself with a bit of knowledge on how to create balance, decorating will become a breeze before you know it. Your home is your canvas and you have the freedom to make it what you want, so be sure to add your own ideas to personalize your space more.
And after you're done with pink, you might want to explore other colors such as purple, blue, green, yellow, gray or another one you're interested in.