Spooky season is upon us, which means it's time to break out the decorations. Whether you've recently redecorated or changed homes, you may be stumped on décor. How do you bring Halloween to life in your modern home without compromising your aesthetic?
Using the principles of modern décor, let's go over some of the best modern Halloween décor ideas. Keep reading for all the tips!
Black and White Jack-o-Lanterns
The great thing about modern Halloween décor is being able to think outside the box. You can still honor the concept of a holiday without using typical shapes and colors.
Break the mold, and forget classic orange pumpkins. Opt instead for chic black and white pumpkins.
These can be solid white, solid black, or a geometric mix of the two colors. Either way, these pumpkins will be statement pieces when styled on a mantel or entryway table.
This is a great idea if your home is primarily neutral. These unique jack-o-lanterns will make your home festive while staying in your color range.
Bats on the Wall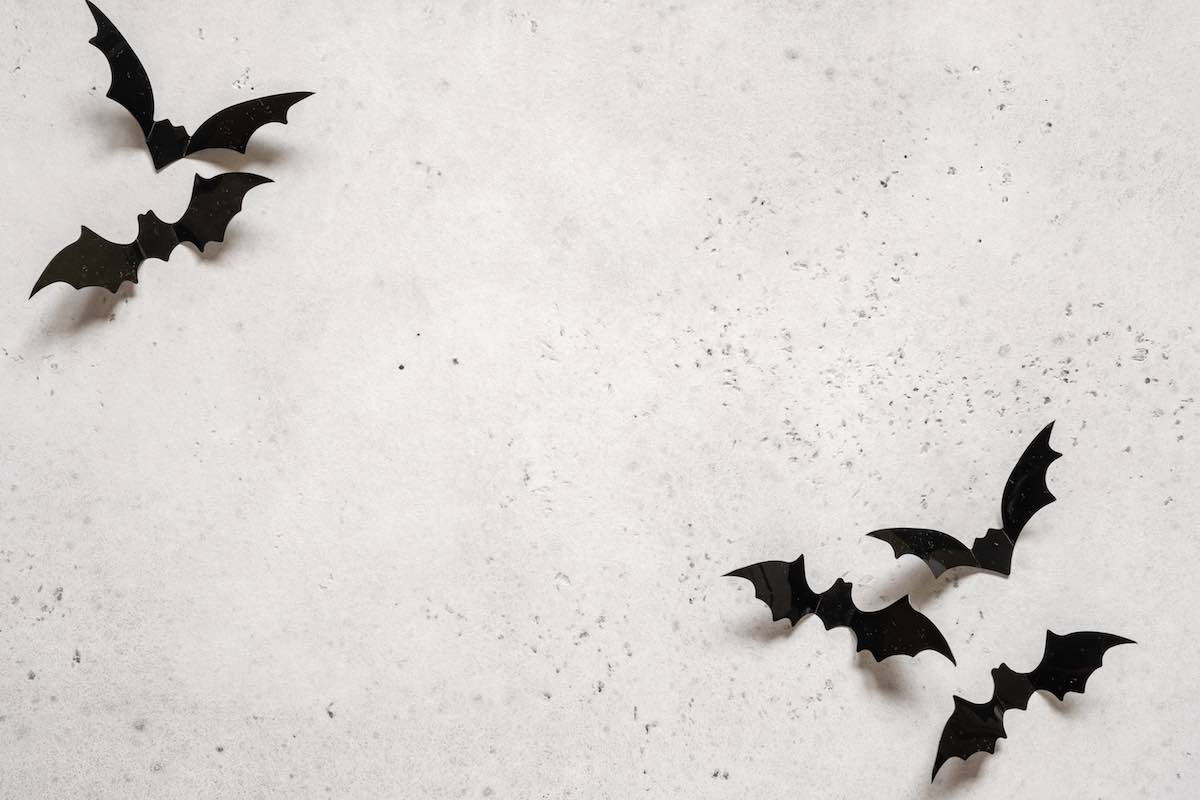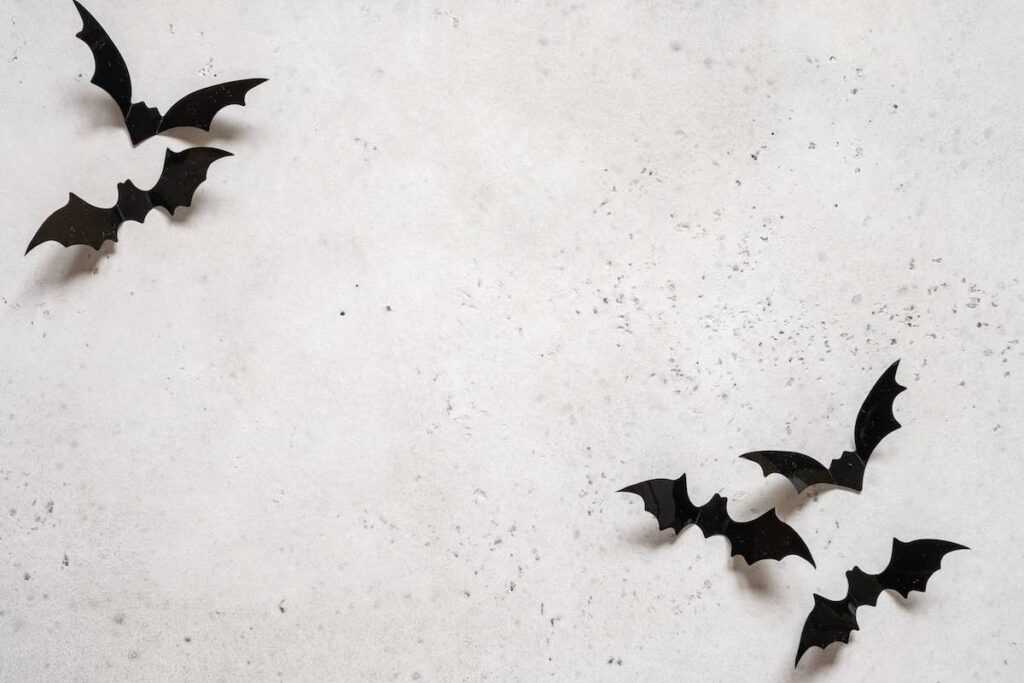 Turn your space into a spooky bat cave with this modern Halloween décor idea! Once you're done with this project, you'll have the illusion of over a hundred bats flying up your wall. It's a fun, simple way to celebrate the season.
The first thing you'll need is a small bat stencil. These can be downloaded online, or you can make your own. The bats should be three to four inches long in varying sizes.
Trace the bat onto colored cardstock or black construction paper. Repeat until you have close to a hundred bats. The larger the wall, the more bats you'll need!
Fold the bats slightly to give the illusion of them flying away. Adhere them to the wall in a diagonal direction using tape or glue dots.
Scary Silver Skulls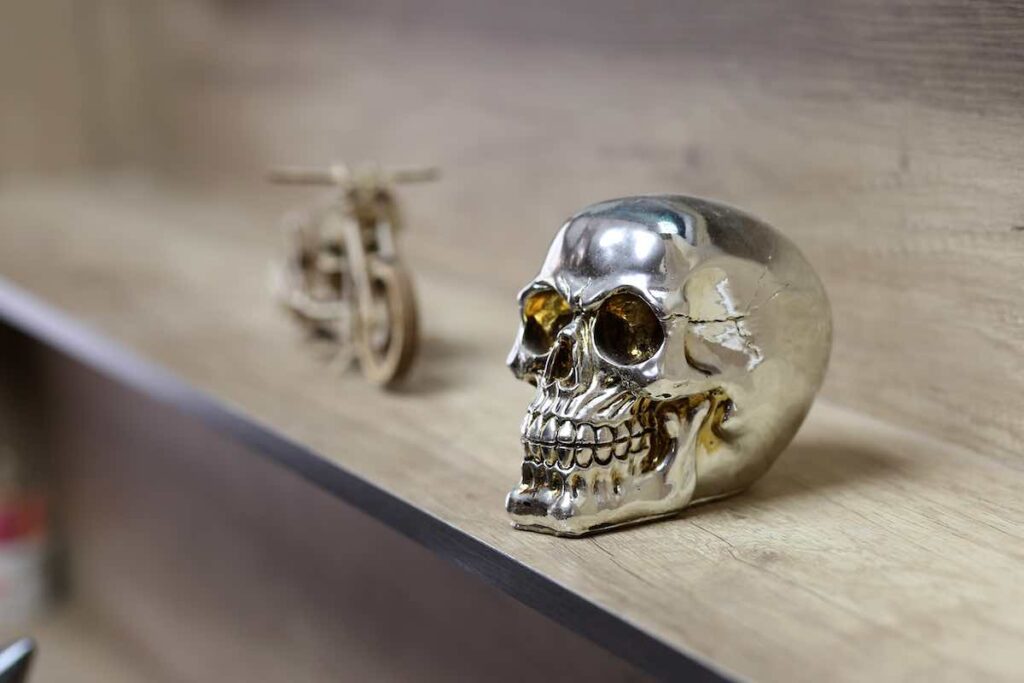 Add some sheen to your modern Halloween décor with a silver skull. It's a much more fashionable interpretation of the classic white skull.
You could also go for this more abstract skull if you appreciate clean, structural pieces. To style it, place the skull on your entryway table, so it's the first thing visitors see when they arrive.
You could also purchase more than one skull and place them in a jar like you have a collection. Talk about eerie!
If silver doesn't compliment your home, gold or bronze skulls can easily be used as a substitution.
A Neutral Mantel (That's Still Spooky)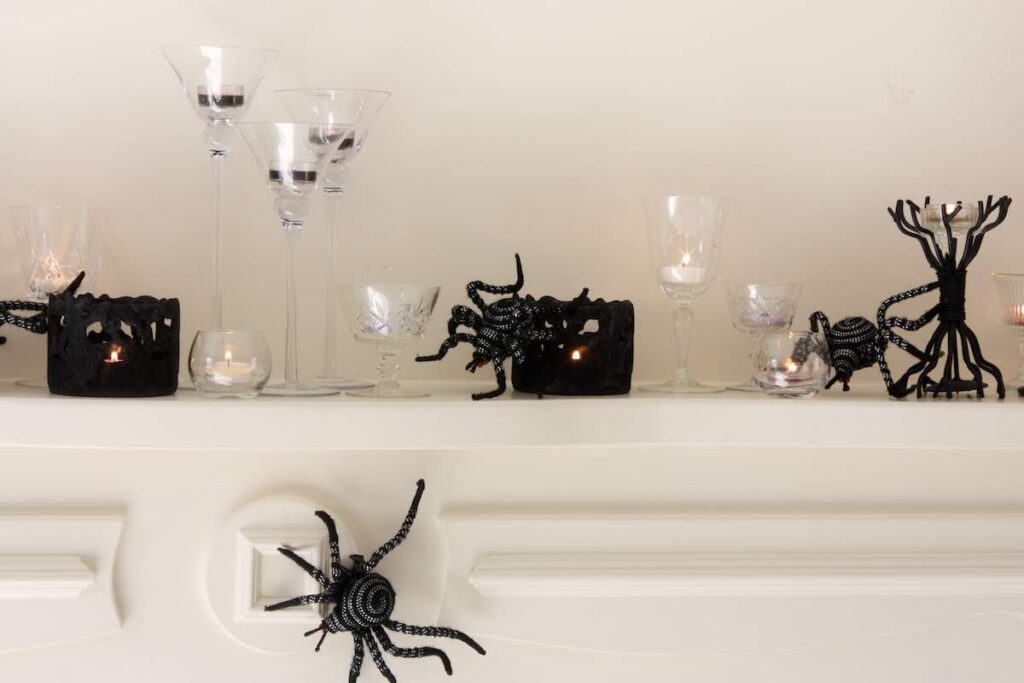 If you don't want to lose the neutral vibe of your mantel during Halloween, don't worry. There are several modern Halloween décor items on the market that fit a neutral home.
Fill any vases with wheat, pampas grass, or bleached bunny tails. These fall-themed vase fillers are festive without being bright.
Next, you'll want to find Halloween items that are typically white. These can be ghosts, skeletons, or even white pumpkins. Layer items together in groups of three, and remember: less is more.
Finish by draping a bleached eucalyptus swag across the front of the mantel. Voila! Your mantel is beautiful and spooky.
Simple Black Wreath
Wreaths are often the first thing to welcome a guest to your home. They are a reflection of your personality, and more specifically, your home's identity.
If you love modern Halloween décor, it would make sense that your wreath be simple yet bold. Avoid wreaths that are packed with different colored florals and busy designs.
Look instead for solid-colored wreaths, such as this black twig wreath. It has a minimalist design, but it's still frightening enough to celebrate Halloween! Another option is this feathered black wreath, which is as fabulous as it is festive.
Houseplant Cauldron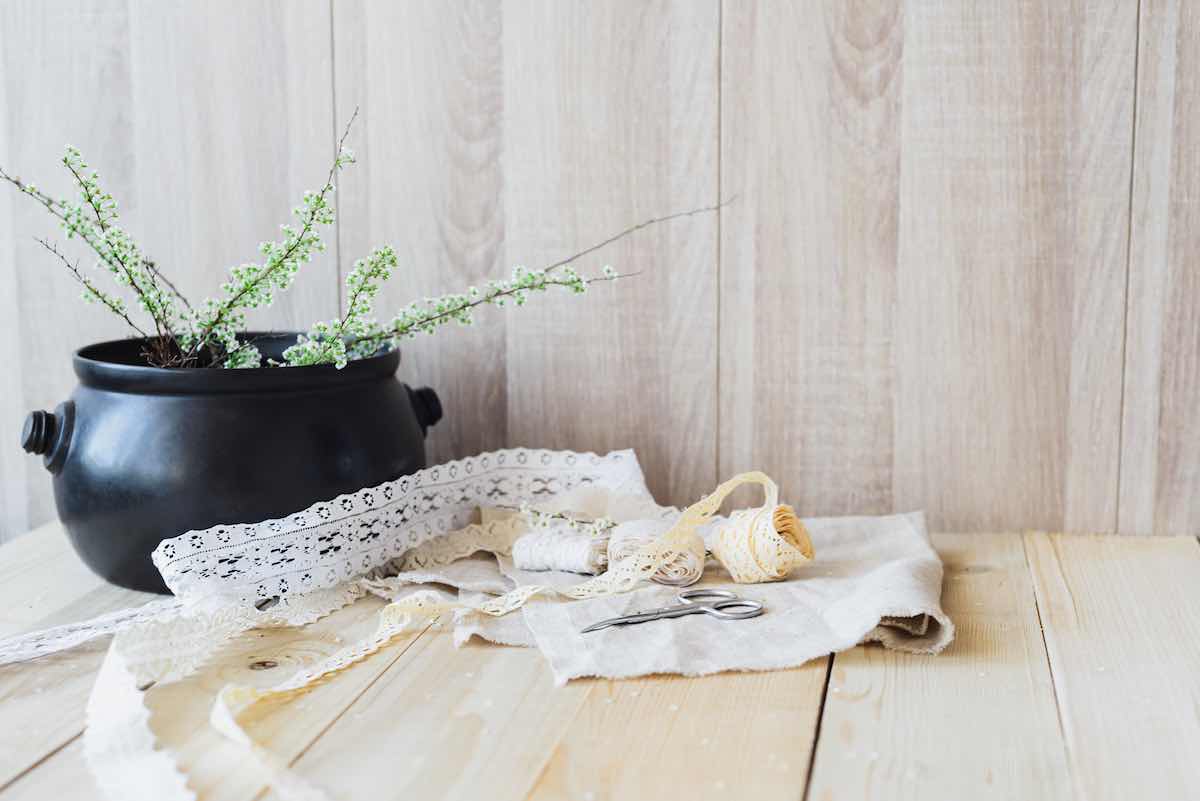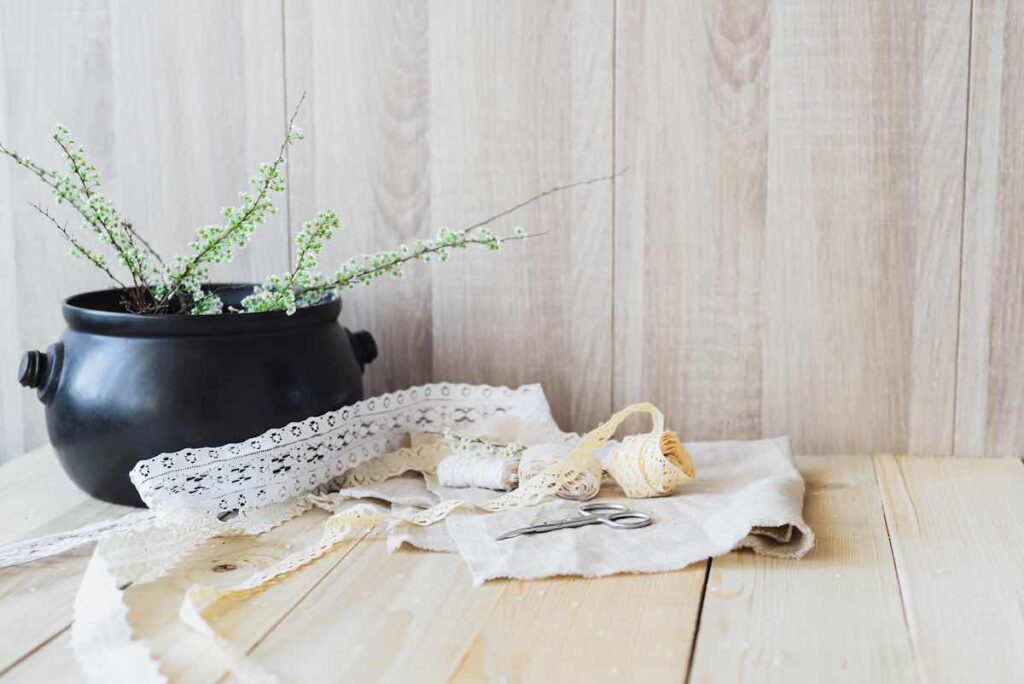 Houseplants are part of the family. You feed them, water them, and care for them. So, obviously, they get to dress up.
Set your plant in a plastic cauldron or in one of these cauldron planters. You can find them in several sizes. This modern Halloween décor idea will have all your friends appreciating your attention to detail.
The plant can be left in its original container, as long as it fits. If you re-pot your plant into the cauldron, make sure it has a drainage hole.
These planters are so cute, you may just want to keep them out year-round.
Wicker Pumpkins
Embrace natural, earthy textures, and look for pumpkins made out of unique materials. There are so many options out there. To narrow it down, look at what you already have in your home.
To match wicker décor, these grapevine pumpkins would work great. If you have blonde wood in your home, look for pumpkins wrapped in wood chips or raffia.
These types of pumpkins are also easy to make yourself. Start with a cheap foam pumpkin. Glue raffia or jute twine to it until it's completely covered.
Stage your new pumpkins on the hearth or in the middle of the dining room table. It's the modern Halloween décor all your friends will want to steal.
Metal Luminaries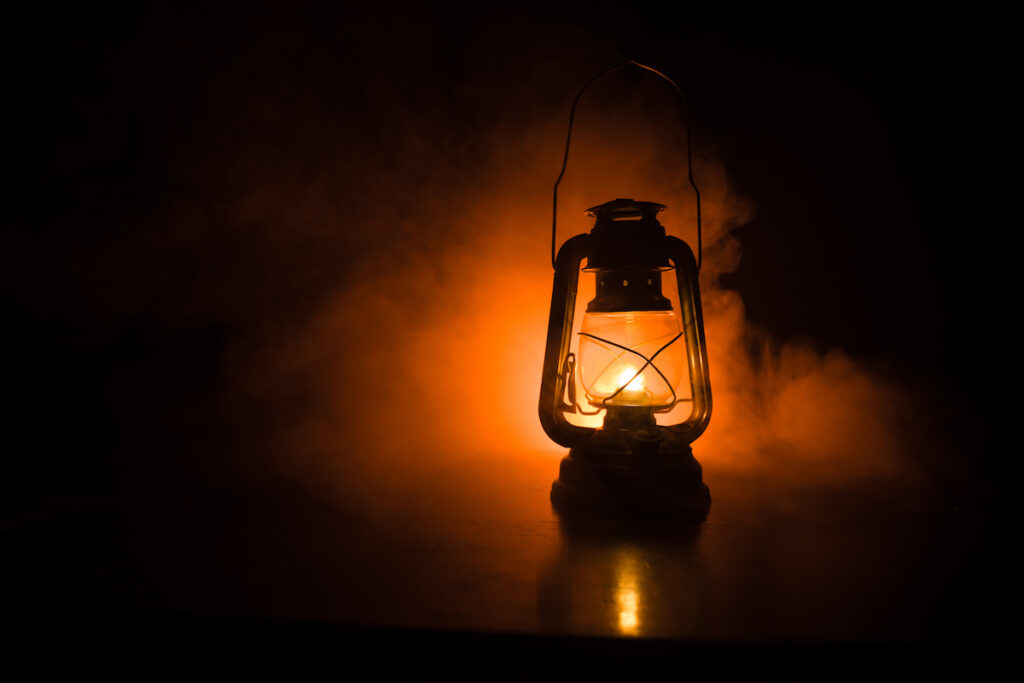 Metal luminaries and lanterns are a simple way to celebrate Halloween. Whether you line them down your porch steps or set them indoors, they're versatile and stylish.
The industrial material and clean lines jive well with modern Halloween décor. They also make the perfect standalone item, so you're not crowding your home with decoration.
These luminaries often have a design etched in the front that is visible when lit. That makes them the ideal long-term alternative to carved pumpkins.
Leave them in a dark area, and let the chilling design fill the room.
Minimalist Throw Pillows
You can never have too many throw pillows! They can completely change a room's vibe without making any major changes.
Come fall time, most stores are filled with pillows featuring bright fall prints and patterns. It's an easy buy, but you'll want to avoid them for modern Halloween décor.
Look instead for pillows featuring solid fall colors or understated patterns. Burnt orange, black, or olive green pillows will give your living room an autumn feel.
If you love a pattern, try a pillow with stripes or a geometric pattern. You could also go for a simple floral pattern without making the room look too busy.
Eerie Crows
Say Halloween without spelling it out. Using crow decoys, you can add hints of the Halloween season without overwhelming your house. It's modern Halloween décor at its finest.
Slip them in with your table décor, or place them on top of the cabinets. The key is to spread them out and make it look like they're watching over the house.
If you're hosting a Halloween party this year, make it a fun game. Have your guests count how many crows are in the house. The winner gets a Halloween treat!
Elegant Black Pampas Grass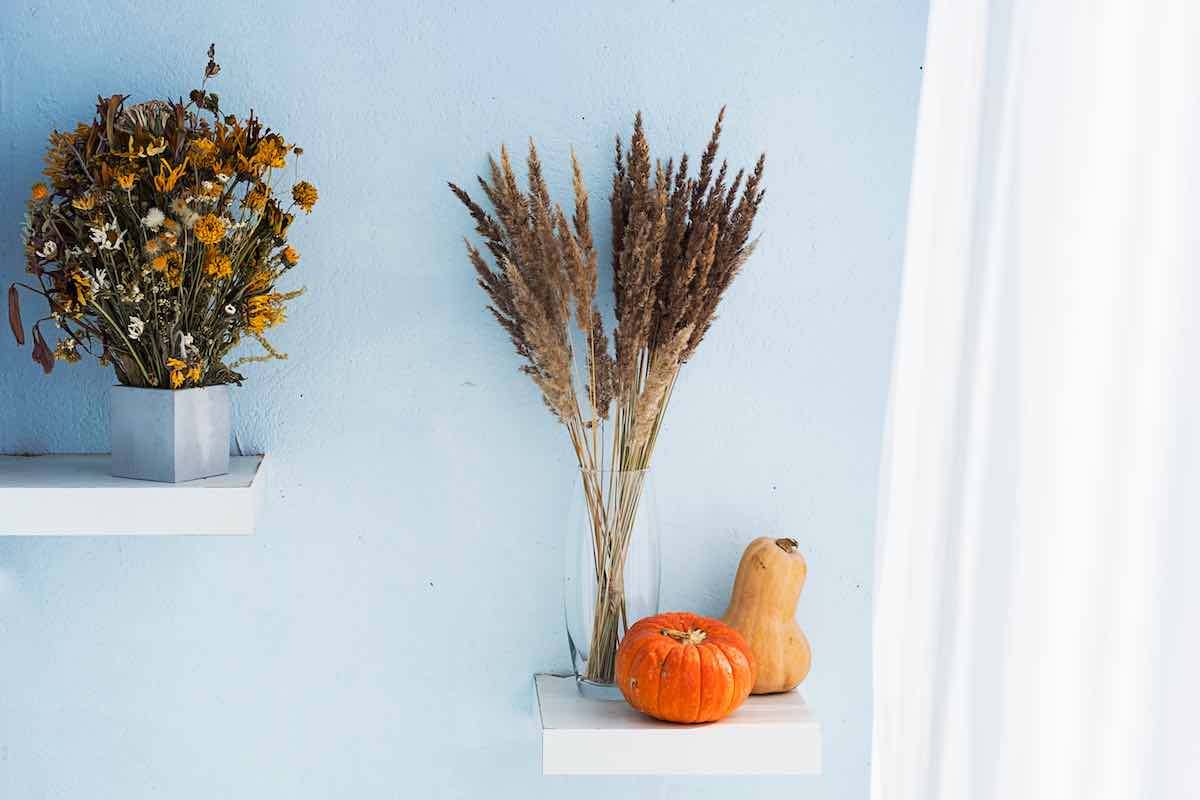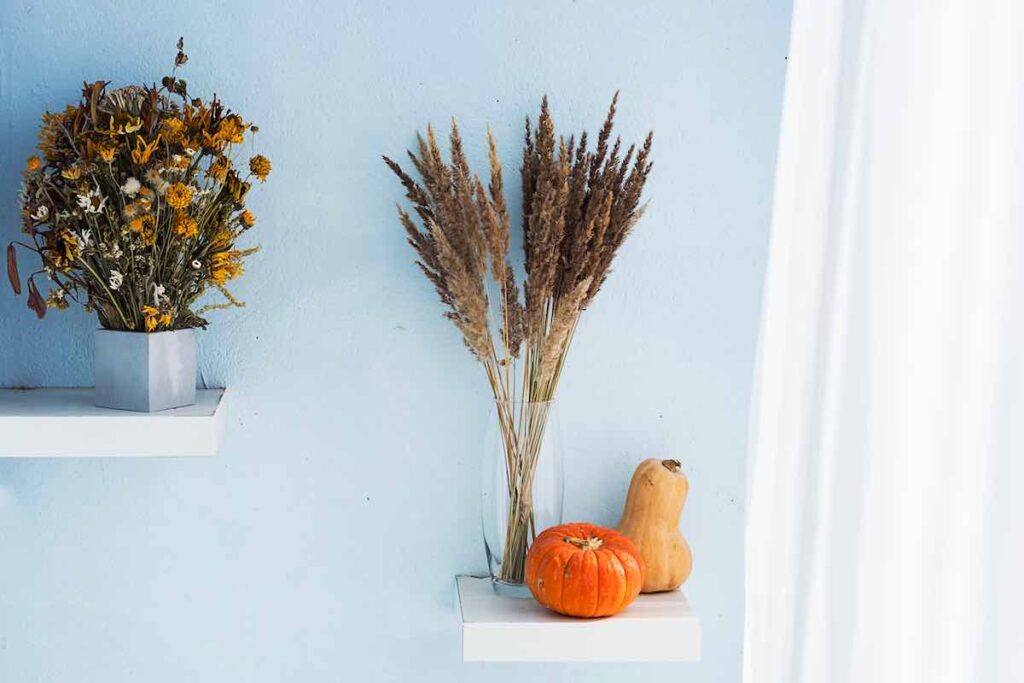 I've discussed using natural pampas grass for neutral décor, but you can also take it to the next level. Black pampas grass gives your home a chic edge.
Place large plumes in a giant glass jar near a console table or fireplace. Or, place them in a vase on a bar cart for a 1920s feel.
Black pampas grass can also be repurposed for themed parties throughout the year. Well, let's be honest. They would be fabulous left out year-round.
Wrapping Up Modern Halloween Décor
Accomplishing modern Halloween décor isn't really as difficult as it sounds. Just remember to keep it simple and clean. Most of all, enjoy yourself and don't overthink it. Your home should be filled with things you love, even if it breaks a few rules!
Visit our complete guide to modern décor to get more tips and information on decorating your home year-round.