Changing out your home décor is the perfect way to welcome in the fall season. Decorating with modern fall décor can be as simple as introducing warm colors to match the falling leaves outside or letting the textures of fall florals speak for themselves.
Keeping it simple and understated is what modern fall décor is all about. Keep reading for the best modern fall décor ideas to get your home ready for the season!
---
Stunning Copper Accents
Copper is a lovely material to display during the fall. The orange-golden hue of copper reflects the tones of autumn while providing a gorgeous sheen. It also pairs well with a natural palette.
What are some different ways you can sprinkle copper into modern fall décor? Invest in some hammered copper cups to enjoy a cocktail or mulled cider. Or, try some copper vases to put your fall filler in.
A touch of copper here and there will do the trick. Aim for two to three copper items per room so you don't overdo it.
If you're feeling creative, cover some small foam or plastic pumpkins with metallic spray paint. They're perfect for spreading around the house or layering into your centerpiece.
---
Burnt Orange Vase Filler
You can completely transform a room by just changing what you have in your favorite vase. Instead of bleached ruscus or pampas grass, try some faux orange eucalyptus or dyed bunny tails.
This will integrate warm colors into the room. It's modern fall décor that isn't specifically labeled "fall." That means you can leave it out for longer than you could with pumpkins or spiderwebs.
Try placing your vase full of burnt orange vase filler in front of a mirror. It'll double the appearance of your décor without you having to buy anything else. Not to mention, a mirror always makes a room appear larger.
---
Chic Velvet Pumpkins
The drama and elegance of velvet pumpkins can elevate your modern fall décor. The heavy material is common for winter clothing. Since fall is the season that welcomes cool temperatures, velvet pumpkins just make sense!
Velvet pumpkins are available in a variety of sizes. They're perfect for standalone décor on an entryway table or for adding some character to your mantel.
When shopping for velvet pumpkins, look for dark colors or jewel tones, such as navy, dark purple, and mustard.
---
Neutral White Mums
You can't forget to include the porch in your modern fall décor ideas. It's the first impression of your home, so it should represent the identity of your home indoors, too.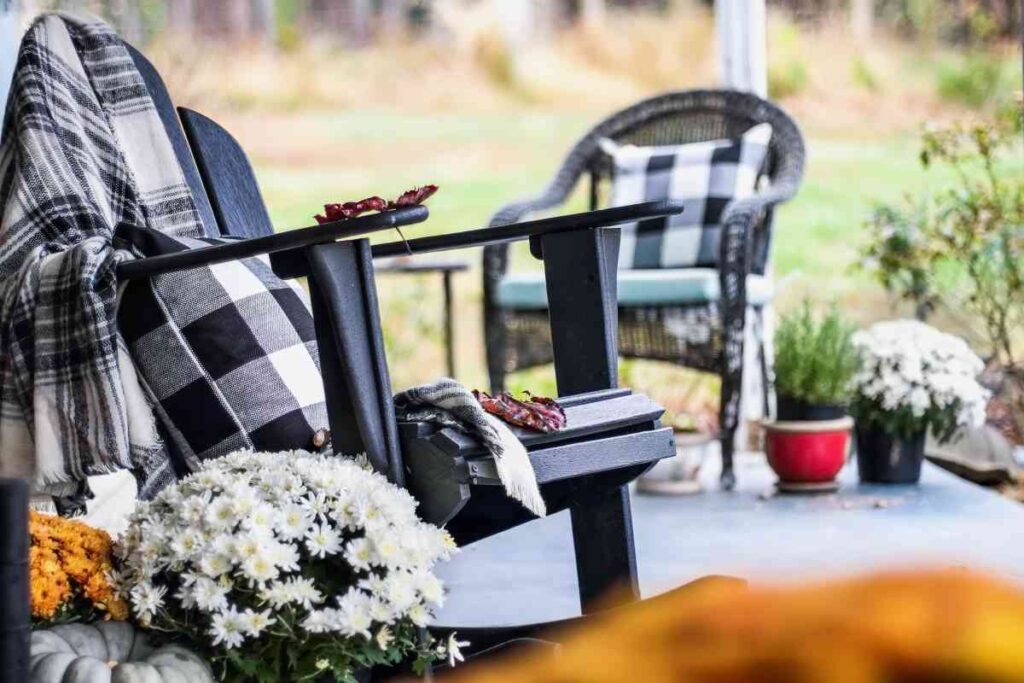 If you love flowers, white mums are the ideal way to go. They don't add too much color to your porch, but you'll still be representing the season.
Set your mums on both sides of your front door, or line them down your steps. Layer white and cream pumpkins around your mums, and you've got a beautiful setup!
---
Fall Tone Art
As previously mentioned, modern fall décor can be as simple as changing the accent colors in your home.
Visit your local home décor store and look for art that includes earth tones such as orange, green, and brown. The art doesn't have to include fall motifs such as pumpkins and leaves. It can simply be a landscape or portrait.
You can also try your local thrift store. They often have beautiful hand-painted art that's a lot more cost-friendly.
Prop your newfound art on your mantel, and watch the room become cozier with just that one adjustment!
---
Leather Throw Pillows
Implementing leather throw pillows into your living room is another great understated décor idea. Pair leather with mustard and orange pillows to complete the look.
Leather adds another texture to the room, and the color is great for adding warmth. If you have messy kids or pets, leather can easily be wiped down, so you're not constantly washing your pillows.
Instead of buying new pillows every time, purchase feather pillow inserts and change out the covers on them every season. This makes them easier to wash, as well.
---
Green and Amber Glass
Using green and amber glass in your modern fall décor is ideal for adding jewel tones to your home. While glass is a beautiful texture in itself, colored glass is versatile and timeless.
Green and amber glass can easily be found in antique or thrift stores. But you can also find it new. If you want to extend your decorations into the Christmas season, stick with green glass.
Pair a green glass vase with wheat, or place greenery in amber glass medicine bottles. You can also find glass candle holders, which would look chic with cream taper candles.
---
A Dried Corn Wreath
Create your own gorgeous dried corn wreath. Dried corn comes in many lovely fall colors, such as yellow, red, and orange. And the dried husks are a beautiful natural color.
Purchase dried corn from your local farm stand or grocery store, along with a grapevine wreath. Using hot glue or floral wire, attach the corn husks to the wreath in the same direction until it is completely covered.
Once you've completed your wreath, hang it proudly on your front door. Layer it over a mirror or window if you want to keep it indoors.
---
Fall Scented Candles
Imagine walking into a small specialty gift shop during the fall. Before you see all the cute fall and Halloween decorations, you'll smell the inviting scent of pumpkin, cinnamon, and vanilla.
Your home can be the same way. Fall-scented candles are so easy to find at this time of year. Whether you love the scent of pumpkins, apples, or cranberries, there's a candle for you.
Not only will your home look the part of modern fall décor. It'll smell the part. There's something so cozy about the flicker of a candle, too.
If you don't love candles, try a wax melt or plug-in.
---
Neutral Leaf Garland
Even if you're set on keeping your home neutral throughout the fall, there are still tons of modern fall décor ideas for you. Not everyone loves orange, but that doesn't mean you can't be festive.
A neutral fall garland will dress up your mantel while sticking to your preferred color palette. This garland is full of leaves, pine cones, pumpkins, and gourds – all the things that autumn is known for!
You can also use garlands to make an easy, quick centerpiece for your dining room table. Center it down the middle and hide the ends.
---
Comfy Chunky Throws
Celebrate the last few months of the year by creating a cozy atmosphere with a chunky knit throw. This modern fall décor idea is as useful as it is decorative.
These blankets can be pricey, but they're thick and warm. The throws come in over 20 colors, so choose whichever color inspires you. They're also washable, so you can actually use them.
When you're not using it, store your throw on the back of the couch. Or, fold it up, and place it into a basket. It'll be your new favorite investment!
---
A Cinnamon Broomstick
Here's another alternative to fall-scented candles: a cinnamon broomstick. Not only do these brooms represent the Halloween season, but they also smell delightful.
Play into the idea of a witch's broomstick. Prop your broom up against the entryway table or your hall tree, along with a witch's hat and boots. It'll look like she just came home from her morning ride!
You can also hang your broomstick on the pantry door to fill the kitchen with fall smells. For another modern fall décor idea, attach fall florals and greenery to the base of the broom, similar to a swag.
---
Festive Plaid Tablecloth
Lastly, using a plaid tablecloth is great for adding texture and pattern to your dining room.
When the rest of the room is paired down, plaid won't overwhelm your modern fall décor. In fact, it'll simply make the space more relaxed and cozy.
Look for plaid tablecloths that infuse fall colors along with a mix of neutrals. Opt for a simple table setting on top of the tablecloth, or just place a vase in the middle of the table.
Avoid mixing more patterns on top of the plaid. Instead, use natural materials such as wicker, marble, wood, and metal.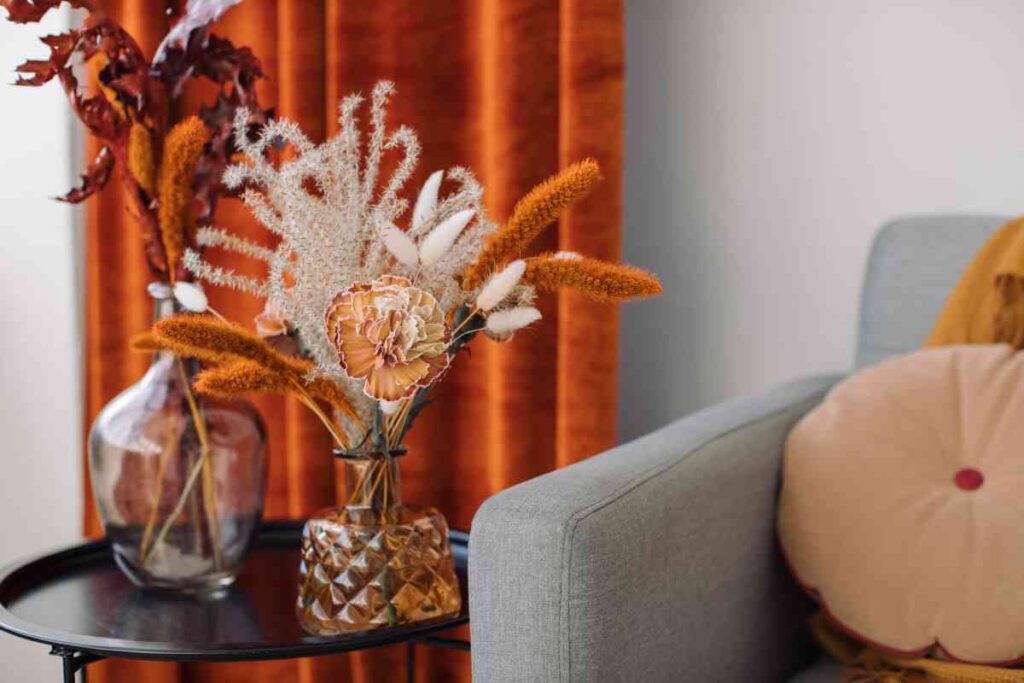 ---
Wrapping Up Decorating with Modern Fall Décor
It's time to get inspired and create a beautiful setup in your home by decorating with modern fall décor. Light some fall-scented candles, and get to decorating. Once you're done, you'll have a tasteful, modern home that celebrates fall in the best way!
A beautiful home is a year-round job. When you have a busy schedule, it can be hard to keep up with what's trending and what's not. That's why we have created the Complete Guide to Modern Décor.
We also have many posts giving the best tips on modern décor for every season. Find all your best inspiration in one place!