The most wonderful time of the year is almost here! It's just about time to break out the tinsel and lights and turn your home into a Winter Wonderland!
There are so many different versions of "Winter Wonderland," depending on your personal style. Some people love vintage decor, some love classic decor, and others love modern decor.
If you're in the last group and are looking for some modern Christmas ideas, this is the post for you!
Read on to get some inspiration for modern Christmas tree decor.
---
Tree Ideas
Full, Natural Tree
One facet of modern decor is a return to the natural with added surprise elements. There are few better ways to bring nature in than a full, natural-looking Christmas tree.
While you can certainly find a real tree at a tree farm, sometimes it's just easier to purchase an artificial tree. That way, you're not searching for the perfect tree every year; you know that you have exactly what you're looking for!
When you think of artificial trees, you may remember the trees you grew up with and their plastic, wiry branches. Listen… trees have come a long way!
There are artificial trees available now that look like you went into the forest and cut down a gorgeous tree. No one will ever know!
Wooden Dowel Tree
A really interesting, modern Christmas tree decor idea is making your Christmas tree entirely out of dowel rods.
All you need is a pole the height of your desired tree, wooden dowel rods of varying widths, and a drill with a drill bit set. Just drill holes a bit smaller than your rods and insert them in at varying points.
Flocked Tree
Flocked Christmas trees are staples of modern Christmas tree decor. Pair one of these gorgeous trees with some modern ornaments, and you'll have a Christmas centerpiece in your home that everyone is going to love!
A flocked Christmas tree is simply a tree, real or artificial, that's been covered in a synthetic powder to make it look covered in snow. It's an easy way to bring the magic of a white Christmas to any climate.
Colorful Tree
A really fun twist on a modern Christmas tree is to have a colorful, artificial tree and pair it with more natural ornaments.
You can find a tree in any color of the rainbow, rainbow included!
---
Tree Skirts
Chunky, Knit Tree Skirt
A chunky, knit tree skirt is going to bring a warm and cozy feel to your Christmas tree. It would be fun to use one of these at the bottom of a really minimal, modern tree.
If you can't find one you like in stores, you can try your hand at finger knitting your own! It's a simple craft that would add something really special to your modern Christmas tree decor.
Brass Tree Collar
Traditionally, Christmas tree collars have typically been made from galvanized metal and are a bit more industrial or have a country feel.
However, the same collar made out of brass is a great piece of modern Christmas tree decor! It fits the "modern" bill because it's an unexpected surprise you can add to more natural pieces
Wicker Basket
A Christmas tree inside a wicker basket is an unexpected twist on modern Christmas tree decor.
If you've got a small or medium live tree, you can get a large wicker basket to put the root ball inside.
An artificial tree's stand more than likely won't fit inside a traditional basket, but you can still enjoy this modern trend. Simply get a handmade rattan tree collar. It'll give you the same look as a real wicker basket while still fitting and hiding the tree stand.
Faux Fur Tree Skirt
A faux fur tree skirt will take your warm and cozy modern Christmas tree decor to another level. This would look great with a full, natural tree full of wooden ornaments.
If you already have some small faux fur rugs, you can layer a few to accomplish the same look and feel.
---
Ornaments
Clay Ornaments
A tree covered in simple clay ornaments screams modern Christmas tree decor! This idea works well for someone who may consider themselves a minimalist.
Clay ornaments come in many different shapes, colors, and sizes. Textured circles, miniature trees, and even stars!
If you can't find something out there you love, get some air-dry clay at a craft store and make your own. Just use cookie cutters to get crisp edges.
Black and White Ornaments
Make your modern Christmas tree decor look like it came straight out of the 1960s with a tree full of black and white ornaments.
Piece together your tree of ornaments from multiple sources, or simply buy a whole tree's worth of ornaments in one swoop.
Wooden Ornaments
Wooden ornaments fit the bill of modern Christmas tree decor because they're both natural and can be an unexpected twist!
Fill your tree up with intricately designed snowflakes for an elegant, modern feel.
For a neat twist on wooden ornaments, get custom-designed ones for all the special moments in your life. It'll turn your tree into a family scrapbook that will be enjoyed every season for many years to come.
Geometric Ornaments
Geometric shapes are a staple of modern Christmas tree decor. They're visually interesting and can be used in a few different ways.
Solid ornaments add visual weight to a tree and add presence. Hollow geometric shapes, made out of something like wire, take up less visual space but are still very intriguing to the eye.
Metallic Ornaments
Mixed metals are regularly used in modern decor. Decorating an entire tree with metallic ornaments and then using something like a faux fur tree skirt and wooden beads as garland would be a great example of a modern Christmas tree.
Monochromatic Ornaments
Choosing ornaments of all one color is a really unique and modern Christmas tree style.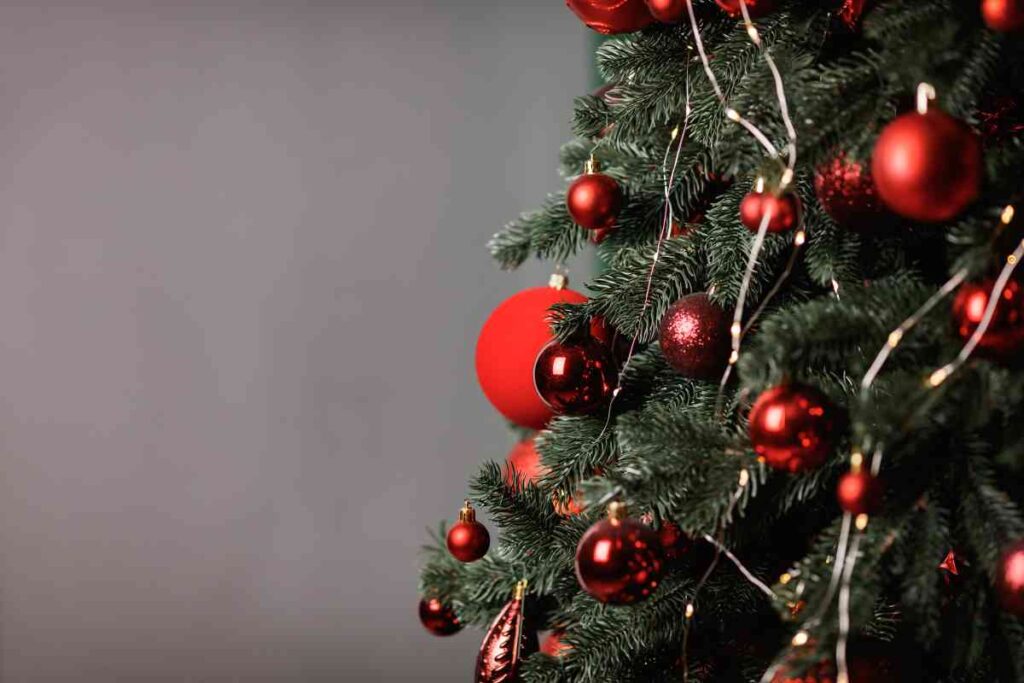 Choose something like hunter green for a fully monochromatic look. Or do a tree of entirely red ornaments for a very contrasted look.
Ombre Ornaments
In modern decor, ombre is still very much in style. Choose a color you love, and then experiment with ornaments of different hues up and down your tree.
Start with ballet pink on the top of the tree and work down to magenta. Or go from baby blue down to navy blue. Whatever color you love will work!
---
Lights
Lights Only
Having a tree of only lights is very much in the vein of modern Christmas tree decor.
We'd recommend adding extra strands of lights to make the tree that much more magical and a real focal point of your Christmas environment.
Frosted Glass Bulbs
Frosted glass bulbs take your tree back to an earlier, simpler time. They invoke the simple spirit of Christmas, like from a Norman Rockwell painting.
If you want the look but don't want to spend money on new bulbs, you just need some ping-pong balls and regular lights! Use a sharp knife to cut a very small "x" in the ball and then pop it onto some of your lights after they're already on the tree.
Battery Operated Candles
If you want to think way outside the box for your Christmas tree, skip the bulb lights altogether and go for battery-operated candles! There are some that even come with remotes, so you don't have to turn each on individually.
---
Finishing Touches
Neutral Pom-Pom Garland
Use a neutral pom-pom garland to add another layer of visual interest in your modern Christmas tree decor.
This sort of finishing touch would go well with metallic or wooden ornaments.
If you can't find a pom-pom garland with the exact colors you're looking for, you can purchase the felt balls individually and simply use an embroidery needle to thread them onto a thick fishing line.
If you choose to make your own, make sure to add a knot before and after each ball if you want them to stay in place. Otherwise, they're going to slide back and forth.
Natural Fabric Bows
A natural ribbon, like burlap, tied into bows make a great addition to your modern tree.
You may want to have a tree filled to the brim with lights and then simply add natural fabric bows throughout the tree for a simple, modern Christmas look.
If you want to get really creative, get a thinner ribbon in a coordinating color or texture to make a double ribbon bow.
Pinecones
If modern decor is about natural design aspects, it doesn't get much more natural than pinecones in pine trees!
While you certainly can head to your backyard and pick up pinecones to use in your modern Christmas tree decor, you don't have to have your own pine trees to make it happen.
There are plenty of pinecone ornament options out there. There are snow-covered pinecones, pinecone picks with red berries, and simply natural pinecones.
Dried Fruit Garland
A dried fruit garland will give your tree a cheerful and modern final touch.
You can purchase them pre-made if you don't consider yourself a crafty type, but these are actually great Christmas crafts for beginners!
Take your fruit (oranges and apples work well), slice it 1/4″ thick, and bake it in your oven at 150°F for five to six hours.
Simply use a needle to connect them all, and you've got a garland! You can add popcorn, cranberries, or even sticks of cinnamon.
---
Wrapping up Modern Christmas Tree Decor
Whether you love simple, extravagant, natural, or anything in between, modern decor can be customized to fit your personal style. Remember, almost anything goes in modern Christmas tree decor. Get to decorating!
Want more modern decor ideas? Check out our Complete Guide to Modern Decor.