As we all know home decor may be one of the most expensive things we can buy for our home, but it doesn't have to be. Macrame is one of the hottest trends right now. Trends are constantly changing, colors, textiles, textures, it is a never-ending cycle, and if you are like me I love to try and find ways that I can repurpose and make some of these super trendy home decor items without breaking the bank! Keep reading to see how simple it is to make this beautiful trendy hanging macrame art piece spending only dollars.
What Is Macrame? A Type Of Fabric Art
Macrame is is the art of weaving and knotting textiles together to form a specific type of pattern. The art of macrame is derived back to the 3'rd and 13'th centuries, wherein the 3'rd century it was believed to be a common practice within China for ceremonial textiles, and in the 13'th century, it was even more of a common practice within the Arabic fabric artisans as they used these specific knots and weavings to the loose ends of their handmade textiles.
What Specifically Is Made With Macrame? What Types Of Projects?
What is beautiful about macrame is the fact that it has so many uses and functions. It definitely gives off that bo-ho vibe that is so sought after right now and is incredibly trendy. Some of the projects I have come across in my own search for the perfect beginner macrame are as follows:
Wall Art
Wall Hangings
Keychains
Plant Pot Hangers
Feathers
Coasters
Garlands
Necklaces
Bracelets
And the list goes on. And let me tell you they are all absolutely beautiful. Once you have some of the basic knotting techniques down you really can let your imagination soar with this fabric art!
Basic Knotting Techniques
As we already went over with macrame art is that it is mostly different knotting techniques. For our project that we are doing today we are using two of the main techniques which are:
The Larks Head Knot: This knot is your "hitch" knot or think of it as a starting point knot and is used in most macrame.
The Reverse Larks Head Knot: This knot is exactly the reverse of what we started before and is used sometimes at the end of a project like the one we are going to make today to give us a nice sturdy anchoring point so we can hang our beautiful macrame.
The Double Half Hitch Knot: This knot is what is going to give our project shape. It's going to combined our chords of yarn or macrame whatever you choose to use to make the knotted section and bring the chords all together in a specific pattern.
Now that we know a little bit more about what types of knotting techniques we are going to use let's go ahead and dive into our hanging macrame wall art project!
What Items You Will Need For This DIY Macrame Hanging Wall Art
For this project you will need the following and since this is a budget DIY I made sure you can pick this stuff up all at your local dollar store! You will need the following items:
Wooden Dowel
Wood Stain (Optional)
White Yarn
Ruler
Scissors
Nail (Optional for Hanging Art Work Once Finished)
Hammer (Optional for Hanging Art Work Once Finished)
You can do this entire project easily in one afternoon, not only is it absolutely beginner-friendly you can have a beautiful trendy macrame to hang in your home in no time!
How To: Step By Step Making A Macrame Hanging Wall Art Piece
So the first step would be to get your wooden dowel. Now, I got lucky for this project because I had a few random pieces of wood in my garage that I knew I could use that would work perfectly for a dowel. All I did was cut it to my desired size, gave it a light sanding and I was ready to go! A for the size of the dowl I cut mine a little longer than I liked so I ended up cutting it down I would say 10-12 inches would be perfect for this specific project!
Since the piece of wood that I had didn't have any type of stain or color on it I decided to put a little stain on it to make it look more put together, now you can totally skip this step altogether, especially if you just pick up a wooden dowel from a craft store or a hardware store, but for this example (and to save a few dollars) I used what I had on hand. Now don't get me wrong you can pick up one of these dowels for pretty cheap, at most it may cost you around $3.00 so honestly, it's still a steal!
Once you have your dowel cut, sanded, stained, and trimmed (or if you just bought one from the store) we can start our macrame! All you are going to need is a 12-inch ruler, your yarn (color of choice, I used white), and a pair of scissors.
The next thing we are going to do is cut some of the yarn to size. Using a 12-inch ruler take your yarn and wrap it around longways 5 1/2 times, then cut the yarn with your scissors. You will need to do this 6 times so that we have 6 long pieces of yarn to start with, we will need some more later, but that will be another step! I am using this white yarn from Dollar Tree, is it 131 yards of acrylic yarn for only one dollar! And trust me we will not even make a dent in this thing! It is a great yarn to have on hand when you're making more projects!
Ok, let's finally start the macrame! Set your dowel out in front of you. It is best to work on a nice flat surface. Take one of your long pieces of yarn and fold it in half, then fold it in half again, now put the "loop" side of the sting in your right hand, put the loop over the top of the dowel, then pull the loose string through the loop, this is our larks head knot. Check the photo below to see how easy this first knot is to do!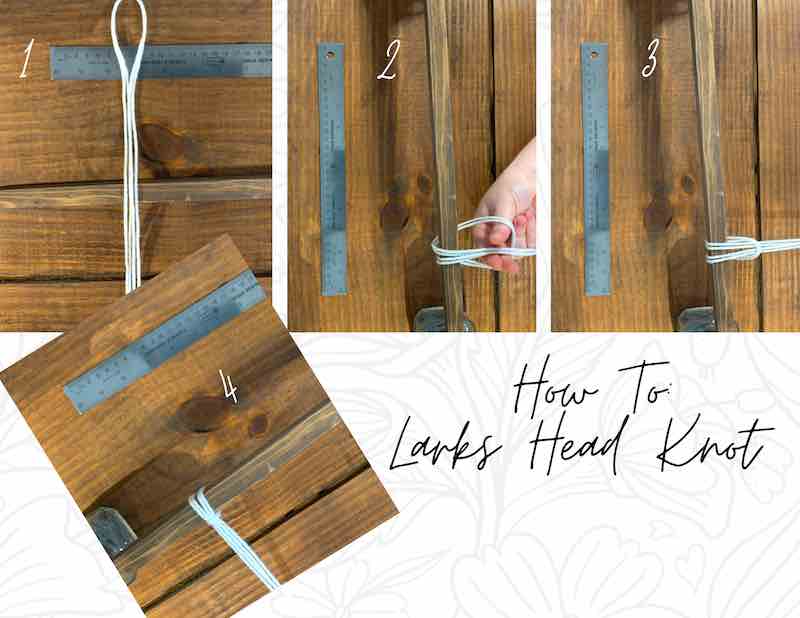 Now that you have your first larks head knot, do a second larks head knot right next to the first larks head knot, make sure that they are pulled tight.
The next thing we are going to do is make the double half hitch knot. To make this knot you need to take the inner sting on the first strand and you are going to put it through the inner stand on the second larks head knot, make sure to do this step twice for each stand, pulling tight as you go. Check the photo below to see how to tie a double half hitch knot.
Now, I know this can look all a bit confusing and if you are like me I found a great video that explains how to tie a double half hitch knot here if you need to check it out!
Pretty much the double half hitch knot is what combines the working stands all together to make one cohesive design.
Once you have your double half hitch knots, we will then take the string that you have in your right hand over the dowel then through the with the same yarn put it under the dowel, and then pulling it through making another larks head knot.
Once you have your third larks head knot in place we will talk another one of our stands and repeat the entire process over again. Tie your larks head knot to the left of the first larks head knot we tied then continue the process of the double half hitch knots until you get to the last of the stands then with the last stand do another larks head knot. It should resemble the photo below.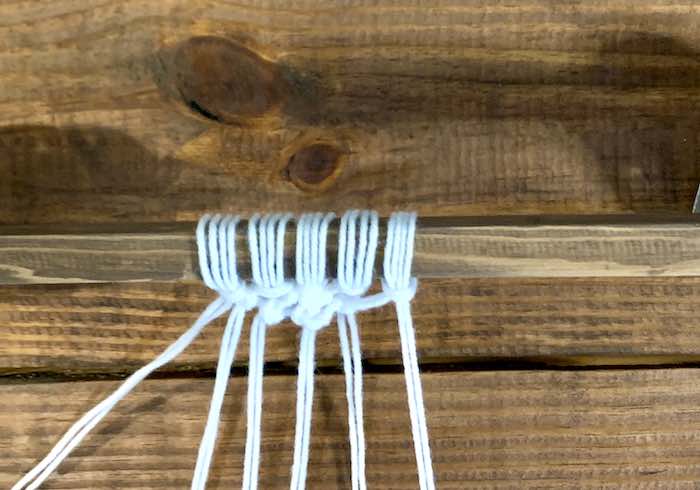 Once you have something similar to the photo above add another larks head knot to the left of the first larks head knot in the row and repeat the process again, you are going to repeat this process until you have only one strand of yarn left and your projects look like the photo below.
Now you may be thinking it doesn't look like much yet but trust the process!
So with your final strand of yarn do what we have done with the first larks head knots, fold the strand in half then only fold it again so that a quarter of the yarn is hanging on one side and the other side is 3/4 long.
Then with that yarn make another larks head knot on the left-hand side like we have been doing. Make sure that the shorter end of the yarn is on the left-hand side of the outside of our macrame design.
With the longer side of the string measure out the base of your double hitch half knots like in the photo below.
Once you have this you can see in the photo above I started making my larks head knot on the right-hand side of all of our other larks head knots.
So you should now have a strand of yarn in a half-moon shape cupping your design. This is where we now need to cut more of our yarn.
With your ruler once again wrap the yarn around lengthwise four times then cut the yarn. You will need thirteen of these.
Once you have all thirteen of your strands of yarn, fold them in half, and then half again, then starting in the middle of the half-moon shaped sting of yarn we just tired into place tie your yarn into a larks head and you will do this with twelve of the stands we cut. Check out the progression photos below!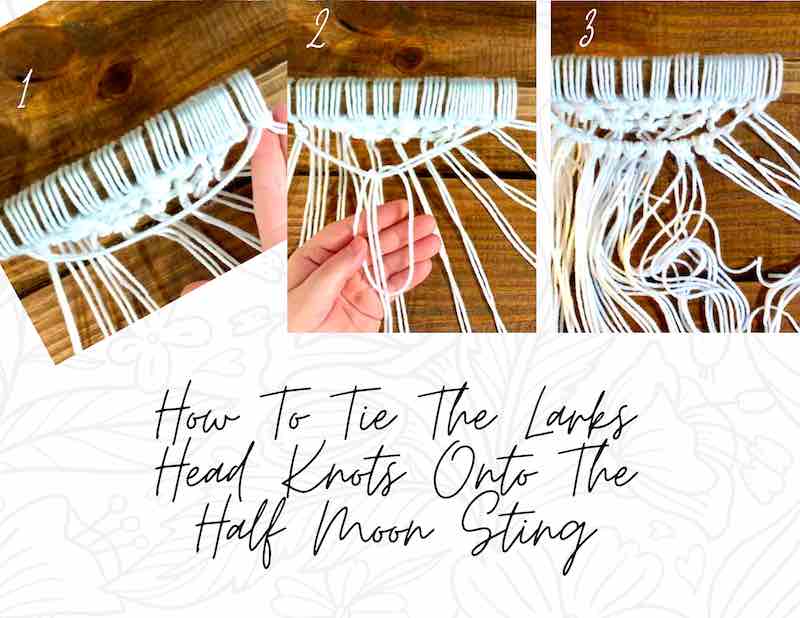 Once you have all of your larks head knots tired into place give it a little pull to stretch out some of the yarn where we made our double half hitch knots this is what gives this design those super trendy dream catcher vibes!
Now it is time to give our stands of yarn a bit of a haircut, I wanted to put more of a "V" shape to it but you could absolutely cut straight across as well.
After we give our macrame a nice new trim, with the final stand of yarn we just need to make two reverse larks head knots on both sides of our design to make a hanger. See how to tie the reserve larks head knots in the photo progression below!
The only thing you need to do now is turn your design to the back and tie down the extra string for the reverse larks head knots and you are ready to hang your new masterpiece!
Trouble With The Knots?
Now we went over a ton in this blog, but if you are still confused on how the knots should be tied that's ok! Just head over to YouTube and there is an abundance of channels that show you step by step and move by move you need to do to perfect the type of knot you need help with. After all, this is art and nothing is perfect the more you practice the more you will improve!
Saving Money, Learning A New Skill, And Creating Something Beautiful
I hope you enjoy making this macrame fabric art as much as I did! Macrame is that one kind of art that I believe looks good in any home, it just brings such a trendy feel to the house like I have been shopping at a high-end home decor store when I made this for only a few dollars! Can you believe it? It is also so fun to read and research where this type of art comes from and the origins of it all. Fabric artwork has been around for centuries and almost every culture had their take on it as well. But now you can have your own handmade artwork showcased for everyone to see!
Make sure to follow www.thatsweettealife.com for more amazing craft ideas and projects you can do in the future!
About the Author
Latest Posts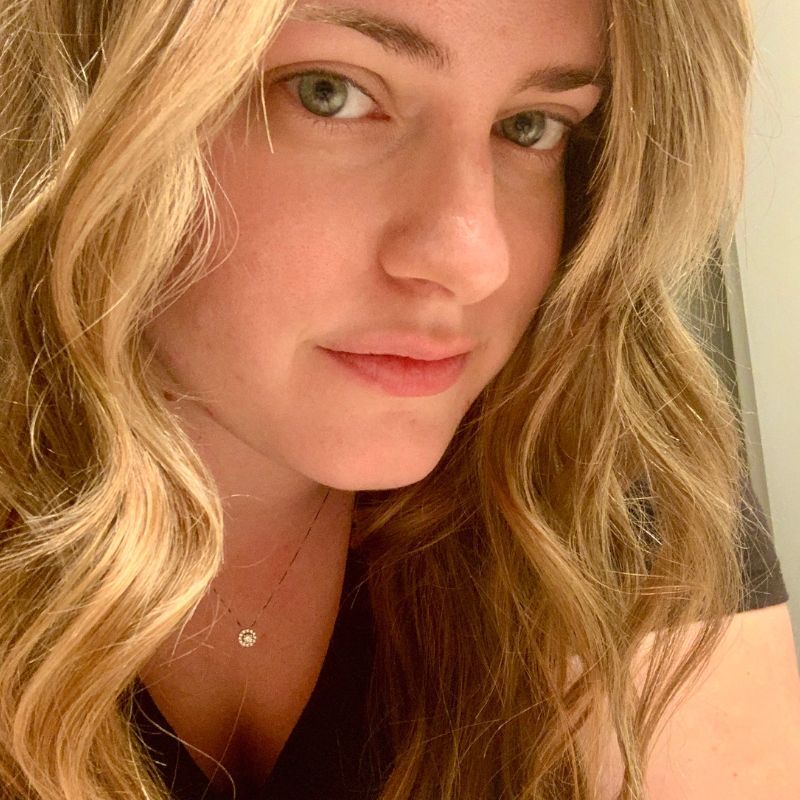 Lauren loves a good crafting project. Whether refinishing a coffee table or playing around with cutting machines or macrame, she isn't afraid to give it a go!
As a mom and wife, Lauren knows time management when crafting projects is a must! That's why you can count on her for her easy-to-follow guides and pro tips for making your projects flow flawlessly.
No matter what creative aspect Lauren has dabbled in most, that's why we love her advice!