Looking for ideas for refinishing your existing furniture, or for that unique piece you picked up at the neighbor's garage sale? Freshening up your space doesn't require breaking the bank!
With a little creativity, you can create a brand-new space with these unique ideas for refinishing furniture.
---
Distressing
What is it?
Distressing gives furniture that old-timey look of a piece that has been well-loved for decades. But you don't have to have a treasured family heirloom in your living room to get that antique look!
Distressing is a good idea for refinishing furniture when you want a classic vibe but have a non-classic thrift store find to dress up.
Many people consider distressing as an option for wood stains and tones, and it's a great option if you want to go that route!
However, you can also get creative by distressing a piece with an underlying paint color. For example, maybe you want a bit of color to peek out in the distressed spots of an old dresser so it looks like it's been painted and repainted through generations.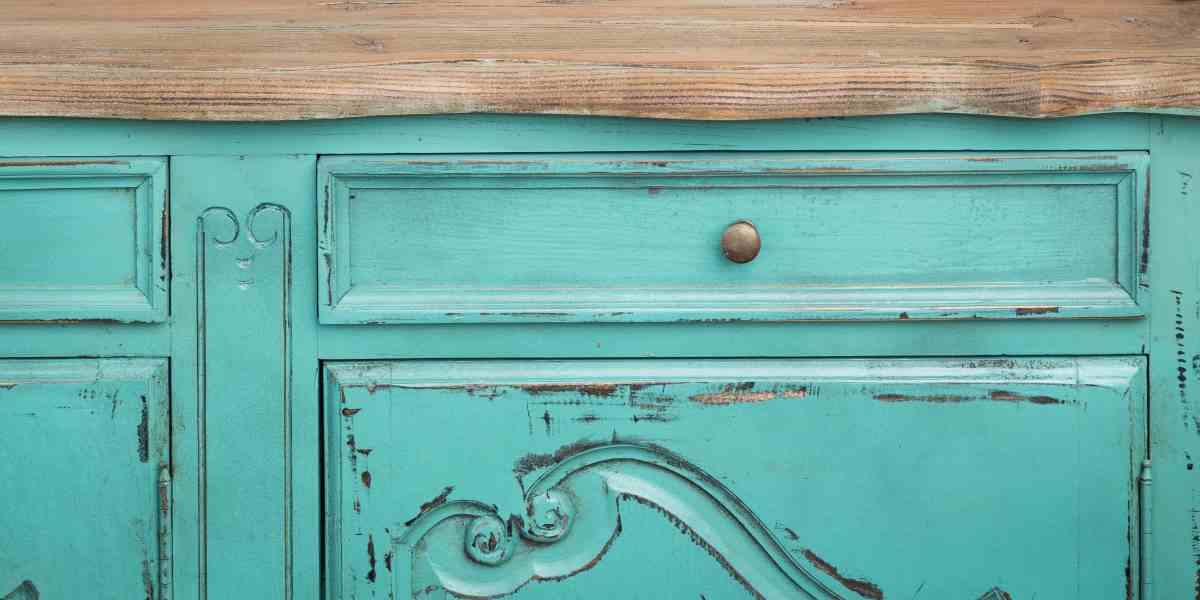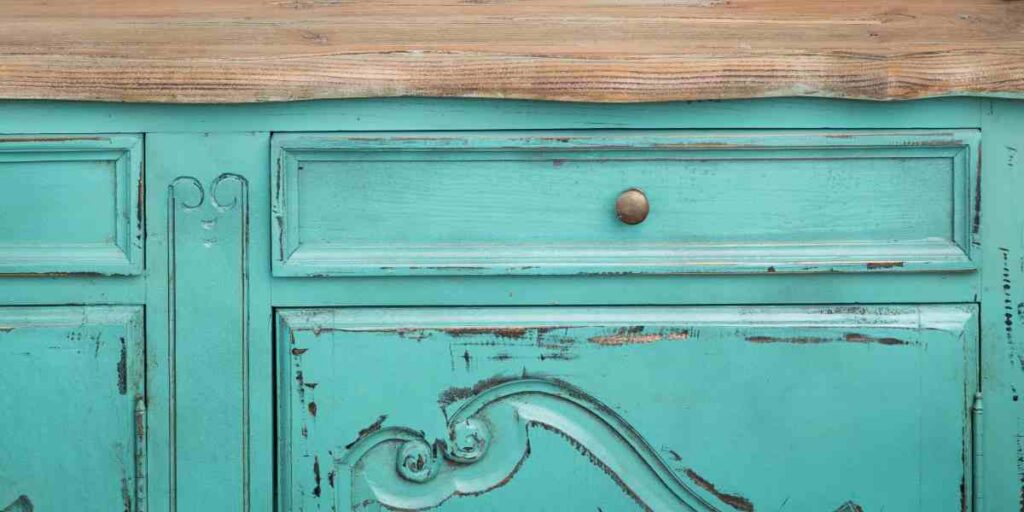 Steps
First, lightly sand the furniture you are refinishing. If the piece already has a finish (varnish), you'll need to sand a little deeper to get to the bare wood. Wipe the piece off with a tack cloth or microfiber cloth to remove the sanding dust.
Next, paint or stain the object. If you're going for the "been-painted-and-repainted-for-centuries" look, this is where you'll use your base color. Opt for a brighter color at this (bottom) stage.
Once dry, if you're going for a bare-wood look, manually sand the spots that would likely show wear, like corners or edges where hands would've repeatedly touched. For the color/painted look, rub candle wax on the spots where you want the color to show.
Apply a top coat. For the colored look, paint over the wax as well as the non-waxed surfaces. Once dry, use steel wool to rub off the waxed parts.
Wipe everything down with a tack cloth, then apply a finish, if desired.
---
Decoupage
What is it?
Decoupage is another unique idea for refinishing furniture! You may be familiar with decoupage from the trend of decoupaging Easter eggs a handful of years ago.
Essentially, decoupage is the technique in which pictures are cut from paper, napkins, or even cloth and applied to an object with glue.
If you need a better visual, check out the decoupage vase (idea #5 in this post). Maybe you can create a vase to match your newly refinished furniture!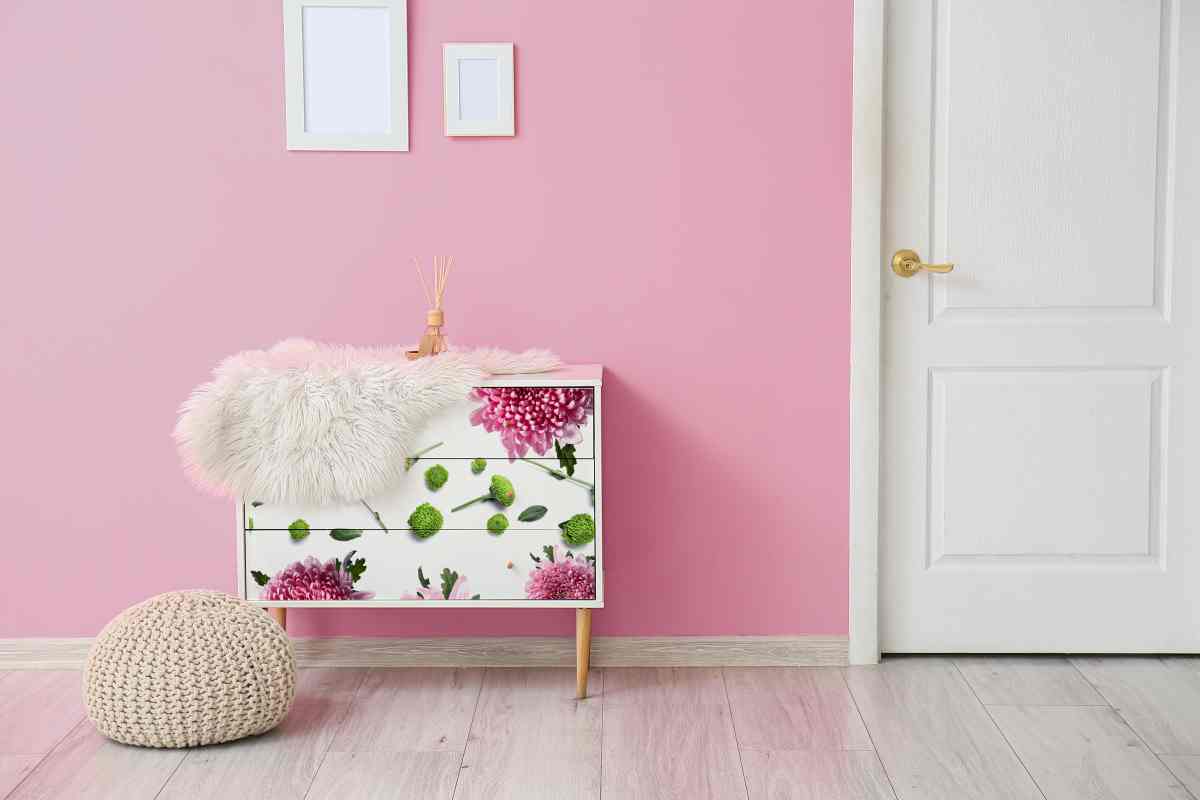 Steps
First, prep your furniture. If you want, you can leave any existing finish on the piece and decoupage over it. Simply wipe it all down with a soapy rag, then dry it.
Remove all the hardware from the piece (drawer handles, etc.), and place the pieces in a bowl of soapy water. Just remember where you put it!
Sand the piece by hand or use a palm or orbital sander with medium-grit sandpaper. Wipe the object with a tack cloth. Fill any holes or gashes with wood filler.
Either paint your piece or get ready to decoupage it bare. Avoid latex paints; they don't work well with decoupage.
Once your paint or stain is dry, if you choose to use it, cut your decoupage to the size you want. Some people want to cover an entire surface; others want to use the decoupage as an accent.
Affix the paper or fabric to the furniture using a spray adhesive or a decoupage medium. Use a plastic spatula to smooth out wrinkles or bubbles, working outward from the center.
Once the adhesive has dried, carefully clean off any dust that may have settled on the paper or fabric, then apply a spray-on acrylic top coat to finish. After 5 to 10 minutes, apply a second layer of top coat.
You can use a brush-on top coat, but the spray gives a more even finish with less chance of accidentally snagging your paper or fabric.
---
Stenciling
Another unique idea for refinishing furniture is stenciling! Using either premade stencils, ones you make yourself, or even freehand art, this refinishing idea gives you a truly individual piece.
What is it?
Stenciling involves painting the cut-out portion of a pre-cut pattern. You can find all kinds of stencils on the market today! But, for a truly unique design, try making your own, or drawing a design directly onto the furniture you're refinishing.
Steps
First, prep your furniture piece as you would for any other method discussed thus far–clean it, sand it, wipe it down.
Position your stencil, and hold it in place with painter's tape. Using a brush, paint the cut-out pattern, being careful to dab off any excess paint as you go. This helps prevent paint from bleeding under the stencil.
Remove the stencil while the paint is wet to avoid stripping off any paint. Repeat stenciling in different locations, as desired.
Finally, seal your stencil to protect it.
---
Mixed Media and Upcycling
Ready to really mix things up? Try using mixed media to refinish furniture!
What is it?
Mixed media is the act of using more than one medium, like acrylic paint and chalk paint, or glass and metal. The sky's the limit when employing this idea for refinishing furniture, and you can super personalize your work!
Another cool thing about mixed media is that it can be the most environmentally friendly refinishing technique. You can literally use things from your recycling bin–or things that can't go in your recycling bin!–and cut down on waste while customizing your space.
Steps
Prep your furniture piece as described above.
If you'd like a bare wood piece as the base, good for you! Want to do one side in chalkboard paint and another in decoupage? Sounds great! Really, you are only limited by your own creativity here.
Grab some wood-friendly glue and affix glass marbles to the edges of that coffee table. Mod-Podge pictures from a travel magazine to it, sprinkle on some chunky glitter, and spray on a top coat. Voila!
Parent of a toddler who digs sensory adventures? Glue items with different textures onto table legs, and cover them with spray adhesive. Instant sensory playground!
---
Novel Materials and Finishes
What is it?
Anything new and experimental can fall into this category of unique ideas for refinishing furniture. Here are some of the more popular up-and-coming techniques!
Resin
Resin finishes soak into wood to harden the wood fibers, leaving you with a natural (unfinished) look in which the grain is highly visible.
Very durable, penetrating resin withstands heavy wear and is easy to apply and repair. Although it dries clear, it will slightly darken the wood. You can find this resin in several stain colors.
Resin works best with "open-grained" woods like oak, ash, and hickory. These types of woods have large pores that allow the resin to sink in.
Concrete
Ok, I know. It sounds a bit crazy. But, have you considered refinishing your furniture with concrete?
Maybe you want an uber-modernist/industrial vibe. Or, perhaps, you're looking for something totally unique.
Whatever the reason, you can find resources and guides on using existing furniture to create a concrete masterpiece. It's a little more complicated than the methods we've already discussed, but it can be done!
Natural and Eco-Friendly Methods
What if you want to refinish a furniture piece instead of getting something new but want an eco-friendly method? You're in luck!
Natural and eco-friendly techniques range from upcycling to choosing refinishing products that won't hurt the environment.
The most traditional way to refinish your furniture in an eco-friendly fashion is to use water-based finishes that have a lower level of volatile organic compounds.
Natural oils and waxes are great ways to finish your wood furniture and keep it looking bright.
Milk paint is becoming more popular in eco-conscious DIY circles. Made from milk proteins and sold in powder form, milk paint is free of malodorous, toxic VOCs. Although you may get a slightly milky scent when it's wet, it is odorless when dry.
Another unique idea for refinishing furniture with an eye toward environmentalism is using natural dyes. This can be a fun project that coincides with your kids' science class!
Tea, coffee, nut husks (walnut is a good choice), tobacco, and herbs are all great natural dyes.
You will need to first create a dye using vinegar and steel wool. Soak half a roll of steel wool in a cup of vinegar of your choice and let it sit for about a week, stirring daily.
Then, mix it into a few cups of brewed coffee or tea, or a boiled infusion of tobacco or herbs and water. Stain away! Once the furniture is dry, finish it with one of the natural oils or waxes above.
---
Paint Techniques
Last but not least, you could use several painting techniques to bring new life to your furniture!
Color washing
If you're thinking about freshening things up, but traditional stains are too boring and full-power paint colors are too much, consider color washing to refinish your furniture!
Color washing involves taking full-strength paint colors and diluting them for a muted look. This technique is not only beautiful but also more affordable, as you can stretch a quart of paint a long way to cover your refinished piece.
Try to use matte or chalk paints for this technique; gloss and semigloss paints don't create the best-finished product.
To mix, start by adding one part paint to four parts water. This will give you a very thin mixture, and that's ok! You'll be applying several coats to get your desired effect. Mix well.
Take your stripped or unfinished piece of furniture, and brush on one coat of the paint-water mix. You may not notice a huge change after this first coat. Repeat with as many coats as necessary to get your desired shade.
Let the piece dry, preferably overnight, then lightly sand to get an even color. Wipe the object down with a tack cloth, then apply a top coat.
Ombré
Ombré simply means one color fading into the next, typically going from light to dark or dark to light.
Decide if you want your ombre to go horizontal or vertically, then apply your paint colors in even strips. Use painter's tape if you want a more structured fade from dark to light. Leave a little room between each hue–you will blend them in a later step.
To create the ombré effect, use a fresh coat of paint to wet the bottom of the top stripe and the top of the lower stripe. Then, angle your brush to 45 degrees and make several "x" strokes between the lighter shade and darker colors, blending as you go until you get the effect you're looking for.
Dry Brushing
Dry brushing is another unique idea for refinishing furniture. It's kind of like distressing in reverse! Ultimately, you will use a relatively dry brush on bare or finished wood to achieve an antique, old-timey look.
Using flat latex paint, lightly dip your paintbrush into some paint that you've poured onto a disposable plate, or into the very top of a can of mixed paint.
Apply a single coat of paint, using light pressure and quick, short strokes. Multidirectional strokes will give you a more irregular finish, while brushing in the direction of the grain will result in more uniform streaks. Let dry.
Once your piece is dry, spray a clear, water-based polyurethane over the refinished furniture. Do two coats to protect the subtle color you've added to the piece.
---
No Limits
There are really no limits when it comes to ideas for refinishing your furniture. Adding a fresh coat of stain or paint–or something more interesting!–to your existing furniture is a great way to refresh your space while saving money and caring for the environment. So, go wild!
For more tips and tricks on refinishing furniture, including the nitty gritty about some techniques listed here, check out our Painting Furniture hub!