Repurposed furniture using an oversized roll top desk
Repurposed Furniture will always have a soft place in my heart. I love the idea of taking an old furniture pieces that are destined for the dump and reinventing them in a way that is useful. Whether its an old dresser that is missing drawers and is made into a media stand, or an old sewing table turned into a neat butcher block island or coffee table, you can find these nifty ideas all over Pinterest with sites linked all over!
When I spotted a collection of items at the curb of a neighbors house I recollected how she had an antique roll top desk she had taken apart, partially stripped, and hoped to refurbish. Apparently that furniture project never was completed and the ends of that antique roll top desk were sitting at the curb.
---
I quickly messaged her to see if there was anything "wrong" with them and she replied she simply needed them out. Storm clouds were rolling in FAST so I sheepishly asked the hubs if he minded helping and we zoomed over. We grabbed everything we saw and popped it in the Tahoe, took it home and were met with well,.. a conundrum. Ha!
Apparently I was a little too excited for my own good… Once we were home and unloaded I noticed the drawers didn't match up. I was missing a few drawers and the pull out writing desks were also missing. Obviously the entire top was missing as well… but thats just fine! The old desk ends make perfect end tables or night stands!
---
I had intended for these guys to sell… but I decided to measure instead for my own home and was amazed to see they should fit quite nice! With them being so deep they would actually be just about as deep as the couch! …now what about the rest though?
I had to consider the missing drawers and pull out too!! LUCKILY a reader on Facebook pointed out how I have 4 drawers and could make them visually match! (I actually have three, but one is made to look like two!). I was able to get the bottom two drawer spaces taken care of! Now that top drawer though.
---
I decided I would make that a shelf and even include a Power strip for charging devices. Then my hubby recommended the shelf pull out for easy access! I thought that was a genius idea!
---
Okay it's time to get to work!
What will we need for this repurposed furniture project?
Here are clickable links to everything you will find me using in this article! This shows you EXACTLY what it is even if you do not order online. If you do however choose to order online through these links know that some are "affiliate links".
---
This means I may earn a small commission which costs you nothing additional but helps me afford to run this website! (So I thank you!)
How I created tops for my repurposed furniture.
Ok time to get started!! The first thing I wanted to do was create the tops. I knew I would be using a gel stain which requires a 3 day minimum dry time since its oil based, before I can top coat with anything water based.
---
So, I began measuring for each space: the pull outs as well as the tops. (Measuring tape linked above in Supplies List)
Once I had my measurements in hand I was able to go to the home improvement store and find some material. They have these awesome prefabbed glued panel boards I have used in the past for signs and other tops. I love the variation in texture and grain!
---
These wood planks work perfectly for these projects and they don't break the bank! Each of these we $15-25 (One was 2″ thick) (Found linked above in the Supplies List)
Each board had to be cut to size for the given space. Remember to ALWAYS measure twice and cut,.. well,.. once. Usually you cant cut more than once.
---
I used this Kreg Device. (Found linked above in the Supplies List) Its actually made to help cut straight with a circular saw, but I often use it as a square edge too.
Once everything was measured I grabbed my Jig saw and began cutting! (Found linked above in the Supplies List) I did realize soon after beginning that I was using a "metal blade" which obviously isn't made for thick wood. The blade actually bent as I was cutting leaving the edge wonky! So, I switched it out for the "wood blade" and re-cut everything straight and proceeded! It's a more ridged blade and keeps straight while I cut.
After everything was cut to size, I used my orbital sander (Found linked above in the Supplies List) to smooth everything down and knock down any harsh edges. I wanted to give it a time worn look, so I first began with my 80 grit sanding disc, and I knocked down the corners and edges. Next I used the 320 grit to get everything ultra silky smooth.
After sanding I took a moment to vacuum all the dust! I made sure the wood tops were free of any dust as well as the work area. Then it was time to begin staining! I decided to go with Dixie Belles No Pain Gel Stain! (Found linked above in the Supplies List)
---
Id never used it before and this was the perfect opportunity. The No Pain Gel Stain is an Oil Based Product, which means we have to take some considerations when using it!
Applying a Gel Stain Finish to our Repurposed Furniture
It doesn't clean up with soap and water.
Be ready to give at least 3 days before top coating (especially with water based top coats
Its SUPER important that any product under it is COMPLETELY dry before applying it. Otherwise we can have trapped moisture after the oil based product dries. Thats no bueno.
I decided I wanted to mix a couple colors to get my favorite mix. So I took equal parts Walnut and Georgian Cherry and mixed with my spatula. They created a really deep warm stain!
---
Never be scared to. mix products to create a custom look you love on your Repurposed furniture!
Using just paper towels, I rubbed the gel stain into the wood surface. Like I said, its oil based so its not going to readily clean off your brush! If you're not prepared to clean oil based products, just use something disposable like a paper towel, chip brush, or lint free cloths.
---
By the time everything had one coat, I was ready to give it all a second coat! Three days later, Gator Hide would be applied in two coats for an indestructible finish! (Found linked above in the Supplies List)
Creating a chippy paint finish on my new/old furniture.
Next I wanted to create an old chippy look on my "new to me" end tables! I wanted just the most subtle peaks of color so I decided to use Dixie Belle Paint in Flea Markets Decors Market Green as well as Aged Ivory to create the base, then layer their Birchwood over them! (Paints are found linked above in the Supplies List)
---
Birchwood is this perfect off white that isn't yellow, or pink, or green,.. its just a lovely neutral linen style color! Once my paint colors and finishes were picked I prepped everything up as I typically do! You can read all about my prep process at Prep: Everything You Need to Know
To create a chippy look, one of the first things we will need is a resist. Dixie Belles Chalk Mineral paint is made to STICK!
---
This means we want to create areas the paint doesn't want to stick to. Wax will do just that. You can use a pure bees wax bar or like I have hear, a CHEAP OLD wax melt. (Found linked above in the Supplies List)
---
After I have used up a wax melt I will save them for this and other things (like sticking drawers). If using a higher grade or maybe a "soy" based wax, you may not get the best results. Fair warning!
Use the wax block and rub it against the surface where you want the paint to pull away from. I tend to aim for edges and maybe a few random spots. Make sure there is a good rubbing of wax left behind!
---
You'll notice possibly, that I didn't sand down that funky old finish. NO WAY! I love that stuff. I know later I will sand and that funkiness will help the over all look to come together.
After I added the wax, it was time to apply a coat of paint! For the most part I would use Market Green for this piece and just semi half hazardly paint away! Remember in the end we will only see peaks of this color.
I then took the Aged Ivory which is slightly more bright of a white than the Birchwood and I painted in random spots. This gives a little more variation, almost as if someone painted it in two different shades of white over the years,..
Once I painted my base coat on everything, I went on to add more wax rubbings. These are the areas we will see mostly the Market Green peaking through. (Or of course Aged Ivory where we rubbed the Aged Ivory with the Wax)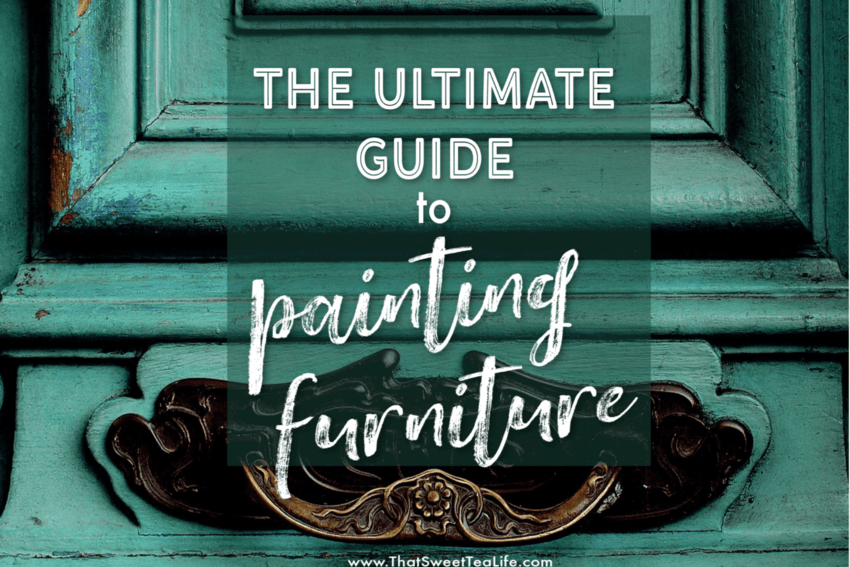 After I had finished all the wax rubbings, once again it was time to paint. I primed and painted all layers within the same day. Perhaps an hour and sometimes more between each layer.
---
The final layer here would be Dixie Belle Paint in Flea Market Decors signature color Birchwood. Just one coat would easily do it!
After letting it dry over night, I came back with some GOOD STICKY TAPE! (Found linked above in the Supplies List) I didn't use the stuff that is all gentle and won't pull up your precious paint. I used the serious stuff! You can find the one I used above in the list!
---
Lay it down firmly then rip it up! Or dont. Just watch the way yours reacts. Sometimes it will flake up, sometimes it won't especially depending on the wax that was used.
---
The tape should pull it up though, if not grab a heat gun or hair dryer to warm up the area. It will melt the wax under the surface and may help things along. Another thing is a scouring pad! You may be able to scour the surface to bring it up.
---
Test out some things carefully so you don't mar or burnish the paint. The wax WILL act as a resist, however sometimes the paint just wants to do its job so you may have to encourage it a little more!
I love how this method provides a broken chippy look rather than simply scratched and distressed! I can see the Dixie Belle Market Green just playfully peaking through!
After getting all the chippy goodness I could muster and distressing where needed, I used my "Best Dang Wax" (Found linked above in the Supplies List) to seal all the painted areas up. I love how easy that stuff is to use! AND NO STANK! (Makes my health happy)
---
My final step would be to cut a hole in the rear for power strip access, and add these tiny little pulls to the sliding shelves to make them pull-out-able. Plus they add just the tiniest little polished touch! (Found linked above in the Supplies List)
My finished new/old furniture!
I love that I made them more functional with the charging stations! Sometimes when things go wrong, like drawers going missing, you are presented with OPPORTUNITY! These are going to be SUPER convenient!
These little pull outs are going to be sooo sweet! If the top is all taken up by work or life or whatever, these spaces can hold our drinks! PLUS that means more wear and water on THOSE little spaces rather than the tops. Just in case,.. wear happens over time.
Isn't that SWEET!? My laptop, tablet, AND phone all fit with room to spare. With the power strip in the back of the pullout all the wire mess is completely hidden! …this makes me SO HAPPY!
HIPPY CHIPPY DOO DAH!!! I love the rustic awesomeness!! And notice how that old finish broke through once I sanded everything smooth!!
I just love the rich warm appearance of the tops! Never fear creating a top for yourself!! Its SUCH a great way to add character and the Dixie Belle No Pain Gel Stain makes it SUPER simple!! Ive never used a product (especially oil based) that was so easy to work with and provided such an awesome impact!
They are SO ready to take their place in my home to become a truly functional work of art!
Love.
Thank you so very much for stopping in! I hope you enjoyed this make over and take the time to peruse the site for other fun DIYs!!
About the Author
Latest Posts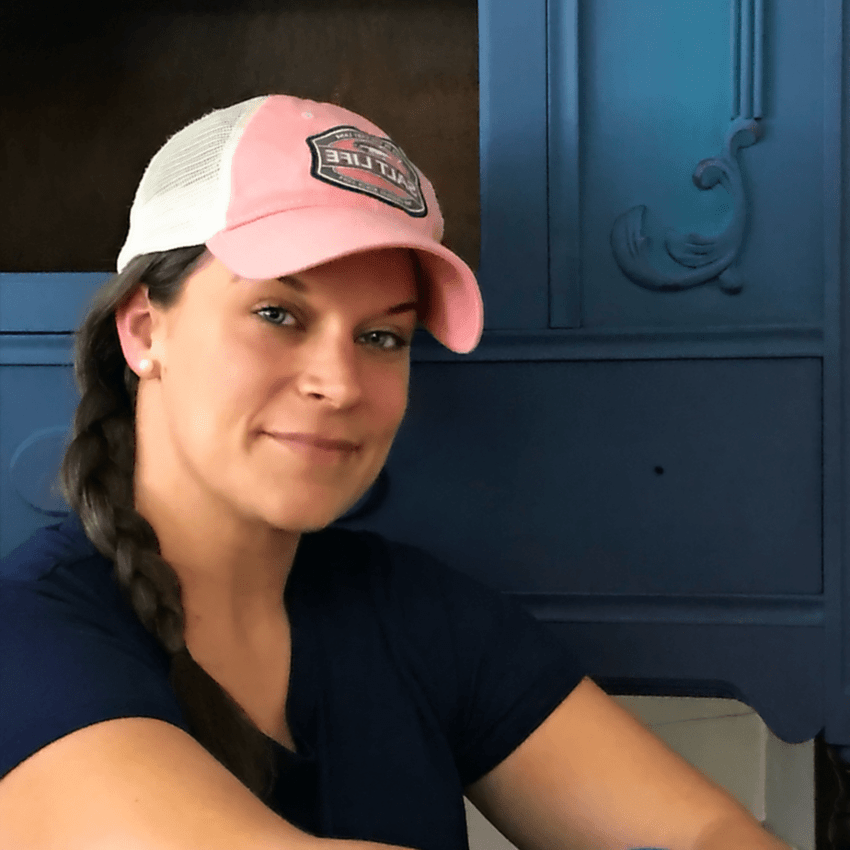 Thea Osborne is a celebrated blogger renowned for her expertise in DIY and paint techniques. With a keen understanding of Southern culture, Thea's commitment to producing engaging and informative content, coupled with her detailed tutorials, inspire her readers to embrace their own creative pursuits.
Thea's passion and creativity have left a lasting impact in the DIY community, transforming "That Sweet Tea Life" into a thriving and cherished resource.