How to Paint Furniture White is likely my most clicked article in my Ultimate Guide to Furniture Painting! We love to add lovely touches to our decor with white painted furniture that is shabby, glossy, distressed, clean, and more. Its likely the most popular color to paint furniture! As luck would have it, it's also the HARDEST color to paint furniture!
Why is painting furniture white so difficult? The paint base is white, so making white paint means very little pigment is even added to the product. This means the paint is far more susceptible to bleed through from contaminants as well as noticing imperfections like yellowing of topcoats. Additionally because the paint has so much less pigment than other colors, you will typically require more paint to get an even appearance.

Prepping for Painting Furniture White
When painting your furniture white, prep is likely more important than with any other color. If you sand too much you are more likely to cause bleed from the woods oils/tannin or stain. If you don't sand enough its possible your paint wont adhere to the surface. Sealing up the wood before painting can be key to coming out with a perfectly white painted piece of furniture. You will need a product created specifically for stopping bleed.
A couple of my absolute favorite stain blockers are Dixie Belles BOSS (click here) as well as Autentico Primer (click here) which are both water based products. If you aren't scared to use products that are not water based I encourage you to use White Pigmented Shellac. My favorite is the one from Sherwin Williams with purple labeling.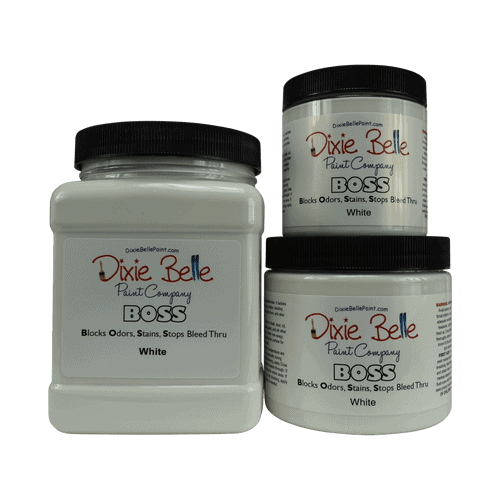 You can learn much more about prepping furniture for paint in my Guide to Prepping Furniture.
The Best White Paint for Furniture
When painting your furniture you will need to consider precautions when you choose your paint!
Often times I recommend a waterborne alkyd like Benjamin Moore Advance Paint which requires no sealing however its not a mineral paint and therefore serious prep is recommended with this paint.
Dixie Belle is a perfect paint for painting white since it is non porous. You can find Dixie Belle Paints Here (aflink)
Use thin coats when painting to avoid wicking up contaminants that can discolor the white paint.
Spraying is often a great option for painting white since you are laying and then not disturbing the pigments in the way you do when brushing on white paint. You can read more about that in Painting White Furniture
Protecting White Furniture Paint
This can be the ideal time to wax, even if you aren't keen to it. Clear wax (That is not waterbed) is less likely to wick up contaminants or yellow.
If you are going to use a clear coat like polycrylic, be sure to use very thin coats and brush away any drips or pooling since they can draw contaminants.
Polyurethane is likely NOT going to work well if you want to maintain a white appearance. It will yellow immediately or amber over time.
Some people add just a little of the white paint they used to the clear coat. My friend Kandice from Just the Woods does this and you can read about it in her article 5 Things You Need to do when Painting Furniture White
My favorite universal top coats are made by Polyive. You can often find them on Amazon Here (aflink) and they even have a Heavy Duty Varnish that is made for floors. It cures in 16 hours! Autentico Clear Wax can be found Here (aflink) and is a great option for waxing. They also have a lovely white wax! Jolie has a clear wax found Here (aflink) and again I think its great! While I dont recommend Dixie Belles Wax since it is water based, they do have great top coats like their Clear Coat and Gator Hide which can be found Here (aflink).