White paint is an interior decorator's best friend. It reflects light, expanding a space and making it seem larger; it intensifies and brings out the colors of your accent pieces; and it provides that classic, clean aesthetic that we all want.
So the question isn't why; it's how to paint furniture white.
We've broken down how to paint furniture white in four easy steps: prepping, priming, painting, and protecting.
We've also made a list of all the supplies you need, and we've answered a few commonly asked questions about white-painted furniture.
---
Supplies Needed for Painting Furniture White
There are a few ways to paint furniture white. All involve certain tools: a paintbrush, a sander, some primer, paint, and finish.
However, if you want to make it easier on yourself, and if you want to make sure your furniture lasts, doesn't stain, and avoids yellowing, there are a few extra supplies you could purchase: some paint stripper, a heat gun, a paint sprayer, wood wax, and resin.
Here is a list of all the products I recommend.
Paintbrush or Sprayer
When painting furniture white, you can use a paint sprayer or a traditional paintbrush. If you want the job done quickly and efficiently, or if you have a lot of furniture to paint, get yourself a paint sprayer. If you don't know which one to choose, our paint sprayer guide can help you decide. You won't regret it.
If you'd rather not invest in a paint sprayer, a paintbrush will do just fine. One of the best brushes available is the Purdy nylon paintbrush. You can get a variety of sizes, so it's easy to reach all those nooks and crannies.
Sander
Here you have some options as well. If you're painting a large piece of furniture or a whole furniture set, then I highly recommend getting a power sander. It will significantly reduce the time needed. But, if you'd rather go the more classic, more affordable route, then use the old sandpaper.
The Dewalt Cordless Random sander is a great option. Dewalt is a household name for a reason. Their power tools are powerful in look, function, and price. The Orbit Sander is ideal for these types of projects.
The Worx detail sander is great for its dexterity. This little guy can get right up into corners and sand away.
To get the old paint off, you'll need 80-grit coarse sandpaper.
To sand down in between coats, go with a smoother 320-grit sandpaper.
The Dura-Gold tack cloth is another essential tool for DIYers. It picks up dust and sanding particles better than anything else out there. Tack cloth will be super helpful through this process of painting furniture white.
Paint Stripper
You don't have to use a paint stripper or a heat gun. You should be able to get the job done with a good sanding. However, some extra help may be required or might make the job a whole lot easier.
If you do go this route, here are some products I recommend.
Citistrip stripping gel is a citrus-smelling paint remover that really gets in and lifts that old paint.
Wagner's heat gun kit is another tool that will help with a variety of DIY projects. When refurbishing furniture, you can use it to melt and remove old paint, and it can also get rid of polycrylic or resin bubbles after you're done.
After you apply your Citistrip or heat up the paint with your heat gun, you'll want to have a solid painter's knife to scrape off the bubbling layers. Bates' paint scraper is one of the best on the market.
Primer
Before you paint furniture white, a coat of primer is absolutely necessary. Without it, you risk all those old colors bleeding through.
ECOS Paints has a wood primer that you can feel safe using. Their mission is to create eco-friendly, non-toxic products for all your painting needs.
White Furniture Paint
I know what you're thinking; this one's a bit obvious. How to paint furniture white? You use white paint.
Fortunately, we've done an article on The Best Furniture Paint, so I won't go into much detail here. However, I will talk about one brand that's not on that list.
ECOS paints semi-gloss paint, again, is eco-friendly and non-toxic. Imagine you're refurbishing furniture for your nursery. It's comforting to know that the paint you use has no harmful toxins or irritants that will affect your kids.
Finish
Putting a finish on your furniture, especially the surfaces, is just as important as painting the piece in the first place. Without a finish, you risk staining, scraping, or peeling off your hard work.
The easiest and most effective way to finish your wood furniture is to use Polycrylic Protective Wood Finish from Minwax. It's water-resistant, stain-resistant, and scratch resistant.
Be warned that polycrylic does have a bad reputation for yellowing white paint. This isn't always the case, but it might be better to go with a good furniture wax instead.
To apply polycrylic, I recommend using a foam brush. This pack of 16 foam brushes is a good-quality, affordable pack.
For decorative furniture or less trafficked surfaces, you can use Jolie Clear Finishing Wax. It will protect your furniture's wood and paint, but only to a certain extent. You will have to reapply furniture wax once every year.
It's helpful to have the right wax brushes for the job. Fortunately, Jolie sells a nice set of wax brushes.
For ultimate protection, consider using clear tabletop epoxy resin. Epoxy resin will keep a surface sealed for generations. It's water-proof and heat-proof, so it's the finish you want to use on high-traffic surfaces like kitchen countertops.
Some Cool Kits for Painting Furniture White
Jolie is a premiere furniture paint company with a customer-focused business. They've come out with an essentials kit for repainting furniture that includes sanding pads, a paintbrush, paint, finishing wax, and a wax brush. While that's not everything you need, it's most of it, and they're very high-quality products.
Vintage Tonality has a set of beautifully handcrafted vintage paint and wax brushes. It includes three perfect furniture brushes, a bar of bristle soap, a stir stick, a lid opener, a cotton muslin bag, a #4 palette knife, a guide for how to clean your brushes, and more. It's a neat little set for all your DIY Furniture needs.
---
Step 1: Prepping
While prepping the furniture may seem like the least important step in the painting furniture white process, it's definitely not. If you prepare your furniture right, you will save yourself a lot of time and possibly a few headaches later.
Sand or Strip off the Old Paint, then Sand
Getting rid of that old paint first will prevent you from having to do more and more coats later on.
To remove paint, you can use your power sander, a heat gun, or some chemical paint remover. Just a note; even if you use the heat gun or the chemical paint remover, you'll still have to sand your furniture.
To remove paint with a heat gun, just point the heat at the paint and let it bubble up. Then use a painter's knife to scrape up the bubbled sections. The heat gun might not work on all paints, but when it does, it's certainly fun to use.
To remove paint with a chemical paint remover, wear gloves and a mask, pour the paint remover on the surface, then wait. To get better results, you can place saran wrap over the paint remover. This will keep the liquid from evaporating.
It can take anywhere from 30 minutes to 24 hours for the paint remover to work. You can do a test patch to see what works best for your piece of furniture.
After the paint remover has done its job, remove the plastic wrap, then gently scrape up the paint with your painter's knife. Be careful not to scratch the surface of the furniture.
Once the paint is peeled up, clean and sand it with coarse sandpaper.
If you don't want to use chemical paint remover or a heat gun, or if you're painting over stained wood, then sand with your 80-grit sandpaper to get a nice smooth surface.
Clean
After you sand, give your piece a wipe-down. You can use an all-purpose cleaner, but it's easiest just to use soapy water.
It's important to clean your piece thoroughly. You want to ensure you're not getting dust or sand particles into your paint.
---
Step 2: Priming
Use a paintbrush to prime your piece. Cover the piece completely. Because you are using white paint, any visible color will be hard to cover later. I recommend doing two coats, just to be sure.
When your primer is fully dry, give your piece of furniture a gentle sanding with the 320-grit sandpaper. This will ensure you're not leaving any textured brushstrokes.
After sanding, use your tack cloth or a moist towel to clean up all the particles and dust.
---
Step 3: Painting
Now that your furniture is sanded, cleaned, primed, sanded, and cleaned again, it's time for you to paint. Painting furniture white can be tedious, but it's a fairly simple process.
Allow each coat to dry for at least a couple of hours. Once dry, sand to smooth out any brushstrokes, clean any particles kicked up in the sanding, then start painting again.
With white paint, there's a chance you might have to do three or four coats. Though, if you're properly primed, it may only be one or two.
Paint until you don't see any bleed-through and you're happy with the way it looks.
---
Step 4: Protecting
As mentioned, protecting your furniture is one of the most important steps in the process. You don't want to see your beautiful paint job and hard work disappear because you spilled a glass of water.
There are several ways you can finish your furniture. I've gone ahead and broken down how to do each one.
Before you do any of these, clean! How to paint furniture white? You clean… a lot.
Polycrylic
Polycrilic is probably the easiest and best solution. Using a sponge brush, paint the polycrylic on the dried furniture. After the polycrylic has dried, you may feel textures coming up. If so, sand it down to create a smooth surface.
Polycrilic comes in a variety of gloss options. The higher the gloss, the more protected your furniture is.
Wax
Furniture wax is wonderful for decorative furniture. To apply, use a wax brush and do your best to distribute it evenly throughout the piece. For detailed areas, dab into the crevices instead of brushing over.
Once done, use a dry rag to smooth any clumps.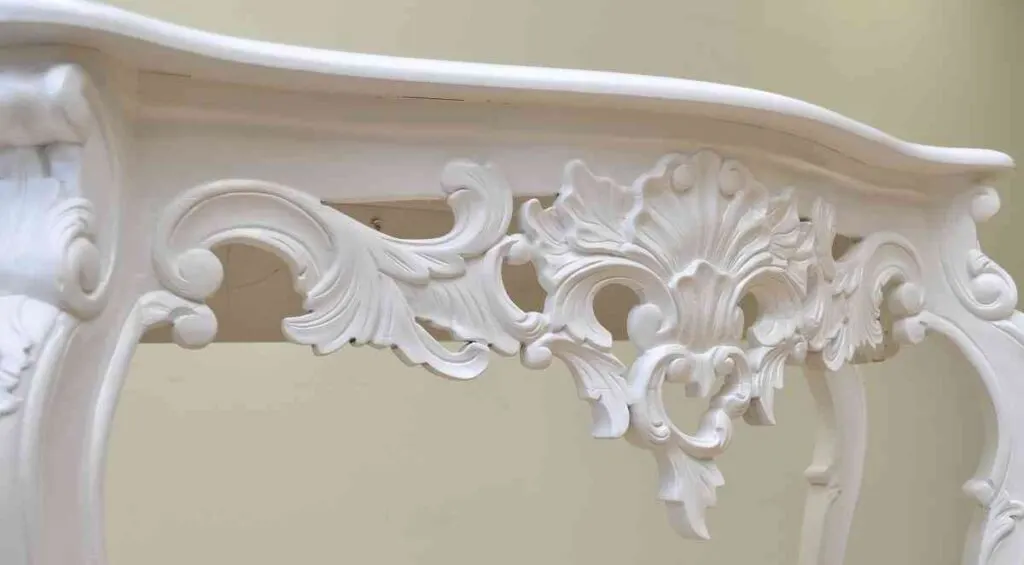 Furniture wax will protect, but not very well. Also, you will need to reapply the furniture wax every year or so.
Resin
Epoxy resin is only for those super high-trafficked surfaces. It's essentially placing a plastic forcefield on top of your countertops. If you're using epoxy resin, carefully read the manufacturer's instructions. It's all about getting the right mix.
Place a plastic sheet down below your piece to protect against spills, then pour the mixed resin onto the surface. Gently spread it out with a brush. Most epoxy resin is self-leveling, so make sure your furniture is on a level surface when you're applying.
Also, make sure to read the manufacturer's notes about how long it takes to dry. Spoiler alert: it takes a while.
---
How to Paint Furniture White FAQs
Why Is My Paint Peeling off My White Furniture?
If your paint is peeling or scratching off, it might be because you skipped your prepping. You need to sand and prime, especially if you're using latex paint.
If your surfaces are properly treated before the paint goes on, the paint should stick and stay.
How Do You Keep White Furniture from Turning Yellow?
If you're painting furniture white over a dark color, you must prime several times so that color doesn't affect your end result.
Also, some finishes might turn your white paint yellow when they dry. Read the reviews of each product to make sure you're buying something that will work with your white paint.
Another reason is it could be that your furniture is in a sunny spot. If so, the UV rays might cause some problems.
What if My White Furniture Is Laminated?
There are several different steps you will need to take if you're trying to paint furniture white over a laminated surface. We have a full post about How to Paint Laminate Furniture that will help you do it right.
---
How to Paint Furniture White Wrap Up
White furniture goes with any style. It can compliment your antique chic dining room, your comfortable farmhouse kitchen, your boho meditation studio, or your modern minimalist living room.
So, how to paint furniture white? Prep, prime, paint, and protect. With these four easy steps, I hope you now feel empowered to turn any furniture you find into the perfect addition to your home.
Or, if you don't plan on using the piece yourself and want to make a few bucks instead, read this helpful Guide to Flipping Furniture.