I don't know what it is about making holiday crafts that is so fun, but I can't get enough of them. Maybe its because, for this homeschooling mom, the rest of the year is full of various activities that keep us out of the house a lot, from sports, to plays, to co-op activities, to camping trips, we're always on the go.
But things seem to slow down a bit for us in the winter. Yes, the holidays are a bit crazy too, but there is something that is a little more peaceful about this time of year than other times.
And it makes me want to get a little more crafty since we are spending more time indoors at home. So, I find myself creating so many holiday crafts to decorate my house, or give as gifts to friends and family. And this adorable mini 3D holiday sign is no exception.
I also prefer my crafting to be as thrifty as possible, I am happy to report this entire craft can be made for under $5! How fantastic is that?!?!
I'll walk you through, step by step, how to make this amazingly easy mini 3D holiday sign.
Supplies
You will only need a few supplies to complete this craft. Most of which can be found at Dollar Tree. The rest I picked up on sale at Hobby Lobby. Here is what you will need.
Small frame
Holiday scrapbook paper
Wooden craft beads
Wood ornament
Mod Podge
Foam brush
Hot glue gun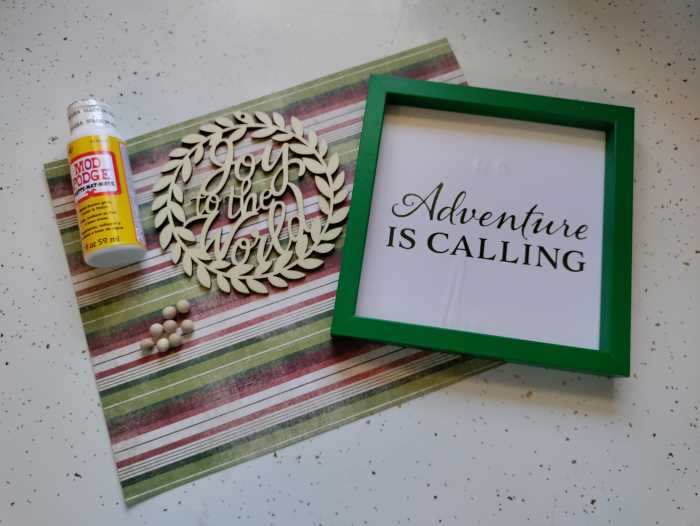 Frame
For the base of my 3D holiday sign, I chose to go with this 6×6 frame from Dollar Tree because it was green and would match the scrapbook paper I had picked out for my background.
You can find this Sentimental plaque at most Dollar Trees in the picture frame aisle.
I have done other versions in the past with glittery frames, or have opted to spray paint the frame when I couldn't find the color I was looking for. But for this particular one, the green color matched perfectly, so I decided to leave it as is.
I always try to find one that is slightly messed up in some way, since my ultimate goal is to transform the piece. I try to leave the nicer ones for people who may want to buy this plaque and leave it as is.
Scrapbook Paper
You can pick up scrapbook paper just about anywhere nowadays, from Walmart to Hobby Lobby to even Dollar Tree on occassions. This particular piece came from Hobby Lobby and I got it on sale for around $0.29.
I wanted something that had a cozy Christmas feel for my 3D holiday sign, and this holiday stripe gave me just the aesthetic I was looking for.
Wooden Craft Beads
I know what you might be thingking. What on earth am I going to need these beads for? Trust me, you'll need them. They're the most important part. Well, maybe I'm overselling it, but you definitely need them.
They don't have to be big at all. In fact, I grabbed the smallest pack I could find at the craft store. This particular pack of 27 came from Hobby Lobby and cost $2.49, but you can find these just about anywhere that sells craft supplies.
I opt for the beads without holes because I like to use these for a variety of different crafts and I don't always want beads with holes. You'll only need 4 for this 3D holiday sign.
Wooden Ornament
Confession: I am obsessed with laser cut wood. OBSESSED. I always feel this compulsion to buy it whenever I see it. It really doesn't matter what it is.
I have been fortuante to stumble across some at Dollar Tree from time to time, but most of the ones I find are usually at the big box craft stores like Michael's, Hobby Lobby, or JoAnn's.
This "Joy to the World" ornament 3-pack came from Hobby Lobby, and was on sale for $1.99. The best part is, I have two left over for another craft.
The remainder of your supplies are most likely already lying around your house – Mod Podge, glue gun, and foam brush. If you don't have them, they all can be picked up at Dollar Tree . . . except maybe the glue gun. I always recommend a low heat glue gun for these kinds of crafts because they are very kid friendly.
How to Make Your Mini 3D Holiday Sign
This mini 3D holiday sign is one of the easiest crafts I have made. It's the perfect project to knock out in an afternoon when you're bored and looking to kill a little time, or you want to do something with your kiddos for a quick Christmas gift to give.
1. Cut the Scrapbook Paper to Fit
See, I'm telling you, its super easy. There's really no need to explain it further.
You just take the back of the frame off, and use it to mark your scrapbook paper for cutting. Then you cut out your paper so that it fits inside the frame. And step one is complete. Easy Peasy.
2. Mod Podge
Next, apply a few drops of Mod Podge to the frame back and spread it evenly with your foam brush. Be sure to cover every inch of the surface so you get the best adhesion when you apply the paper.
Once you have applied a good layer of Mod Podge to the backing, lay your paper across it and smooth it out so there are no wrinkles
I like to give the Mod Podge a few minutes to dry before applying my top layer so as not to oversaturate the paper. You can use a hair dryer to expedite the drying process.
Once it has had time to dry, replace the frame backing and then apply a layer of Mod Podge to the top of my scrapbook paper.
I like to do this while in the frame to help hold the paper securely in place, just in case the bottom layer isn't as dry as I think it is.
At this point, set your frame aside to allow it time to dry while moving on to the next step.
3. Create Depth
This is where the wooden beads come into play when creating your 3D holiday sign.
With your glue gun you will want to glue the wooden beads to the backside of your ornament.
Make sure you have your ornament turned upside down to do this. The first time I tried this craft, I was distracted by one of my many . . . blessings . . . and forgot to flip the ornament over.
Yep, I hot glued the beads to the front side of my ornament like a total goofball. So, I speak from experience when I make the suggestion to check and double check the direction your ornmament is lying when you start gluing your beads.
Part of the reason I like this particular ornament for this craft is because the holly leaves completely hide the beads from view when you flip it over. Since you can't see the beads, it looks like the words are floating in place when the craft is finished.
Another thing to make sure of is the spacing of the beads around the ornament. You want to be sure to provide the most support as possible to protect your ornament from breaking.
I ended up taking one of these beads off and repositioning it to add a 4th one to the backside. You can add more than that if you want to provide more support.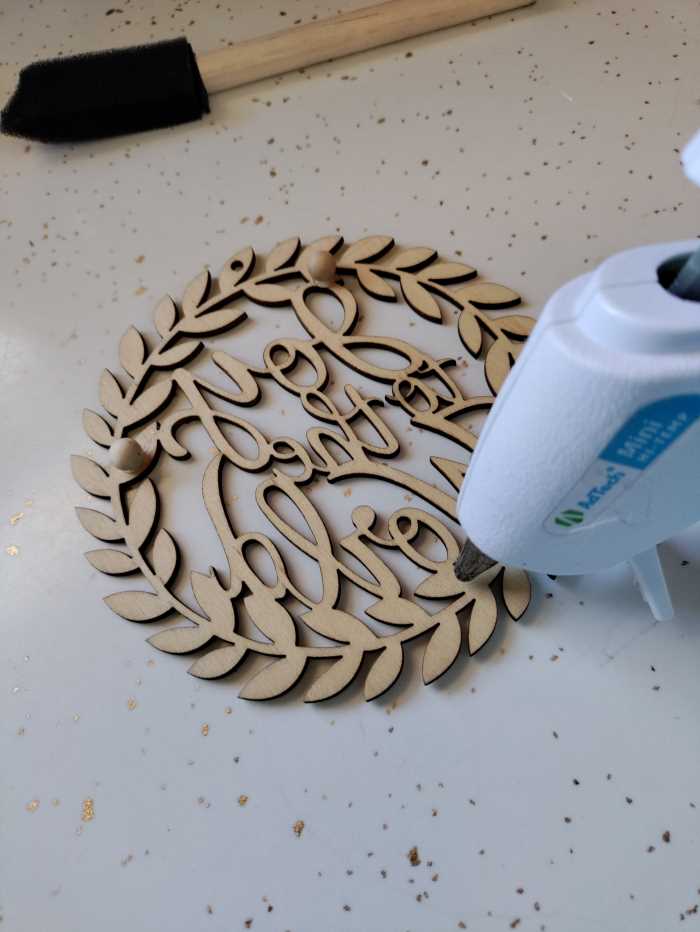 Another thing I tried but wasn't thrilled with was gluing two beads together to create more height. The look wasn't quite right when I did a test to see how high it would sit off the frame.
If this was a larger sign, the affect would have been perfect. But since this is a smaller craft, it looked disproportioned and awkward. So, I ultimately decided to only use one layer of beads to create the 3D affect.
4. Optional Step: Stain or Paint
Here is where you can choose to add another step in your 3D holiday sign project. I chose to omit it from this one because I like the way the natural wood looks against this particular paper.
You can choose to stain, paint, or even glitter your wood ornament to create greater contrast, or add a pop of color.
If you choose to add in this step, be sure to give it plently of time to dry before moving on. My hair dryer has become my best friend to help reduce dry times and make crafting quicker.
5. Some Assembly Required
Double check to make sure your Mod Podge has dried thoroughly. If it hasn't, you'll need to give it a little more time before this step.
If your frame is dry and ready to go, apply some hot glue to the exposed side of your wooden beads and then carefully place your ornament onto the scrapbook paper of your 3D holiday sign.
In the words of the great philosopher, Eminem, you only get one shot, so be sure you have it lined up just right before you place it on the frame.
Be careful not to add too much pressure when adhering the ornament to the paper. Laser cut wood is delicate and if you press too firmly, you risk breaking it.
Apply slight pressure where the beads are. This will ensure you don't snap the wood accidentally.
6. Add a Little Accent
If you are like me and want to cover up the string hole in the ornament, you can add a little holiday flare to cover it up.
Since my kids were helping me with this one, I let them choose what we used. They opted for a glittery red bow to hide the hole and top off this little 3D holiday sign.
But you can use anything that sparks your fancy, from faux mistletoe to a fabric bow, to a ribbon.
7. Another Optional Step
At this point, if you are satisfied with how your 3D holiday sign looks, then you are done! Yay!
However, I have one more optional step for those who want to add a little more.
If you really want to set your sign off, you can add something to the back to hang it. My personal favorite is unfinished wood beads. But you could opt for something more simple, like jute, or something more colorful, like ribbon.
To do this, just cut your piece the length you want, then staple or hot glue (or both) it to the backside of the frame of your 3D holiday sign.
Conclusion
This craft is not only easy, but also a lot of fun. And the best part is it isn't a budget buster.
These mini 3D holiday signs are one of the main reasons I champion the low heat hot glue guns. My kiddos love to help make these every holiday season. We have made them as gifts for friends and family members the last couple years and they always look forward to making new ones. Just think of who you could suprise with one of these adorable little signs.