The space above your kitchen cabinets can be a tricky area to dress up, especially if you have a modern style. For that, you need modern ideas for how to decorate above kitchen cabinets.
While the blank space above your cabinets calls for something, it's hard to decide what would look best at that height. So, how can you decorate above kitchen cabinets while staying true to your home's aesthetic? Keep reading for 10 ideas to get you started.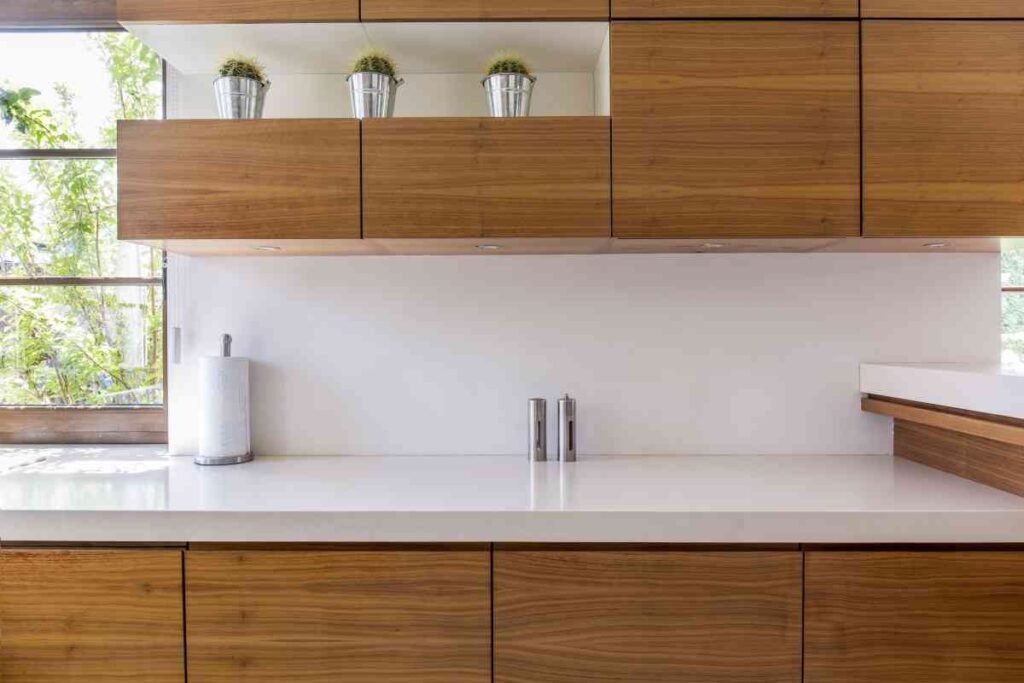 ---
An Artsy Collection of Vases
When decorating above modern kitchen cabinets, re-use the same principles you would for styling a shelf. All things considered, it practically is a shelf!
A collection of modern abstract vases always looks chic. Try using vases of different heights and shapes.
You can do several groups of these vases to space out over your cabinets. Or, you can do just one group of vases in the center of the cabinets.
If you have tall ceilings, try adding some dried flowers to your vases. If you have shorter ceilings, the vases will have no trouble speaking for themselves.
---
Gallery of Modern Art
Creating a gallery of modern art is the perfect way to decorate above kitchen cabinets. Especially if you have tall ceilings, layering different art pieces will add pizzazz to your once-normal kitchen.
So, how does this work without creating too much busyness in the room? Modern kitchen cabinets are often simple in shape and lack the ornate details of traditional and French country kitchens. That means that you won't be mentally overwhelmed by detailed art.
To pick out the pieces that will work best for your kitchen, think about the color palette already established. Coordinate with those tones, or you could contrast your palette for a big statement.
Choose art pieces that are of different heights and widths, so when layered with each other, they create dimension above your cabinets.
---
Houseplant Hangout
If you consider yourself a little too obsessed with plants, don't worry. There's a whole group of us!
The more plants you buy, the more you find yourself scrounging for a place to put them. Why not utilize the space above your cabinets for your plants' new home?
Kitchens are often well-lit rooms that provide lots of natural light for plants. Make it minimal, and place two to three plants per section of your cabinets. Of course, you may need to invest in a good step ladder to keep your plant family watered.
It's a versatile way to decorate above kitchen cabinets, and it really adds a natural feel to your kitchen. Some great kitchen houseplants include English ivy, aloe vera, and spider plant.
---
Creative Accent Lighting
Who says decorating above kitchen cabinets can't be functional too? If your kitchen needs some extra lighting, try adding some creative accent sconces above your kitchen cabinets.
Sconces fasten to the wall, but they will still fill the space above your cabinets to perfection. Space the sconces out to create balance in the room.
You may already be casting this idea aside because it sounds too technical. But it may be easier than you think.
Many sconces come with a plug-in, so there's no need to re-wire your whole kitchen. I agree; that would be a lot of work!
If possible, drill a small hole into the top of your cabinets and run the power cord to the nearest outlet. You can often hide the cord with paintable cord concealers.
---
Display Your Favorite Books
Here's an easy idea for decorating above kitchen cabinets: display a stack of your favorite books. Not only does it add some personality to your kitchen, but you'll also be able to easily spot your go-to reads!
Stack some books horizontally while leaning other books vertically onto that stack. This will create a casual feel that doesn't look like it's trying too hard.
Larger cookbooks and coffee table books look amazing but don't be shy about throwing in some standard-sized books as well. The more variety, the better!
---
A Trio of Knick Knacks
Many people love to display neat objects they've collected at craft fairs and antique stores. Items with history are often fun icebreakers for house guests.
If you find yourself with more knick-knacks than you know what to do with, consider moving some to the kitchen. This doesn't have to make your kitchen look cluttered. Try decorating in groups of three.
For example, you've got a large old book, a wooden sculpture, and a brass candlestick. Place the book down horizontally first. If you can't see the book from down below, place it on a riser.
Arrange the wooden sculpture and the brass candlestick on the book. You'll have an adorable trio of knick-knacks that won't overwhelm your kitchen!
---
Earthy Wooden Bowls
Adding natural materials is a wonderful way to decorate above kitchen cabinets. Combined with a neutral color palette, wood makes a room appear calming and cozy.
That's why stacking wooden bowls above your cabinets can really elevate your space. Not to mention, bowls are as functional as they are decorative in the kitchen.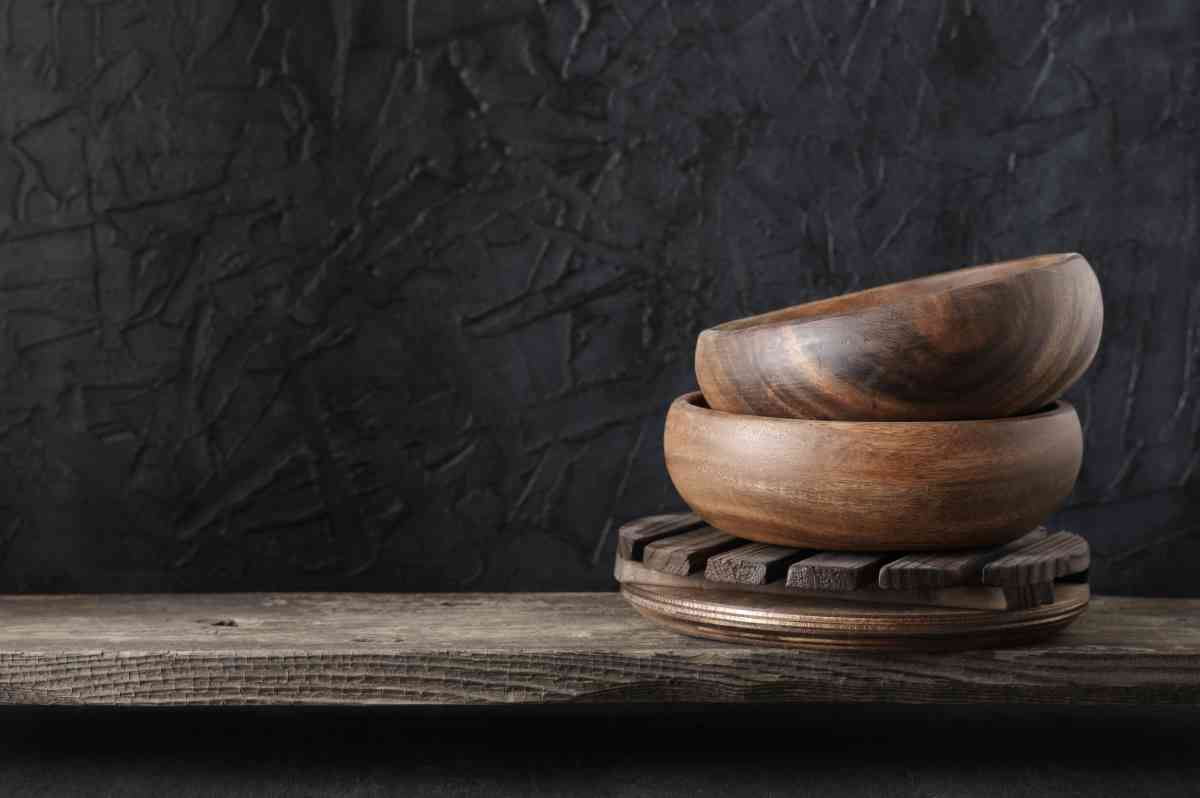 Use them to toss a salad in or display fruit for a party. You're practically just using the tops of your cabinets for storage. But no one will ever know because it looks so good!
---
Ceramic Art and Sculptures
This idea for decorating above kitchen cabinets will turn your cabinets into an art display.
Ceramic sculptures and art will add flair to a once-empty space. Choose a sculpture with a modern, abstract vibe, such as a bust or a hand created from resin.
Space your sculptures tastefully, as if you were styling a shelf. Remember to leave lots of negative (empty) space around them.
You can often find ceramic art that doubles as a vase, so you can add flowers or a houseplant.
---
Functional and Stylish Wicker Baskets
Wicker is another good natural material to add to your kitchen. Using wicker baskets as a way to decorate above kitchen cabinets is functional and smart.
You can secretly use the baskets as extra storage for unused holiday décor or dishes.
If you don't want to worry about dust accumulating on your things, look for wicker baskets with lids. They will keep your storage items clean, and you can even stack them.
---
Simple Dish Display
Several of these ideas for decorating above kitchen cabinets require some space. Standard ceilings often only leave one to two feet of space above cabinets.
If you don't have a lot of space to work with, consider displaying some dishes over your cabinets. Use plain, unadorned dishes that are solid white or black. Line them against the wall as you would in a China cabinet.
If you worry about the plates slipping, place something in front of the plate, use display stands, or create a barrier with a light strip.
---
Wrapping Up Modern Ideas for How to Decorate Above Kitchen Cabinets
By using these modern ideas for how to decorate above kitchen cabinets, you can add character and style to your kitchen. Be careful as you climb your ladder, and have fun decorating!
Do you need inspiration for decorating the rest of your home? Visit our posts on décor for tips, tricks, and tons of creative ideas!