When planning how to decorate a bedroom, the possibilities are endless. Each piece of furniture adds something new to your room, and different color schemes give off different vibes – making it easy to show off your personal style.
Whether you're moving into a new place or just need some fresh inspiration for your current abode, stay tuned for plenty of bedroom decor ideas!
---
Figuring out Your Style
When figuring out how to decorate a bedroom, it's important to consider how you want your space to feel. Do you think less is more? Or do you prefer a more maximalist style? Are you into modern decor, or do you prefer a more antique feel? Do brighter, more earthy colors draw you in? Or do you find comfort in more moody tones?
Regardless of what you prefer, knowing how to decorate a bedroom to fit your tastes means knowing what's right for you. There is no "wrong way" to decorate a bedroom – only you can decide what's best for you!
---
Decorating Your Walls
An easy way to make a space feel more like your own is by putting things on your walls. There are many different routes to take, and exploring bedroom decor ideas is a huge part of the fun!
Wall Art
If you like a more artsy feel, hanging artwork on your wall is a great way to turn your bedroom into your own personal gallery. These minimalistic wall posters can be a nice way to add pops of color into a more neutral-toned space. For a slightly bolder option, this three-piece landscape wall panel set can make a great focal point above your bed.
Even taking some of your favorite photos of friends and family can be a great way to personalize your bedroom. Having a photo wall can be an easy way to decorate your space with cherished memories you want to keep around. Depending on your preferences, try intermixing your own photographs with artwork that speaks to you!
Mirrors
When adding a mirror to your bedroom, consider what you want its purpose to be. Do you want it to be an easy way to check yourself before leaving the house, or do you want it to do more for your space?
Adding mirrors to a room is an easy way to make it appear more open. Mirrors placed next to or opposite a window will reflect the natural light from outside, making your room appear much brighter. Large free-standing mirrors are best for this effect.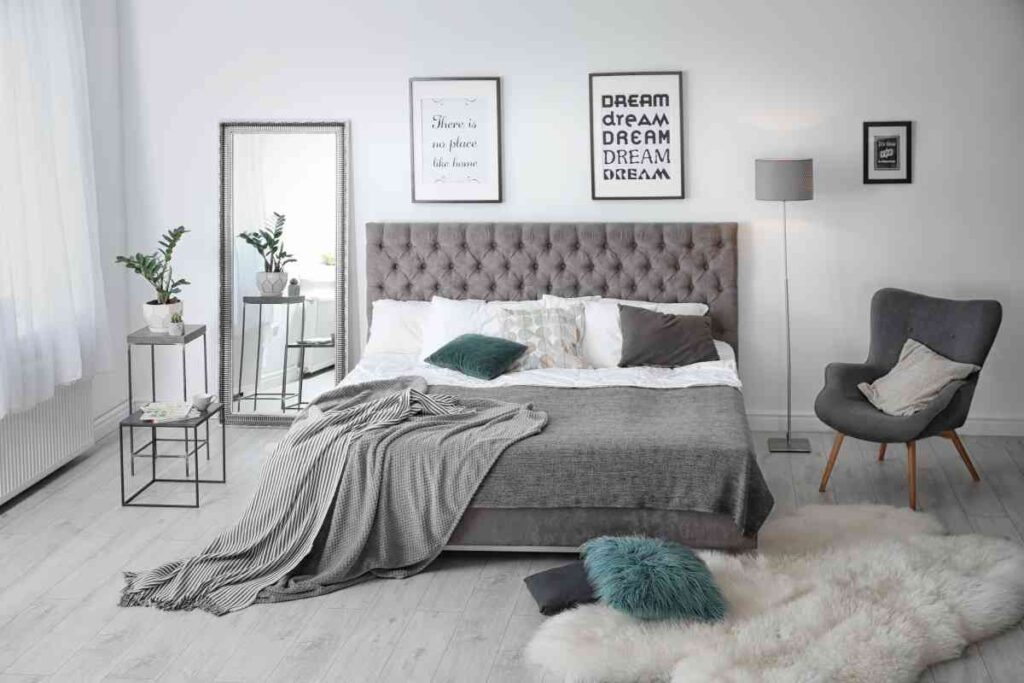 If you'd like to use a mirror as casual wall decor, a small circular hanging mirror can make a great option!
Adding Color
When learning how to decorate a bedroom, you'll quickly discover that adding color to your walls can make a whole world of difference. Even just having an accent wall can be a great way to accentuate your space with the use of color!
Using paint to spruce up your walls is a classic way to make your bedroom feel like your own. Neutral tones such as beige, light grey, or cream colors can make your space feel a bit more relaxed. Neutral walls can also be a great complement to earth-toned bedding and furniture.
If you'd prefer your space to feel a bit moodier, try darker shades of blue, green, and brown. Using these bold colors can effortlessly add comfort and elegance to a room.
For a decorative option that doesn't require as much commitment as paint, try peel-and-stick wallpaper! This alternative is faster than traditional wallpapering, and the easy removal gives you the opportunity to change your wallpaper as often as you'd like. This floral wallpaper or dark green wallpaper makes great choices for an accent wall!
---
Considering the Floors
Floors are often overlooked when thinking about how to decorate a bedroom. If your room has hardwood floors, adding a rug is a fantastic way to spruce up your space.
A large rug adds comfort and texture and is a simple but effective way to add more personality to your room. Placing the rug under your bed or other furnishings is a neat trick to help your room come together.
Even a small abstract rug can help connect a room and act as a fun statement piece!
---
Choosing Your Bedding
When choosing your bedding, it's very important to remember that comfort is key. Plus, don't worry – you don't have to sacrifice your style for comfort! Deciding the vibe you want to go for when picking out your bedding is just as important as choosing the material you find most comfortable.
Soft cotton, breathable linen, and sleek satin or silk sheets will all give you a different experience while sleeping. Higher quality materials mean a higher price, but the amount of time spent in your bed makes it well worth the investment! When browsing bedding, make sure to explore your options and go for the material that's best for you.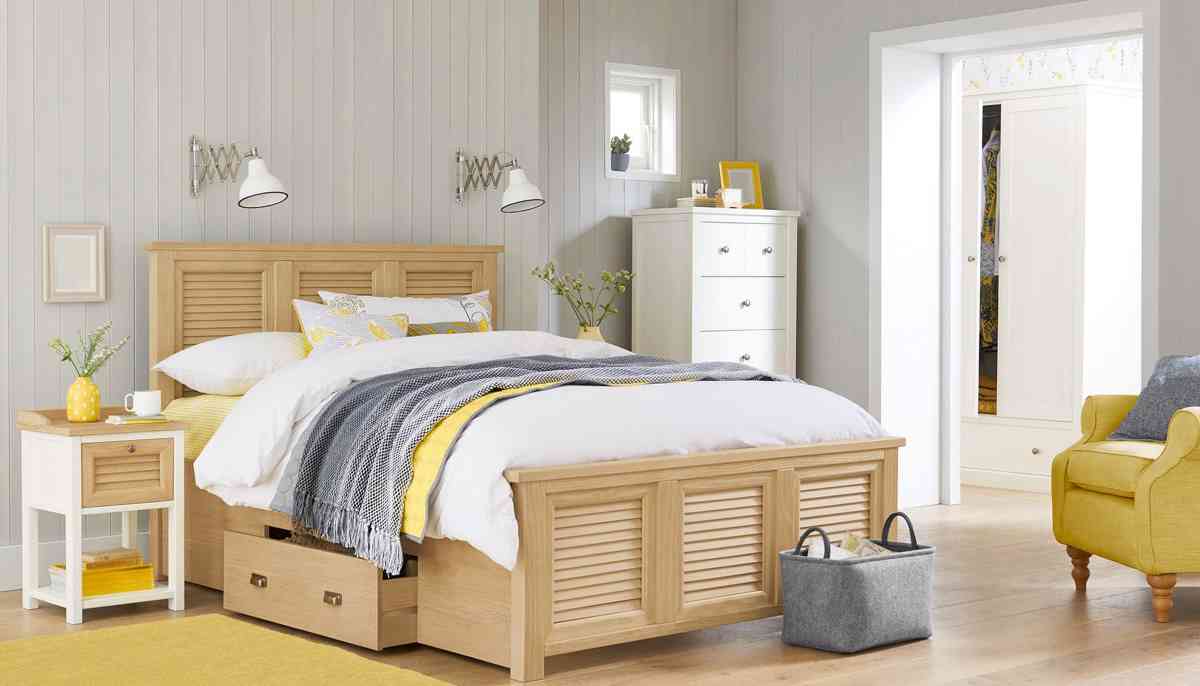 Because the bed tends to be the natural focal point of the room, picking out your bedspread is a key part of piecing a bedroom together. A light tan duvet cover or other calming tones can act as a neutral option that lets other points of the room stand out.
To bring balance into your space, try neutral bedding surrounded by pops of color. On the flip side, colorful bedding surrounded by more neutral walls will have the same effect. A large assortment of bold decor and colors can become overwhelming; therefore, ensuring balance is a good thing to consider when decorating a bedroom.
---
Adding Furniture
Knowing how to decorate a bedroom efficiently involves thinking ahead. What do you want your space to be used for? Would you prefer that your bedroom just be used for sleeping and relaxation, or do you want it to be multipurpose?
With the recent increase in the digital workplace, adding a desk to your bedroom can be an efficient way to ensure privacy while working from home. Being able to retreat to your own room for productivity can be very beneficial, especially if you're living with roommates! A comfortable desk chair will be well worth the investment, especially if you'll be spending long periods of time at your desk.
If you're a bookworm, adding a bookshelf to your bedroom can be a fun way to store your readings, as well as give your space a more studious feel. Sprucing up the shelves with plants, candles, and other decor items you enjoy is stellar for personalizing your bookshelf! Consider adding a cozy chair in the corner to create a quaint reading nook.
If you like to watch movies from the comfort of your own bed, adding a TV to your space can be perfect for those lazy days. Mounting the TV on your wall can help save space, but if you prefer a more traditional look, don't forget a TV stand!
For your convenience, having a nightstand right next to your bed is perfect for storing anything you may need to reach while sitting in bed. For more storage space, a nightstand with drawers can be a great multipurpose option when decorating a bedroom.
---
All About the Lighting
Lighting sets the tone of a room. When decorating a bedroom with lighting, it's important to consider the mood you want to go for. Straying away from overhead lighting, adding a table lamp next to your bed, desk, or reading chair can be an easy way to bring additional light to places where you may need it.
Experimenting with different lamp shades can be a quick and fun way to add personality to your space. Floor lamps can add to the atmosphere and even be used as an eccentric statement piece! Adding different colored light bulbs can make a room feel brighter, warmer, or moodier.
If your bedroom has a lot of windows, consider the natural light in the room. To embrace the sunlight, a sheer curtain will allow lots of light to pass through. If your room is affected by street lamps or you prefer to sleep in total darkness, consider blackout curtains to minimize unwanted light.
---
Maximizing Your Space
Storage
Who says storage can't be part of the fun? Decorating a bedroom using storage is an efficient way to maximize space while minimizing clutter. Utilizing your walls is a great way to eliminate an overcrowded floor space. A floating shelf can add a unique look to your room while creating extra storage space.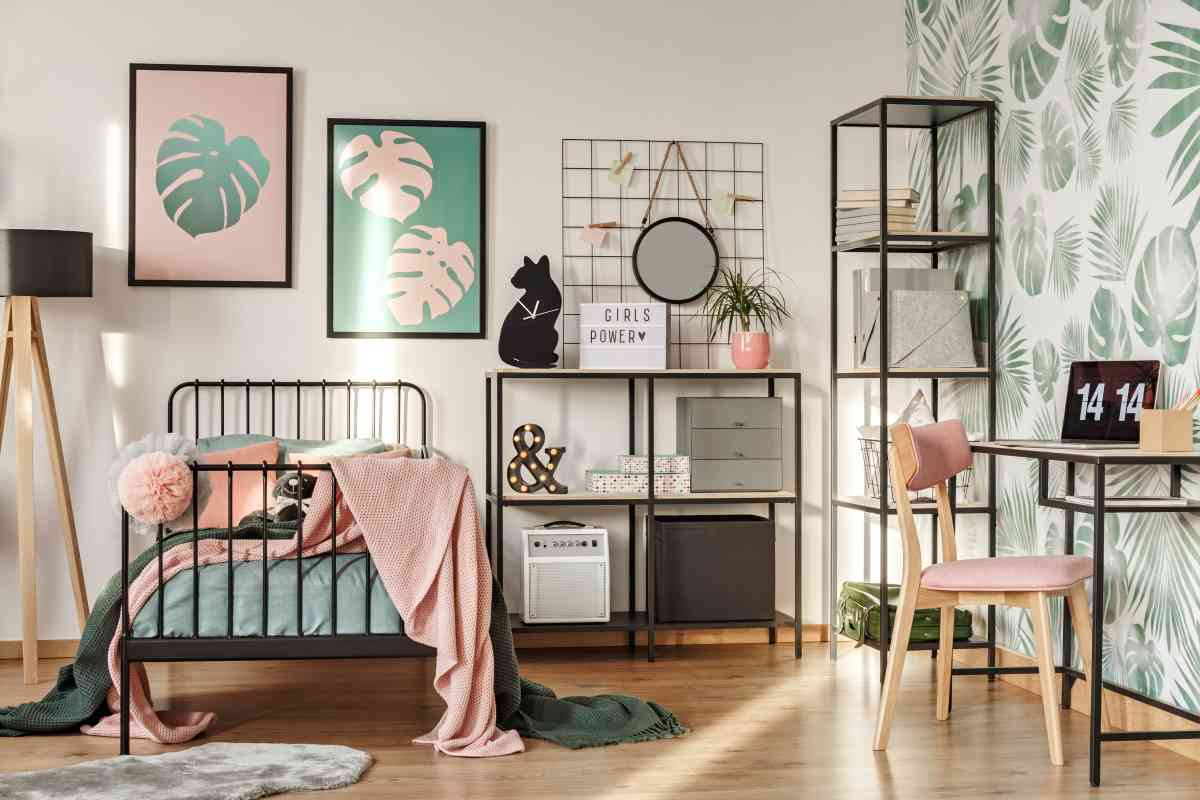 Adding an ottoman to the end of your bed can be used to store additional blankets, sheets, towels, and more. If your bed has room underneath, adding underbed storage containers is a phenomenal way to maximize bedroom space. For dirty clothes, a laundry hamper will be beneficial for storing and carrying clothes to the laundry room.
---
Wrapping Up How to Decorate a Bedroom
It may seem like a lot to learn how to decorate a bedroom, but discovering what works for you is a huge part of the fun! There are endless bedroom ideas to help inspire you and so many ways to turn a bedroom into your own personal oasis.
For tips on how to decorate your home for the holidays or other occasions, check out our other posts on home decor for more inspiration!