BOO! Where did all the time go? Spooky season is rapidly approaching, and if you're anything like me, you're already starting to think about what your holiday display is going to look like this year. Soon there will be a host of little witches and werewolves wandering the neighborhood, and you don't want to be the boring house that put out a bowl of miniature candy bars and called it a day—you want to be the haunted house everyone's excited to come back to next year! That's where Halloween porch decor ideas come in.
Even if you don't have a ton of time to commit to decorating this year, don't worry—the star of your Halloween display is going to be your porch, so you can focus all your attention on one small area rather than blowing up your yard with cobwebs and zombies. Keep reading for a list of my favorite Halloween porch decor ideas!
Critters and Cadavers
A classic way to deck out your porch is with some creepy-crawlers and cut-off limbs…well, fake ones, anyway. Keep all Halloween porch decor ideas limited to plastic, please!
Prosthetics
Are you one of those people who really likes to scare the neighbors with your Halloween porch decor ideas? One great way to creep the kids out this year is to take advantage of some spare parts. Grab a fake arm or two from the store and attach them to your wall to make it look like a ghost was coming through and got stuck. Have a crack in your porch or your steps? Put some false fingers in and make it look like something's crawling up from underneath. Trust me, no one's going to be able to forget trick-or-treating with you this year!
Spiders/Spiderwebs
Another classic Halloween porch decor idea: stringing up spiderwebs. This one's easy-peasy and sure to scare while being a bit more subtle than some other Halloween porch decor ideas. Spiderwebs give an automatic "ick" factor, even without any actual spiders; everyone knows where there are webs, spiders aren't far away. Of course, if you want to really commit, you can find spiders galore at various Halloween stores and party stores to attach to the webs hanging from your porch posts. If you're really in a bind and can't seem to track down any fabric ones, getting your hands on some white Silly String can work just fine, too.
Smokescreens and Skeletons
How theatrical are you feeling this year? Some Halloween porch decor ideas take a little more commitment, but trust me, trick-or-treaters will never forget the houses that put everything they've got into setting the stage. Effort doesn't go unnoticed, and an extra pinch of flair will always bring an extra bit of joy!
False Skeletons
By now, you've probably all seen the hype surrounding Home Depot's 12-foot-tall skeleton. While that not-so-friendly giant probably won't fit on your porch, you can always get a more life-size version to sit in your porch swing, stand in the corner, or sit on your steps. If you really want to have some fun, you can even throw a costume on your new friend for dramatic effect—perhaps he's a pirate who was lost at sea, or an airplane pilot, or a long-lost explorer, or, or…the possibilities are endless!
Smoke Machines
I don't remember many houses from my own trick-or-treating days, but I do remember one house that well and truly scared me. There were a few factors to the décor that were goosebump-worthy, but the Halloween porch decor idea that I really want to share here? They had a smoke machine set up on their porch that filled the whole front of their house with eerie, foreboding fog. Even though it was a bit chilling for a kid, it was also incredibly cool, and I've never forgotten it even all these years later. If you want to make a lingering impression on your trick-or-treaters, a smoke machine gives a lot of bang for its buck.
Wicked Wreaths and Wretched Wraiths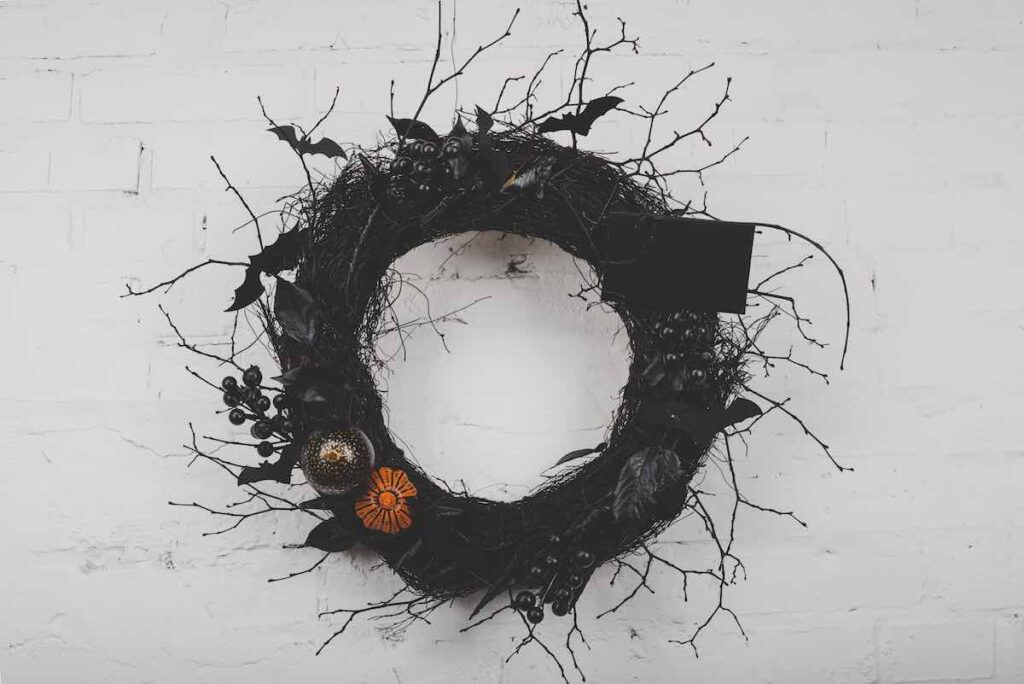 Not wanting to go all out, but still feeling a little crafty? Let's dive into some Halloween porch decor ideas that you can get hands-on with!
Door Wreaths
Wreaths may be a more predictable item on the list of Halloween porch decor ideas, but they're endlessly customizable. And don't think you have to start with the classic green Christmas wreath! You can find pre-made Halloween wreaths in a lot of places, but you can also go to craft stores and track down some Halloween-themed materials to put together something truly spook-tacular.
I suggest going with black, orange, or purple material for your base, but beyond that, you can add just about anything to your wreath! Fake (or real!) candy, Halloween ornaments, streamers, glitter, whatever your spooky-loving heart desires!
Homemade Ghosts
This Halloween porch decor idea is usually used as a yard decoration, and it's a hack I just recently discovered, but it's so cool that I have to share it.
First, you'll need to get your hands on some chicken wire. If you like, you can stop there and just utilize the chicken wire, but you can also go another step further and grab some colored lights to add to this display. Not necessary, but it adds a cool effect to what you'll be building—chicken wire ghosts!
This sounds a little weird, but when you look at the pictures, the effect is very cool—and very creepy. By utilizing chicken wire and sculpting ghostly shapes—whether simple humanoid or all-out Victorian—you can create a haunting companion to put on your porch to welcome your trick-or-treaters in. And on top of that, you can use lighting to your advantage by using colored lights to illuminate the wire, which will give your "ghost" an ethereal glowing effect as the sun goes down. If you're a big fan of the Haunted Mansion ride at Disney, this is the Halloween porch decor idea for you.
Tricks AND Treats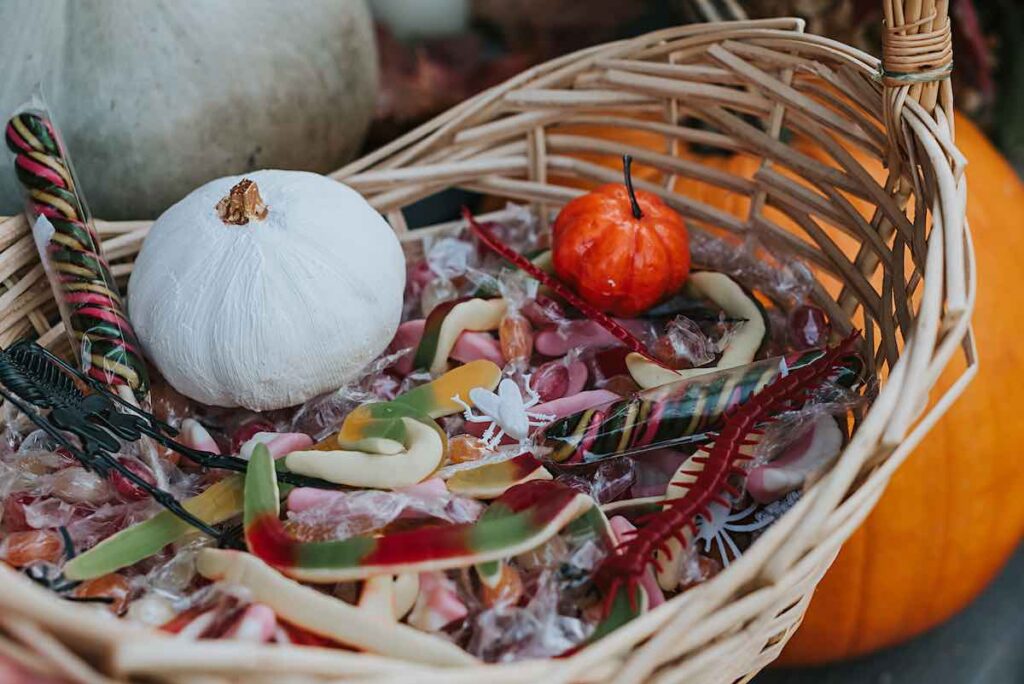 These two Halloween porch decor ideas are opposites in that they have very different levels of participation, but they both depend heavily on composition. These are big-picture ideas rather than finely detailed one, so if you're not much for details, these are for you.
Creative Candy Displays
If you're someone who prefers to leave their treats outside rather than handing them out at the door, there are plenty of ways to make this fun. Remember how we talked about fake skeletons earlier? If you find one that you can position, one creative Halloween porch decor idea is to set your skeleton up as the guardian of your candy dish for trick-or-treaters. You can set the dish in its hand or in its lap so trick-or-treaters must brave its deadly stare to get their candy! Older kids especially will have a blast with this, and even younger kids can leave your house feeling like they accomplished an act of courage.
Of course, using a skeleton isn't the only fun way to display your candy. You can also get a plain plastic bowl and paint it with all kinds of Halloween colors and shapes, or set out individually wrapped candy care packages (or candy "scare" packages!), or, if you really want to be a legend among the neighborhood…you can take a crack at it yourself. But what does that look like? I'm glad you asked…
Play the Host
This is probably the most hands-on of my Halloween porch decor ideas, because it involves decorating your porch with…well, yourself! You can become part of the scene by setting up your porch with decorations that match whatever costume you've chosen this year. Remember the house with the smoke machine I mentioned earlier? The owners of that house also played the host by dressing up and sitting incredibly still on their porch, posing as Halloween decorations themselves. When a group of trick-or-treaters approached, they startled everyone by suddenly moving! It was a good scare and a good laugh afterwards, and it was probably pretty fun on their end, too. That's what I call getting into the Halloween spirit!
Wrapping Up Halloween Porch Decor Ideas
Feeling inspired yet? Now that you're armed with all the Halloween porch decor ideas you could want, you're more than equipped to fly into this Halloween season with your witch's broom in hand and your porch ready to be the talk of the town. No matter what décor you choose to put up this year, you're sure to get a crowd of trick-or-treaters like you've never seen before!
Looking for more ideas to play with this Halloween? Take a look at our awesome Halloween section to find more ways to enjoy this holiday season!
About the Author
Latest Posts
Cassidy Eubanks is a proud Michigander, an avid reader, and a writer for That Sweet Tea Life.
Her bachelor's in Creative Writing isn't where her passion for creative pursuits stops – she grew up crafting, scrapbooking, and finding ways to make the most out of every space in her home. She loves sharing her favorite ideas for decorating and DIYing on That Sweet Tea Life to help you create the living space of your dreams!