It's time to answer a question, friends: what is the true star of trick-or-treating?
Well…okay, we all know it's the candy. Close second would be the costumes. But what about after that? The center of attention for all trick-or-treaters, the obstacle they must face before they get the treats they came for…is your front door.
Oooo! Spooky! Well, maybe not yet. But once you finish reading my list of favorite Halloween door decorating ideas, your front door is going to go from drab to dangerous (dangerously fun) very fast this Halloween season! Let's go over the best Halloween door decorating ideas you can play around with this fall!
Up to Bat
What is Halloween without a host of squeaking, wing-flapping, blood-drinking bats soaring around the neighborhood, providing ill-boding omens everywhere they go? (Or, if you're not about that spooky season life, what is Halloween without some adorable furry creatures roosting in the trees and minding their own business?) No matter how you feel about bats, they can either spook up your front door or make for a cute addition to your décor.
You can find paper bat decorations just about anywhere, or if you're feeling crafty, you can absolutely make your own out of craft paper! If you're looking for a more realistic touch, you could hang a bat box on the door for added effect or grab some stuffed animal bats to hang from the porch ceiling for a furrier option. Bats are a good compromise between creepy and cute, so they're one of the best Halloween door decorating ideas if you don't want to scare the neighborhood kids away from your house this year!
Mimic Mode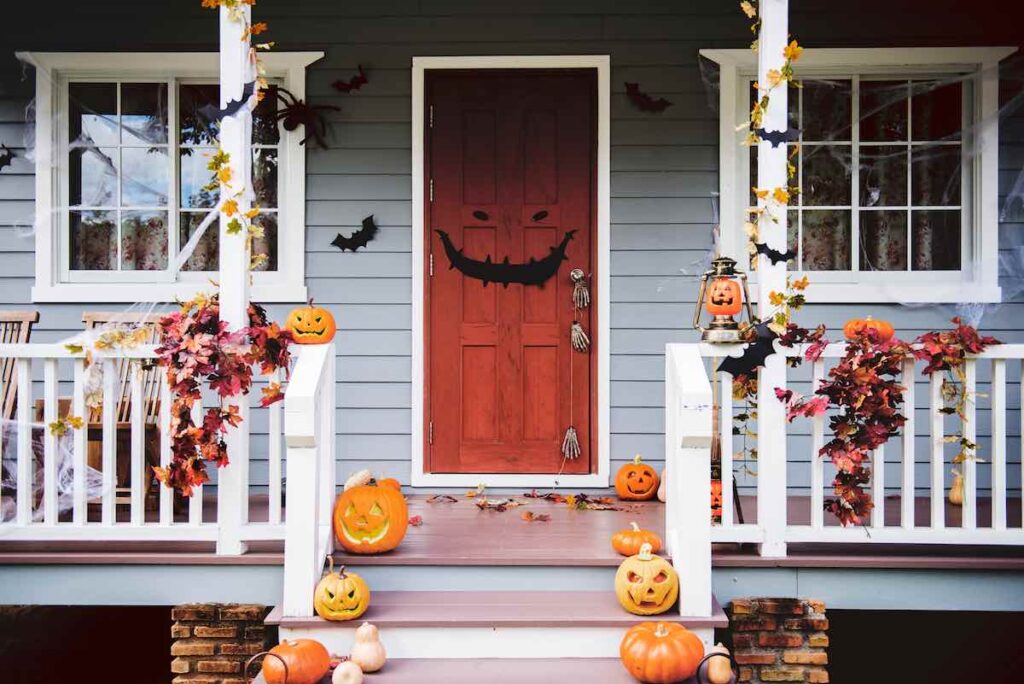 For anyone with a background in Dungeons and Dragons—or a childhood spent watching Monster House every Halloween—you'll know the direction I'm going with this Halloween door decorating idea! If you're not familiar with the concept of mimics, they're basically monsters that put on the guise of ordinary objects in order to blend in with their surroundings.
Applying this same strategy to your door can be a fun Halloween door decorating idea with minimal effort expended! By adding eyes and teeth to your door décor, you can effectively transform your door into a Halloween monster all on its own. As with most of these ideas, you can take it in a super creepy direction if you're looking for an all-out fright, or you can transform it into something cuter with a set of exaggerated, cartoony features.
Hands-Free Candy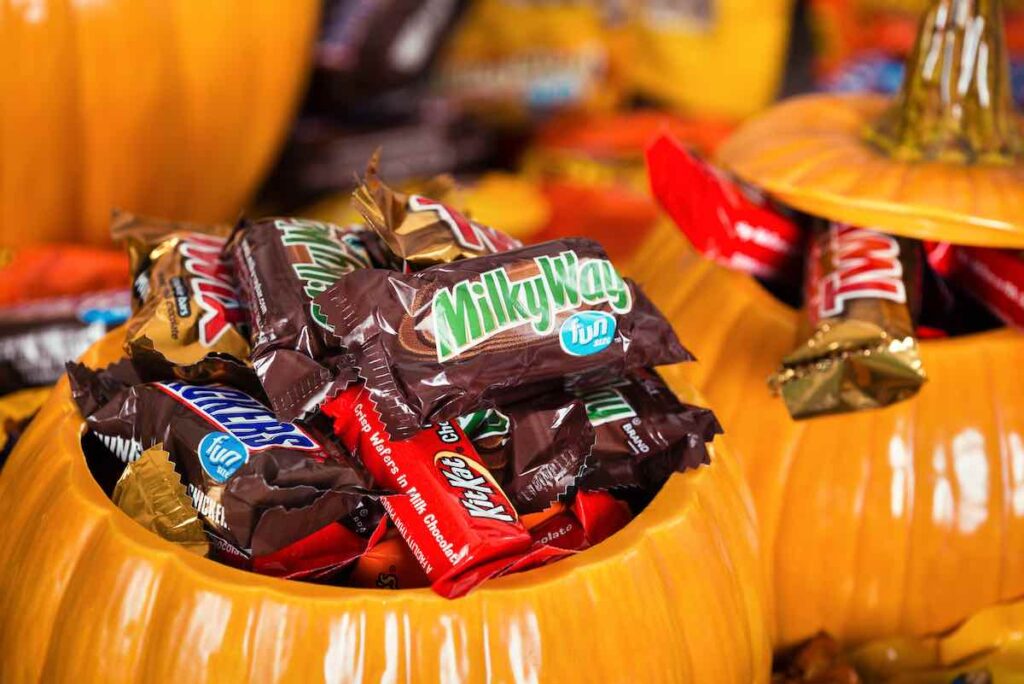 This isn't really a scary idea, but hey, not all of them can have that fear factor. This Halloween door decorating idea is for those of you who don't feel like sitting by your door all night with a bag of candy, waiting for the next knock or doorbell ring.
If you want to enjoy a quiet Halloween night of movie-watching and munching on your own treats, simply put a candy dish right outside your door and let trick-or-treaters serve themselves. You may want to add a sign that notes a limit on how many each child can take, but either way, when it's gone, it's gone—and you get to enjoy your night without answering the door a hundred times!
Peephole Peeker
Next up on my list of Halloween door decorating ideas is an easy-as-eye craft to do! Simply grab a good-sized googly eye or make your own out of paper, grab some Blu-Tack or tape, and stick it over your peephole or where a peephole would normally be. Voila! You have your own imaginary "monster" peeking out at your trick-or-treating guests, ready to greet them as they come up to the door. You can even add extra accessories like false eyelashes made of pipe cleaners or black wire, a big fuzzy eyebrow made out of felt or pom-poms, or even extra googly eyes if you want to turn your door into a multi-eyed monster!
Dangerous Doorbells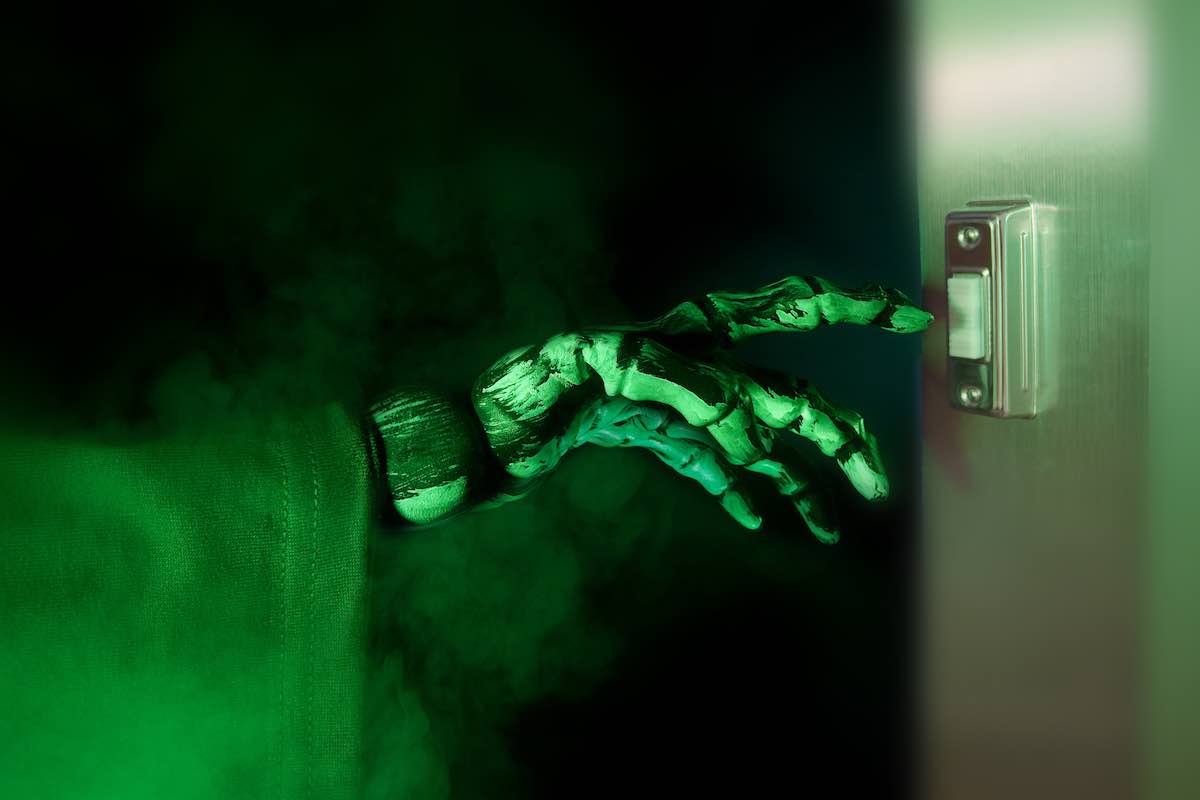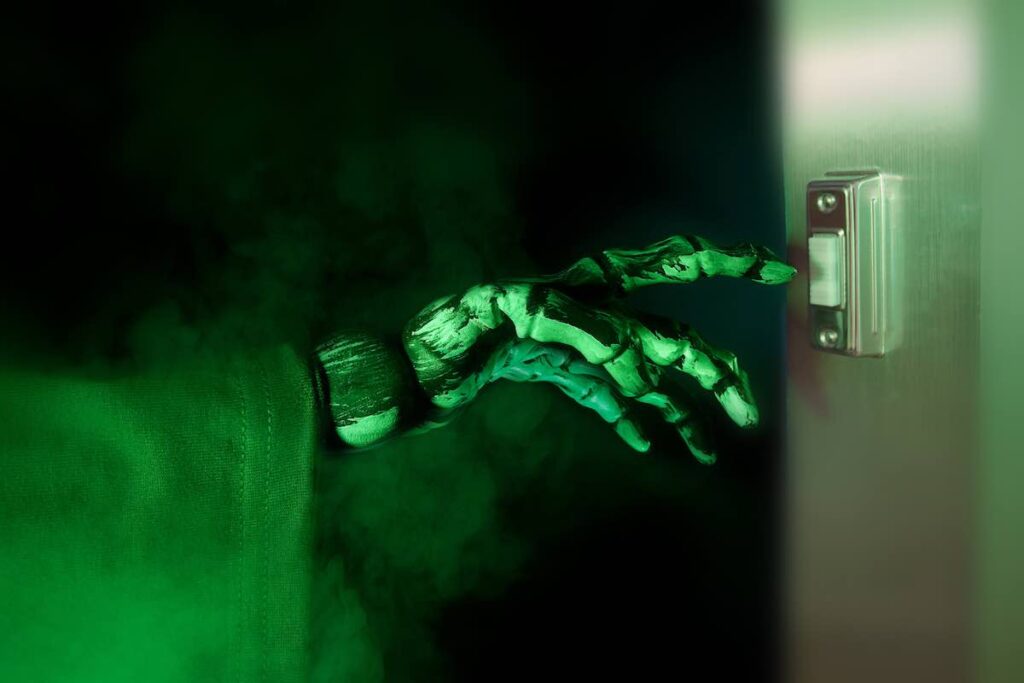 The biggest obstacle your trick-or-treaters will need to get past is a simple one: ringing your doorbell. A simple enough task for bold, brave kids who aren't shy about asking for candy, or kids with parents who will help them out, but what if you went the extra mile to make your doorbell part of your Halloween display? This Halloween door decorating idea is one of my favorites—it's both easy and effective, the best combination you could hope for.
There are several ways you can spice up your doorbell for the holiday—you can get some plastic spiders and crowd them around the doorbell, or coat it in fake cobwebs, or—if you really want to blow some minds—you can attach a false doorbell over yours with a creepy eyeball in the center! Depending on which one you choose, you might even be able to find one that plays some spooky tunes after being rung.
Wacky Wreaths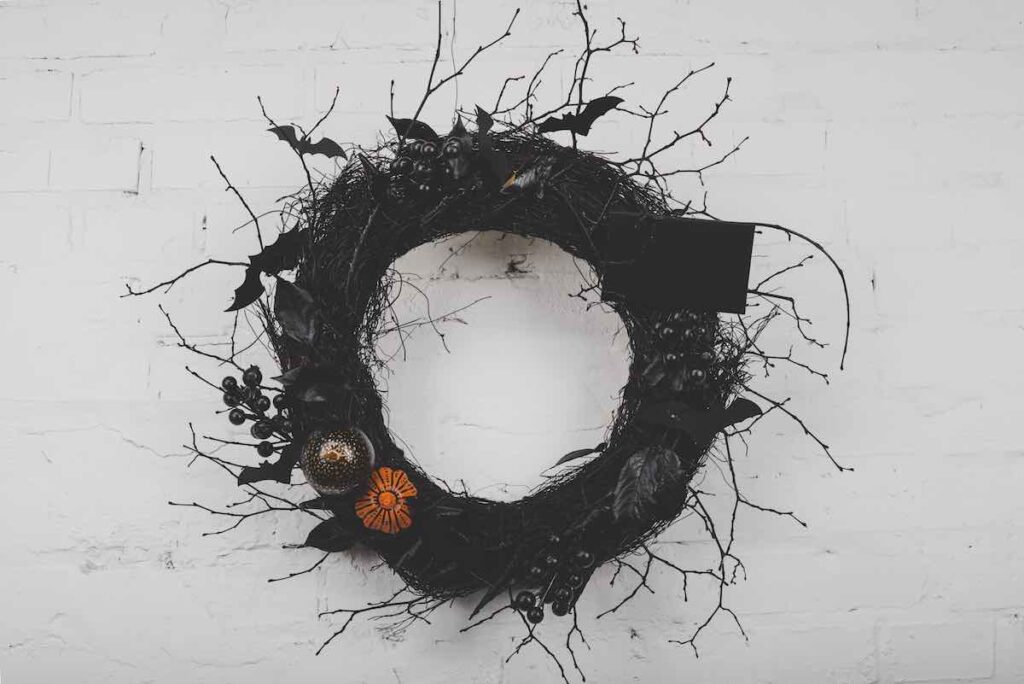 Wreaths aren't just for Christmas anymore—they're also a great Halloween door decorating idea for this year's Halloween bash! And don't think you need to stick to simple greenery, either—while you can use a plain wreath for a base no matter what, you can customize it by wrapping it in false cobwebs and spiders, scattering plastic bones or teeth throughout, adding red paint at the edges, setting up one of your bats to roost in it…the possibilities are endless.
Or, if you don't want even a hint of the usual wreath style to show, you can make your own wreath out of Halloween-colored materials or buy one premade. If you don't have a candy dish, you could even attach pieces of candy to the wreath and let your trick-or-treaters pluck their treats from it!
Haunted Mansion Style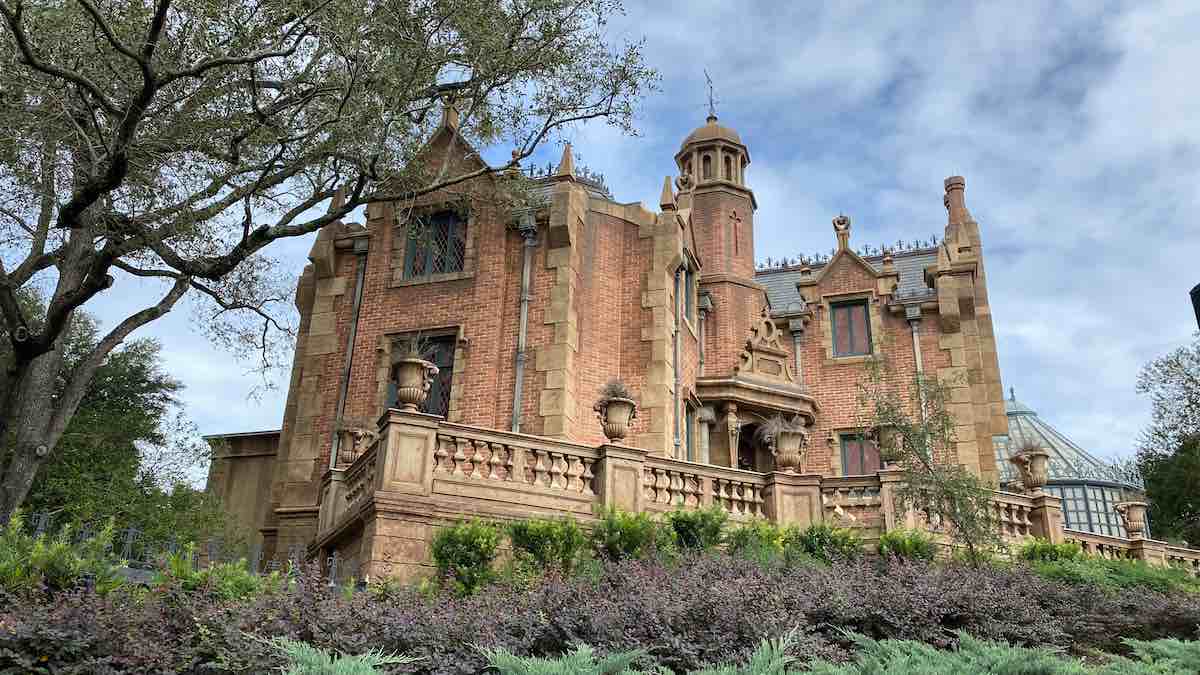 Want to really give your house that crypt-like look that will cement your Halloween display into your neighbors' memory? Go Haunted-Mansion style with your Halloween door decorating ideas this year and add a headstone to your door! You can get all kinds of creative with the inscription if you do it yourself, or you can acquire a pre-done one if you prefer to save your time this year.
As cheesy as these inscriptions can get, they're super fun, and they'll leave your older trick-or-treaters and parents giggling at the punny sayings on display. You can either choose to hang a gravestone on your door, or you can lean a few against your walls on either side if you want to show off more than one!
Doorknocker Décor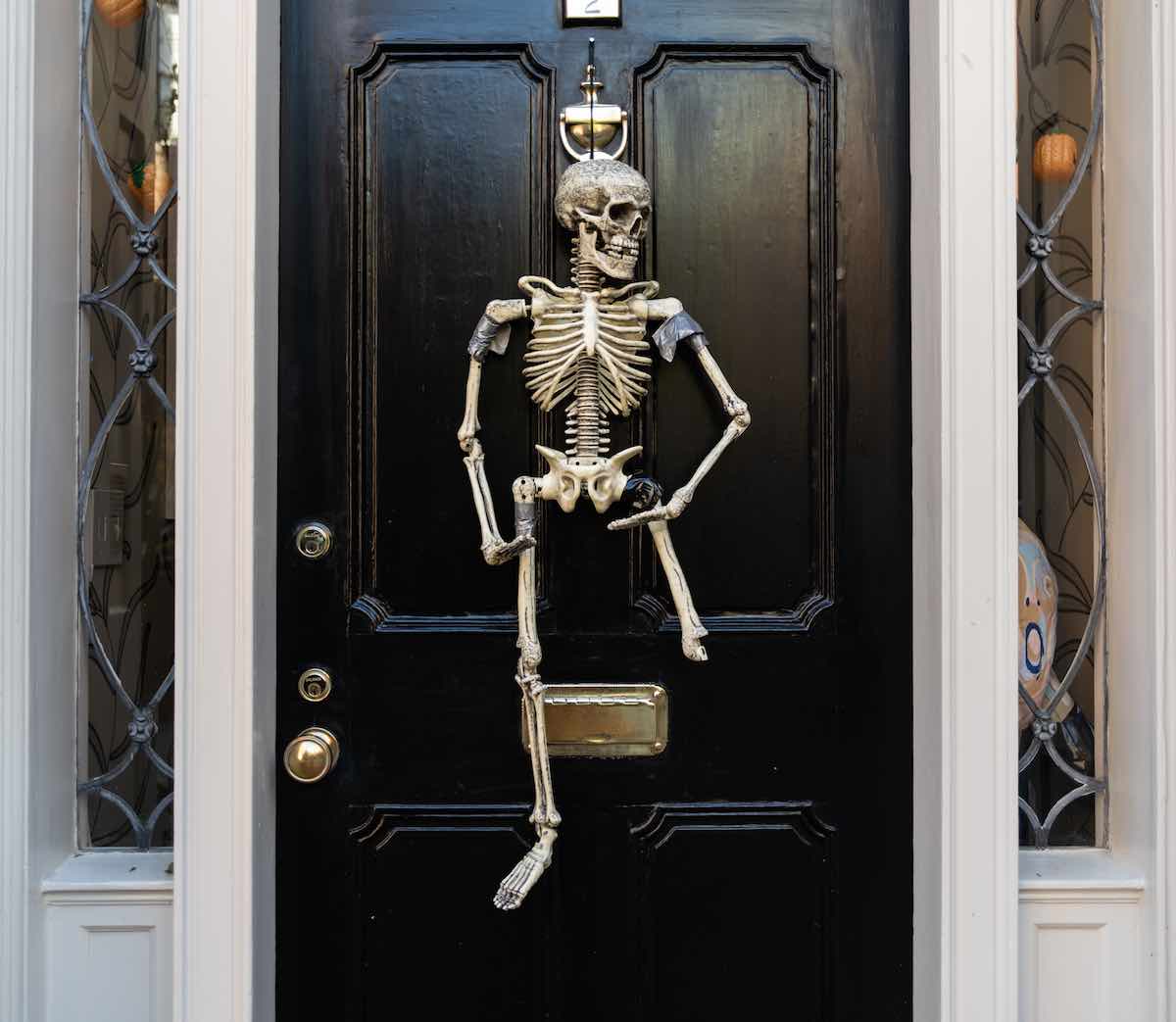 Not a doorbell person? No problem! This Halloween door decorating idea is for you. There's another easy way to light up your door without dealing with the hassle of working around your doorbell: add a Halloween-themed doorknocker!
Doorknockers are fun and easy because they don't require any wiring or extra effort on your part—just hang and leave it alone! Your trick-or-treating guests will have a blast knocking on your door, which is more than you can say the rest of the year, right? Just remember to hang the doorknocker lower than you normally would—you want the kids to be able to reach it, after all!
Double-Decker Door
This Halloween door decorating idea is a bit more interesting—and a bit weirder—but I think it's pretty fun! If you really want to separate your porch from the rest of the world and make it truly feel like a separate "realm" of Halloween-themed fun, you can set up a carboard façade at the edge of your porch to cut it off and set it apart as its own area—or, since cardboard of that size is difficult to find and you'd have to paint it yourself, you could hang some spooky curtains instead. There's no doubt that your house will be the talk of the town if you sheathe your porch in mystery and intrigue!
Sticker Scare
This Halloween door decorating idea is best if you have a glass door. There's an abundance of stickers to choose from for Halloween door décor, and depending on what vibe you're going for, you can either go the cute, fun sticker route or the scary, spooky route! Simply smooth them onto your door in the desired arrangement and voila, you're done! This is probably the absolute easiest of these Halloween door decorating ideas, but that doesn't lessen its effectiveness at all.
Spooky Signage
Last but not least on my list of Halloween door decorating ideas, there's the most classic decorating idea known to man: hanging signs! This idea can range from tapestries hung on either side of the door to wooden signs hung on the door itself, but either way, it's a fun and simple way to get your door in the spooky season spirit. They're easy to find, easy to set up, and easy to take down, which makes them the perfect Halloween door decorating idea for the busy Halloween enthusiast. There's no end to the options for signage if that's where your Halloween heart calls you!
Wrapping Up Halloween Door Decorating Ideas
Which Halloween door decorating idea is your favorite? Did I miss any ideas you've shown off in the past? No matter what, I hope this list has sparked inspiration for the upcoming Halloween season, and I hope you're ready to have the best-decorated house on the block!
Looking for more Halloween décor inspiration? Check out our Halloween section for more ideas to make your house shine this spooky season!