If you're looking for the perfect color to upgrade your cabinets, look no further: Hale Navy from Benjamin Moore is beautiful and versatile.
This cool, deep grey-blue is reminiscent of stormy seas seen through the early morning fog. It can be moody and chic or cozy and inviting, depending on the surrounding style.
There are so many different directions you can go painting cabinets this color in any room. Hale Navy cabinets add an effortlessly chic look regardless of your style and decor. Get some ideas for revamping any of your cabinets with this list, and start planning your cabinet refresh!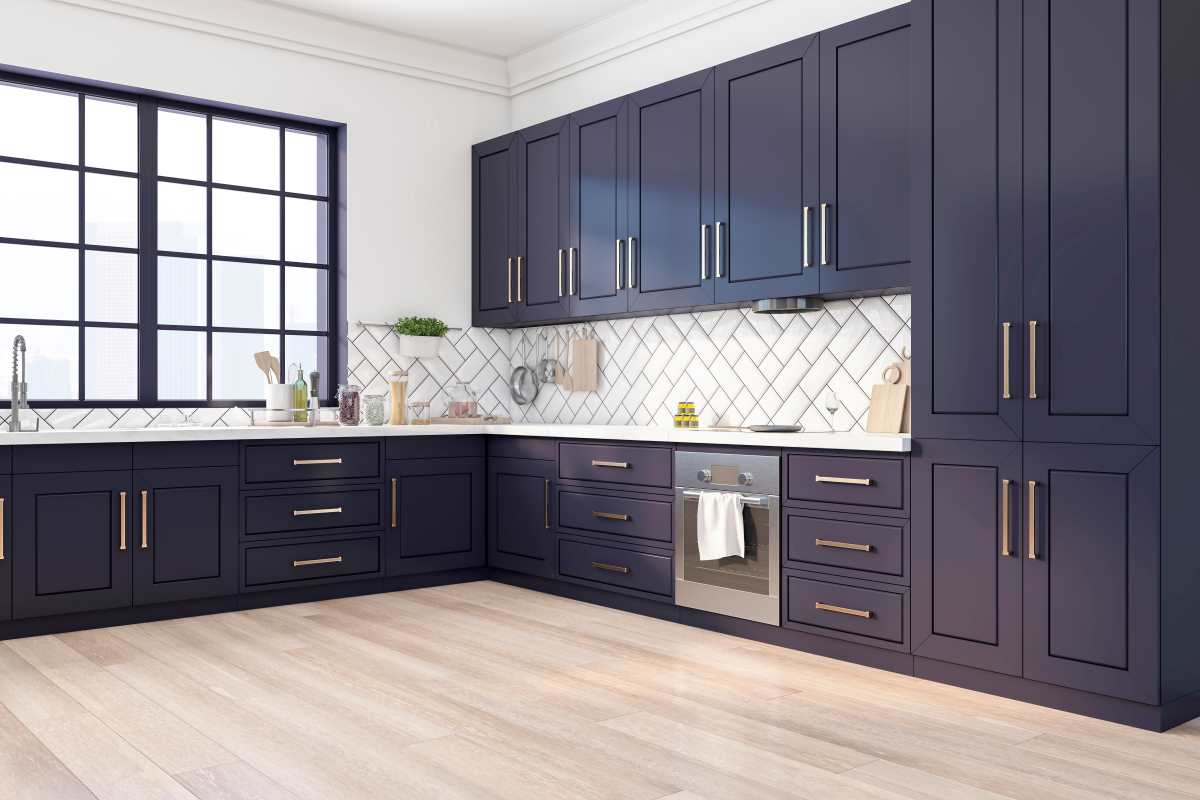 ---
Inspiration for Hale Navy Cabinets
There are so many options you can go with for Hale Navy, making it the perfect choice for so many different projects and styles.
Think about whether you want this color to be the focal point of the room or quietly complement the rest of the decorating in your home.
If you have a lackluster bit of cabinetry already in your home or you want to save money with inexpensive cabinets that you can dress up yourself, this is the perfect color.
Take a look at this list of ideas to help get you started.
1. Kitchen Cabinets
In many homes, the kitchen is the busiest space where people spend a lot of time. Hale Navy cabinets in your kitchen aren't too dark or loud and help add depth and style.
This color works perfectly for all your kitchen cabinets, on just the bottoms for contrast and to open up the top half of the room, or just on your island as an accent color.
It makes a great backdrop color to seamlessly match with countertops and backsplashes in any color and style.
2. Bathroom Cabinets
Hale Navy is a great choice for both big and small bathrooms.
It's not dark enough to make the space feel crowded, even if you pair it with other more saturated colors.
It does a great job whether you want to draw the eye against clean and simple decor or quiet and unify a more elaborate look. Whether your style is more white subway tile and a minimalist vanity or decorative mirror frames and patterned wallpaper, this color can do it all.
3. Display and China Cabinets
Any display cabinets you have in your home will look classy and chic freshly painted in Hale Navy.
It works nicely on larger pieces without distracting from the contents on display or surrounding decor. It also lends a regal and museum-quality feel to a display of expensive or sentimental items.
Your dining room will be a step above with a china cabinet in this beautiful tone.
4. Media Cabinets
Add a warm and simple color to your living room with Hale Navy cabinets.
It's the perfect background for your TV and entertainment system and completes the cozy look for movie night.
This color won't compete with your living room or family room decor, or it can make your media cabinet the central piece.
5. Laundry Room Cabinets
Elevate a space that's often overlooked with Hale Navy cabinets in your laundry room.
It adds style to even the smallest and most basic laundry spaces and gives a clean and cozy feel. Instead of avoiding this smaller area, make it somewhere you don't dread spending time folding clothes. This is a great quick or practice project if you've never painted your own cabinets before.
6. Desk and Office Cabinets
Beautiful and professional, Hale Navy is a great color for office cabinets or a desk where the hard work gets done.
It gives you the freedom to decorate the rest of your workspace however you want without it getting loud, distracting, or overly busy. Instead, it's soothing and ready to work.
7. Accent Cabinet
Create contrast with an accent cabinet in Hale Navy.
Pick a single cabinet unit in any room and pair it with a lighter, more neutral color to make it stand out in just the right way.
You can even paint the cabinet frames one color and the doors another, using Hale Navy to create a dynamic look. There are so many colors you can choose from that will look creative and amazing.
---
Hale Navy Cabinet Tips
Once you have a project picked out, there are a few other things to consider before you start painting.
The most important aspects to think about are your prep work, the overall styling of your decor, and the hardware you put on after painting.
Check out these tips to help you dive into painting your cabinets with confidence and end up with a polished look.
Cabinet Painting Basics
Consider the type of finish you want and where your cabinets are. Will you need to clean it regularly like in the kitchen, or will it be for display purposes only? Choosing a glossy finish compared to a flat finish will change the look and feel of your decor.
Solid prep work is crucial. Protect your floor and surrounding workspace with a drop cloth or plastic sheet. Remove the cabinet doors and any hardware, labeling everything as you go so it's easy to reassemble when you're finished.
Remove existing paint or glossy finish on stained cabinets, either by sanding or with a chemical stripper, so the paint can adhere smoothly to a clean surface.
Make your look extra polished and repair any dents or blemishes before breaking out the paint can. You should also apply a primer before painting.
Use a roller and a brush to paint efficiently and get consistent results. Rollers make quick work of larger flat spaces, and brushes will get into all the nooks and crannies on cabinet doors.
Apply your Hale Navy paint in light, even coats. Let it dry completely, then go over it with sandpaper before the next coat. This will ensure that your paint goes on nice and smooth for each layer.
What Style Looks Best?
What makes Hale Navy such a great color is that it fits virtually any design style. It can be easily adapted to your aesthetic with other design choices. It pairs easily with the classic colors of more traditional and antique styles. There's something so timeless about this shade.
Hale Navy adds just a touch of color while maintaining the trademark simplicity of modern and minimalist design. It also complements the color and texture of natural wood decor often found in rustic and country aesthetics.
Luxury glam, with its jewel tones and opulence, looks great with this color's rich, soft feel. Since this style typically has plenty of color contrast, adding a quieter color adds a more nuanced kind of contrast.
This classic deep stormy ocean blue color perfectly matches nautical and coastal decor. It's just about made to go just right with white trim and accents.
Add contrast to more eclectic decorating and let other items take center stage without overdoing it. Hale Navy creates a steady unification and won't steal the show. Bohemian and shabby chic styles benefit from this cozy and assertive color that won't overwhelm the rest of your decor.
And if the industrial look is what you're going for, Hale Navy looks great with stark grays and whites to make a more subtle accent piece.
Choosing Your Cabinet Hardware
Finish your cabinets with the perfect hardware to do the color justice.
This is really all about your own personal style. Some easy and attractive choices are silver, bronze, gold, faceted crystal, and enamel.
Think about the color, finish, and shape to match your decor. Unify accent pieces with matching hardware or boost an accent cabinet with different but coordinated hardware. The options are endless!
For example, imagine a room with a nautical theme. Silver or bronze sailboat cleat cabinet knobs would look absolutely perfect.
Take it in a more funky direction with brightly colored knobs, like sunshine yellow or coral pink. Even decorative hand-painted ceramic knobs would be a great option. If you're looking to design an eclectic kitchen, you don't need to limit yourself.
---
Bring Timeless Style to Your Home With Hale Navy Cabinets
Hale Navy by Benjamin Moore is such a gorgeous color you'll want to find a way to use it on cabinets in your home.
Effortlessly elevate any aesthetic. Whether you like bright, saturated color or clean, crisp white and everything in between, Hale Navy cabinets are a choice you won't regret. Any room will look amazing with a freshly painted set of cabinets in this smooth and versatile shade.
Now that your cabinets are upgraded and refreshed, get more furniture painting inspiration and pick your next project!