Wallpaper has made a resurgence in recent years, and has become so much better than it was 20 years ago. This definitely isn't our mothers' wallpaper. From pre-pasted to peel and stick, we now have so many more choices when the desire to use wallpaper starts creeping in. And we have some green wallpaper inspirations we can't wait to show you.
Wallpaper can help you fill out your space with color, texture, and pattern. For color, wallpaper is a great alternative to paint. And there are so many great color options available and many hues in those colorways. In 2017, Greenery was Pantone's color of the year and we have been obsessed with it ever since. Green is one of the best colors to liven up your walls.
Green is such a grounding, earthy color, that works to bring vibrancy and life to any room you use it in. And we can't wait to share with you some of our favorite green wallpaper options for your next room re-do.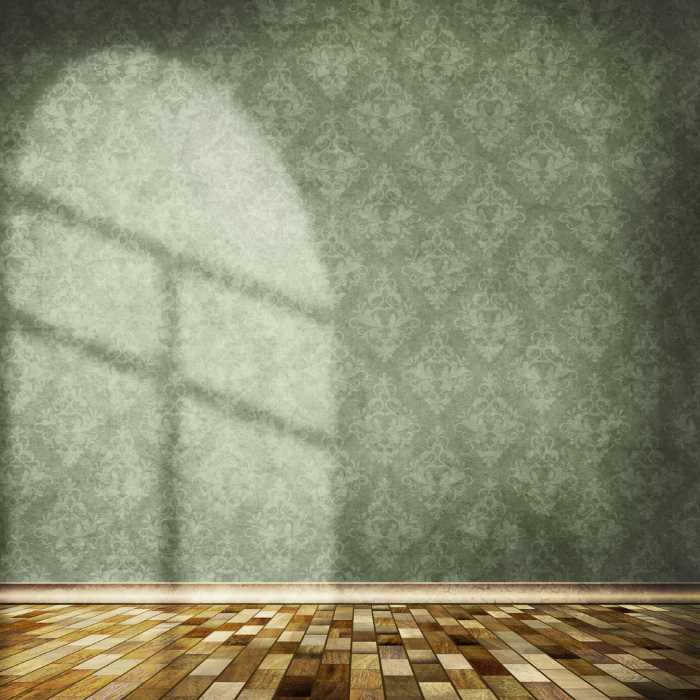 This gorgeous green wallpaper would look great in practically any room of your home, especially rooms where natural light abounds. This fabric inspired wallpaper give the appearance of a textured linen through the use of raised ink. The diagonal lines help to create a woven, wavy affect that only adds to the appeal of the design.
The light, airiness of this paper makes it perfect for a bedroom or living room. You can use it as an accent wall or for the entire room. Pair it with natural furniture and décor to create an earthy feel.
This green wallpaper comes pre-pasted, with an adhesive already applied to the back. It is meant for residential use. You can clean it by wiping it down with a damp cloth. Remember to have a cutting tool, wallpaper smoother, and a ruler or a measuring tape during installation.
If you are looking for a peel and stick wallpaper with a mid-century retro vibe, this may just be the wallpaper you are looking for. The wallpaper also has bold semi-circle patterns, that will make a statement in whatever room you choose to use this paper in. These patterns repeat every 24 inches. It also has a straight match to make the application easy.
Because of the darker elements to this look, you may want to consider using this paper as an accent wall in a room with a lot of natural light.
This peel and stick wallpaper is made in the USA. The appeal of peel and stick is that it is faster to hang than wallpapers that require paste. You simply need to remove the protective cover and stick the wallpaper onto the walls. It also tends to be easier to remove whenever you are ready for a change.
The texture is smooth with a matte finish. This green wallpaper is also waterproof, making it okay to use in any room. It is not fully green, but the design features green, orange, and dark gray semi-circles.
Do you love nature and the great outdoors? Then this may just be the wallpaper you are looking for. This green wallpaper features a natural effect faux finish.
The woven looking fibers and knotted design are reminiscent of a walk in the woods. Its pattern also creates a natural look and repeats every 25 inches. The wallpaper has a smooth finish and is most suitable for residential areas for public use.
This wallpaper would be perfect in a nature-themed child's room, hallway, or as an accent wall in a living room or bedroom. Due to the thin nature of this wallpaper, it is best if it is somewhere where it will not be exposed to moisture, so the kitchen and bathroom would not be ideal places to use it.
It's an unpasted wallpaper, which means you'll need to apply paste in order to hang the wallpaper. This does create some extra work when hanging this paper, but we think it will be well worth it in the end.
This tropical inspired green wallpaper is perfect for any fan of the beach life. It features a vibrant panel leaf design that brightens up any room with a breezy, relaxed feel.
It is ideal for living rooms, hallways, and bedrooms, or a well-vented bathroom to reduce the moisture levels. The manufacturer boasts that the wallpaper has no unwanted or harmful chemicals, thus creating a low impact on the environment.
The primary material is paper with a matte finish. You will need an adhesive paste to apply the wallpaper. The manufacturer also offers a peel and stick version.
Terrazzo is such a fun option for your next wallpaper endeavor. And this color palette with its green accents is no exception. This is a peel and stick green wallpaper features the modern electric pattern in green, pink, and teal hues on a white background.
This wallpaper would work great in a staircase or hallway, a place that may not always get the best lighting. The lighter background of the paper will create more openness and airiness in these spaces. We also think this would be a great wallpaper for a child/ teen room, playroom, or office area.
You can easily peel it off and reposition it because it is self-adhesive. The wallpaper is available in tiles or panels with a smooth texture and a matte finish. Its primary material includes fabric and polyester. It is suitable for both residential and non-residential use. When cleaning, use a mild detergent, and spot clean the wallpaper.
This earthy green wallpaper roll is inspired by nature with a leafy botanical theme. The best part about this paper is that it is peel and stick, so hanging it will be a breeze. The leaf pattern on the paper creates a dimensional look that adds depth and texture to any room you use this paper in.
This green wallpaper would look beautiful in any room or your home, whether you are looking to do every wall, or simply an accent wall. It is moisture resistant, so you could even use it in your bathroom if your heart desired.
Since it is a peel and stick wallpaper, you can use it for a full room makeover, an accent wall, DIY furniture, or on appliances. And the best part is, it is designed to peel right off without leaving behind any residue or damage whenever you are ready to redecorate.
The product may not do well on unclean, recently painted, textured, or nonstick surfaces. Its material is superior to regular contact paper in terms of strength and other properties like durability, and water resistance. The wallpaper's texture is smooth with a matte finish. It also claims to be phthalate-free. You can wash it with a damp cloth and some light detergent. The wallpaper works well for residential use.
This gorgeous green wallpaper is a unique take on the traditional polka dot look. The watercolor dots that adorn this green wallpaper create a gorgeous natural tone that would work in a bedroom, kitchen, or living room.
The dots are more reminiscent of small brushstrokes than true dots, so it creates a different aesthetic that is both delicate and whimsical. These polka dots have one end with a dark shade that fades into a lighter hue at the other end. It is available in different Neutral Tones, including green, blue, light grey, and aqua.
The Madeleine Painted Dots wallpaper can refresh your walls with its watercolor polka dot design. The wallpaper is repeated, which makes it easy to install, without having to worry about lining up the design. It is a pre-pated wallpaper, so it will require water when installing it, but boasts easy removal when ready for a change. And we all like the idea of easy-to-remove wallpaper.
The Ebern Textured wallpaper is a mint green wallpaper roll you can use for an entire room or just for an accent wall. It is peel and stick, which we all love because of the ease of installment. There is no need for special tools. You simply cut to size, peel the vinyl wallpaper from its paper backing, and hang it. Simple as that.
This textured look of this mint green wallpaper gives it a subtle depth that will add character to any room you use it in. The soft green color also lends itself to limitless uses, from hallways to living rooms to a bedroom.
It is also moisture resistant, meaning you could use in the bathroom if you so choose. You can easily reposition or remove the wallpaper at any point if you need to. The manufacturer packages it in a hard bottom to avoid creases and wrinkles. It is available in mint green, Bermuda blue, dark blue, almond yellow, and dark grey.
If you're a sucker for florals, like I am, you will love the delicate detailing of this stenciled wallpaper design. The linework of this paper, along with the sage detailing give this green wallpaper a refreshing lightness that only comes from being surrounded by delicate flowers. This non-woven wallpaper has a simple floral design and earthen elegance. The material has a smooth texture with a semi-gloss finish.
This wallpaper helps you add natural splendor to your home. The only real downside to this wallpaper is unpasted, which means you'll need an adhesive to install. Apply the paste on the wall instead of the wallpaper itself. You'll also need installation tools like wallpaper smoother, adhesive roller, applicator, adhesive tray, cutting tool, and a ruler or measuring tape.
This deep, rich wallpaper with floral accents features premium non-woven fabrics from log fiber. The dark green hues are offset by the contrasting delicacy of the white flowers throughout the design, giving this green wallpaper an elevated look.
Because of the darker colors to this wallpaper, you will want to use it in a room with a lot of natural light, or consider using it only on one wall as an accent. You can use it for bedrooms, dining rooms, study rooms, living rooms, TV backgrounds, offices, and hotels. It has a three-dimensional and embossed pattern. The background is dark green and has some gold highlights to bring out the botanical pattern
The material is said to be breathable, moisture-proof, fadeless, anti-aging, colorful, odorless, and pollution-free. The wallpaper is also free from blistering, thanks to its production technology. It is a self-adhesive wallpaper and thus; it is easy to install with no glue.
I know what you're thinking – why would I apply a solid green wallpaper when I could just paint the walls a solid color. The answer is simple, it all depends on how you want the finished product to look. The benefit to using wallpaper over simply painting your walls is you don't have to apply multiple coats to get the look you want, nor do you have to worry about the color being uneven or looking thinner in places.
The Solid Green wallpaper is waterproof, self-adhesive, easy to clean, easy to apply, and removable. Because it's a solid light green roll with no pattern, the installation time is much shorter than patterned wallpapers. It is suitable for walls, drawers, tables, cabinets, and other smooth surfaces.
You can even use it on more than just walls. Use it to decorate a refrigerator, furniture, craft projects, and more. Make sure you clean up the surface in advance to remove dust and debris that may affect the wallpaper's application. The wallpaper is also available in white, pink, black, and dark green.
This retro floral green wallpaper gives the feeling of being in a rainforest. The giant white stenciled leaves over the dark green background give off a feeling of warmth and security, with its natural earthy vibe.
The great thing about this wallpaper is that it is self-adhesive, which is easy to install, easy to remove, easy to clean, and durable. You can apply it on any smooth, flat surface.
Like many of peel and stick wallpapers, you aren't just limited to using this on your walls. It can be applied to cabinets, shelves, doors, tables, drawers, appliances, and more.
And just a little odd tidbit of information: Customers have reported that after delivery, the wallpaper has a slight odor. But opening the box and allowing the rolls to air for a day or two usually gets rid of the smell.
Now, I know this next wallpaper isn't for everyone, but you can't deny there is a beautiful elegance to it, whether you would use it in your home or not.
This gorgeous Peacock wallpaper presents a more modern take on the traditional chinoiserie motifs. Beautiful peacocks on winding branches with emerald leaves and blooming flowers across the landscape of this wallpaper. The light background lends itself to minimizing the business of this wallpaper, while still allowing it to be vibrant and full of life.
The material is unpasted breathable vinyl, which is also water-resistant, washable, and durable. It has a smooth texture with a metallic finish.
Be sure to prepare your walls with a universal wallpaper primer before installing this wallpaper to make it easier to remove later. Use a non-staining, heavyweight, clear, and premixed paste. The wallpaper is also available in dark green, green ivy, green, red, blue-white, light pink, black, and navy.
You can't go wrong with a classic striped wallpaper, and if you love green, this will be the perfect option for you. This is a pre-pasted wallpaper with attractive thin green stripes. The vertical green stripes make it perfect for an entryway or any other space you want to give the appearance of greater height to.
While not as easy to install as peel and stick, pre-pasted wallpaper is fairly easy to install with minimal prep work beforehand. The primary materials are paper acrylic and water-based ink. Its material makes it washable for easy cleaning.
This leafy green wallpaper brings vibrant color and detail to your walls. The white background donned with green leaves gives and earth botanical feel without being overwhelming. And unlike some of out other floral/botanical prints, this one brings a linear feel to the print that other wallpapers on this list lack. SO, if you like the idea of a patterned wallpaper without it appearing too busy, this may just be the one for you.
The design features leaves which mirror each other to create an overall stunning grid effect. It has a light background that makes the honeysuckle leaves pop.
The material is a non-pasted and nonwoven blend wallpaper, so you will have to buy additional supplies to apply this to your walls. It also has a smooth texture with a semi-gloss finish.
This gorgeous green wallpaper is perfect for just about any room in the house. The design gives this linear wallpaper a linen-y textured effect that is reminiscent of a woven garment. The matte finish only lends itself to this motif and makes it a wallpaper you just want to reach out and touch to see if it really feels the way it looks.
This durable pre-pasted and paper-backed vinyl wallpaper is easy to clean and moisture resistant. It is washable, stain-resistant, and easy to remove whenever you are ready for a change. You can clean it using mild water and soap. However, the wallpaper is not recyclable or repositionable.
The gorgeous green wallpaper has a subtle pattern with breezy hues. The Ombre green swirls work to create a light airy effect that is reminiscent of both the beach and the country, meaning you can use it to help style your room any way you see want.
This wallpaper will look gorgeous in any room, but especially in rooms where a lot of natural light can be found. The natural light will accent the Ombre affect of the wallpaper, making it really pop against the light background of the paper.
Its design is abstract with swirly scale-like patterns. The material is a non-woven paper that has a smooth semi-gloss finish. It is pre-pasted for easy installation with little prep work ahead of time. You can easily wash it by wiping it down with a damp cloth.
Like some of the others on this list, this green wallpaper gives the appearance of a textured weave without being textured. This is an artistic wallpaper with inspiration from modern design. This wallpaper would pair nicely with a floral motif and work as a solid option to offset the busier design of a floral wallpaper pattern.
Because it is slightly darker in color, it may not be the best option for a smaller room, or one with poor lighting, so consider using it in an entry way or as an accent wall with lighter coordinating colors.
Since it is a peel-and-stick wallpaper, hanging it will be a breeze after minimal prep work of wiping down your walls to ensure they are clean. It doesn't leave a sticky residue and is easy to remove when you are ready for a change. The wallpaper is also easy to clean, reposition, and strip.
Conclusion
When thinking about wallpapering your home, there are so many things to consider, from applications styles, to designs, to colors. And these are just a few of the amazing green wallpaper options out there. We hope this list has given you a good place to start for your next room makeover project.
Let us know if the comments below if you found one that inspired you to start that new redo you've been wanting to do.