Green may not be the first thing you think of when you think of elevating your space or redesigning your rooms, but green can work wonderfully in all kinds of environments as long as it's thoughtfully integrated. Green home accent pieces work best when paired with a neutral or earthy color palette.
Since green is often a very rich color, it can really set off and ground a lighter, more neutral colored room. In fact, if you really want your green furniture to stand out, using it as an accent color is probably your best option. This way, the color pops and doesn't get lost in the rest of the design, or create unnecessary visual noise.
For more on how to revamp old furniture, check out our complete guide to flipping furniture, right here. It's a great place to start thinking about your next project, even if you've never flipped furniture before.
Here are 16 green home accent ideas to help spruce up your home (yeah, pun intended).
1. A Green Coffee Table
Coffee tables are a part of most living room décor. And what better way to give your space a little pop of color than with a green painted coffee tables. Since most painted coffee tables are usually DIY projects, this can be a good place to start if you're just getting into altering or revamping furniture.
Painting your coffee table a nice, rich green draws attention and helps ground the space by bringing in a solid, earthy tone.
Lighter shades, either distressed or not, tend to give a more vintage feeling and can be a great for a more delicate color palette. Either way, adding this green home accent piece to your living room is a simple and effective place to start.
An organizer is usually a series of drawers or trays designed to hold various objects, usually office supplies like pens and paper clips. However, since all of the trays usually slot together if they're picked up as a set, you can simply leave them assembled as an accent piece on a side table.
Choose your favorite shade of green and then create a green accent piece that is both a creative and functional centerpiece you can use when needed.
3. A Kitchen Island
If you are looking for a green home accent piece for your kitchen, consider painting your island. Kitchen islands are a wonderful way to give the family a place to hang out and increase the counter space available in the kitchen. They're also great for pulling in an accent color and livening up a space.
If your kitchen has room for an island, consider painting it green. Not only will this bring a fresh pop of color into your kitchen, but it may even help remind younger family members to eat their veggies. We can only hope on that that last one.
4. An Entertainment Center
Entertainment centers are generally a good ways to bring in accent colors and variety to the overall established pattern of a room. Their central location makes it clear that the color choice was intentional and that any other instances of that hue in the space are intentional.
Whether it is a built-in entertainment center, or a free standing one, you can easily transform it into a gorgeous green home accent piece that will make your room feel more alive and vibrant.
5. Lamps
A lamp is a simple, low-key way to bring color into the space. You can use it to highlight a larger piece of furniture, or place it on its own, elsewhere, to help bring the further into the room. From choosing a lamp with a neutral base and green shade, to one with a green base and neutral shade, there are endless options when it comes to lamps
Table lamps can also be used to set off or highlight wall art or an accent wall. Standing lamps can be placed next to larger furniture pieces for a similar effect. When looking for a green home accent piece to add to your room, consider starting with a lamp.
6. Chairs
A chair is another way to incorporate a green home accent piece into your home. Chairs can easily be reupholstered or sanded down and repainted into something eye-catching.
Consider adding a green chair to your room, especially when using a neutral color palette. A darker shade of green as an accent color will help ground the space and invite a very earthy feel, especially when paired with shades of brown and tan.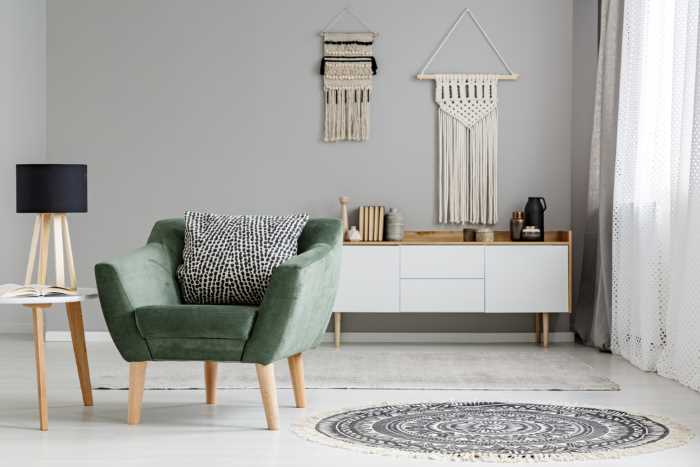 7. Patio and Outdoor Furniture
Many people overlook their outdoor furniture when it comes to color, which is a shame because this is a great way to tie your indoor aesthetics into your outdoor space as well.
DIY furniture made from palettes is a functional and inclusive family project, that can easily be painted to help accent the exterior of the home.
8. End Tables
End tables are another easy way to add some green home accent pieces to your space. They can add a pop of color to a room without being overwhelming.
The color can be pulled throughout the space by careful use of wall art, throw rugs, and pillows as complementary pieces. The end result looks fresh and airy while keeping the visual interest that such a unique color choice provides.
9. Wall Art
When wanting to add a little color to a room, finding pieces of wall art that match your color palette are a great way to do so. Finding green home accent pieces to adorn your walls not only enhances the visual aesthetic, but gives your room a little flare by showcasing your personality and style choices.
Choose paintings or prints that bring you joy while helping tie your décor together. Try something with a floral or botanical theme to give your room an earthy, natural feel.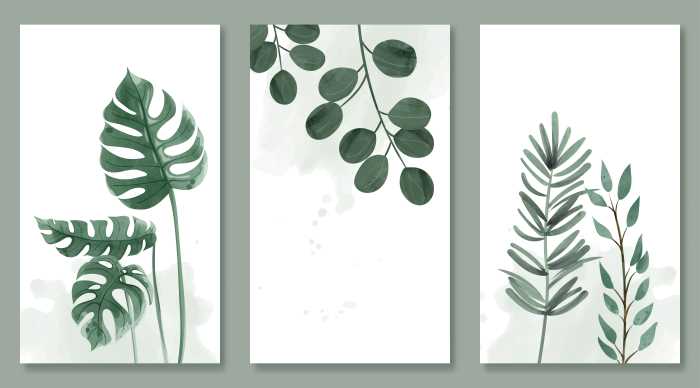 10. Throw Pillows and Blankets
Throw pillows and small blankets are a simple way to add a pop of color to any room. Hang a short, folded blanket over the arm of a couch or loveseat, or place a couple of pillows tucked against the arm of a larger couch and see how much it changes the feeling of the room.
This is a great way to add green home accent pieces to any room of your house. And if you are on a budget, it's the perfect way to get started without breaking the bank. It's also an inexpensive way to test out a color palette in a space before committing to a larger piece or painting project.
11. Garden Benches
Another great way to add a green home accent piece to the exterior of your home is to add a garden bench. Green paint is a great way to playfully hide or blend things in a garden.
Consider repainting any garden seating you may have, such as benches or chairs, with a lively green shade. Not only will this let them blend into the space a bit more, but doing so will create a whimsical feeling, especially if you decorate them further with painted flowers and vines.
12. A Bedroom Set
Green, whether it's pine or mint, can be a very calming and centering color. It usually reminds us of nature and the soothing comforts that come with being surrounded by it.
For this reason, it can actually be a great choice for a bed or even a bedroom set. Adding a calming shade of green to the space might be just the thing you need to turn your bedroom into the perfect little getaway.
13. A Dresser
A green painted dresser often has an antique or vintage feel to it. Many DIY projects focus on these types of green home accent pieces and there are scores of videos that cam walk you through how to create an aged or distressed look to any piece.
You will typically see lighter shades used for applications like this, but there's no law against using darker shades as well. If you're particularly artistic, you may even want to decorate it further with flowers, vines, birds, etc. — whatever makes you happy!
14. A Standalone Chest
A standalone chest for storage may not be as common these days as it was in the 1800s, but there are still plenty of uses for hollow furniture like chests and wardrobes, even in modern times.
If you find yourself with one of these pieces, consider making it into your next furniture project. A nice shade of green can really update an older piece of furniture and give it new life.
15. Bookcases
Bookshelves make great storage and can really add depth to a room. And a fresh coat of green paint can liven them up even more. Bookshelves are a great place to start experimenting with adding color too, as they're often thinner shelves and can be easily changed if you don't like the look.
If you're a little more sure of the colors you want, you might consider adding a coat of green to your bookcases. Adding color here will also help accentuate any book covers that feature green.
16. Dishware
Another easy way to add green home accent pieces to your décor is by incorporating green dishware, such as glasses and plates, into your kitchen aesthetic. Or use green bowls as accent pieces in other rooms of the house.
This works especially well if the kitchen contains more neutral colors like tans and browns, as it reflects a very nature-focused theme. Or use a softer shade of green, such as mint, pistachio, or seafoam green to give your space a more farmhouse or country flare. You can also bring this in with dish towels or a dish mat.
Conclusion
Green home accent pieces are a simple and fun way of sprucing up your home aesthetic. Whether you are looking for that next DIY project, or just wanting to add a pop of color to your room, green is a bold and beautiful choice.
Have you incorporated this color into your home, or used it in a recent DIY project? If so, tell us about it in the comments below.