I'm sure if you have clicked on this article, you are no stranger to the green couch trend swooping over Pinterest these days. And let me say, I am so here for it. Recently, greens and neutral colors have been making a big comeback in the decorating world as neutrals and more modern pieces have overtaken most home decor stores.
But how exactly do you decorate around a stunning new green couch? In this article, we are going to go over some of the best ways to transform your space into a masterpiece where relaxation and functionality are essential. Keep reading to see the trendiest green couch living room decorating ideas.
Everything About Decorating the Walls
Green is a cool-toned neutral color by nature that creates a relaxed atmosphere. Because there is so much green in nature, when it comes to green couch living room decorating ideas, I like to bring other colors found in nature to a space to blend with green accent pieces or furniture.
Paint
When changing up your current living room decor, picking a new paint color is one of the best things to start with, especially if you're going with an all-over new look. With green couch living room decorating ideas as your inspiration, gravitate towards natural color schemes such as browns, tans, greys, beige, yellow, pink, or off-white.
Depending on your style, you can either go more warm-toned or cool for your green couch living room decorating ideas. Both work wonderfully well with a green couch. Stay away from reds as this tends to come across as more holiday-themed, but if you're looking for a statement color, you can choose either purple or orange.
Wall Art
Just adding some statement art pieces can change the vibe of your whole living room. With the new green couch trend, you can add almost any art style and wood tone to the space while trying out green couch living room decorating ideas, and it will blend beautifully.
Modern art pieces seem to be in high demand. If you visit any home decor store, you may see these pieces lining the shelves of the art department. Bringing in simple art pieces makes a statement without causing too much distraction and can be made to match the other decor in your home.
Mirrors
Next on the list of green couch living room decorating ideas, let's talk about mirrors! Adding mirrors to a living room adds some design aspects and brings in more natural light. They can make a room appear larger and are helpful when decorating a long living room.
When decorating with mirrors to compliment your green couch lean towards more modern mirrors, pick one with a unique shape or such as round or oval which is extremely trendy at this time.
Plant Hangers
Adding in some extra greenery such as plants, real or faux, breathes life into a living room. Macrame has been extra popular over the past few years, and it is not going out of style anytime soon, so it's the perfect addition to our list of green couch living room decorating ideas. Add some dimension to a room by adding some plant hangers in different colors and textures.
You can also play around with the pots and containers that hold the plant, allowing you an opportunity to bring in some more texture and interest with your green couch living room decorating ideas.
All About the Floors
Whether you are thinking of refinishing, adding, taking away, or just adding a new area rug, your floors can add another exciting design aspect to your living room.
Dark stained wood floors, whether laminate or hardwood, add depth and drama to a space, whereas light-colored floors make intense colors pop. So depending on your design style, either would go great with a green couch.
Area Rugs
Adding area rugs brings more color, texture, and warmth to a space. If you have only hardwood or laminate flooring, adding a large area rug is always a nice touch to soften the room. When thinking about green couch living room decorating ideas, go for more natural colors with black accents or grey accents and choose an allover lighter or darker shade than the actual floor.
Area rugs are an excellent opportunity to play with colors as well. Add in some oranges, yellows, purples, and even pinks to brighten up your space and add in some design interest.
Ottomans and Coffee Tables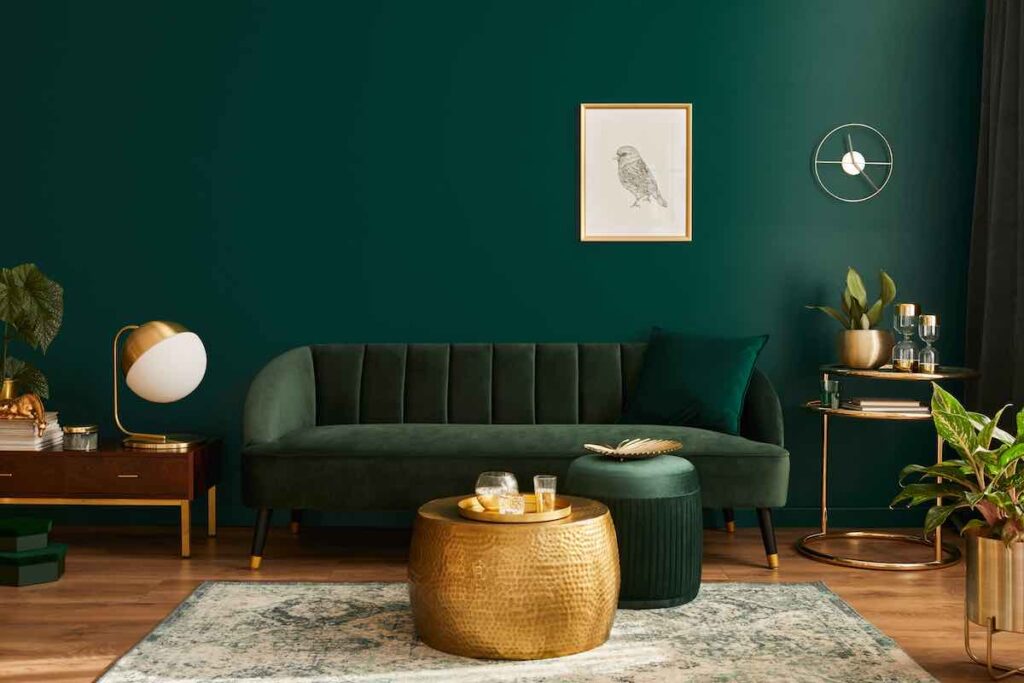 An ottoman or coffee table helps with storage or is a great place to put your feet up after a long day, but they also add a height differential to a room. When you have a space where all the furniture and accents are at the same height, it's a bit flat and dull to the eye. You want some pieces of different sizes to add an all-over interest to a living room, large or small.
What's great is that any color, style, or vibe can go well with a green couch. If you're looking for more modern, you can add in golds and blacks, and maybe you are more on the bohemian side with natural materials and light wood tones. Either way, you can design a space using your green couch as inspiration.
Let's Talk Furniture
When thinking of green couch living room decorating ideas, the type of furniture you choose depends on your personal style. Wood furnishings are always a safe bet when it comes to this, and you can pick any tone of wood that suits your liking.
Jewel tones such as deep reds, golds, and emeralds also make more of a dramatic appearance that can add some interest to your area. Black and white pieces have the same effect and bring a more modern touch.
Anything with a lot of fine detailing and carved designs brings a sense of formality, whereas unfinished wood pieces like knotty pine or oak create a natural atmosphere.
It's all About the Accents
My favorite part of decorating is adding in my accent pieces. Accents are where I feel you can bring your style to your space and sets it apart from any other home. It brings a sense of relaxation and peace when you can sit down in a room that feels like you.
Boho and Natural Accents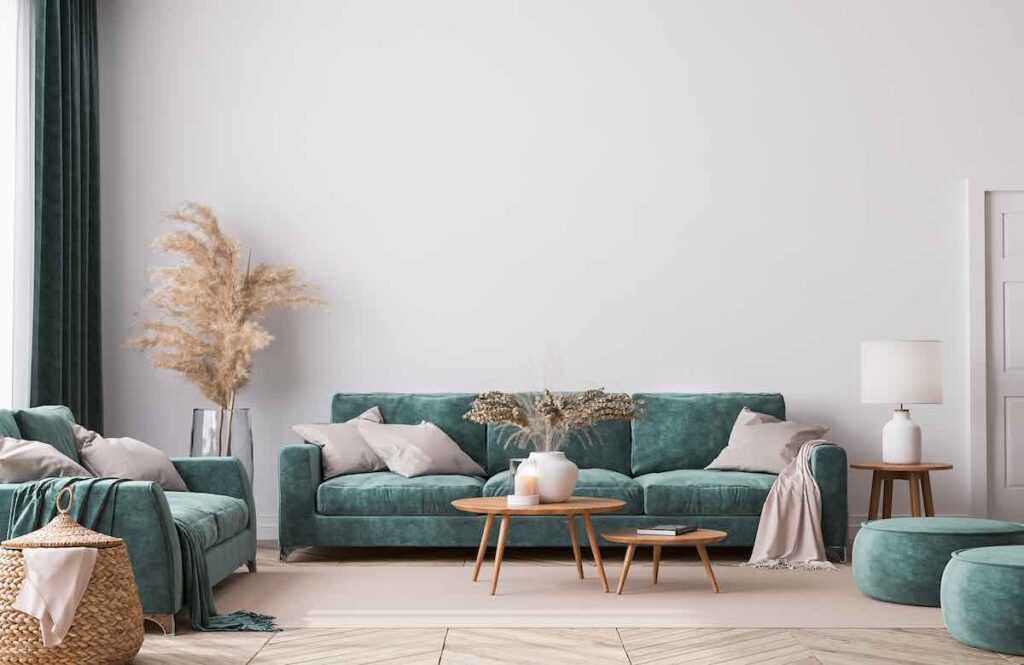 In recent years we have seen a massive upturn in the bohemian style of interior decorating, and that style is here to stay for a while longer.
Boho style is all about bringing the outdoors in and creating a natural space. It's less formal and more about natural pieces. Boho is a perfect style to bring in when decorating around a green couch because, in essence, green is a representation of nature.
When thinking of boho and natural accents, opt for greenery, pampas grass, natural colored stone vases, and macrame. Usually, with boho styles, you will see a lot of natural wood and light colors with a dark pop for some contrast. It's all about being light and airy.
Modern Black and Gold Accents
On the opposing side of the spectrum, you can choose to add some more modern and contemporary styles to your living room.
Gold and Black accents have made a big comeback in the interior decorating world. More iron pieces and glass now fill the shelves of your favorite home decor stores, and you see less of the farmhouse style.
Black and gold accents give off a more formal feel, but you can turn it into a relaxing, comfortable space with the following two accent ideas.
Blush Pink and Grey Accents
To soften the look while keeping it trendy, gravitate towards blush pink and grey accent pieces.
Blush pinks add a softness to the space and blend perfectly with a dark green couch. If you want to keep it minimal, you can swap the blush pinks for a soft grey.
The best thing with greys is mixing and matching different greys to create some interest in the space.
Throw Pillows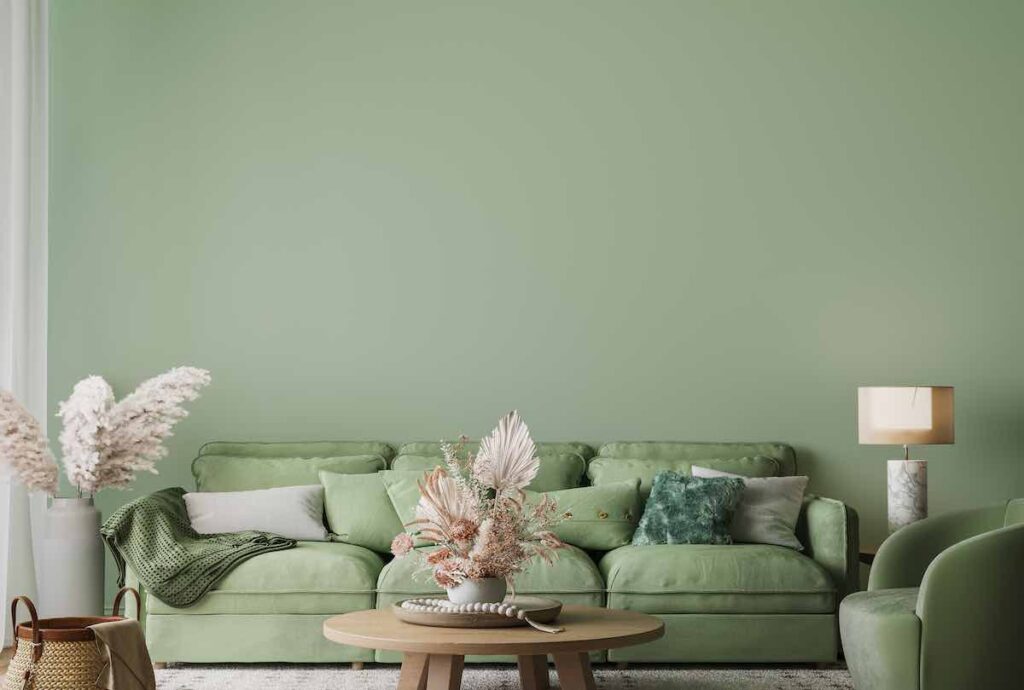 Throw pillows are a fantastic way to add some texture to your space. The newest trend is less of matching all of the throw pillows in your living room and choosing multiple sizes and styles to create an inviting atmosphere.
Changing up the throw pillows is also an inexpensive option for adding some eye-catching accents with green couch living room decorating ideas. Try adding some fluffier whimsical pillows next to some square or circle throws to make it even more trendy.
Throw Blankets
Just like throw pillows, adding some extra blankets is functional for your comfort and makes a room have a relaxed feel. Pull in wall colors or other accent colors when choosing a throw blanket to drape over your couch.
It gives the space a coziness and brings in more textures. Play around with fringes and styles just like you would with your throw pillows to unify the entire room.
Wrapping Up Green Couch Living Room Decorating Ideas
When thinking of green couch living room decorating ideas, many fun, fresh, and trendy ideas come to mind. After countless hours of perusing Pinterest, our minds can get a bit jumbled with too many ideas.
With this guide, we have stuck to the basics. You have everything you need when trying to change up your living room space and some new and trendy ideas to start. Check out our other articles if you're looking for even more interior design ideas. In no time, you are sure to create the space of your dreams.
Looking for more living room decor inspiration? Take a look at our list of 12 of the Best Blue and White Living Room Decorating Ideas and 9 Fun and Fashionable White Sofa Living Room Decorating Ideas!