Garlic and Herb Mashed Potatoes make a savory complement to lots of main dishes–and they're a powerhouse in the leftovers department too. This adaptable recipe gets its kick from a robust cooking liquid infused with tons of herby flavors, plus a generous squeeze of sweet-roasted garlic and some tangy dairy at the end.
While this version calls for chicken broth at the cooking stage, you can easily use water instead for a vegetarian option.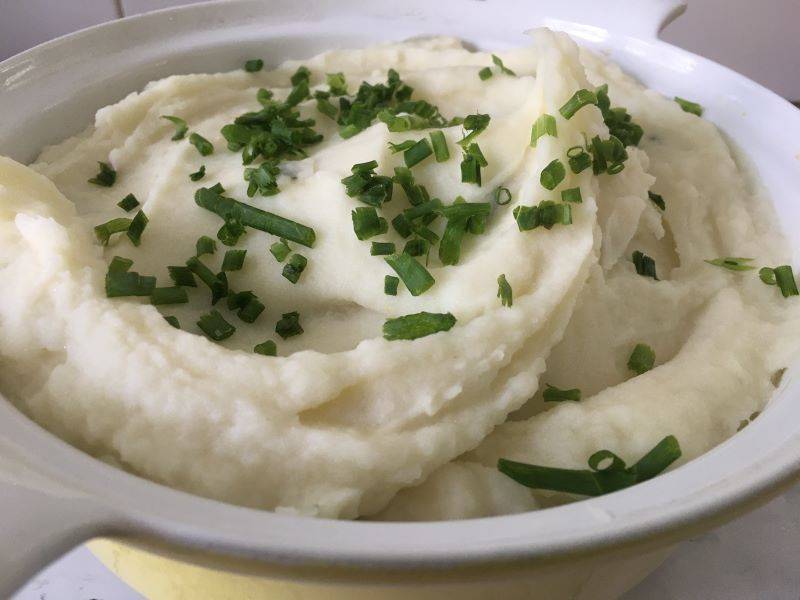 My Mashed Potato Journey
As the mashed potato czar for my hungry crew, I've always felt pretty solid (humble brag) about my MPG (Mashed Potato Game). Potatoes, dairy, salt, and pepper, done. That is, until a few weeks ago, when my eyeballs landed on an Instagram pic of a pot of potatoes boiling away in a broth and herb-packed pot.
WHAT. WAS. THIS. SORCERY. ??
So down the rabbit hole I went. After some testing, I came up with a new (to me) mashed potato concept: flavors (broth + garlic + herbs), then MORE flavors (sticky sweet roasted garlic + some tangy sour cream), then some additional flavors (chives/parsley, etc.). Where have you been all my life, these particular garlic and herb mashed potatoes?? Is what I said after bite number one. And is what I'm betting you'll say, too.
Good to know right off the bat
These garlic and herb mashed potatoes come together pretty fast and store well in the fridge, so you can even make them a day or so ahead and reheat, if needed. (Go ahead! Let those herbs and garlic get to know each other.)
They also make kid-friendly leftovers when squished into fritters and fried in a little glug of olive oil in a hot skillet. Pat them with a little cornmeal first if you go that route, or don't. They'll be delicious either way.
Don't have these exact herbs on hand? Don't fret. Use whatever you've got. Basil! Tarragon! Rosemary! Thyme! All roads lead to Rome on this one, if Rome is a bowl of the most delicious garlic and herb mashed potatoes you've ever tasted in your life.
More than just a side
While these herby mashed potatoes will stand up next to a steak any day, they also make a great nest for stew-y dishes like meatballs or chicken and dumplings, or a flavorful topping for shepherd's pie.
Another idea: build a hearty open-faced sandwich. Slather a spoonful of these flavor-packed potatoes on a toasted slice of crusty bread and top with turkey or roast beef for a seriously satisfying lunch bite.
Lots of ways to make these garlic and herb mashed potatoes your own
This recipe turns up the volume on the herbs without giving you a salad to chew. However, if you'd like more texture in this dish–something more akin to an Irish colcannon, say–you can mix in a handful of chopped parsley at the end.
Pressed for time? Skip the roasted garlic and sauté a few minced cloves in butter instead, then fold these in after mashing. You'll trade a sweet, mellow garlicky flavor for something more assertive–but it'll be just as yummy, I promise.
Let's cook!
Start with about 2.5 pounds of potatoes, or half a five-pound bag.
The kind is up to you. For flavor, you can't beat Yukon Golds, which are naturally buttery tasting. However, while Yukon Golds are *supposed* to yield a fluffier mashed potato (owing to their lower starch content), I actually found them easy to overcook, and a little glue-y when mashed tbh. Because of this, I recommend using a 50/50 combo of YG's and russets, or just all russets. (Heresy, I know! I said what I said.)
You'll also need garlic and fresh herbs (I used rosemary, parsley, and thyme), chicken broth base (again, optional), milk, butter, and a dollop of sour cream or full-fat yogurt, plus salt and pepper to taste.
First, peel and quarter the potatoes.
For the fluffiest results, soak the potatoes in cold water for 15-20 minutes, then drain and rinse them well. This will help eliminate some of the starch. (Look at all that brownish water above! That's a bunch-o-starch. I soaked these guys for a full 20 minutes.) If you're short on time, skip the soak and just rinse the potatoes well.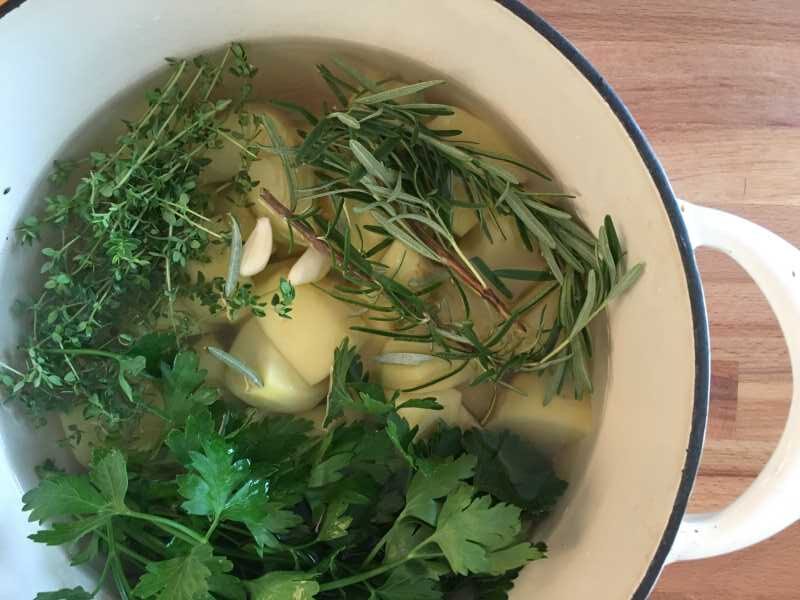 In your cooking pot, cover the potatoes with cold water by 2-3 inches. To the water, add a generous scoop of chicken broth base. (I use Better Than Bouillon for its rich, complex flavor, but bouillon cubes or a splash of boxed stock would also be great.) Add the leafy herbs to the pot, plus 2-3 cloves of peeled garlic.
Cook everything at a brisk simmer until the potatoes are fork-tender, about 20 minutes.
Meanwhile, prepare the roasted garlic.

Peel off some of the outer papery skin, then use a sharp knife to cut off the top ¼ inch of the garlic. Mine was a little green! Still tasty, though.
Drizzle the garlic with olive oil, then wrap it in foil and bake it at 400 degrees for 30-40 minutes, or until the cloves are soft and slightly caramel-colored.
A toaster oven works great for this step. Hot tip: If you're roasting multiple heads at once in your regular oven, you can also use a muffin tin to corral the cloves as they cook.
Once the garlic is roasted (and slightly terrifying looking), set it aside to cool.
When the potatoes are fork-tender, remove them from the heat and drain them. Remove and discard the garlic and herbs. Some of your herbs may have wilted into the mix; this is totally fine. Just try to remove as many of the stemm-y bits as you can.
Now cut half a stick of butter into pats and toss those pieces into the pot with the warm potatoes, along with the roasted garlic.
Using your electric mixer in the "off" position, smash the potatoes and butter together a bit to get the party started. This will help preclude GPS, or Gluey Potato Situation.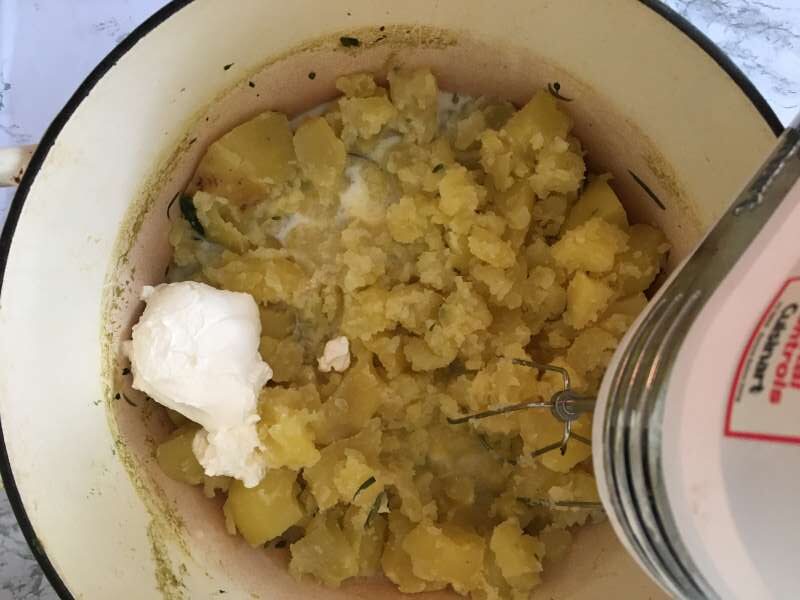 Add a generous splash of milk to the pot, plus salt and pepper to taste. Using your electric mixer on medium-low speed, blend the ingredients, adding more milk as needed to reach the desired consistency. Be careful not to overmix.
If you're adding sour cream or yogurt, go ahead and blend it in now. Keep mixing and adding milk in splashes until you've achieved the fluffiness you're looking for.
Almost finished! Shower the whipped potatoes with a handful of chopped chives and serve.
Keeping and storing and reheating, oh my
These garlic and herb mashed potatoes CAN be made ahead. (Don't let anybody tell you otherwise!) Just reserve the chive garnish and store the potatoes in the fridge in an airtight container. When it's time to reheat, fold in a splash or two of milk to loosen them up, then place them in an oven-safe dish and cover with foil. Warm them in a 325 degree oven until they're heated through, about 30 minutes.
Leftovers will keep in the fridge for 2-3 days.
Let's talk about those leftovers
There are a million options here. Bring a couple of eggs and some flour or cornmeal to the party, and you're in crispy fritter territory. Or press the potatoes into a heavy-bottomed skillet to serve as a base for a quiche or frittata. You can even pack them, along with meat and a sprinkle of shredded cheese, into a quesadilla.
Here are a just a few recipes to get your wheels turning:
Great mains to go with
In addition to traditional main dish options like turkey and meatloaf, these chive-y, garlicky potatoes partner especially well with sweet meats like ham or pork chops. They'd also make a flavorful accompaniment to a tender sirloin steak.
And a glass of something nice
If you go the steak route, a full-bodied red wine, such as a Cabernet or a Pinot Noir, would make a great pairing. Or a sweet Lambrusco! With pork chops, I might serve a crisp white, such as a sauvignon blanc; the sweetness would play nicely with the meat and offset the savory potatoes.
Ready to cook? Let's go!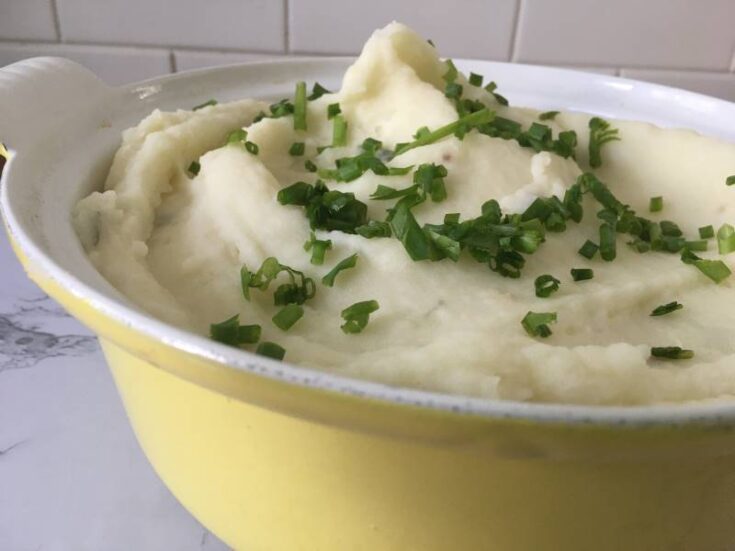 Yield:

10 Servings
Fluffy, Flavorful Garlic and Herb Mashed Potatoes
Additional Time:
10 minutes
Total Time:
1 hour
10 minutes
Cooked in an herby, garlicky broth, these pillow-light potatoes pack a powerful punch in the flavor department.
Ingredients
2.5-3 lbs potatoes (Russets, Yukon Golds, or a mix of both)
Fresh leafy, stemmy herbs (I used a small handful each of parsley, rosemary, and thyme)
Fresh chives
Garlic (one head for roasting, plus a handful of cloves)
1-2 tsp. chicken bouillon base, such as Better Than Bouillon (optional)
4 T butter, cut into pats
½ cup of milk
Dollop of sour cream or plain, full-fat yogurt
Salt and pepper to taste
Instructions
1. Peel and quarter the potatoes.

2. To reduce the starch content, soak them in a few inches of cold water for up to 20 minutes. Drain and rinse them, then place them in a heavy bottomed pot and cover them with water by 2-3 inches.

3. Bring the water to a gentle boil. To the pot, add the leafy, stemmy herbs, 2-3 cloves of peeled garlic, and the chicken broth base, if using. Cook uncovered at a high simmer until the potatoes are fork tender, 20-25 minutes.

4. Meanwhile, roast the garlic. Slice off the top ¼-inch of the head of garlic and drizzle the cloves with olive oil. Wrap the garlic in foil and roast in a 400-degree oven for 35-40 minutes, or until the garlic is deeply fragrant and caramel-colored. Remove the garlic from the oven and let cool.

5. When the potatoes are cooked, drain them well. Remove the herbs and garlic cloves from the pot.

6. To the pot, add the butter pats and roasted garlic, plus salt and pepper to taste. Using a hand mixer in the "off" position, gently crush the butter and garlic into the potatoes. (Easing into the mixing process will help prevent glue-y potatoes.

7. Engage the mixer's motor and begin to add the milk in increments to reach the desired consistency. If you're adding sour cream or yogurt, gently blend it in.

8. Transfer the mashed potatoes to a serving dish and shower them with a handful of chopped chives.
Notes
Be careful not to overmix, especially if you're using gold or red potatoes. I recommend mixing in short bursts at high speed for maximum fluff-factor.
Check out our other recipes on That Sweet Tea Life.