Dressing up your front porch is the perfect way to enhance your home's curb appeal.
Adding a few unique touches lets you play with your home's exterior aesthetic. It's an easy way to refresh the look of your home that incorporates your personal style.
Keep reading for 15 front porch decorating ideas that are simple yet effective.
---
1. Display Decorative Flowers and Vases
Placing brightly colored flowers and ornate vases tops our list of front porch decorating ideas because it's a classy yet effortless way to add personality to any outdoor space. Best of all, there are endless options to choose from!
You can add hanging plants that spill over with seasonal flowers for a dramatic effect, or, incorporate oversized planters to fill vacant spaces. Smaller options include a small trough garden, window box, or micro planters.
Ornamental vases are the perfect way to integrate pops of color and to show off your personal style. Textured, antique, handcrafted, mosaic, ceramic, and DIY styles are welcome!
---
2. Add Unexpected Details
Catch guests' attention with a few surprise accents!
Another one of our front porch decorating ideas is to place special, curated items on your front porch. These items can include vintage suitcases, decorative wagons or whimsical gnomes, or organic accents like seashells, starfish, sand dollars, or petrified wood. This is also a fun way to wow guests with a memorable first impression.
---
3. Play with Seating
Your seating selection will depend on the amount of space that your porch has available.
If you have a larger porch, like a wraparound or screened-in porch, one of the best front porch decorating ideas is to fill the space with larger pieces. You can add an outdoor sofa or bench or even a hanging porch swing or egg chair.
If you're working with a smaller space, consider a set of Adirondack chairs, a rocking chair, or floor-seater pillows.
---
4. Jazz up the Front Door
Playing up the front door is a great way to add a focal point to your home's exterior. It's also one of the front porch decorating ideas that's gaining fast popularity!
Depending on your home's style and favorite colors, you may choose a bright shade or a classic neutral.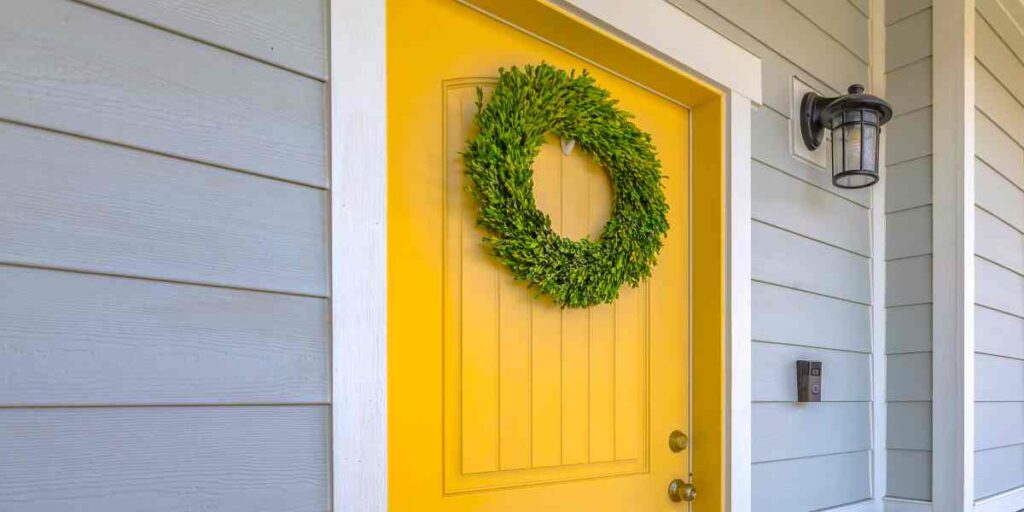 Popular colors for vividly-painted front doors are yellow, raspberry, coral, and turquoise. You can also consider pastels like powder blue, mint green, or sage.
For a traditional look that's more toned down but still eye-catching, look to golden yellow, navy blue, grayish blue, raisin purple, cinnamon, or dark chocolate.
---
5. Light it up
Guide guests toward your front door and set a gentle ambiance with the perfect lighting.
It's one of the more functional front porch decorating ideas because it allows you to illuminate your space with stylistic pieces better.
One of the best ways to draw attention to your front porch is to use adequate lighting. Many people have dimly lit porches, making the front of your home hard to see. It's important to use enough lighting so the front of your home is lit in a way that's soft, yet inviting. You can also use special bulbs that help dissuade mosquitoes and other bugs.
For extra pizzazz, you can add statement lighting. Statement lighting can take the form of a single chandelier, a few accents, or both of these options.
Depending on the space available, you may choose a larger piece, like this wagon wheel chandelier. You can use certain lights to draw eyes to your front door, like these outdoor LED wall lights.
If minimalism is your preference, consider a smaller ceiling fixture, like a flush-mount ceiling light, or add an ornate wall light on either side of the front door.
Other fun options are lights that resemble backlit pictures or solar firefly lights to place in front of your porch.
---
6. Hang a Wreath
What's great about wreaths is that you can really make them your own.
One of the especially DIY front porch decorating ideas, you can easily look up handmade wreaths and construct one totally from scratch. If you have kids, this clothespin wreath is a fun, family-friendly project to get them involved in.
You also don't have to go the DIY route. You can purchase a wreath that's already constructed and then add in your own elements. You can go natural, bold, rustic, simple, or whimsical: the choice is yours!
You may also swap out your wreath seasonally, or choose one that's suitable year-round.
---
7. Change out Your House Number
Having the right house number hardware can certainly make it easier for guests to find your home. But as one of the more overlooked front porch decorating ideas, it's one that's easily forgotten.
For this, you can choose from house number plates, personalized metal house number signs, backlit house numbers, floating numbers, and more! You can even add a touch of greenery with a house number planter.
---
8. Incorporate Seasonal Decor
If you don't swap out your exterior decor to complement the seasons, then this is your sign to get started!
Seasonal outdoor decor is one of the most popular front porch decorating ideas because it doesn't have to require painting, installation, or touch-ups. You can go as simple or larger-than-life as you'd like.
For this, you can use decorative accents such as a wreath, front door mat, seat pillows, hanging signs, pottery, or seasonal greenery. It's also another opportunity to use smaller items, like seashells and branch or flower bundles.
---
9. Choose an Outdoor Rug
If you aren't sure how to start off the theme of your front porch, begin with a cool rug. A rug is another front porch decorating idea that you can change out seasonally. However, if you're placing it underneath larger furniture, you'll want to go with something more seasonally universal.
An outdoor rug can be large or small, depending on your available space. It's also a good opportunity to incorporate prints and pops of color. Choosing a rug with a specific color scheme is a great way of tying in different colors. For example, if you have an orange, yellow, and red rug, you can choose pillows, vases, and hanging items around these colors.
---
10. Paint the Porch Ceiling
Painting the porch ceiling is a unique and unexpected way to refresh your front porch space. It's also a more labor-intensive front porch decorating idea, but the finished product will be well worth it.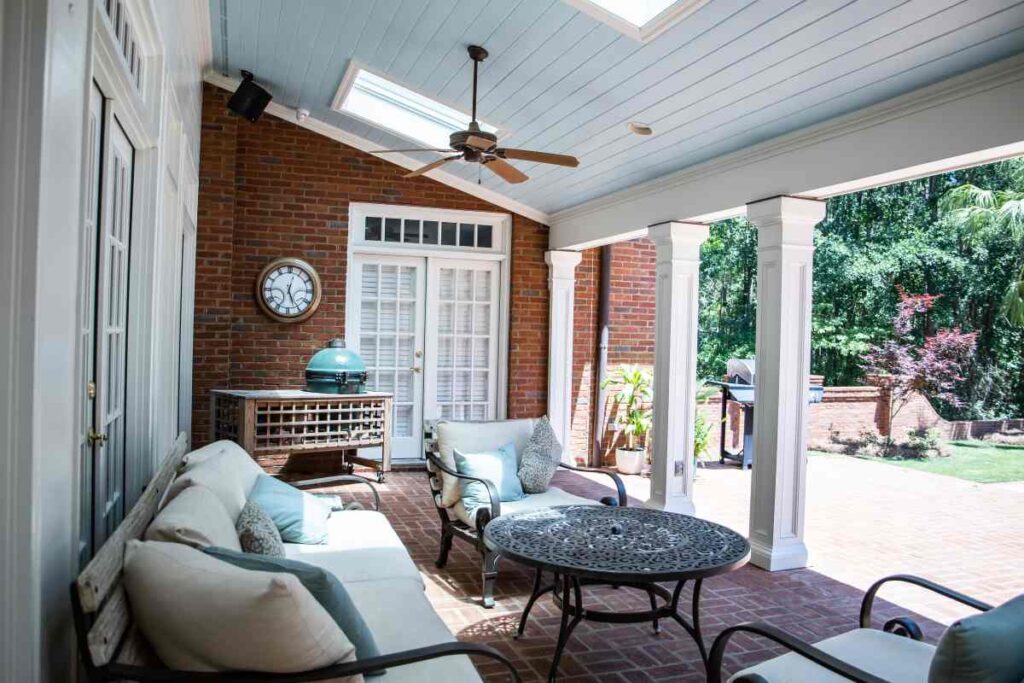 We suggest using a lighter color for this project, like baby blue, faint yellow, or misty green. Using a lighter color will brighten up the space and make it look larger.
---
11. Pick a Color Scheme
One of the best ways to get started when it comes to front porch decorating ideas is to set a color scheme. This idea allows you to tie in the theme of your interior–and there are endless options to choose from.
If a coastal theme is your go-to, design it around the colors of the beach–teal and beige–or go with a nautical theme.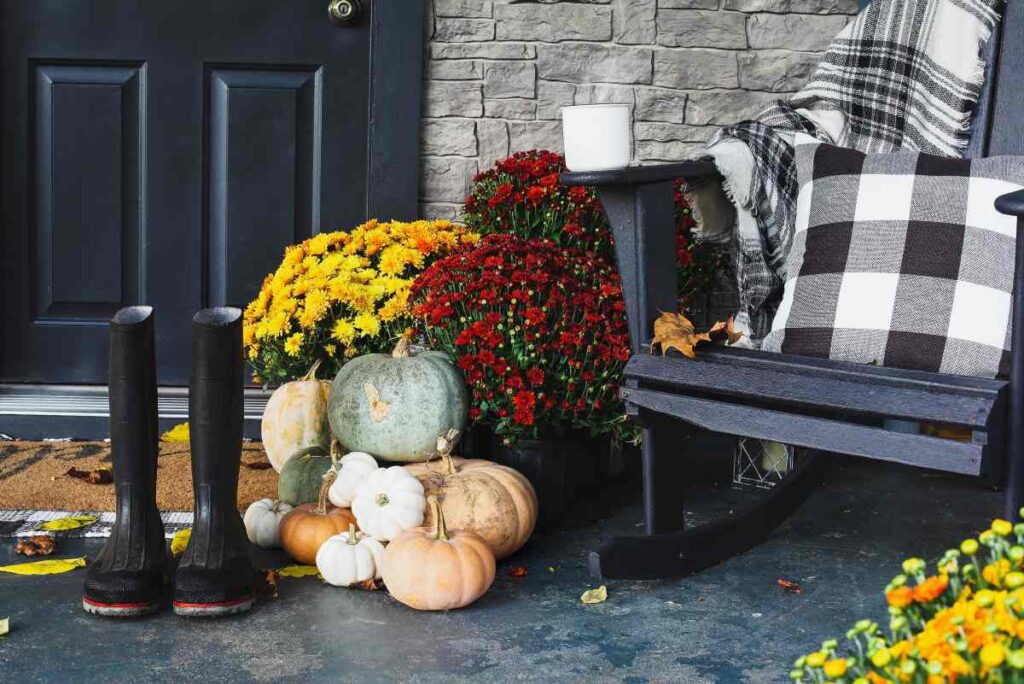 Do you live in a woodsy area and enjoy spending time in nature? Bring out the earth tones, like browns, grays, greens, and beiges.
Is sleek and clean more your style? Go with a simple, black-and-white, monochromatic palette.
Is the interior of your home filled with color? Select your favorite three and design your outdoor space around them.
---
12. Find a Fun Welcome Mat
Because a welcome mat is easy to change out and lays flat–meaning that you can't see it unless you're standing on the porch–it's one of the most subtle and easy front porch decorating ideas.
You can swap the welcome mat according to the season, choosing one with pumpkins, snowmen, or flowers. You can choose one with a greeting or make it custom by adding your last name. You can even select one that's on the silly side, such as this vintage trap door mat, a pet-friendly mat, or this scary movie-themed mat.
---
13. Update the Flooring
Give your front porch space an update with new flooring.
Another one of the more labor-intensive front porch decorating ideas is flooring. However, updating your flooring can uplift the space just as much as an aesthetic color scheme or ornate rug. Like the suggestions listed above, there are many options to choose from.
You can use a wood floor with a bold stain that contrasts against the porch furniture or a cement floor for a more basic finish. You can also liven up the space with a patterned tile floor, a painted stripe floor, or a stenciled floor.
---
14. Extend a Warm Welcome
There's no better way to welcome guests to your humble abode than with an outdoor welcome sign.
Welcome signs are one of the most traditional front porch decorating ideas–and also one of the easiest to add-in.
With welcome signs, there are two common options: a standing wood sign that you can place on the floor and rest against your home, and a hanging welcome sign, perhaps for the front door. A fun idea to consider is welcome signs with interchangeable elements to match the seasons.
---
15. Refresh Your Hardware
Last but certainly not least, another one of the often-overlooked front porch decorating ideas is to upgrade your hardware. Hardware includes the doorbell fixture, the doorknob, and an optional door-knocker. Match the hardware to complement your chosen aesthetic, and use these subtle elements for a cohesive finish.
---
Wrapping up Front Porch Decorating Ideas
The front porch doesn't have to be a simplistic, toned-down area of the home. With these 15 front porch decorating ideas, you can take your entryway to the next level with attractive elements that convey your home's personality. It's an easy way to create added curb appeal, while also warmly inspiring you and your family, no matter the season (or reason).
With a few easy-to-do front porch decorating ideas, you can give new life to this space as an outdoor hangout for family and friends. Check out our page on 11 Front Porch Decorating Ideas on a Budget for more help getting started!