With remote work on the rise, desk is a must-have piece of furniture in every home. If you're setting up your own home office, these 27 farmhouse desks will inspire you to create spaces you'll love to work in.
Roll Top Desks
A roll top desk harkens back to days when a home office was simply a piece of furniture in the living space. These desks were a status symbol and a statement of prosperity. Handed down from generation to generation, roll top desks bring a solidness to a room while adding grace and curves.
1. Antique Roll Top Writing Desk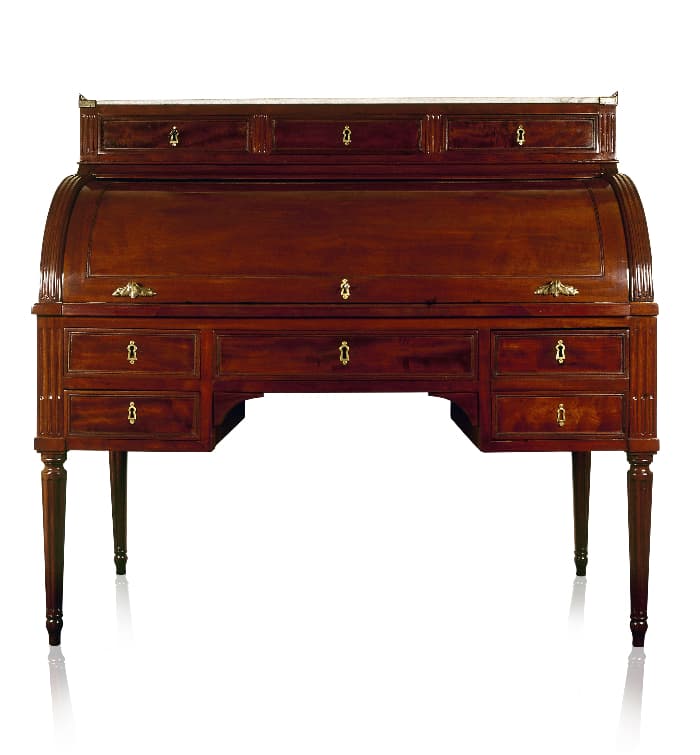 Imagine the business conducted behind this stunning desk. The beautiful tapered legs, woodwork, and brass detailing make this desk a showpiece in any upscale farmhouse decor. The top is just waiting to hold a few prized porcelain treasures like grandma's old chocolate set, or a silver cardholder.
2. High-End Roll Top Desk
The wood applique and gentle curves of this farmhouse desk impart a sophisticated, high-end style. The padded inlay and desk top drawers amp up the rich look. This piece would look stunning as a focal piece in a home office or library as well as a formal living room.
3. Writer's Roll Top Desk
This classic oak, roll top desk harkens back to a day when most people worked at home, either on the farm or in some other homestead capacity. Here the desk is set up for a writer, imagine Louisa May Alcott, author of Little Women, penning her masterpiece on a small, solid oak farmhouse desk like this one.
4. Classic Oak Roll Top Farmhouse Desk
When you think of a vintage farmhouse desk, this classic oak version comes to mind. A well-worn patina gives this desk tons of character and a mysterious history. The built-in slots and draws for storage add to the vintage feel. Notice the locking drawer hardware on the bottom right, a detail not often found on these old roll top desks. If you find one of these beauties, buy it.
5. Not Quite A Roll Top
Instead of a roll top, this desk offers a roll drawer. The solid, masculine design gives this piece presence. It will make a statement in any room. The tri-piece leather top adds an interesting design element, but the real showstopper is the roll drawer. The classic Colonial design is perfect for an at-home office and will fit in nicely in any farmhouse decor.
6. Miniature Roll Top Desk
When you don't have room for a full scale version of a classic roll top desk but still want the gorgeous style, opt for the doll house size version. Displaying this adorable piece on your traditional farmhouse desk will bring the feel of the classic look without gobbling up tons of floor space.
Painted Desks
If you are lucky enough to find an old piece of furniture that is still functional but in rough shape, you can easily add a coat of paint to give it new life. Check out our instructions on painting furniture at The Best Paint for Furniture DIY Projects.
7. Monochrome Antique Desk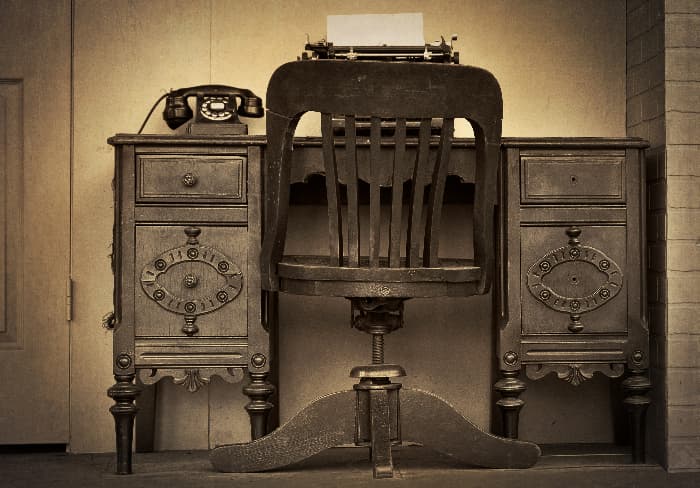 This desk and chair have been pained over creating a stunning monochromatic tableau. The ornate turnings and applique elevate the simple lines. Notice some knobs are missing, but that doesn't interfere with the overall grace and beauty of this gorgeous farmhouse desk.
8. Brightly Repainted Farmhouse Desk
This turquoise painted desk is definitely the star of the room. It makes a bold, look-a-me statement. The framing details around the drawers and the turned legs are perfect for shadowing to add depth to the piece. More than just a desk, this is a piece to show off your farmhouse design esthetic and would function as a side board or desk equally well.
9. Classic White
There is something elegant about a white desk. Simple and classic, the flat white paint shows off the graceful curved legs. This desk or table is a piece that plays a supporting role in your farmhouse style. It adds a feminine softness that will look perfectly at home as the surrounding decor changes.
10. A New Desk With Old Look
Pick up a plain, unfinished wooden desk and give it an old look. Distressed painting or using a wash finish will take that new desk and give it immediate history. Use a funky color or a classic farmhouse palate, add antique hardware and you have a statement piece that looks like you spent days combing antique stores to find it.
Unique Farmhouse Desks
Adding some eclectic design pieces to your farmhouse decor will make your home truly reflect your personal style. These desks are fun and funky, and will make a statement about your design esthetic.
11. Chunky Desk
The chunky legs give this desk a unique style. It almost looks off balance with the center placed legs. It is a good flat surface with lots of space usable for laptop work. Pair it with a super comfy chair and you have the perfect farmhouse desk for a little nook.
12. Tiptoe Desk
This ornate desk appears to be standing on tiptoe. With the legs centered under the side drawers, the desk seems to have made a graceful and delicate landing. The burled top piece with its sensuous curves and ornate wood adds height and balance to the interesting style. Like all great classic farmhouse desks, this one has a leather inlay on the desk surface.
13. Solid Wood Desk
This is a working farmhouse desk. It's sheer heft and carved details give the desk a rich look that is tempered with hard work. The molding and egg and dart trim make a statement about the wealth of the owner. This is not a desk to be pushed up against a wall, this is a desk that is the center focal point of everything. This is a successful farmer's desk.
14. Schoolhouse Desk
This old schoolhouse desk would look amazing in a youngster's room. The well-worn wood top with lots of great storage is perched on sturdy cast iron legs for a graceful and functional piece. Finding a wooden pedestal chair would round out the farmhouse desk look perfectly. It is an antique hunter's dream find.
15. Simple Lines
Farmhouse style lends itself to simple furniture that can be surrounded by fun and colorful accessories. This simple, but hefty desk works perfectly as a foil for all the surrounding color. The straight lines and burled wood panels show off the beauty of the desk without taking over the room. The piece is stylish and functional; perfectly suited to blend into the wainscotting and let the wallpaper and chair be the star of the show.
16. Delicate Details
If your style leans more towards clean lines and delicate details, this desk will fit the bill. The pretty inlaid design, the vintage hardware, and the metallic feet give this desk a sleek and stylish look without stealing the show. It is a wonderful accent piece that can be used as a desk when paired with an equally delicate antique chair or as a side table to display photos and art pieces.
17. Wood Showcase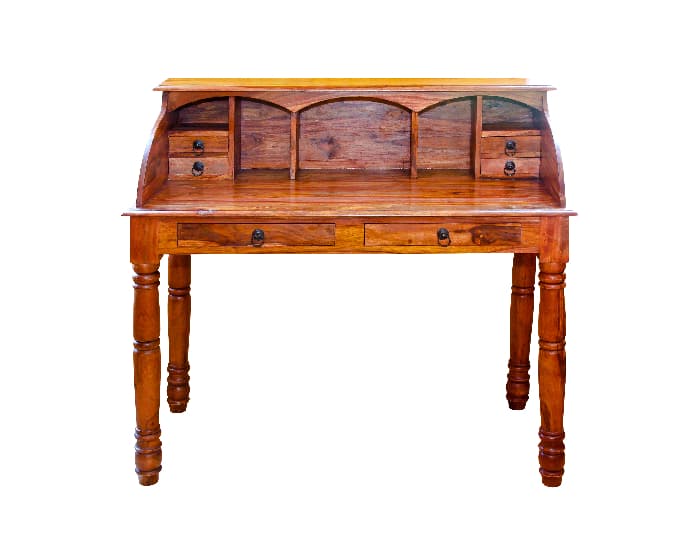 This desk packs a design punch. The glossy finish on the pine wood showcases the knots and wood grain giving them the spotlight. The sweet arches, tiny drawers, and iron hardware take a back seat to the high gloss finish. The turned legs are large and somewhat oversize for the small, dainty top. However, this piece would be right at home in a rustic farmhouse setting.
18. Trestle Farmhouse Desk
Is it a desk or a table? It is whatever you need it to be! This classic farmhouse trestle table would make a perfect desk when paired with a soft and cozy stuffed chair. It can also function as a table when you need extra seating or a buffet table at holidays and parties. Following the design rules of form and function, the desk can be stationed against the wall for everyday use, then repositioned when you need to press it into service for a gathering. This piece is a win/win in your home design.
19. Blacksmith Desk
This simple piece embodies beautiful flowing lines in an ethereal rustic style. The harp shaped turned legs paired with a blacksmith tong like center brace play off against the solid, unadorned desktop. The ultimate in grace and elegance, this unique farmhouse desk will surely be one of your prized pieces.
20. Ornate Desk
Heavy and ornate, this bold desk makes a definitive statement piece. It was most likely transported from Europe on a boat when a traveler arrived in America. The old world style with ornate carving work will anchor any room. This piece works in a room that is highly ornate, but also would work as a stand-alone family heirloom.
21. Library Desk
The green leather inlaid top sets this desk apart from other gentlemen's library desks. The turned legs and burled wood showcase fine artistic detail making this a beautiful piece. When you pair this with a fine leather chair, you will have an elegant look that would work for a high-end farmhouse look.
22. Plank Desk
An old wooden table that is on the small side, makes a perfect farmhouse desk. It also serves as double duty as a table. Having a dedicated desk space, it can function as a workspace, design piece, and multi-functional piece.
23. Munchkin Size Desk
The little people in your family need work space that is perfectly sized to their tiny forms. A fun desk and chair set with sturdy legs is the perfect way to get them to sit still and work on a project for a minute or two. The star cutout and cloud shaped table would work in any children's room. For children, it is often better and safer to purchase new pieces that look old instead of using pricey antiques to furnish their personal space.
Etsy has an adorable table and chair set with circle cut out chairs and a chalkboard top.
Build Your Own Farmhouse Desk
Necessity is the mother of invention. When you lived on a farm, you used what you had around you. Making you own stunning farmhouse desk is a fun project, and when done with simple yard sale finds will make your design style shine and your pocketbook smile.
24. Sawhorse Desk
Recreate this look with two construction sawhorses and a wood slab. You can paint it one solid color, or add a gorgeous reclaimed wood top for a true rustic look. Pick up a pair of metal saw horses and add a pretty slab of reclaimed wood and you will have a custom, one-of-a-kind desk that suits your personal style.
25. Sewing Machine Desk
This project doesn't take too much work and can make a stunning piece of furniture. Old sewing machine tables with cast iron bases transform into sweet little writing desks. Many of the machines are not attached or sink into the table making the transformation to a desk fairly easy. You can find a wide selection of sewing machine bases and handcrafted wooden desk tops on Etsy. Just a little assembly required.
26. Simple Lines
If your design aesthetic leans more towards simple, clean lines, you can build your own custom-made desk with simple plywood. All you need are DIY building plans and you can customize the size, color, and functionality of your farmhouse desk. The clean lines allow you to stain a good quality wood, or paint and patina a less expensive material.
27. Barnyard Scrap Farmhouse Desk
When you find beautiful old wood in your barn you can test out some of your construction skills. As you can see, this piece is warped and worn which adds to the charm. It is interesting to mix wood types and let their beauty shine through by simply polishing them with butchers wax.
Farmhouse Desks
Farmhouse desks work perfectly in an antique focused decor. Additionally, the make a stunning contrast piece and are equally at home in a modern design style. Join us at This Sweet Tea Life as we traverse the world of crafting and DIY projects. Sign up for our newsletter today.