There is nothing more magical than the holiday season. If you absolutely love Christmas, you probably start decorating as early as possible. Once December rolls around, it is time to turn on the Christmas carols, break out the decorations, put up the tree, and start baking gingerbread. And if you are into farmhouse decor, you know you'll want to have some seasonal signs to adorn your walls.
Farmhouse style has found a particular niche in Christmas decoration, which means there are tons of ways to make your house look great during the holiday season. Here are 40 Farmhouse Christmas signs we know you are going to love.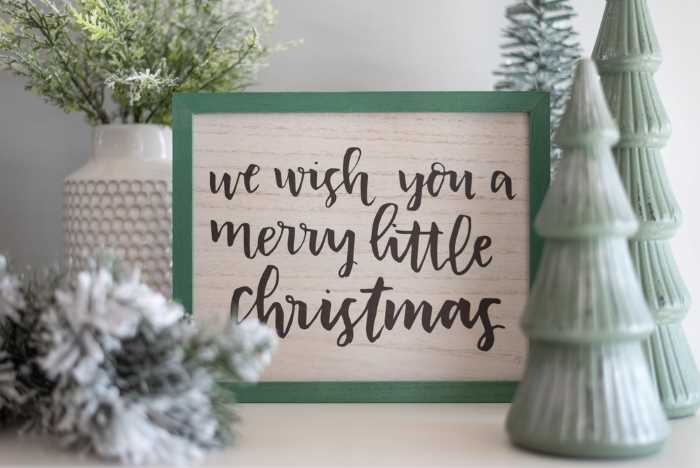 Combining both elegance and whimsy, this sign has a muted art style that evokes some of the classic holiday art you will see in beloved old picture books with a whimsical holiday feel. It will also make you think of the comforts of the holiday season, like snuggling in bed and enjoying milk and cookies. It's certainly one way to ensure that it will be a good night.
It's hard to even read those words without wanting to burst into song, isn't it? I mean, what better way to get yourself in the holiday mood than with a classic Christmas carol? If you are someone who has the Christmas station playing as soon as December rolls around, you will love a sign that pays homage to your favorite songs.
Choosing from a collection of themed display signs is a great way to add some simple decoration to your home during the holidays. These combine the best Christmas themes, drawing from classic carols, traditions, and religion while adding a personal touch. Mix and match the prints offered to create a look that suits your holiday style.
There is something endearingly nostalgic about certain Christmas songs, and "Have Yourself a Merry Little Christmas" is no exception. It has been a beloved Christmas carol since the 1940s, when it was first sung by Judy Garland. This piece of holiday décor immortalizes it with an oversized farmhouse Christmas sign.
Sometimes the most eye-catching pieces of décor are the most subtle ones. This simple, delicate, hand-stenciled farmhouse Christmas sign holds the opening words to one of the most classic Christmas carols of all time. With a black background and a few solitary stars, it evokes the feeling of a cold, bright midwinter sky.
The tradition of kissing under the mistletoe has been around for almost two thousand years. Blooming during the winter, mistletoe was once associated with vitality and fertility. These days, we associate it with the Christmas season and stealing a kiss with your sweetheart. This endearing farmhouse Christmas sign pays tribute to two millennia of tradition.
There is a magical feeling to the holiday season, with the twinkling lights, the glistening snow, and the sense of awe and wonder all around. Whether it's the tale of Christ's birth or the story of Santa and his reindeer, you can't deny that there is a certain magic to it. As adults, we sometimes have a hard time holding onto that, and this Farmhouse Christmas sign offers a poignant reminder.
8. Dear Santa
A fun and whimsical Christmas sign to consider is the Dear Santa sign. You can finds ones that say everything from "Let me explain," to "Define Good." These humorous and playful signs are perfect for those of us who might possibly find ourselves on Santa's naughty list from time to time.
As we get older, we sometimes forget the awe and wonder we had as kids at Christmas time. We tell ourselves that we'll never grow so old that we forget these moments and these feelings, especially during the holidays. This farmhouse Christmas sign is a small reminder to keep your childlike joy on Christmas Eve.
This simple yet intricate sign is detailed with sparkling snowflakes and gorgeous lettering to make it as eye-catching as a Christmas ornament. Set it by your Christmas tree, on your 3-tiered tray, in your entryway, or up on your mantel to evoke the white of the winter snow and the gold of holiday decorations.
O Holy Night is one of the most beloved Christmas carols of all time. The powerful ballad has had a long history since it was first set to music in the 1840s. This beautiful farmhouse Christmas sign pairs perfectly with your favorite version of the much-covered song.
The sound of sleigh bells is so closely associated with the holidays that many of us call them Christmas bells or jingle bells. This sign offers a subtle, elegant reminder of one of the many sounds of the season.
Everyone needs a festive sign on their porch during the holidays. This fun, vertical, farmhouse Christmas sign adds a bright pop of color and some hand-painted snowflakes, perfect to adorn your porch this season. It will definitely be a sign that you bring out year after year.
14. Merry Christmas Y'all
The only thing that could possibly be more southern than sweet tea is the word "Y'all." And what better way to give your home a little southern flare than with a "Merry Christmas Y'all" sign?
This Christmas tree farm sign evokes a simpler time — maybe even memories of your childhood — when families would go together to cut down their Christmas tree. You can order this sign with your own family's name substituted in.
For everyone in the Northern Hemisphere, the holidays fall in midwinter. That means the weather outside is bleak and you need something to warm you up. Hot cocoa is the perfect way to cheer your spirits — especially if you advertise it with a cute sign.
Another Tree sign to consider is the Farm Fresh Christmas sign. This distressed shiplap sign advertises fresh trees ready to bring home and decorate with lights. It puts a seasonal twist on your farmhouse décor that is attractive and subtle at the same time.
It's A Wonderful Life is one of the most beloved Christmas movies of all time. Even though this quote doesn't have an explicitly holiday-themed quote, fans of the movie will recognize it immediately as a nod to the Jimmy Stewart classic. And this could quite possibly be the Farmhouse Christmas sign you can leave up year round
Another mix and match option are these mini farmhouse Christmas signs. With five options available, you could easily snag 2, 3, or all 5 of these Christmas signs to create an adorable mantle piece or holiday wall gallery.
Is there anything better than having your family and friends together for the holiday season? As the old Christmas carol goes, there's no place like home for the holidays. And this beautiful farmhouse style sign is a great decoration to have in your home for the holidays.
The 1983 movie A Christmas Story became an instant holiday classic, partially because of its extreme quotability. If you're a pop-culture lover and looking for some Christmas signs to accentuate that, then these are the signs for you. Choose your favorite quote (or three) from a variety of options to add a little humor and fun to your holiday décor.
Advent calendars are nothing new, but they weren't always made in a classic farmhouse style. This is a farmhouse twist on the classic countdown. Your kids (or you, cause we know you will) will love moving the counter every day as Christmas get closer. And the best part is it can be stored away to be used year after year.
Another option for the pop-culture junkies out there is this array of mini Farmhouse Christmas signs. If you can't choose a favorite Christmas movie to commemorate on your wall, why not choose from a multitude of options and grab a few to create the ultimate holiday movie montage? Your choices include some of the most popular holiday films of all time: A Christmas Story, The Grinch, Elf, and National Lampoon's Christmas Vacation.
Many of us reminisce about loved ones who have passed during the holidays. We lament their absence and remember fondly their favorite moments of the holiday season. What better way to reflect on the loved ones no longer with us than with a Christmas sign that acknowledges their absence, but reminds us of the hope of their memory still lingering.
If you are a baking enthusiast like me, you need a rustic farmhouse Christmas sign like this one in your kitchen. Even if you're not a baker, you can use this sign as decoration while you enjoy gingerbread cookies from the supermarket. No one has to know!
Not everyone celebrates the religious aspect of Christmas, but if you do, a sign like this is a great reminder of the reason for the season. After all, it can be easy to forget, amidst the hustle and bustle of preparations, the simple way the holiday began.
Parents, especially moms, will do anything to make sure people follow the proper bathroom etiquette in their house. This Christmas-themed sign will remind your guests to wash their hands and leave everything nice and tidy — or else risk landing on the naughty list on Christmas Eve.
There is something about the Christmas season that is very distinct; the sights, sounds, and smells of Christmas approaching are so recognizable. Long before the snow starts to fall, you will hear carols on the radio, see gifts in the store, food on the supermarket shelves, and twinkling lights lining the streets. That's when, like the old song says, "It's beginning to look a lot like Christmas!"
"'Twas The Night Before Christmas" was written by Clement Clarke Moore in 1823 and has become a beloved Christmas favorite. In the 200 years since then, it has been recited and quoted so extensively that almost everyone has heard it. And what better way to celebrate this Christmas classic than to let it adorn your walls. This farmhouse Christmas sign is a beautiful adaptation of the classic.
The antique truck has become a staple in farmhouse décor, especially around the holidays. You probably have memories of going to choose a Christmas tree with your family, then throwing it in the back of your truck, or strapping it to the top of your car and making your way home through the snow. Even if you didn't have a classic Buick, there is just something nostalgic about this image. This farmhouse Christmas sign will bring back great memories of childhood holidays.
If you love the old Christmas hymns, this Farmhouse Christmas sign is perfect for you. "O Come All Ye Faithful" is one of the most beloved religious holiday hymns, and this sign pays homage to that hymn and its sentiments with its simplicity and charm.
Many thanks to Dr. Seuss for giving us a Christmas icon that's a bit more curmudgeonly. Maybe you are a fan of Dr. Seuss, or maybe you just have a hard time getting in the holiday spirit. Either way, this Farmhouse Christmas sign is a fun alternative to the Christmas décor that some people might consider over the top – because, let's be honest, if you're spirit animal is the Grinch, do you really need any other decorations?
Back in 1989, Chevy Chase and Beverly D'Angelo gave us a new Christmas classic. It is highly quotable and full of chaos — like most family Christmases. If you're a big fan of National Lampoon's Christmas Vacation, this farmhouse Christmas sign is a must-have for your holiday décor.
On a cold winter's day, nothing warms the heart quite like a cup of hot cocoa. It has become a staple of winter festivities over the years and many folks love to set up cocoa bars in their homes so they can enjoy the delicious warmth all season long. What better way to decorate your bar than with this adorable Frosty's Snowflake Café sign? This whimsical Farmhouse tabletop Christmas sign is the perfect addition to your 3-tiered tray, your kitchen counter, and of course, your cocoa bar.
You have probably seen hundreds of Nativity scenes over the years. They range from classic and traditional to eclectic and unusual. But sometimes, the simplest depictions are the most beautiful — like this simple Nativity with a rustic wooden frame. Its simplicity reminds us of the joy that can be found in the simplicity of the holiday season.
Yes, you read that right, Christmas Cow. If you live in an actual farmhouse, a sign with cows is probably the perfect choice for your holiday décor. And who doesn't love a good pun? Whether you own cows, or just love the vibe of this adorable Farmhouse Christmas sign, this is the holiday décor for you.
Fans of classic literature will probably recognize this quote. A Christmas Carol is Charles Dickens' classic novella about Ebenezer Scrooge, a man who begins the story in a "humbug" mood, and ends up full of the Christmas spirit. If you're a bookworm who loves the holiday season, this rustic farmhouse Christmas sign is a must-have for your home.
Chances are, you are a fan of the story of Rudolph. Christmas tradition has long stated that Santa Claus' sleigh is pulled by reindeer, but they weren't explicitly named until the publication of the poem "A Visit From Saint Nicholas." However, the poem didn't mention a reindeer named Rudolph, who first appeared in a book in 1939. This Farmhouse Christmas sign is a nod to Rudolph and his gang, with an elevated aesthetic that is perfect for any room of the house.
If you're a fan of the 2003 movie Elf, you probably recognized this quote right away. It's a nod to one of the culminating scenes in the movie, in which several more curmudgeonly characters give in to the Christmas spirit and lead a rendition of "Santa Claus is Coming to Town" in Central Park.
Christmas can be a hectic season, and it's easy to get distracted by all the hustle and bustle. But at the core of it is peace and love. This isn't the first nod to "Silent Night" we have seen on this list, but it is too beautiful not to revisit here at the end. This beautiful Farmhouse Christmas sign is a great way to remind you that the point of it all is to rest in the peace of the season, just like the song says.
Conclusions
The holiday season is quickly approaching and with it will come all the awe and wonder we know and love.
If you're anything like me, you can't wait to break out those boxes of decorations and start sprucing up the house. Are you looking forward to decorating your home with one of these new beautiful Farmhouse Christmas signs? If so, let us know in the comments which one was your favorite.