Farmhouse bathroom signs are bawdy, audacious, and down right hilarious. If you want to have some fun, a little play on words, or an intriguing pun, the bathroom provides tons of fodder to chuckle over. No matter how young or how old we are, bathroom humor never goes out of style.
Whether you are creative enough to create your own version of these signs or you need to buy one to have it right away, these humorous farmhouse bathroom signs will make you laugh while you contemplate life on your private throne.
1. Think Clean Thoughts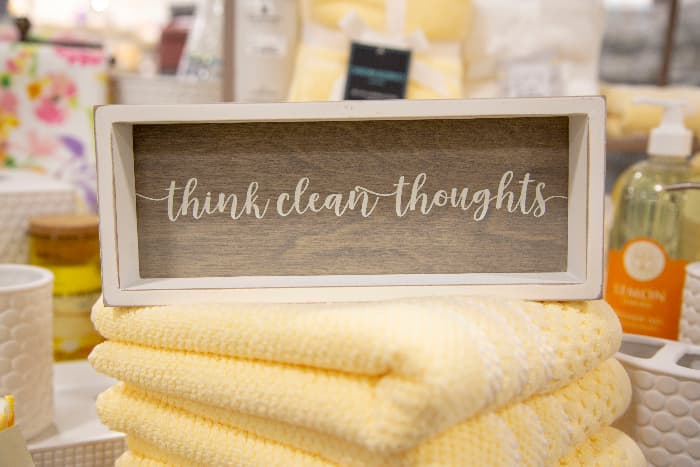 Appropriate for the bathroom, this sweet farmhouse bathroom sign nestled in a deep frame sets the tone for the rest of the signs below. Although the bathroom message is clear, it it also has a profound and deep meaning.
2. Hello Sweet Cheeks
A cute little play on words, Hello Sweet Cheeks is a farmhouse bathroom sigh that will bring a smile to your face's sweet cheeks. The play-on-words is cute and funny without being crass.
If your decor says I like to have fun with gentle humor, this would be a great sign for your powder room. Your guests will love it.
3. Please Seat Yourself
In barnyard styled wood planking, the Please Seat Yourself farmhouse bathroom sign is a fun play on please wait to be seated. Unless you are two and potty training, it's the perfect guest bath sign.
4. You Never Know What You Have Until It's Gone. Toilet Paper, For Instance.
How many times…. You Never Know What You Have Until It's Gone is the truth, bold and in print. It has happened to everyone at least once, perhaps multiple times. This classic box sign is just the thing for a kids' bathroom. A fun way to gently remind them to refill when empty.
5. Nice Butt
Who doesn't love a good pun! Nice Butt is a vintage tin farmhouse bathroom sign that will make you laugh at the cute little billy goats peeking out around the corner. Their facial expressions are curious with a hint of mischievous twinkle. If you love a good play-on-words, this is your sign.
6. It's All Sh*ts And Giggles Until Someone Giggles And Sh*ts
This one is sure to make you giggle. It's All Sh*ts And Giggles, well yeah. Farmhouse bathroom signs are meant to be humorous, this one surely fits the bill. Did you ever have someone tickle you until you peed your pants? This wooden box sign will bring you right back to your childhood.
7. Bathroom Rules
These Bathroom Rules are all you will ever need to keep your water closet in tip-top shape. The beachy vibe of this bathroom sign will work well in a cabin by the lake. These five simple rules are words to live by.
Rule number one – If you lift it up…put it down.
8. I Aim To Keep This Bathroom Clean Your Aim Will Help
I Aim To Keep This Bathroom Clean, now you need to do your part too. This farmhouse bathroom sign is a must for any home that has boys. They seem to always be rushing somewhere, or thinking about anything besides what they are busy doing at the moment. The wooden box sign also has a cute polka dot frame detail that will jazz up the decor without being too girly.
9. Poop Like Nobody's Sniffing
You can't talk about farmhouse bathroom signs without talking about Poop. A fun metal sign to add texture to your walls and comedy to your water closet. The rustic, sanded background brings the farmhouse look home while providing a funny little quip.
10. Sprinkles Are For Cupcakes Not For Toilet Seats
It was only a matter of time until food made its way into the farmhouse bathroom signs realm. Sprinkles are for Cupcakes, a tin sign, showcases several whimsical fonts with a cute but poignant message. Kids of all ages will enjoy the humor of the message.
11. Proper Wipes Prevent Racing Stripes
Oh my, Proper Wipes Prevent Racing Stripes, that will certainly help the laundry cause. With clean lines and a direct font style, the rustic vibe of this farmhouse bathroom sign is driven home with a rope hanger. There are many children who need this reminder.
12. Bathroom — A Temporary Sanctuary For Overwhelmed Parents Seeking Refuge From Their Offspring
When you need to hide away from your munchkins, sometimes the bathroom is the only place you can be alone, sometimes. A Temporary Sanctuary For Overwhelmed Parents is a sweet framed farmhouse bathroom sign that speaks the truth! Perfect for the master bath, you can gaze upon it fondly as your youngsters clamor for your attention as you try to soak in a relaxing bath.
13. Fresh Soap And Water — Hand Towels — Free
A rustic, sanded wooden sign that reminds everyone to wash their hands while adding a funny quip about hand towels. Fresh Soap And Water will fit in with any country decor. The beveled edges and shadow-boxed letters are reminiscent of an old country store sign. This farmhouse bathroom sign makes a perfect decoration for any bathroom.
14. Bathroom
Highlighting a simple message, Bathroom, is succinct and to the point. The sign style is enhanced by its clean lines and cast iron construction. It is unique, rustic, and simple making it perfect for a country style decor. This farmhouse bathroom sign would be at home inside the bathroom or on the door, whatever strikes your decorating fancy.
15. Personalized Bath House — Wash – Rinse – Dry – Repeat
This personalized Bath House sign can be customized with your family name and comes in different sizes, up to 60″ x 40″ large. If you are looking for farmhouse bathroom signs that fill up a lot of wall space, this one might fit the bill. The rusted appearance and fancy script makes the sign look old, like you found it in a cluttered antique store.
16. It's Always A Full Moon In Here
Enjoy a little double entendre whilst you tend to bathroom business. It's Always A Full Moon brings humor to your wall decor in a rustic wooden frame with right justified, lower-case script that gives this farmhouse bathroom sign a unique look. Semi customizable, you will find just the right design to jazz up your bathroom walls with a fun little pun.
17. I See London, I See France…
Childhood nursery rhymes decorate the walls with this I See London, I See France cute little farmhouse bathroom sign. A thoughtful gift that brings back schoolyard memories, it will work in a variety of decor styles.
18. The Cotton Co. – Delivery Truck – 25 cents per roll – Same Day Delivery
Old trucks are the quintessential farmhouse decor. This pretty The Cotton Co. unframed sign harkens back to the day when delivery trucks were common and prices were reasonable. The pickup looks ready to roll down the road with its bed full of flowers and toilet paper. The picture has a modern and antique vibe all at the same time.
19. Toilet Trivia
Scary but true, this Toilet Trivia reminder sign is a great reminder to wash your hands. Often we consider these bathroom touched objects in public restrooms, but not so much at home – it is the perfect reminder for the reluctant hand washer. The sign is downloadable, so you can print and frame it at home for a fraction of the price of pre-framed options.
20. The Beards Are Cool, Mullets Are Not
Are you an over or under toilet paper roll person? The Beards are Cool, Mullets Are Not toilet paper roll sign will bring the long fought battle to the heart of the fight. In this version, the beards win the great bathroom toilet paper roll debate.
21. Tic-Tac-Toe
Bathroom games are unique and unusual. How about a rousing game of Tic-Tac-Toe that functions as a toilet paper holder and masquerading as a farmhouse bathroom signs option. Every time you visit the bathroom, make a move on the board and play a protracted game of tic-tac-toe. The hardest part will be remembering who has the next move. Of course, if you need a roll of toilet paper, you may never see who wins.
22. Well, This Is A Little Awkward
A cow watercolor painting in the bathroom is a little Awkward, but very adorable. Different from most farmhouse bathroom signs, the sweet cow looks on without judgement. Delivered as an unframed piece, you can bring the barnyard into the bathroom with this lovely little cow.
23. Instead Of The John, I Call My Bathroom Jim…
Want to feel better about your daily bathroom rituals, maybe it's time to switch up the Going to the John phrase for something that sounds more athletic. Going to the Jim (Gym) certainly sounds better and makes you seem much more athletic. It will also make John happier.
24. Here I Sit Broken Hearted, I Had To Poop But Only Farted
Farmhouse bathroom signs are full of wisdom and humor, Here I Sit Broken Hearted is no exception, it combines a heartfelt message with a cruel twist of fate. Maybe this sigh should be paired with one that says, "Patience is a virtue."
25. Bathroom Word Search
Need something to keep your mind occupied while you are on the throne, try Bathroom Word Search. A bathroom wall brain-teaser for your entertainment. See how many words you can make in addition to the suggested ones at the bottom of the sign. You might just forget why you came into the bathroom in the first place.
26. How long A Minute Is Depends On Which Side Of The Bathroom Door You Are On
Which side of the door you are on when the words "I'll be out in a minute" are uttered will determine how you feel about that short little phrase. How Long A Minute Is will remind the occupant someone may be waiting for a turn or maybe not.
27. Deja Poo
A little play on words is fun. A printable art piece, the Deja Poo definition is right on target. "The feeling that you went through this exact same crap yesterday." That sentiment can apply to more than just a visit to the bathroom. Frame this up in your favorite rustic decor style for fun farmhouse karma.
28. Ye' Olde Bath House — Fresh Creek Water & Lye Soap 2 cents
Primitive farmhouse bathroom signs are the best way to showcase your rustic decor. Ye' Olde Bath House offers up the old barn-board look with a humorous appeal. You can just imagine the freezing creek water and harsh lye soap every customer must endure.
29. I Don't Remember Eating Corn
Well, this farmhouse bathroom sign hits home. I Don't Remember Eating Corn will give the reader a kernel of a thought.
30. Voted Best Bathroom In Town
And the winner is…. Voted Best Bathroom In Town. Five stars for this funny bathroom sign.
More Signs
Do you love signs and sayings, visit our Wood Signs page to discover everything from Christmas signs to Welcome Home signs. You can learn how to paint your own signs inspired by the farmhouse bathroom signs showcased above. Of course, you can always make your decor dreams happen right away by clicking through the sign links and procuring your favorites today.